Getting caught up on all sorts of odds and ends. Sitting here at the computer going through slips of paper and scribbling on the chalkboard wall reminds me that I'm a tad behind on projects. Well, I will tackle them, one by one.
It's kind of funny that I'm documenting this recipe today. Because the sun is shining, teasing me, making me think that Spring is on the horizon. But I can't be fooled by you Sun! As if we would get off that easy. However even in the dreariness of realizing that it is still a February day, we can have a moment in the tropics. …In our smoothie!! These days, a smoothie is as much of a breakfast go-to as Cheerios and milk, as toast and peanut butter, as apple cinnamon oatmeal. I made this smoothie a while back, and the colour just transported me. My glass of happiness and cheer said 'Tahiti' even though the view out my window said 'Toronto", gloomy and cold.
Now, I will put just about anything in a smoothie. There are green smoothies, purple smoothies, orange smoothies, and the list goes on. I'll sneak endive, kale, spinach, celery, ginger, beets, and all sorts of other 'good-for-you' ingredients in because I know the apple, pineapple, strawberries, bananas, papaya, berries etc will totally make me forget those other things are even there!
So, this smoothie that I made a while back wasn't green, purple, orange, pink or red. It was yellow! Yes, the brightest, sunniest yellow ever. And that's because I included turmeric. We already know how much I love turmeric. It's great as a tea, or in soup (see me Turmeric Broth recipe!) so why not in a smoothie!? I threw in what else was in the fridge and that I thought would pair well with the idea of turmeric. So a bright yellow, thick, creamy, sweet smoothie was born. And here it is. A few have asked for it, and my mom taught me to share 🙂
Love Jen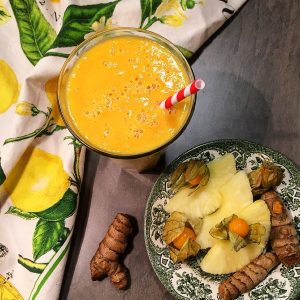 TROPICAL TURMERIC SMOOTHIE
A happy, healthy, creamy smoothie packed with all the goodness of the tropics, and turmeric!
Ingredients
1

cup

pineapple

, cubed

1/2

medium banana

, sliced

1/2-1/3

cup

papaya or mango

, diced

1/2

medium orange

, or entire small orange or clementine

2

tsp

fresh chopped ginger

, or 1 tsp ground ginger

2

tsp

fresh chopped turmeric

, or 1 tsp ground turmeric

1/2- 3/4

cup

plain kefir
Recipe Notes
Optional additions: 1 tbsp ground flaxseed powder, 1 tsp bee pollen, hemp seeds, or even 1 tbsp nut butter