This is just one of the best breakfasts going. But don't stop at breakfast. Have it for brunch, lunch or dinner.
Have it for dessert if you so desire. It combines everything I adore: eggs, savoury yogurt, harissa, butter and toast. Does it get any better?!
It's Turkish in origin. There's something so wonderful about the contrast of the cool tangy yogurt against the creaminess of the eggs and the heat of the butter. And all those herbs! I've added a Moroccan twist, using Harissa paste to spice up the heated butter that gets drizzled over the eggs and yogurt. It really is a party in your mouth.
This is a dish you do have to do a tad of prep work for. But it's so easy. Everything stated below is for one person. Easy to adjust if you are feeding two or more.
Prepare the yogurt. The night before you could already get your yogurt made up. It's really easy. About 1/2 cup of yogurt per person. Add to it a good tablespoon of chopped fresh dill, finely one minced garlic clove, kosher salt, and a good large pinch of cracked pepper. Stir to combine and then let it rest to meld the flavours. Remove the yogurt from the fridge a good ten minutes before you want to serve it
Prepare the butter. About 1-2 tablespoons per person. Add 1/4-1/2 teaspoon of harissa paste (I use Entube) and a pinch of cumin powder. Bring to a simmer in a small sauce pan and stir to combine. Let simmer till heated through. Set on warm.
Prepare the herbs. Chop 1 tablespoon of fresh parsley and 1 tablespoon of fresh mint per person. Set aside.
Prepare your eggs. You could serve this with sunny side up or any fried egg. But it is classically served with poached eggs. Bring a medium sauce pan of water to a boil, Reduce to a medium to medium low (just hot enough to keep some bubbles going- you don't want it too gentle a simmer. Add 1 or 2 tablespoons of white vinegar. While waiting for the water to boil, prepare your eggs. You'll want two per person. I happen to have two small strainers, so I crack both eggs into individual strainers set over teacup. Let the excess whites drain off. When the water is ready, gently take one strainer and tip the egg into the water. Fold the whites over the egg and let cook. Add the other egg and do the same. Don't overcrowd the pot if cooking for more than two people. Let the eggs poach for about 3 minutes, till the whites are set, but the eggs will still be runny. Remove gently with a slotted spoon and turn gently into a paper towel lined plate.
Assembly. Place the yogurt onto a plate and spread out. Add the eggs onto the yogurt. Drizzle the warm butter over everything. Add the fresh herbs. A side of crunchy baguette or sourdough toast is perfect to sop up all the runny yolk! It turns into a beautiful mess, but the flavours are just stupendous together. To make this even more special, a good finishing pepper like red peppercorns from DRØM Pepper is the perfect touch. 🙂
For a switch up, spread the yogurt directly onto your toasted bread, and then add the eggs and harissa butter on top. Makes for a fabulous tartine!
Now tell me, isn't this a dream?!!
Love Jen.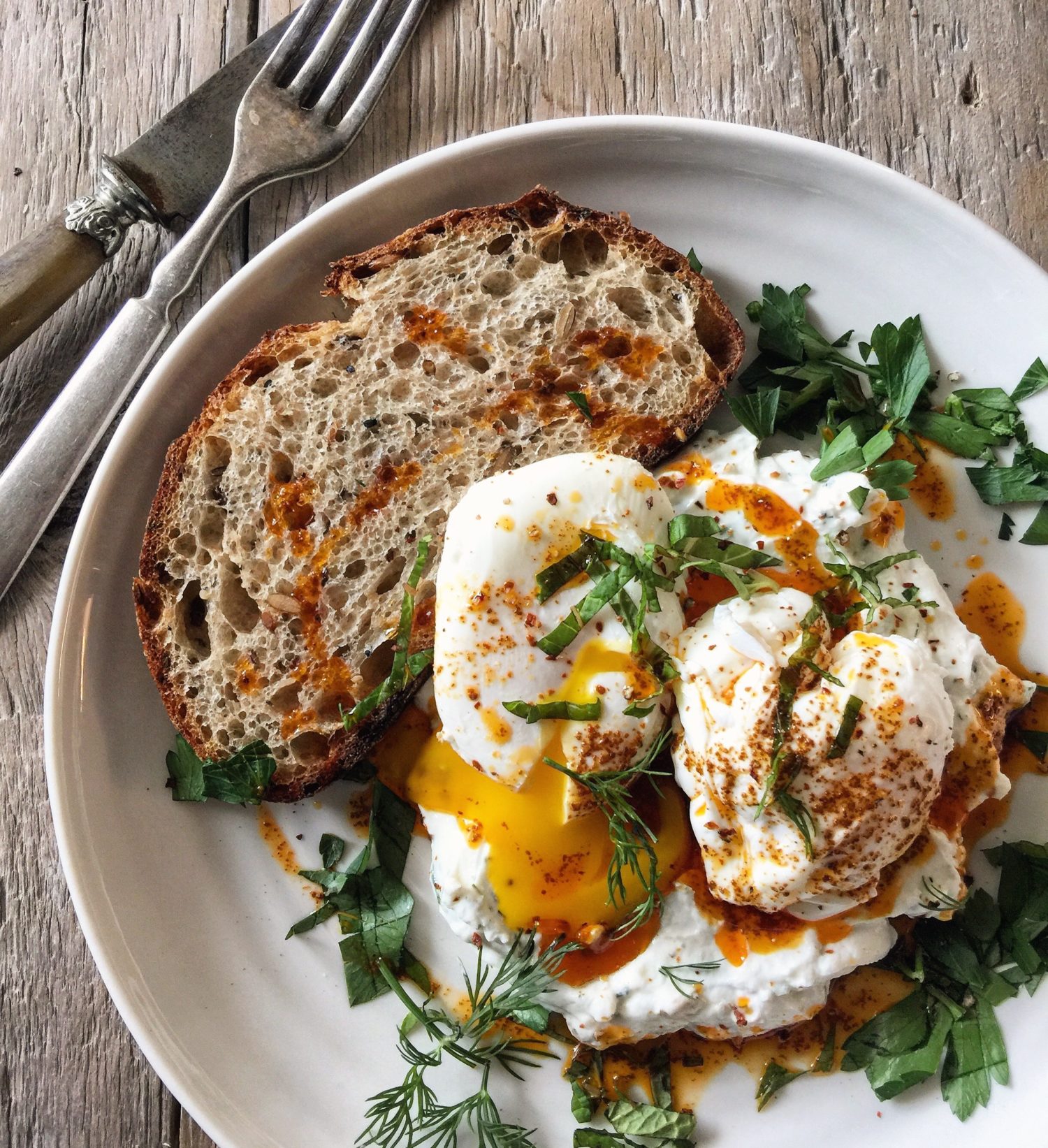 SaveSave