This is for all those times that you want pizza, want to make it at home, and want ease of execution.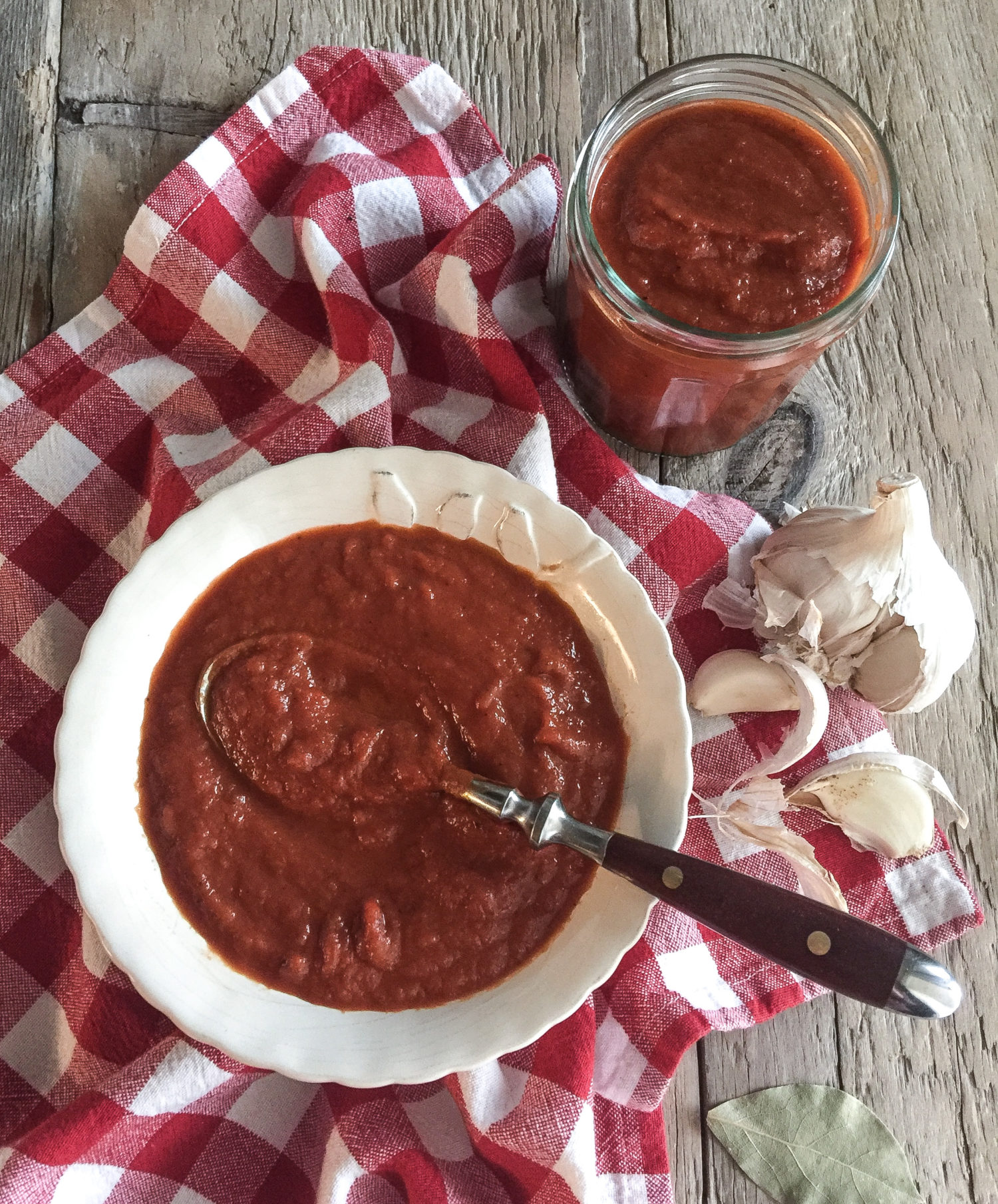 It all starts with the sauce, as far as I'm concerned. Some sauces are just flat, one note-d, or too sweet. But when a wonderful sauce comes along, the whole pizza experience is elevated. And I know I've found it in this one created by Dennis Prescott. It can be found in his book, Eat Delicious. And it really is delicious! This book is filled with so many recipes for every palate, and every one of them is intense in flavour and visual impact.
Dennis calls this 'The Pizza Sauce of Your Dreams'. And he is right, well at least as far as my dreams go. This sauce is easy to whip up, and then keep on hand for last minute pizza binging. It is made of things I'm sure are already in your fridge or pantry. But I guess it's the proportions, and especially the addition of the parmesan cheese to the sauce as it's simmering away that makes it. Once pureed, it has a lovely thick texture that has the perfect consistency for spreading. It's balanced between the sweetness of the tomatoes, the light bite of the onion and garlic, and the bit of salt present with the cheese, and the other seasonings. Just a truly smooth sauce in flavour and texture. I will say, I do add a touch of harissa paste- just enough to add a slight kick, in a good way. Oh, huge disclaimer: Be sure to remove the bay leaf before puréeing! I forgot once, and it got blended into the sauce- definitely left a bitter aftertaste. Oops. Just keepin' it real.
It always seems that Friday evenings for us are pizza nights. On those evenings that I'm completely exhausted, we would just order in. But then I discovered this sauce. And suddenly the desire to throw together our own pizzas got even more enticing. And yes, the sauce is second only to the crust. A crust can make or break a pizza experience. But I will shock you in the next paragraph. This post is not about the joy of making homemade pizza dough. There is a time for that as well, I know. And those times are great. I just want to keep it real. And share our respectable and streamlined alternative.
On most Friday evenings I am more than likely exhausted, after a long week, so I found yet another way to cheat the whole pizza process: flatbread or purchased focaccia. Yep, it may sound sacrilegious to not make my own dough, but you know what, I don't care!! It's not that I don't know how, or even not enjoy it, I just don't feel like it. When we get home, I just don't feel like starting dough. It is just so much easier to pull out a couple of flatbreads from the freezer, or a focaccia base, perhaps stuffed with onion or rosemary, and just get started on the chopping of the toppings. By the time all the toppings are ready, so are the flatbreads. And if you bake them up correctly, they will still be crispy and doughy in the good way. Crank the heat up to at least 450F, use a baking steel if you have it, or else warm up your baking sheet in the oven before you place your loaded flatbread(s) onto it. Getting the bottom crispy is key. Jim is perfectly good with this option, he never holds back from sharing his opinion if I have phoned something in, or it doesn't taste the way he knows it could.
Now this concept is nothing new. How many of you remember your moms making 'pizza' as an after school snack using english muffins etc? I recall this vividly. And my how my sister and I loved those mini pizzas!! Today we just have fancier bases to work with.
So along with our now go-to sauce recipe, I'm just going to throw in our favourite toppings for pizza. If you have even a fraction of these in the fridge or pantry, then pizza in a flash can be yours as well. Really, on a Friday evening, we just want to get to the eating part of the program. While we sit like lumps watching the current favourite program on the telly!! As for having a well stocked pantry with all sorts of pizza worthy condiments, let's save that for another post, shall we. Let's suffice it to say, sometimes the pantry can be your best friend, so condiment shopping is just as important as shopping for the staples.
And what's great about the flatbreads, you can personalize each one. For instance, Jim freaks out if one of my mushrooms is even touching his side of a pizza. This way he can get his own, with all the red onions he wants, and I can load mine with 'shrooms, and we're both happy campers.
The other thing I like about this sauce, is it's versatility. As Dennis points out, it works great as a dipping sauce for grissini or breadsticks, or as the sauce in a wicked Chicken Parmesan. Hmmm, must make Chicken Parm soon!!
Love Jen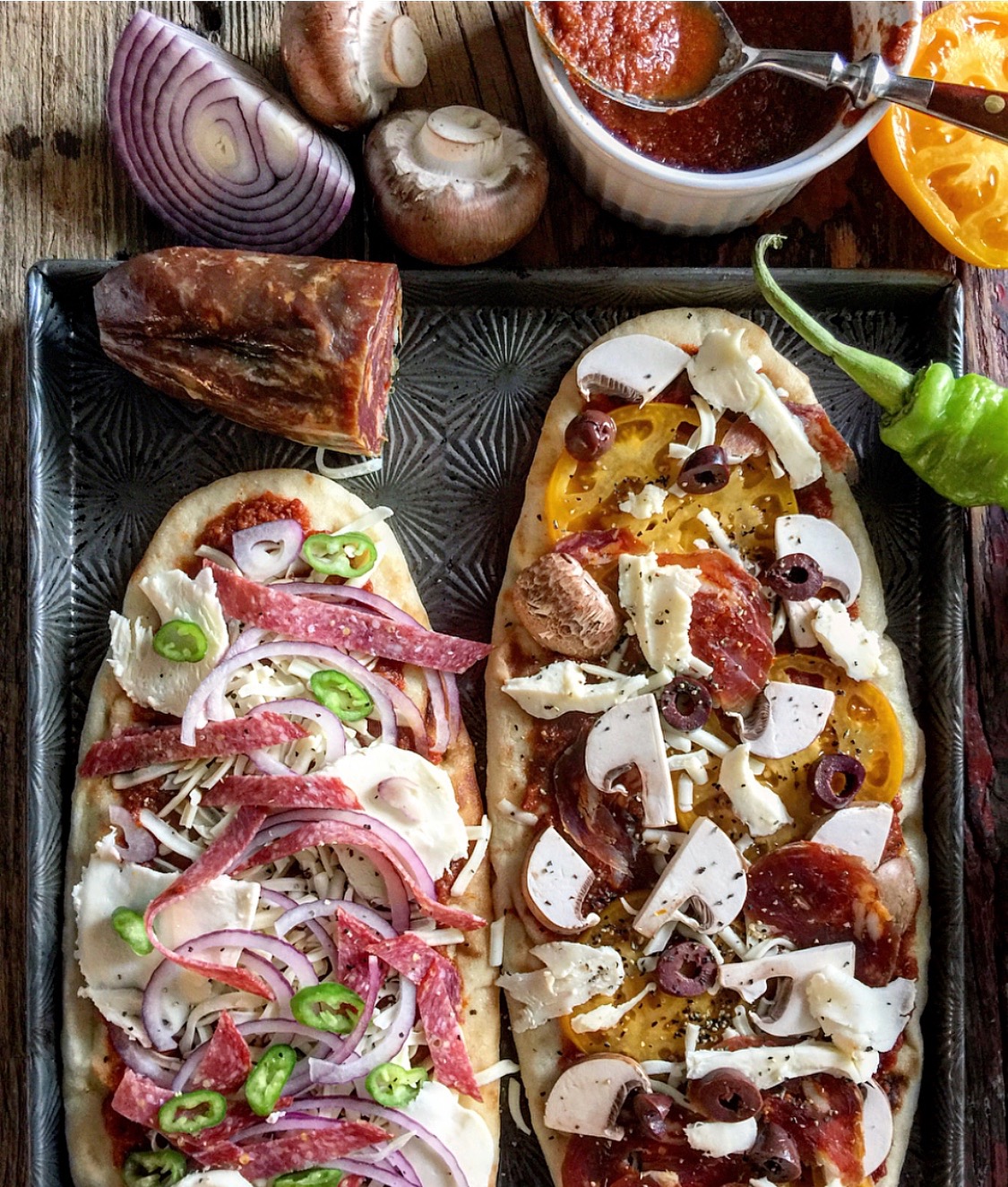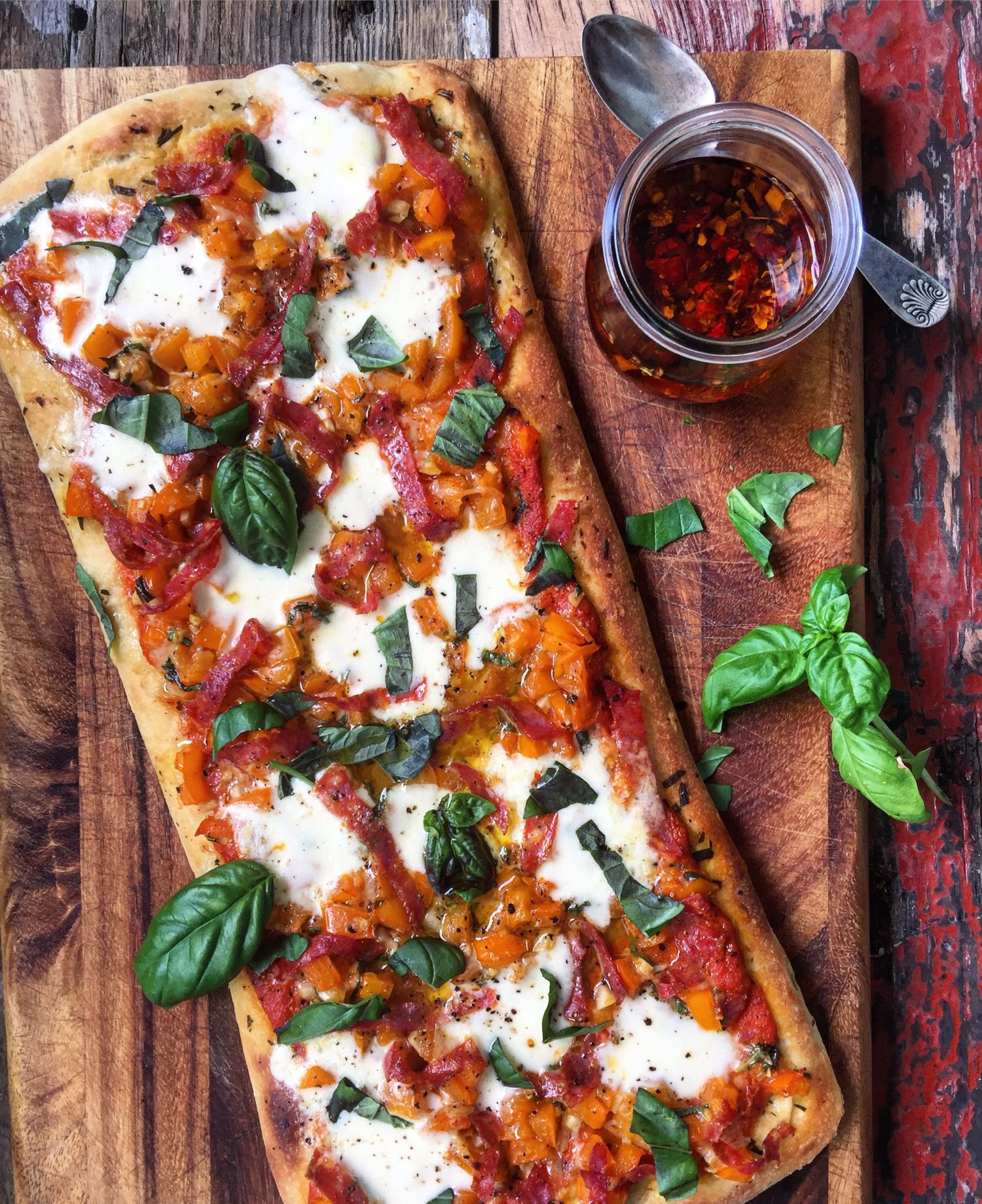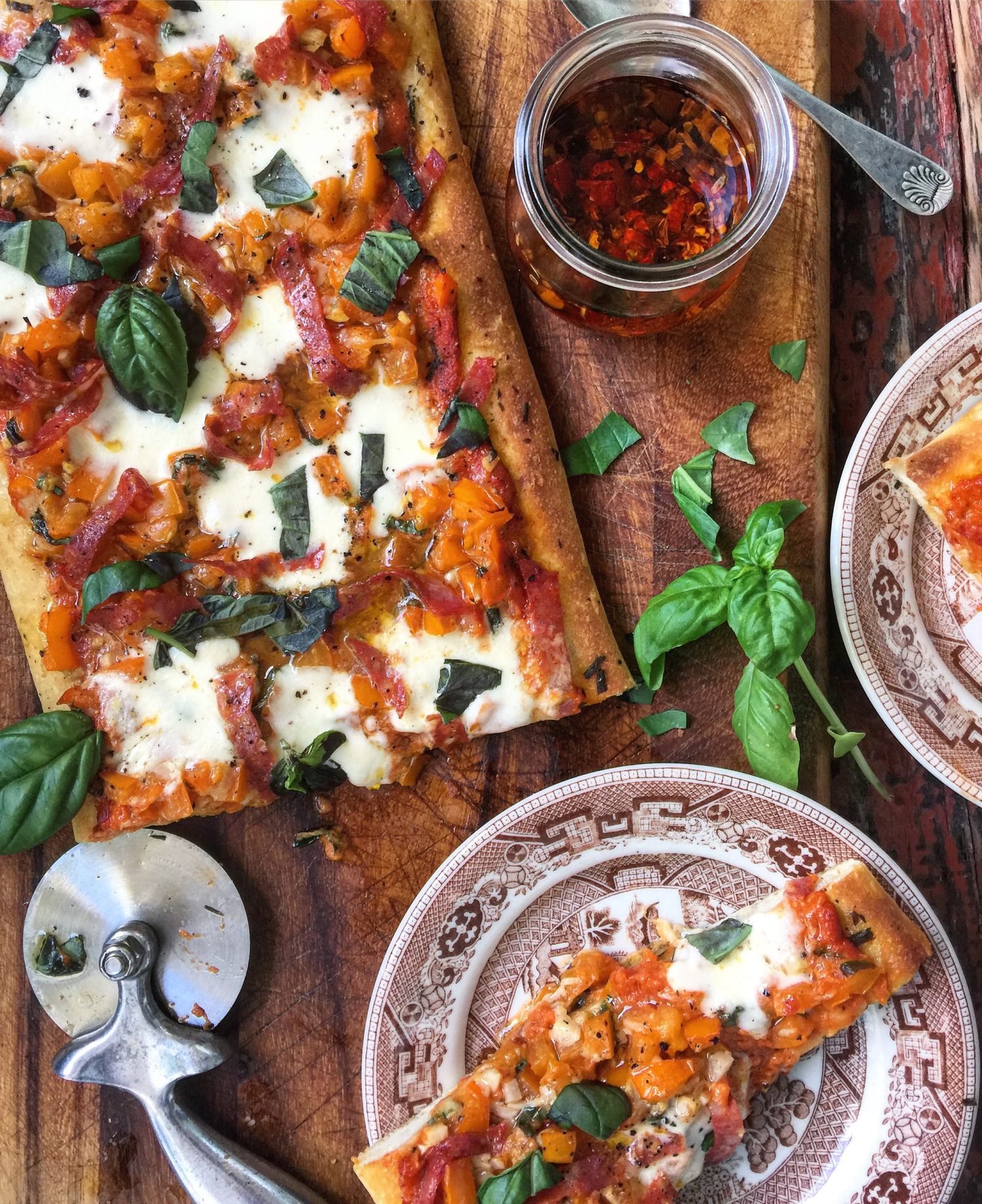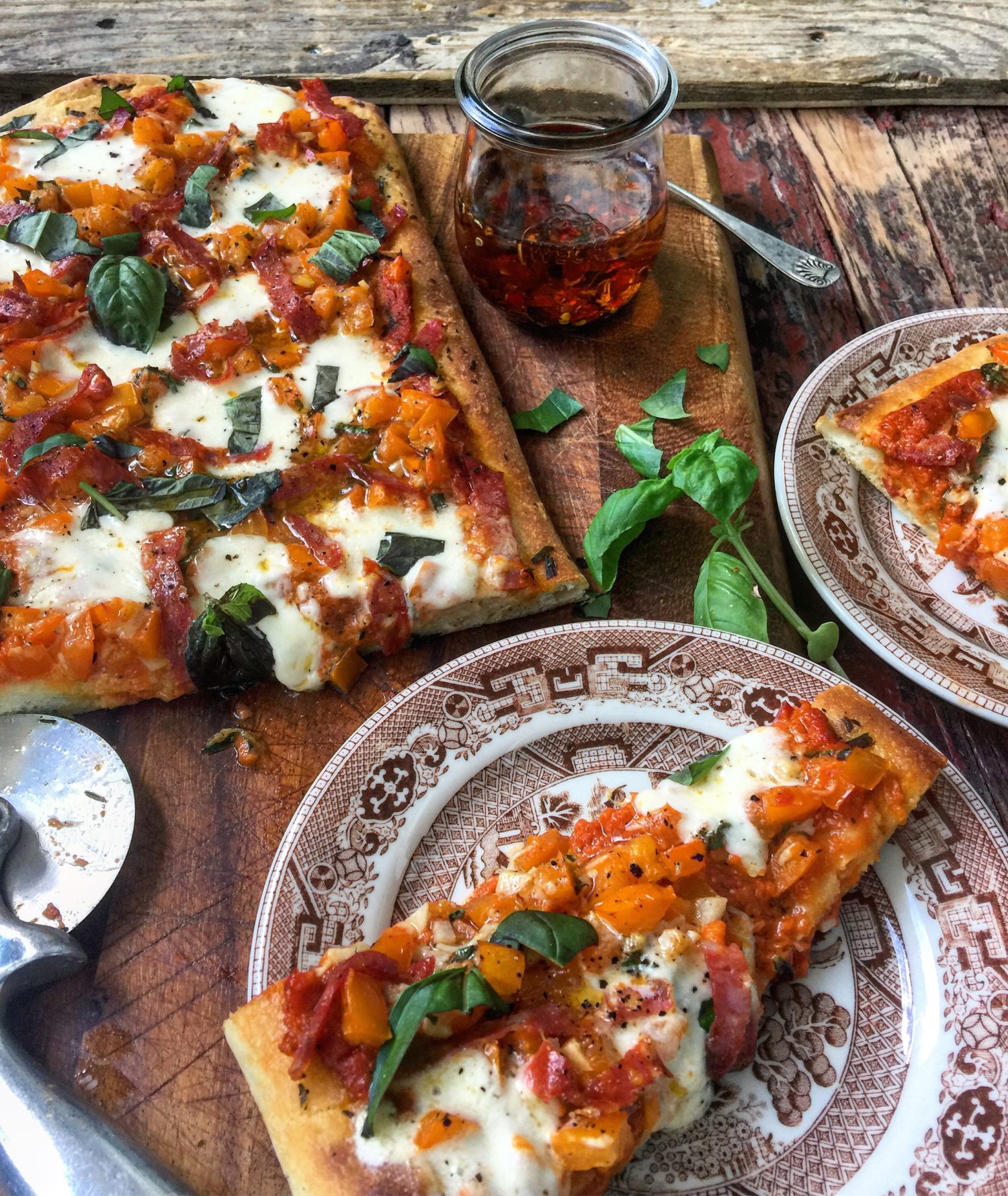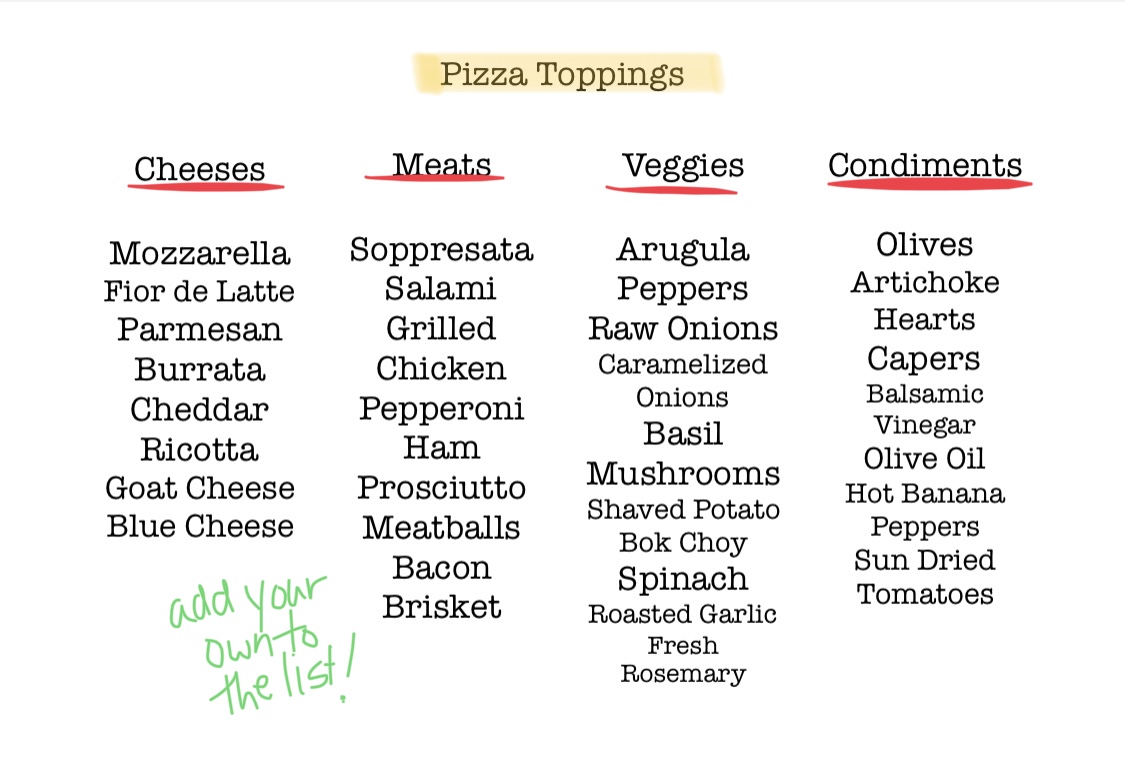 Dennis Prescott's Pizza Sauce of Your Dreams
An awesome, easy to whip up go-to pizza sauce to elevate your pizza game. And while you're at it, why not use this as a great dipping sauce for cheese straws, grissini or even for chicken parmesan!
Ingredients
1

tbsp

butter

2

tbsp

olive oil

1/2

cup

onion

diced

1

garlic clove

minced

1 1/2

cups

crushed tomatoes or tomato purée

1/4

cup

tomato paste

1

tsp

harissa paste

2

tbsp

grated parmesan cheese

1

tsp

dried oregano

1/2

tsp

sea salt

1/2

tsp

freshly cracked black pepper

1

bay leaf
Flatbread Pizza
2

or more flat breads

toppings (see Master List above the Recipe)
Instructions
Pizza Sauce
In a 3 quart saucepan, melt the butter and the olive oil over medium heat. Stir in the onion and garlic and sauté for 5 minutes.

Add the remaining ingredients and bring the sauce to a simmer. Reduce the heat to medium low and gently simmer for 30 minutes.

Remove from the heat and discard the bay leaf. Don't forget this step!!

Purée the sauce directly in the pot with an immersion blender until smooth.

Alternatively, transfer the sauce to a conventional blender and blend till smooth. It is hot, so cover the lid with a tea towel and hold it down as you start the motor. Be careful of steam as you remove the lid.

The sauce will keep in an airtight container in the fridge for a few days.

I automatically transfer half to a freezer safe container and freeze for future use.
Flatbread Pizza
Preheat the oven to 450F. If you are using a baking steel, position it about 6 inches from the broiler.

If you are using a baking sheet, heat the baking sheet in the oven till ready to use. Be careful when removing it to lay the flatbreads on it.

Prepare your flatbreads.

Spread the sauce over the bread, covering every nook and cranny. Not too thick, but not too thin either.

Spread out a good layer of pizza mozzarella, or any grated fresh mozzarella over the sauce. Not too thick but not too thin!! hehe.

Now top the breads with whatever your heart desires! Choose more cheeses, multiple meats, all the veggies imaginable. The possibilities are endless. I always include ripped fresh melting cheese like fior di latte or burrata towards the end, as another layer of cheese that will get all charred and gooey as the pizza finishes.

Either use a pizza peel to transport the flatbreads to the hot baking steel, or remove the baking sheet and place the flat breads on it.

Bake at 450F until the toppings have all cooked through and the cheese is melted. To get extra bubbling and a golden cheese crust, turn on the broiler for the last few minutes. Watch it though! The whole process should take about 15-20 minutes depending on the toppings, the thickness of the bread, and how hot your oven really is!
SaveSave
SaveSave
SaveSave
SaveSave
SaveSave
SaveSave
SaveSave
SaveSave
SaveSave
SaveSave
SaveSave