Yes, this is a blog post about a sauce. Mustard Sauce to be exact.
Remember in 'The Hundred Foot Journey', when Hassan and Marguerite were discussing the five classic mother sauces that each culinary student must master? They are: Béchamel, Velouté, Espagnole, Sauce Tomate, and Hollandaise. And I only remember because I just looked it up!! These are the classics, the foundation on which so many other sauces can be created, hence the term 'Mother Sauce'. I think a lot of us have made most of them, not realizing that conquering them was so vital to making it as a chef.
Well, not that I think I can alter or update Escoffier in any way shape or form, but I'd like to add another sauce to the list. It's such an amazing sauce, that I can eat it with a spoon 🙂
I've been making this mustard sauce for years now. Originally I was looking for a sauce to prepare to go with rabbit. Back in the 80's I worked at a restaurant that occasionally served rabbit on the menu. It was a fantastic dish of broiled saddle of rabbit served with the most glorious mustard sauce. At the time I was just happy to eat it, when there was extra for the staff to enjoy. I never thought to ask the Chef how he made the sauce. If I had, I would have also gotten his Creme Anglaise recipe at the same time!!
But eventually I found something I could work with, in an old Epicurious article that I cut out and added to my recipe box. And it eventually morphed into this sauce. I've already posted the recipe on the blog, in my Pork Chops in Mustard Sauce, almost two years back. But I made the recipe again last week, and realized that this sauce deserves a blog post of it's own. It's that good! Jim isn't a sauce or gravy guy, but even he never fails to comment how much he enjoys this dish. And I know mostly it's because of the sauce. Just don't tell him that…
What's great about it, is its versatility. As I mentioned above, I originally served this sauce to go over rabbit. It also works with sautéed chicken livers. Yes, I love chicken livers. Don't worry, I will understand if you don't share my enjoyment of offal. But this sauce will work on just about anything. Chicken paillard, breaded veal schnitzel, roast beef, even over salmon. There really isn't a meat that won't enjoy wearing this sauce. It works wonderfully over the potatoes, noodles or rice you may be serving on the side. It's also amazing over asparagus, green beans, broccoli or even cauliflower. I'm telling you, this sauce does it all! And because of its versatility, you will also find this in the Pantry section of the blog- where all my tips and tricks are corralled in one place.
The basics of this sauce are that you will be working with the drippings of whatever protein you are preparing (but not a requirement), as well as shallots (or even minced red onion in a pinch) and some butter. Once the shallot has softened you will be adding stock to the butter, and then the mustard, and a wee bit of cream. Really, in the big scheme of things, there isn't that much cream used, so don't shy away from this thinking it will be too rich. It is rich in depth and flavour, but not too heavy at all. Lemon juice helps to cut through the richness. Use a good mustard, and finally add some amazing cracked black pepper, and this sauce is done. It's easy peasy!!
So, while I know that the CIA or Cordon Bleu will not be banging down my door, I know you will just love having this sauce in your repertoire. Next time you need a way to brighten that package of chicken breasts or thighs, or the pork chops you picked up, I'm telling you, this sauce will elevate a weekday dinner to weekend company dinner worthiness!
*I've adjusted the original recipe, so that you will get a full cup here. This is for when you are serving a crowd, or want it to be a side with a roast etc. But if you only need a bit, say for the pork chops below, and are serving four people, I would stick to the original recipe in the Pork Chops link above!
Love Jen.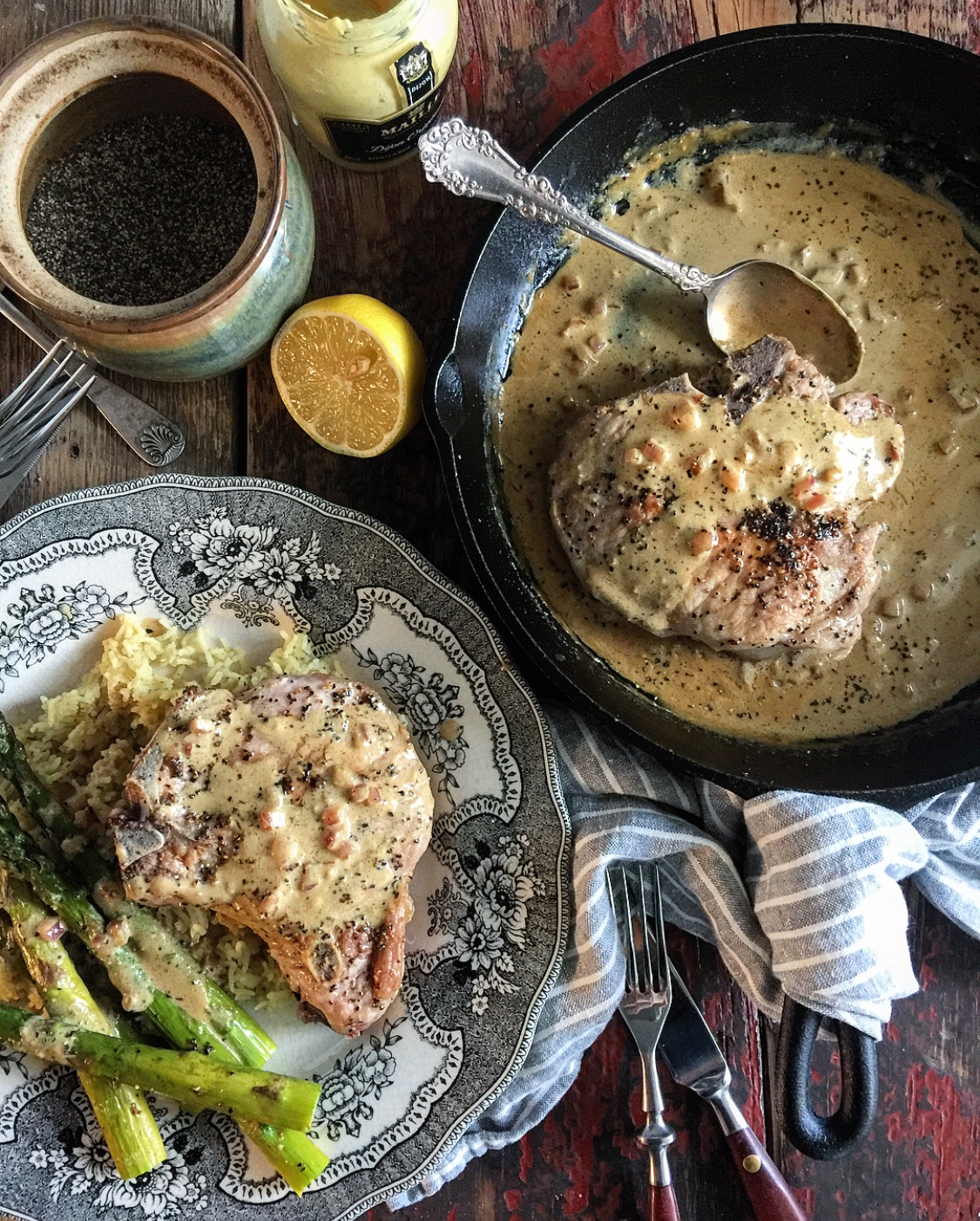 Mustard Sauce
A versatile sauce that makes just about any meat dish better! Rich, intense, mustard and shallots meet up with stock and cream in a quick sauce perfect for chicken, pork, veal, beef, even salmon!
Ingredients
3

tablespoons

unsalted butter

1/2

cup

finely chopped shallots

(3-4)

1

cup

reduced-sodium chicken broth

1/3

cup

Dijon mustard

or grainy mustard will work as well

4

tablespoons

heavy cream

3

teaspoons

fresh lemon juice

1/2

tsp

fresh cracked black pepper
Instructions
Heat butter over medium heat in a heavy skillet.

Add shallots and cook, stirring regularly until softened. About 3-5 minutes.

Add broth and any juices (saved from any meat you may have prepared: roasted, seared, baked, sautéed, etc) and bring to a low boil for about two minutes.

Add mustard and cream and return to a boil, then add lemon juice and cook over medium high, stirring regularly until sauce is just slightly thickened and reduced to one cup, about 4-5 minutes. If you want more sauce and don't mind it a touch thin, then stop earlier.

Add the pepper. Serve over your protein of choice or in a gravy bowl on the side.

This sauce works perfectly over any veggies and carbs that you may be serving on the side as well.
Recipe Notes
I am going on the assumption that you have prepared meat (whether pork chops, broiled or sautéed chicken breasts etc) and have saved the juices from said meat to add to this sauce when specified. If you are making this sauce from scratch, then don't worry about this. But if you wanted to have the sensation of those drippings without the drippings, a few dashes of coconut aminos or Worcestershire sauce would do the trick!
SaveSave
SaveSave
SaveSave
SaveSave
SaveSave
SaveSave
SaveSave
SaveSave
SaveSave