Because a simple Pecan Pie is so 2016. I wanted to finish 2017 with one more pie,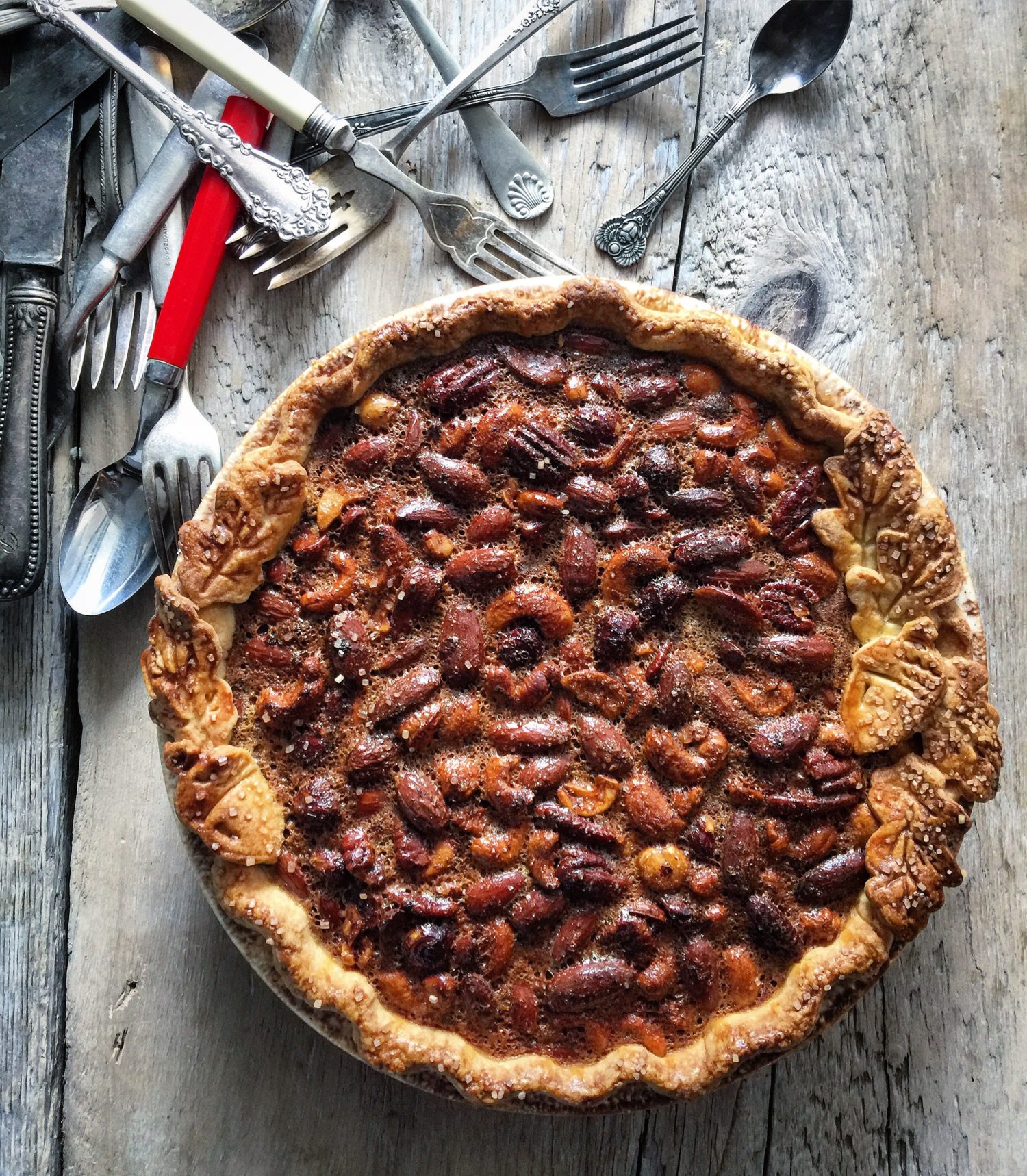 so this is what happened. We always have a few over for a Fondue Party. Don't you just love preparing for a fondue? Because that is really all the work: preparing the meat, the dips, a salad etc. The actual cooking will be done be the group gathered around the fondue pot. So it's really a night off for the cook. hehe.
Traditionally on this evening, I bake up one of my favourite tart/cakes: a Norwegian Fyrstekake. It's a glorious concoction of almond pastry and a almond and cardamom scented filling somewhat like a frangipani meets marzipan. You just have to try it. Adding some bourbon whipped cream makes this a dessert that is easy on the tastebuds, even if it hard to pronounce.
This time however, I wanted to try something different. I was going through my old magazine recipes that were jammed into a folder for sorting, and came across a recipe for a mixed nut pie. That totally made me sit up and take notice. We love spiced mixed nuts as a party or tv watching snack, so why not take that idea and make a pie out of them.
I had my little stash of Winter Spice Seasoning from Vitamix, which I thought would work perfectly with these nuts. I did add some extra cayenne pepper for kick. But the brown sugar, corn syrup, and vanilla balanced out the heat wonderfully. I knew that I wanted it to still feel like a traditional pecan pie in texture etc, but I wanted the kick of heat to make everyone stop and take notice. It wouldn't last long, being replaced by the sweetness of the filling, as well as the chestnut ice cream that was served on the side. The genius part of the recipe, is the use of a bag of salted roasted mixed nuts. Half the work has already been done for us! Of course, the challenge was not to pick away at the bag before I got to baking up the pie. To get the recipe for the Winter Spice Seasoning Blend by Vitamix, just click here. I will also add an adaptation in the actual recipe below.
Honestly, this is the easiest of recipes. Just take half of my Perfect Pie Pastry to line a pie plate (put the other half in the freezer for a future pie), crimp the edges the way you want, and freeze till firm. Then you will take all the filling ingredients and stir them together in a bowl. Pour the filling into the prepared pie shell and bake. Yep, that's it! You just need the patience to let it cool for at least 4 hours to let the filling set.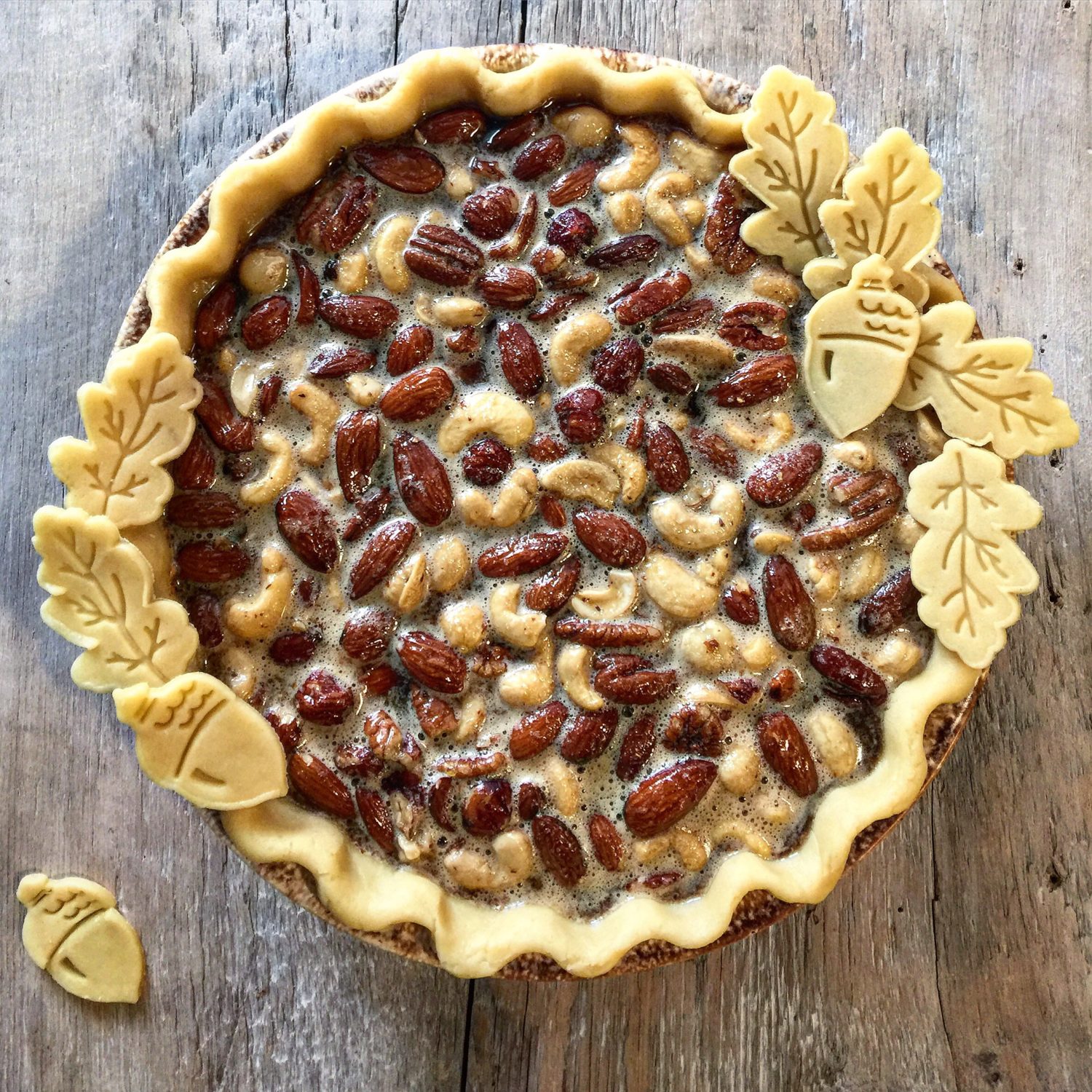 You can serve this with a bourbon or vanilla scented whipped cream or creme fraiche. But I just had to add more more nut to the mix. So I made a second batch of the Chestnut Ice Cream that we have fallen in love with. It is rich, but it works perfectly with the spicyness of the pie.
This is really a recipe that you can whip up at any time. Because all of the ingredients are pantry staples, nothing that you need to run out to the grocery store or specialty shop for. While it may have been the last pie of 2017, it will be showing up often in the years ahead. Hope you year has gotten off to a lovely start. Is there anything you are wishing to try or make this coming year? I know I'm finally to overcome my apprehension to attempt sourdough bread. It's been long overdue.
Love Jen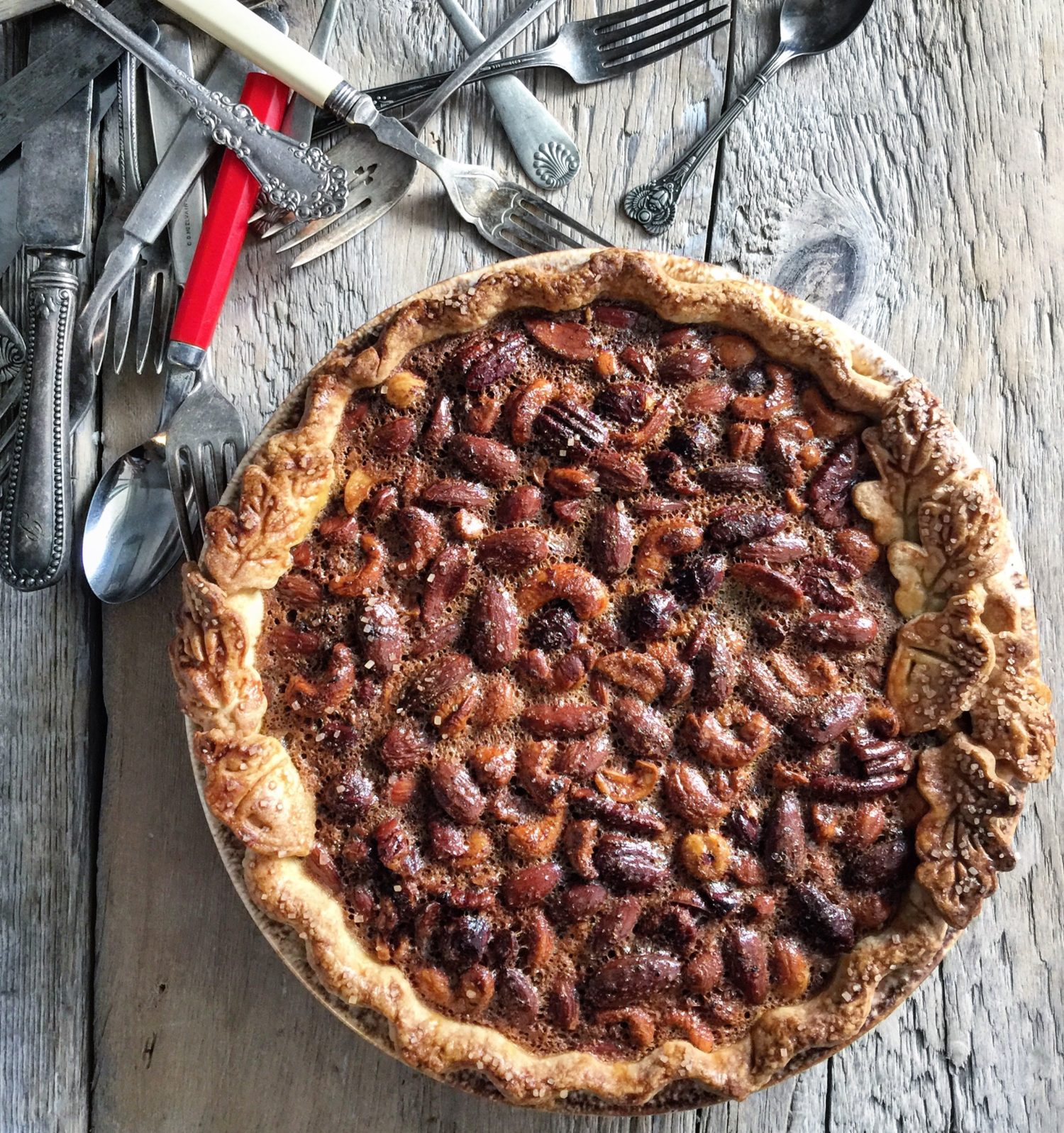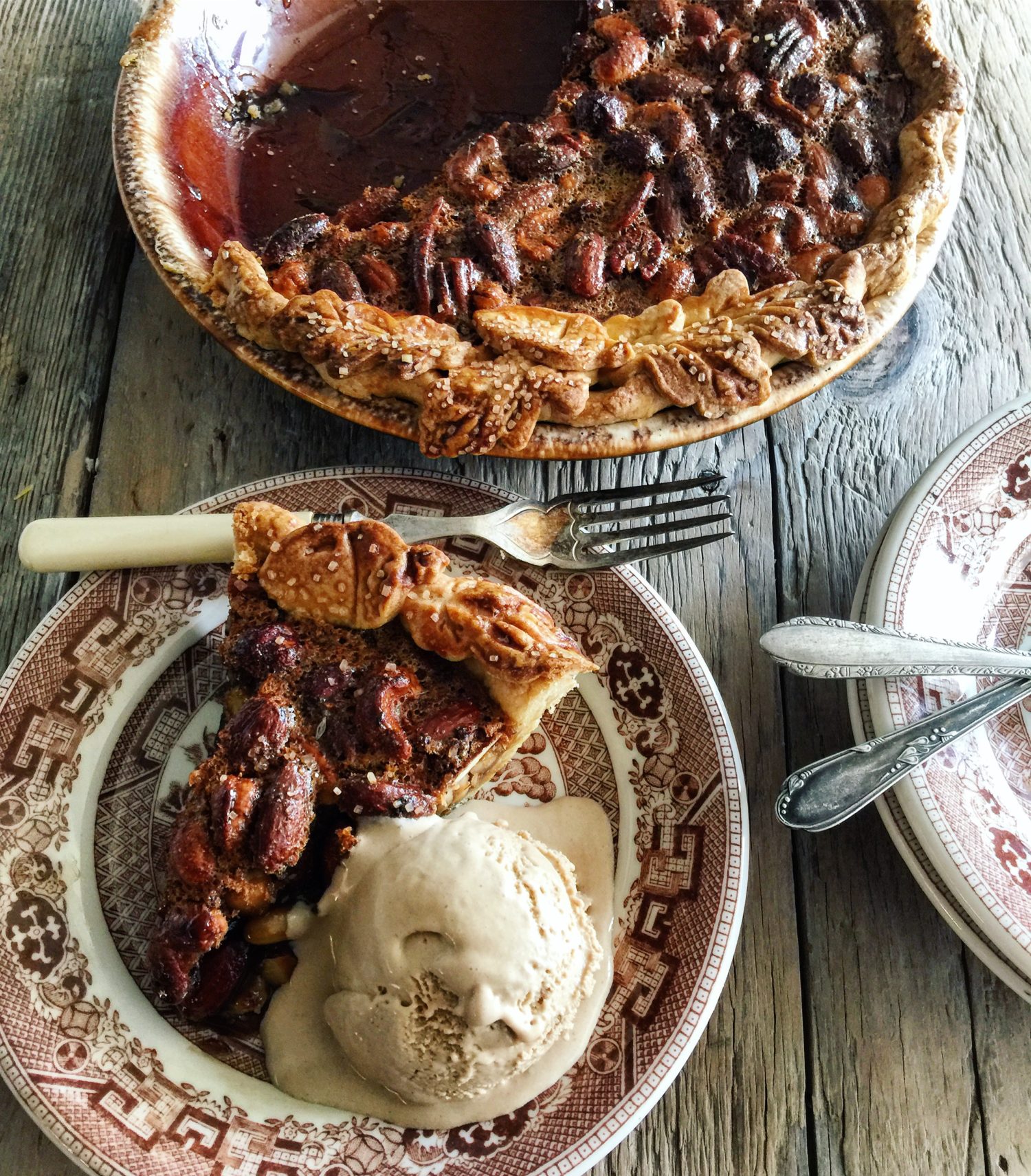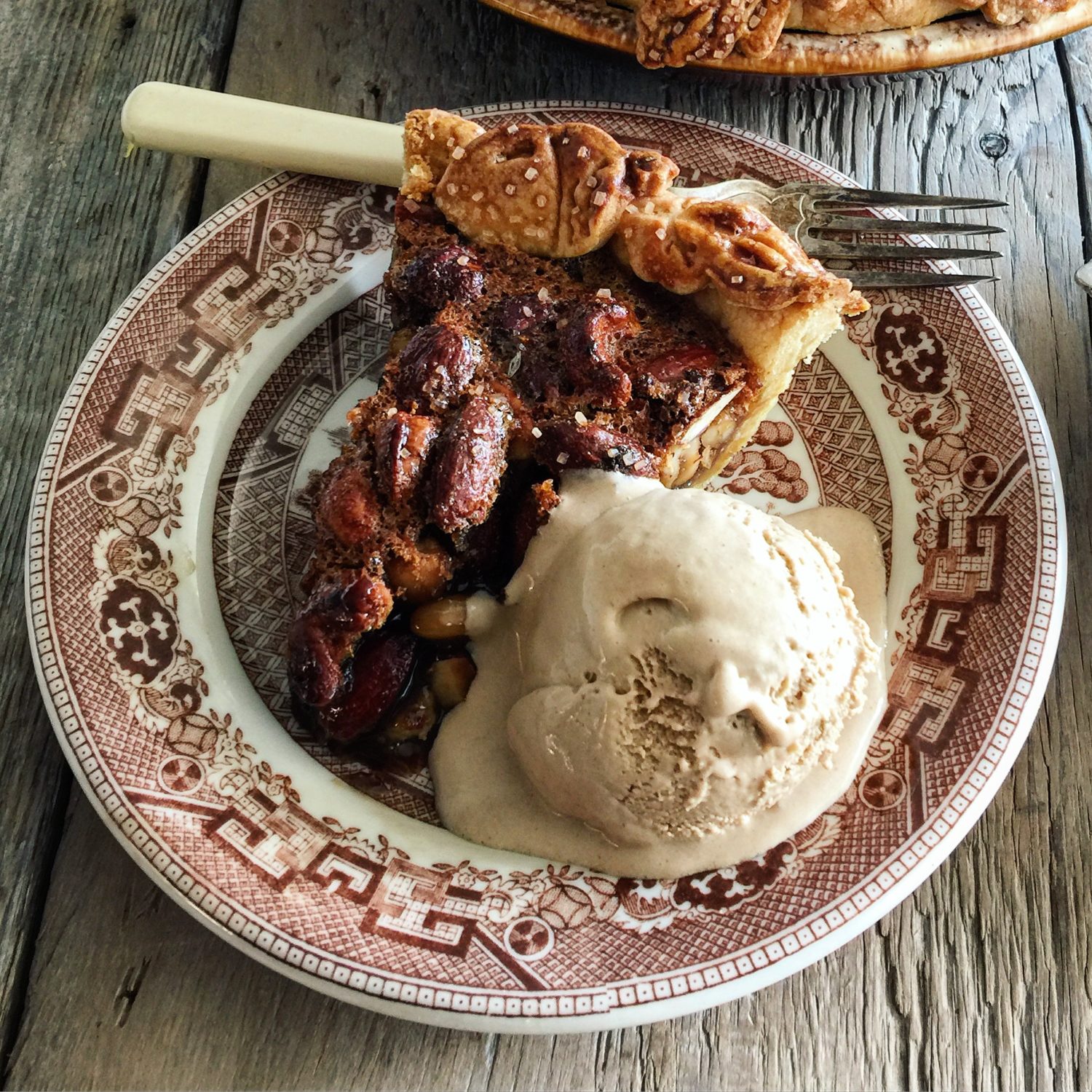 Winter Spiced Mixed Nut Pie
All the roasted salted nuts meet up with wintery spices in this version of a pecan pie. A little kick from cayenne works perfectly against the sweetness of the filling. Just add bourbon whipped cream, or ice cream.
Prep Time
1
hour
10
minutes
Total Time
2
hours
5
minutes
Ingredients
Pie Pastry
1/2

portion of prepared Perfect Pie Pastry recipe

(see link below)
Filling
3

eggs

3/4

cup

dark brown sugar

1/2

cup

light corn syrup

2

tbsp

dark rum

1 1/2

tsp

winter spice blend

(see Notes below)

1/2

tsp

cayenne pepper

(or less if you so desire)

1/2

tsp

pure vanilla extract

3

cups

salted roasted mixed nuts

Whipped cream or ice cream for serving.
Instructions
Prepare the pie pastry as per the recipe, and divide the dough in half. Use half for this recipe and freeze the other portion for another pie.

Press into a pie plate and crimp as desired. Freeze for about 30 minutes till firm.

Heat the oven to 375F

Beat the egg with the brown sugar, corn syrup, rum, spices, and vanilla in a large bowl.

Stir in the mixed nuts.

Pour the filling into the prepared pie shell.

Place the pie plate onto a baking sheet and bake on the centre rack till almost set. The outer edges will be set but the centre will still be slightly wobbly. This should take between 50-55 minutes.

Cool on a rack till completely set. You want to let it cool for at least 4 hours.

Serve with whipped cream or ice cream.
Recipe Notes
If you don't have a powerful blender to create the Vitamix blend, you can get something similar using the following recipe.
Blend together: 3 tbsp ground cinnamon, 1 tbsp ground ginger, 1 tbsp granulated sugar, ¾ tsp ground cardamom, 3 tbsp salt, 2 tsp ground pink peppercorns (through a pepper mill), 1 tsp ground cloves, ½ cup (110 g) packed brown sugar, 1/4 cup grated orange zest dried on a baking sheet
If you want to substitute pumpkin pie spice blend, this is just fine.
Perfect Pie Pastry link.
Mixed Nut Pie recipe adapted from Spiced Mixed Nut Pie, Real Simple.
SaveSave