There was a strange blip on the fresh produce aisle here in Toronto during January, 2016.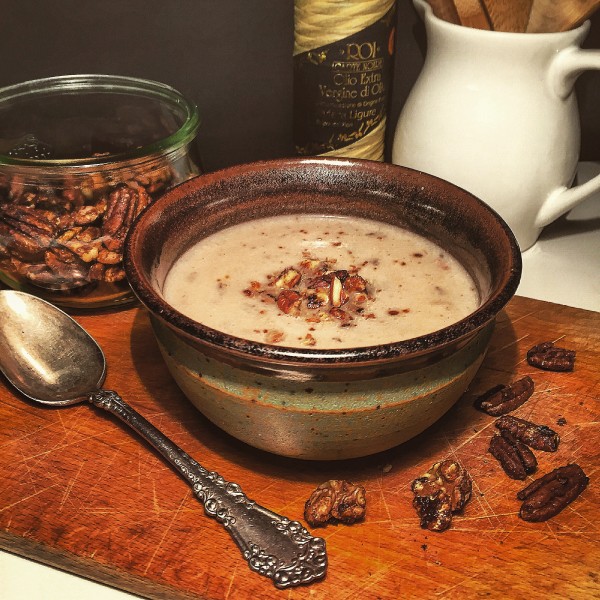 Now, we don't expect the produce we purchase at the markets or groceries stores to be cheap in the winter. We understand this. But that doesn't seem to placate us from the recent shell-schock we received when we hit our various grocery shopping destinations, only to find cauliflower running a good $7.00 and up to $8.99 a head!! That's crazy. I know cauliflower hit a 'superfood' high last summer, and as soon as something gets popular among the foodies and health gurus, the cost goes way up (read: quinoa!!) but how could we suddenly jump $4 or $5 in just a few weeks? Well there was an uproar. It even hit the local news stations. Who would have thunk it- the humble cauliflower might as well be trading on the stock market. Gold.
Well, the supermarkets felt the crunch. Many of us were foregoing purchasing cauliflower. I totally understand this. Thankfully I had some (it does keep pretty well) and there is always frozen. Yes, frozen. Perfectly acceptable, especially if you are going to be cooking it up anyway. It got to the point that they had to reduce the price, because they had all this cauliflower sitting around. (I would have had no problem with this, if in turn the cauliflower would be turned over to food banks etc, but was it?) So a couple of weeks after the whole kafuffle started, I was walking down my fresh produce aisle and saw it, cauliflower for $2.99 a head! I'll take it!! And yes, others were even finding less expensive than I did.
So, I had two glorious heads of cauliflower at home. What to do with them. Jim adores cauliflower. He will snack on it all day, if I cut it up for him. But I wanted to do more than just snack on it. So I decided on a soup. Cauliflower makes the grandest, silkiest, velvety soup.
I also had kohlrabi in the house. Kohlrabi is one of those strange looking veggies, that if you don't know what it is or what to do with it, you'll just look at it and think, 'alien food' and keep moving. It's usually a pale green colour, the size of a medium turnip. And actually, raw, it kind of tastes like a turnip. Harmless, subtly sweet, and crunchy. I grew up on it. When I was a kid, my mom would trim and peel away the outside rind, and hand it to me. I would eat it like an apple. Matchsticked, it is lovely in a salad. You can roast it with other root veggies for a lovely stew or chilli. And I decided it would be a perfect partner for my cauliflower.
So I sprinkled some za'atar (a wonderful blend of sesame seeds, oregano or thyme and sumac) over the cut up veggies, roasted them both up, and then added them to sauteed onions and chicken stock (veggie stock would work equally well), and spices. Pureed the softened veggies with the stock together and had a perfect bowl of soup to present to Jim. But before I handed him his bowl, I decided it looked rather 'naked'.
I remembered that I was wanting to make the Balsamic Spiced Mixed Nuts from the 'Food Fashion Party' website. Asha has the most amazing spicy, exotic, layered recipes, inspired by her native Southern Indian background. Please check her out, it's a treasure trove of inspiration. So I made up a batch of those nuts, and crumbled them up as the 'crouton' for our soup. And then I grabbed a nori sheet and used scissors to chiffonade it up, and sprinkled these on top of the soup as well. Now there was a hint of green on the soup bowl. All was right in the world, at least for this moment, as we sat down to eat. A reasonably priced cauliflower…
Love Jen.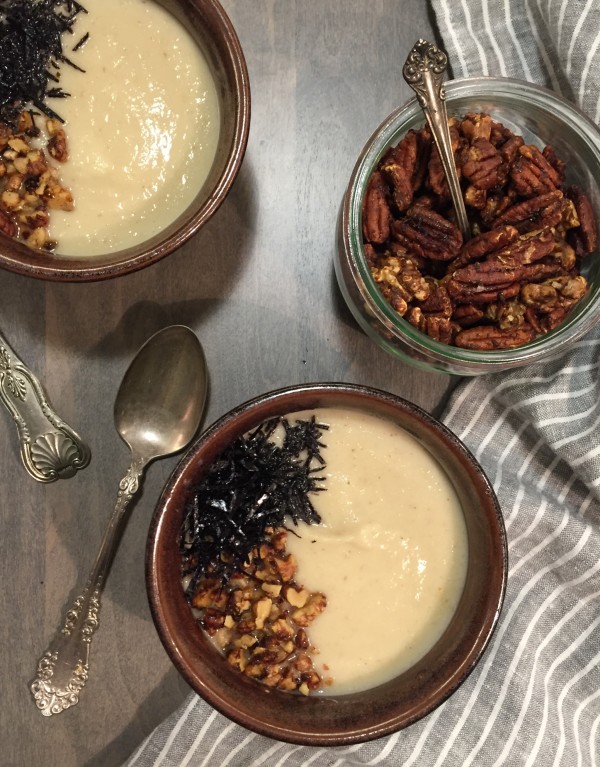 ZA'ATAR ROASTED CAULIFLOWER AND KOHLRABI SOUP
A velvety, cozy soup with the best crunch, and topped with spicy nuts and nori. Perfect way to warm up from the inside out on those frosty days.
Total Time
1
hour
5
minutes
Ingredients
I med head of cauliflower

, cut into medium florets

3-4

kohlrabi

, peeled and cut into 1 inch cubes

2

tsp

za'atar

olive oil

kosher salt

fresh cracked pepper

1

large onion

, diced

4-5

garlic cloves

, minced

1/2

tsp

turmeric

4

cups

of chicken stock

(vegetable stock is perfectly acceptable)

1

bay leaf

4

tbsp

crumbled 'Balsamic Roasted Nuts'

(see link)

1

sheet of nori

, cut finely into slivers (optional)
Instructions
Preheat oven to 375F.

Place the cauliflower florets and cubed kohlrabi into a bowl. Toss with olive oil, za'atar, and 1 tsp kosher salt and 1 tsp cracked pepper. Spread out on a baking sheet at roast for 30 minutes, or until just tender. Remove from oven.

Heat 1 tbsp of olive oil in a pot over med-high heat. Add chopped onion. Saute for 4-5 minutes, till just turning opaque. Add garlic and turmeric and saute 2 minutes longer.

Add roasted veggies, stock, and bay leaf

Bring to boil and then reduce to a rolling simmer. Cook for about 30 minutes, until veggies are completely softened.

Remove bay leaf. Puree using an immersion blender. Or puree using a blender/ food processor. If using a blender, only fill halfway, and put a towel over the lid, holding it down and starting off on low. The heat from the soup will expand and you don't want to get scalded. Once completely pureed, return to the pot, and re-season with additional salt and pepper and za'atar if desired.

Garnish with crumbled spiced nuts and shredded nori.
Recipe Notes
I have included the link for Asha's brilliant Balsamic Spiced Mixed Nuts. They work amazingly with this soup, and are obviously a great party snack. You can substitute celeriac for the kohlrabi, if you are having a difficult time finding it.
Adapted from Food Fashion Party Balsamic Spice Mixed Nuts
SaveSave