As a kid, if you asked me what my favourite pie was, I'd automatically say Pumpkin.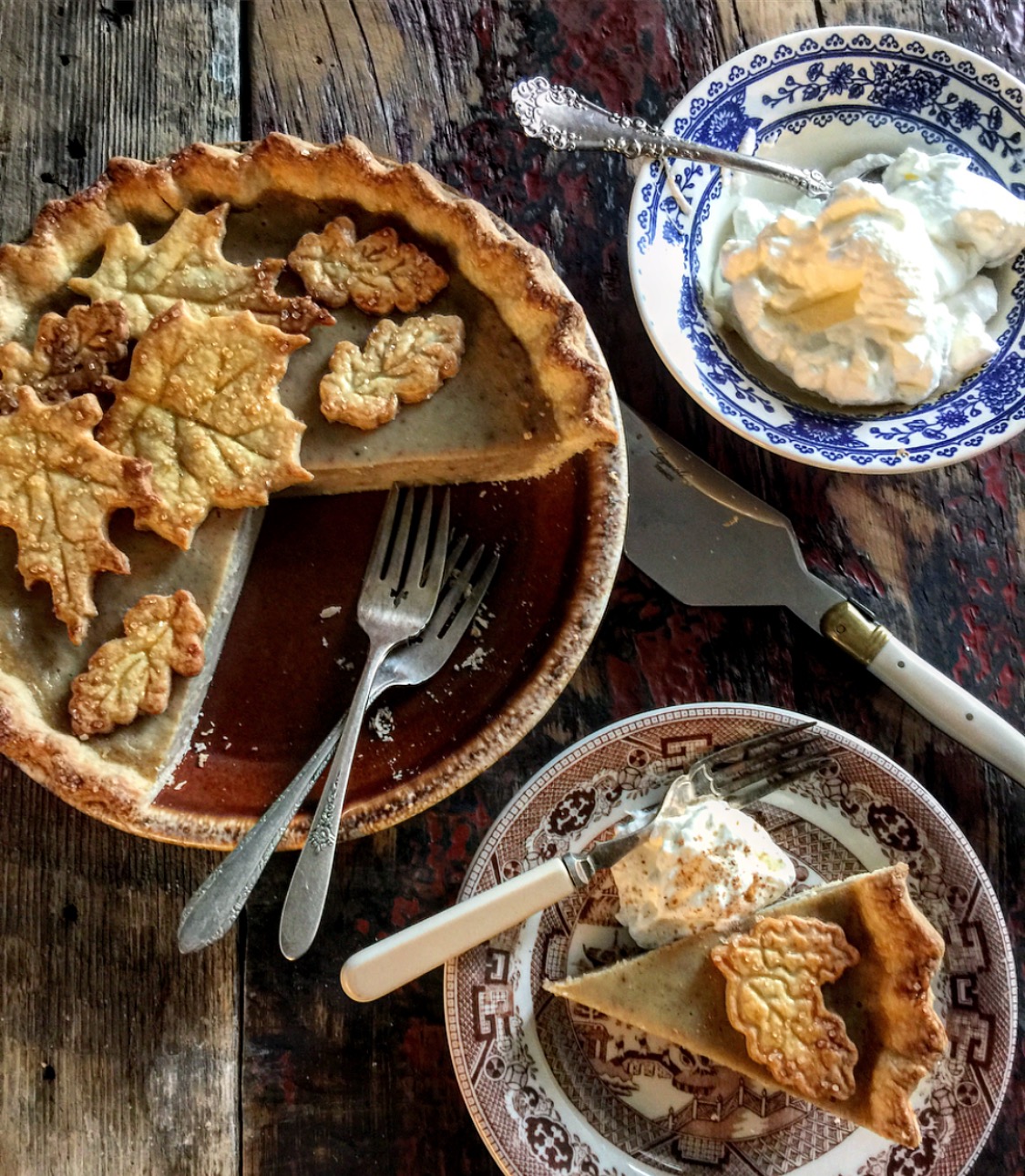 I'm not sure if it was the colour, the creamy texture, or because it was an icon of my favourite season. I think a lot had to do with the texture. I love all things custard, and this pie has it in spades.
My repertoire of pies has expanded greatly. But I will still always have a soft spot for Pumpkin Pie.
This week, my appreciation towards this pie deepened somewhat, if that was even possible. A dear friend of mine who grew up in Uganda had gifted me some African yams. I looked at those gnarly white fleshed tubers, and wondered what to do with them. I was finally leaning towards a creamy, curried soup, when I decided to flip through Aimee Wimbush-Bourque's new cookbook, The Simple Bites Kitchen. It is a beautiful book, filled with family friendly recipes and a lot of her tricks and tips to make being in the kitchen fun. My eyes were automatically drawn to her Winter Squash Pie. A lovely twist on the classic Pumpkin Pie, she uses roasted, puréed squash (butternut, hubbard or kabocha) And her instructions obviously work well for a pie pumpkin as well.
Well, I thought, down south in Low Country (South Carolina, Georgia etc) Sweet Potato Pie is a classic. And these African yams given to me by Lucy were kinda like sweet potatoes. So why not make a pie from them, using Aimee's method for her pie?
I cut the yams in half and roasted them until they were soft. It didn't take long at all. Then I scooped out the creamy flesh (if any of the exposed bits become hard due to caramelizing, just discard those bits, along with the skin) and put it into my Vitamix. The flesh isn't as soft as how some squash gets, so I added a touch of water, just to help the blender along. In a few moments I had a purée of yam that was smooth, creamy, and nicely thick as opposed to too runny. You could do this a day in advance if you'd like. I didn't, but it didn't take long at all to let it cool down before continuing with my pie filling.
Then I followed Aimee's recipe. So simple. All in one bowl. She uses maple syrup instead of sugars for her sweetener. This gives the pie a lovely depth of sweetness and earthiness.
I used my own Perfect Pie Crust recipe, using the smaller section to make 'cookies' to decorate the top, once it had baked off. To make the cookie toppers, just roll out the dough to roughly the same thickness as your pie shell (or a touch thicker) and use cutters to create the shapes you want. I get a lot of my cutters on line or at specialty kitchen shops, in either the baking or cake decorating section. You can check out Sur la Table or Williams Sonoma or even Amazon for wonderful options. Once cut out, lay them on a parchment lined baking sheet, brush with an egg wash and sprinkle raw or turbinado sugar over them. Bake at 375F till golden (usually around 15-20 minutes or so- just watch) Cool on a rack for a few minutes, and then decorate the top of a naked pie (any custard pie qualifies!)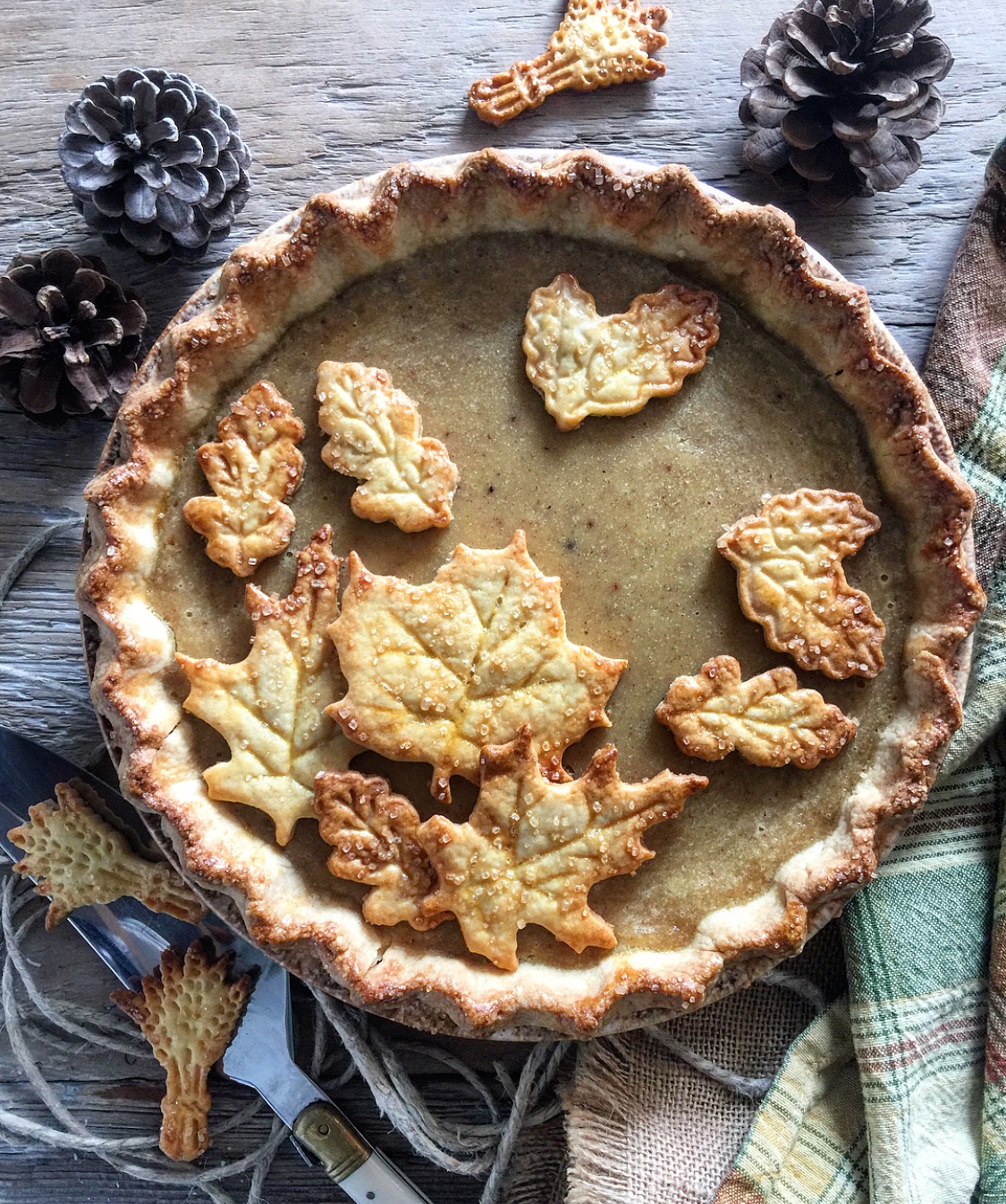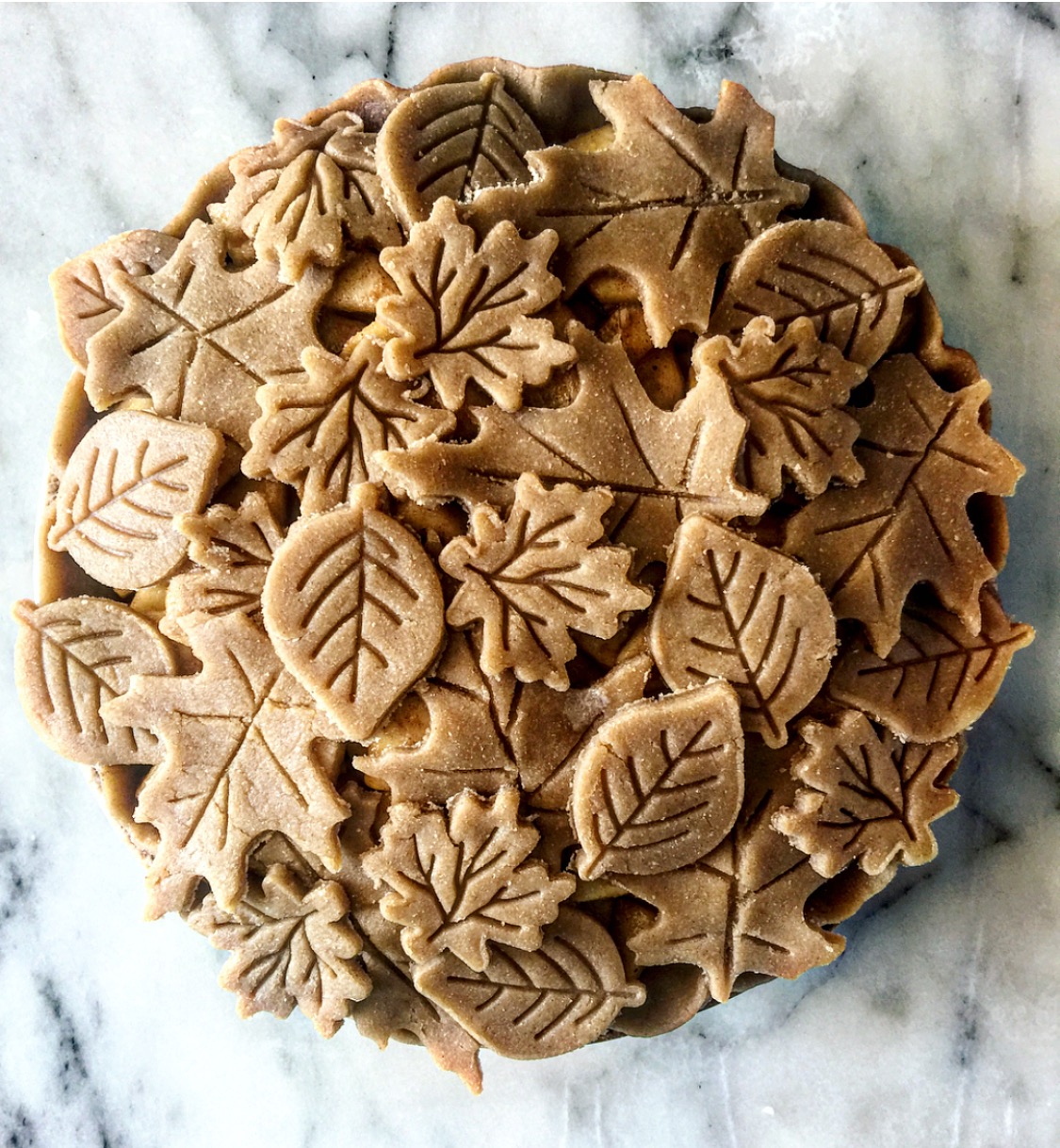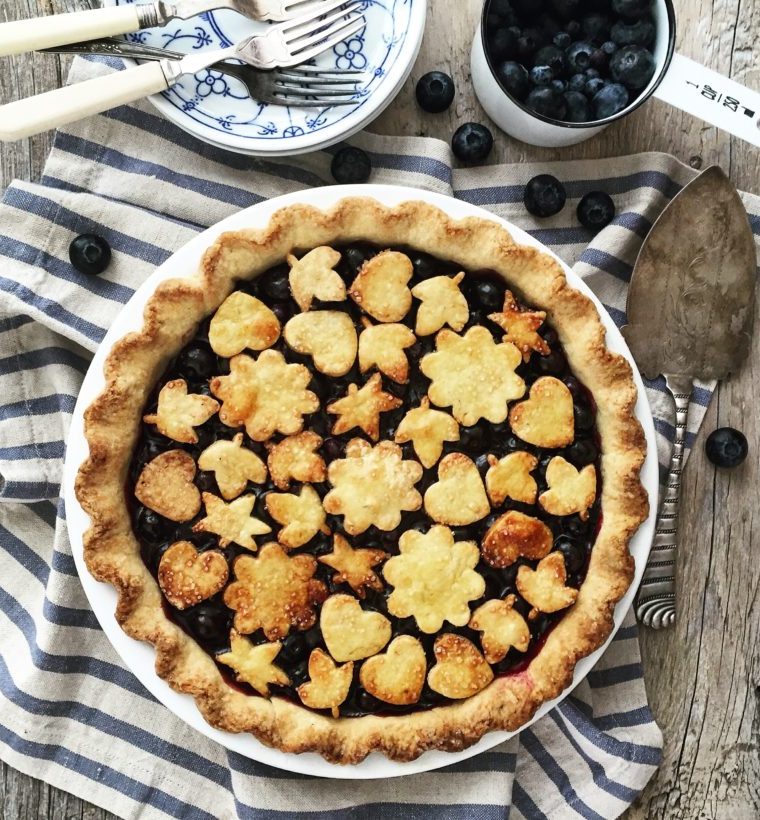 I followed Aimee's directions, and it baked up perfectly. It puffed up, but not too much that I had to worry about it falling once cooled. It didn't separate from the pastry, or crack etc. You want to remove it from the oven while the edges are firm, but the centre is just ever so slightly wobbly. Not wet or uncooked, just not as firm and cooked as the edges. It will continue to 'cook' and firm up once outside the oven. If you wait till the centre is as firm as the edges, you risk the edges pulling away from the crust due to shrinkage because of overcooking.
Jim loves the pie. I am so happy! It isn't the intense 70's shag carpet orange of a Pumpkin Pie, but rather a more subtle fawn colour due to the white fleshed yams. But the flavour is perfect. The texture is perfect. Add a smidgen of whipped cream topped with grated nutmeg, and you have the perfect pie. This pie will keep in the fridge for a good 4-5 days, but I doubt you will have that long!
Thanks Aimee! This will be my go-to for all squash pies from now on. Yes, I will even roast off a small pumpkin to make this pie. In a pinch Aimee does admit that canned pumpkin purée will work just fine, it just won't have the depth of flavour that roasting will give it. I'm convinced.
Now I have to get more African yams to make a curry soup with…
Love Jen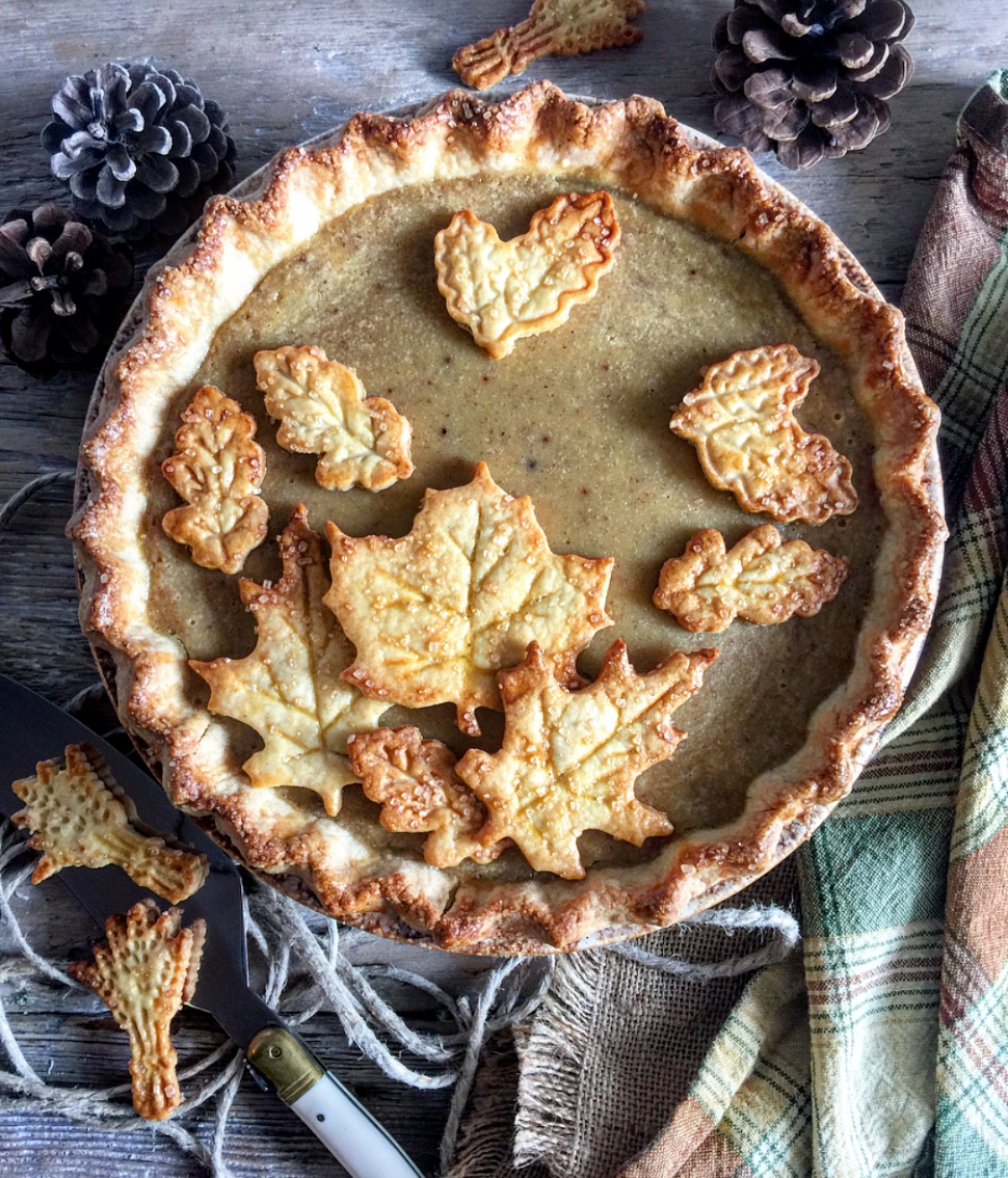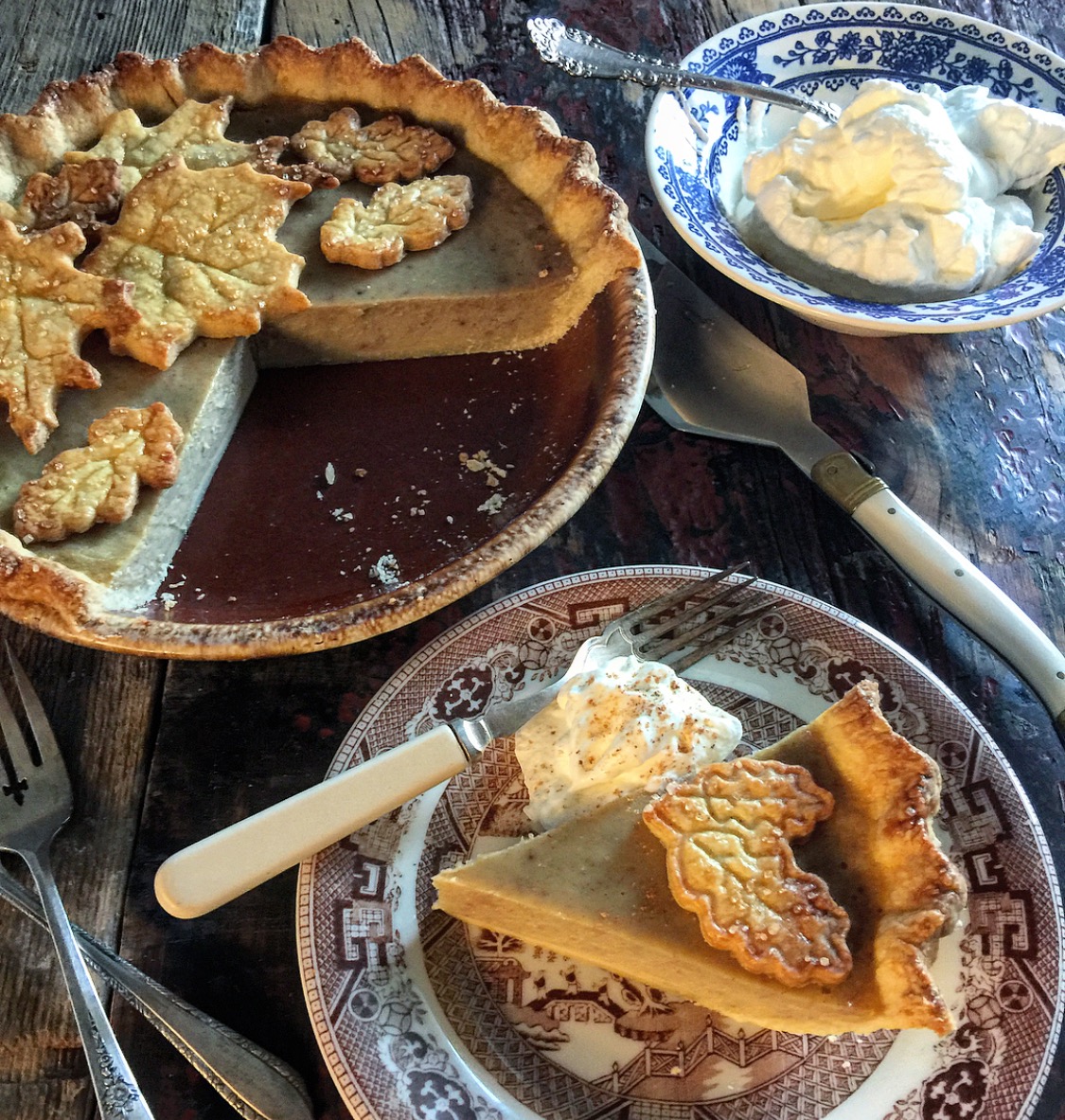 Aimee's Winter Squash Pie
This autumn pie is the perfect way to use all the alternatives to pumpkin! Spices and maple syrup make this custard pie the perfect ending to any harvest meal. Or for breakfast!
Total Time
1
hour
40
minutes
Ingredients
1

recipe of my Perfect Pie Crust recipe

(see archives or link in Recipe Notes below)

4

medium eggs

Seeds scraped from 1 vanilla bean

, or 2 tsp pure vanilla extract

3/4

tsp

cinnamon

1/2

tsp

ground ginger

1/4

tsp

ground nutmeg

1/4

tsp

ground allspice

1/8

tsp

ground cloves

3/4

tsp

kosher salt

1 1/4

cups

winter squash purée

(see Notes below)

2/3

cup

pure maple syrup

1

cup

heavy

(35%) cream

egg wash

(1 egg mixed with a bit of water)

1-2

tbsp

of raw or turbinado sugar

Sweetened whipped cream for garnish
Instructions
Preheat the oven to 375F (190C)

Roll out 2/3 of the pie pastry and line a 9 inch pie plate. Crimp as desired. Chill till needed

Roll the other 1/3 of the pie pastry to almost as thin as your pie crust. Cut out shapes as desired. Place these on a parchment lined baking sheet and refrigerate till needed.

In a large bowl, whisk the eggs till frothy. Add the vanilla, spices, and salt. Whisk till well blended.

Add the squash purée and maple syrup. Whisk well. Finally, stir in the cream.

Place the chilled pie shell onto a baking sheet. Run a bit of egg wash along the edges of your crimped pie shell. Sprinkle the edges with a bit of your raw or turbinado sugar.

Pour the filling into the pie shell. If there is extra, fill a ramekin dish with the extra and bake alongside the pie till they are set. (I got enough to fill one 4 inch ramekin)

Bake on the middle rack. Bake for 50-60 minutes, rotating the pie after about 30 minutes to ensure even browning of the crust.

When the centre of the pie jiggles only slightly, when the baking sheet is moved, the pie is ready.

Cool on a wire rack.

While the pie is baking, remove the chilled 'cookies' from the fridge.

Brush each with a bit of egg wash, and sprinkle with raw or turbinado sugar.

Bake at 375F till golden, about 15-20 minutes. Remove and cool on the rack for about 5 minutes.

Place the cooled cookies onto the set custard in a pattern appealing to you.

Once the pie is at room temperature, you can cover it loosely with plastic wrap and keep in the fridge till ready to serve.
Recipe Notes
Perfect Pie Pastry recipe.
To roast your own squash (or yam, as in my first attempt!): Simply cut the squash in half, remove any seeds and roast in a 400F oven till soft. Scoop out the flesh and purée till smooth. Depending on how dry the squash is, you may need to add 1 tbsp of water. But don't be in a rush to add too much water. You would rather have a firmer purée than too loose. Feel free to make the purée in advance, even the day before. and store in a sealed container in the fridge till needed.
Recipe adapted from The Simple Bites Kitchen by Aimee Wimbush-Bourque
SaveSave
SaveSave
SaveSave
SaveSave
SaveSaveSaveSave