'What Katie Ate on the Weekend' is a beautiful book. Not just to look at, but the recipes are a joy to use.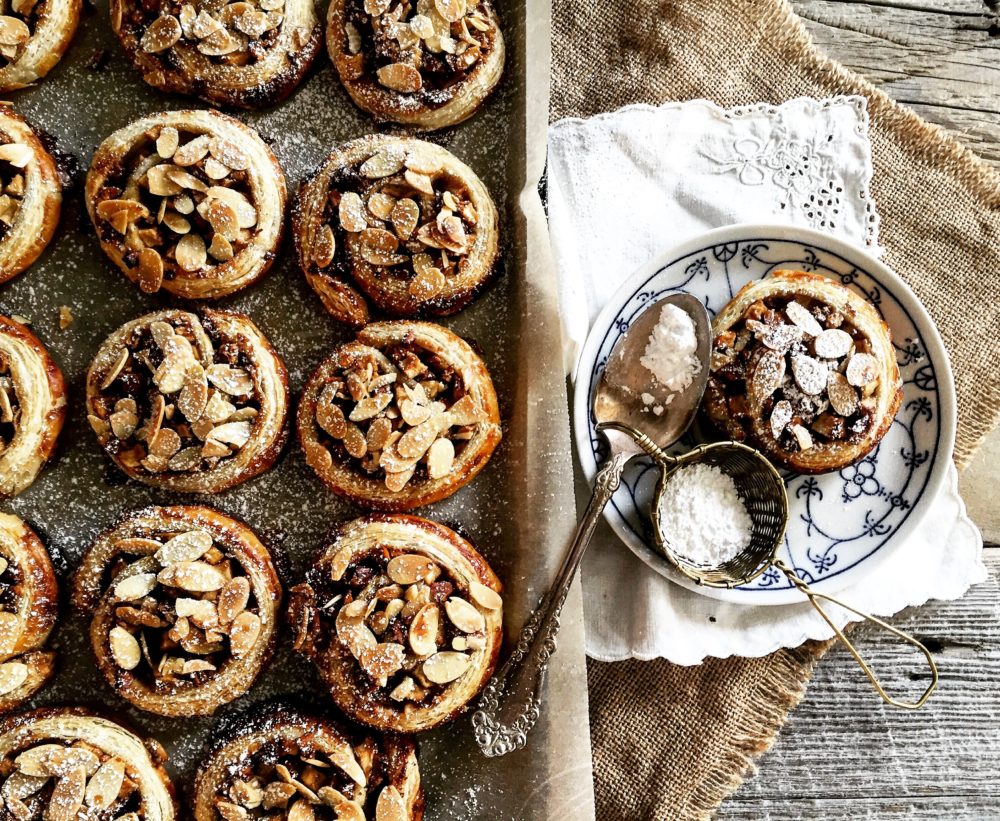 There's a great variety of dishes, from breakfast to desserts, with everything in between.
I couldn't resist baking up the Apple and Almond Pastries. The photo that Katie included with the recipe just invited me in, it looked so cozy and yummy. I'll admit, I'm a visual person, so if the photo of a dish is compelling, I'm hooked. This book is dangerous, in that I absolutely love every photo!! But I just don't have the time to bake each recipe, at least not this month. But this one made the cut.
Even though we are in the midst of a wonderfully hot summer, (there, I called it wonderful- that's for all the summer lovers who had been waiting for just such a summer! Give me October any day!) I just had to bake these up. The flavours of the spices and maple syrup definitely make it more of an autumnal treat, but I just didn't care! And when the kitchen was filled with the fragrances of all these warm and spicy ingredients baking up, I didn't mind at all 🙂
Katie includes a recipe for her puff pastry in the book. I think you may already know my feelings about taking the time to prepare puff pastry. I only have so many hours in the day, and do have other things to attend to, besides cooking and baking. So I have absolutely no qualms about using good quality purchased puff pastry. It works just fine, and leaves me time to actually clean the kitchen after all the baking!
Once you have your pastry rolled out, the recipe comes together pretty quickly. It's not unlike making cinnamon rolls, but thinner. The nuts and apples combined with maple syrup, vanilla paste and spices just makes the perfect filling for these little goodies. And then a bit of an egg wash and sliced almonds sprinkled over them all, and into the oven they go.
They are amazing right out of the oven. Okay, cooled down a little!! And even the next morning, at room temperature they're pretty darn good. If you do need to store them in an airtight container, then rewarm them in a toaster oven to bring back the crunch to the puff pastry. Add a good cup of coffee, and a couple of girl friends, and you've got a great little coffee break 🙂
Now that I've made these once, I have to say, I had to adjust the size of the pastry sheet. She calls for it to be rolled out to a 20″ square. Maybe the amount of pastry in her recipe allows for this. Using store bought pastry, and using one block (397 grams, approx 14 ounces) only gave me a 12″ x 18″ rectangle. I could have stretched it further, but I didn't want to run the risk of it tearing open as I rolled the nuts and apple chunks over it. But I was still able to get 18 pastries (as she called for) so I think I did just fine. You can either use more puff pastry to get the square, or do it as I did, and be content with slightly smaller ones. If you didn't know any better, you wouldn't question the size at all! Perfect portion, in my humble opinion 🙂
Love Jen.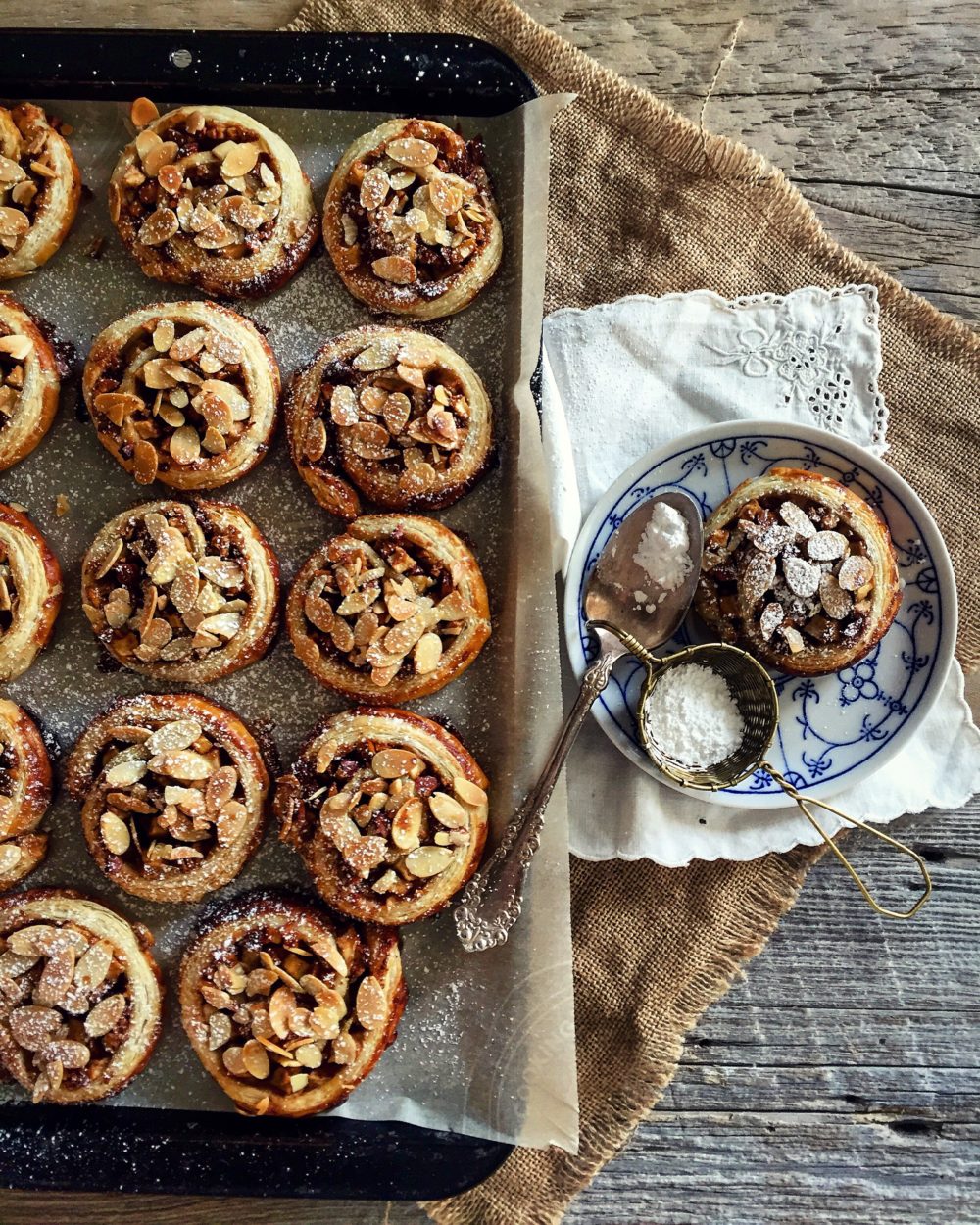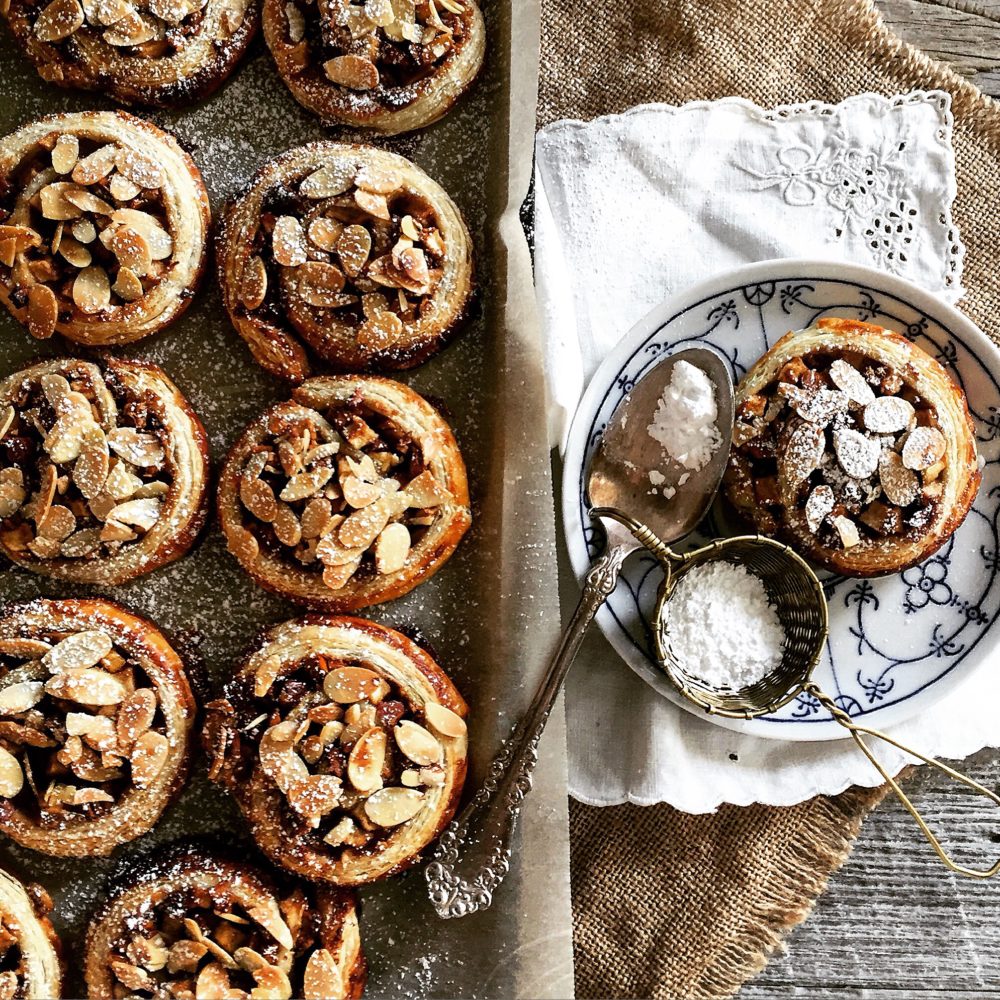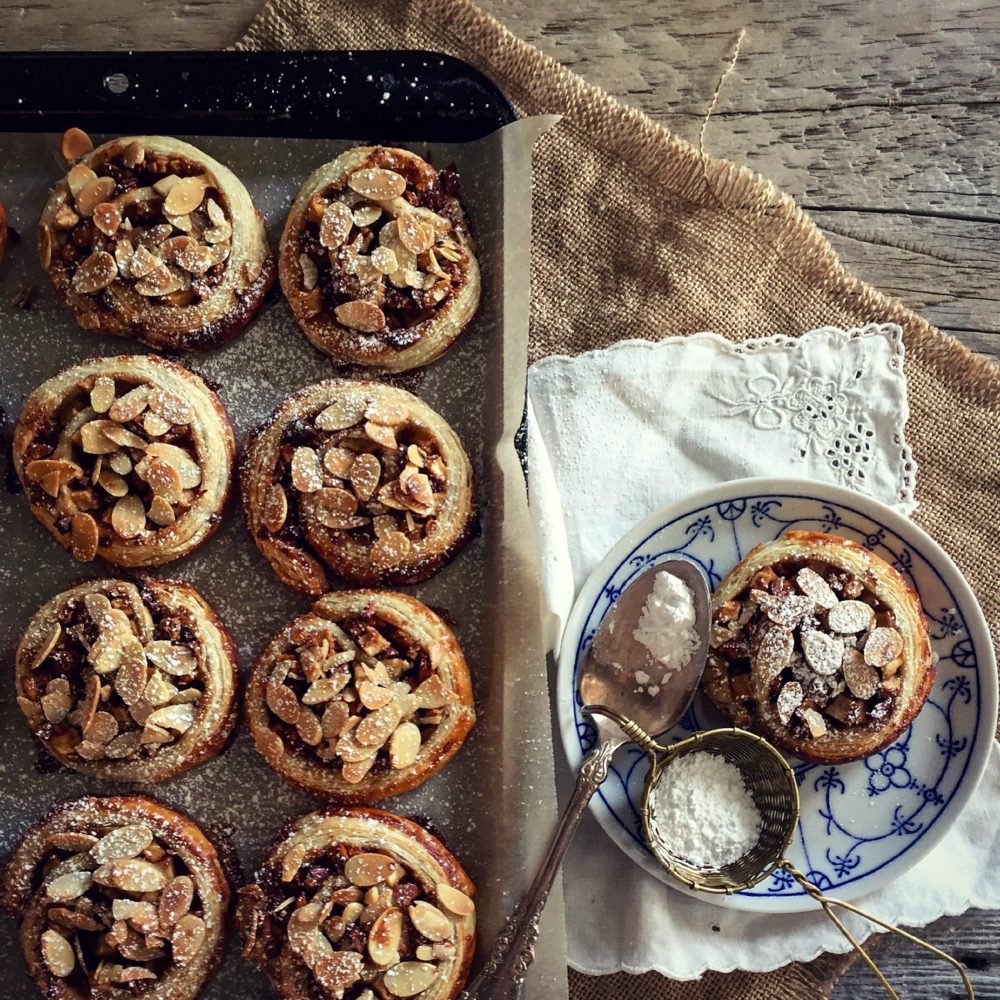 APPLE AND ALMOND PASTRIES
An easy French pastry, with the warm of spices and the flavours of apples and almonds. Just add a cup of coffee!
Ingredients
1

block of puff pastry

(397 grams/14 oz) thawed

5 1/2

oz

runny honey

, plus a little extra for drizzling

2 1/2

tbsp

maple syrup

1/2

tsp

ground ginger

1 1/2

tsp

ground cinnamon

2

tsp

vanilla paste

1

cup

almonds

, toasted and chopped (smaller rather than larger chunks)

3

smaller Granny Smith apples

(or two large), peeled, cored, chopped into 1/4" cube (or slightly smaller) mixed with juice from 1/2 lemon

1

egg yolk

, mixed with a little milk

toasted sliced almonds for garnishing

(approx 1/3-1/2 cup)
Instructions
Preheat the oven to 400F and line two baking sheets with parchment paper.

Roll out the thawed but chilled dough into a 12"x18" rectangle, with the longer edge going east to west.

Combine the honey, maple syrup, ginger, cinnamon and vanilla in a small bowl.

Using an offset spatula, spread this mixture evenly across the sheet of pastry, leaving a 1/4 border.

Scatter the chopped almonds and apple bits over the spread.

Carefully roll up, using the long edge and going up or down (like a Swiss Roll) as tightly as you can without breaking the pastry. Brush all over with the egg wash.

Using a very sharp knife, trim the edges (its mostly dough, right?) and then cut it in half down the middle. Take each half and cut it into 3 equal portions. Cut each portion into 3 equal slices. This will give you 18 slices.

Carefully transfer each slice (I use a bench scraper to loosen from the counter) to the parchment lined baking sheet. Leave about 3/4" space between each slice. Drizzle with a little extra honey and scatter with the toasted almond slices.

Bake for 25-30 minutes, or until golden brown.

once cool, you can sprinkle with powdered sugar if desired.
Recipe Notes
Serve warm or at room temperature.
You can store in an airtight container. But not for too long. Reheat in a toaster oven (or conventional oven) at 325 till warmed through, and the puff pastry has dried out slightly. You want that slight crunch to the pastry.
Adapted from What Katie Ate on the Weekend