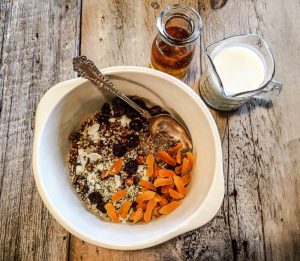 A few times each year, our lives get really busy, with long days away from the house, leaving early in the morning and returning late in the evening. It's at times like these, that Birchermuesli comes to the rescue.
Long before the days of overnight oats, baked oatmeal etc, there was Birchermuesli. I wasn't even really sure why it's called Birchermuesli, so I looked it up (good ole internet!).
It was originally known in Swiss German as Birchermüesli or simply Müesli, the word is an German diminutive of Mues which means "puree" or "mash-up." Muesli was introduced around 1900 by the Swiss physician Maximilian Bircher-Benner for patients in his hospital, where a diet rich in fresh fruit and vegetables was an essential part of therapy. It was inspired by a similar "strange dish" that he and his wife had been served on a hike in the Swiss Alps. It is a dish based on raw rolled oats and other ingredients including grains, fresh or dried fruits, seeds and nuts, and may be mixed with cow's milk, soy milk, almond milk, other forms of plant milk, yogurt or fruit juice. And this is how we still do it today!
I just love the idea of preparing a bowl of it on a Thursday evening, and knowing that for the next three days, I can take a small portion of it and put it in a travel container or bowl, add some yogurt and fresh fruit, and be set for the morning. It is such a hearty dish, it truly does keep me satisfied till lunch time.
The other reason this is such a versatile and wonderful recipe to have in your arsenal of go-to's, is that it is totally customizable! If you don't like dried apricots, don't use them. Try cherries instead. If you can't have peanuts, go with almonds. Not in the mood for just rolled oats, add some buckwheat. See what I mean- you can totally play with this recipe. It's just great to have a jumping off point.
I had been making this for years here in Canada, and then a few years back we were in Switzerland, at a ski resort. What do you think was on the breakfast buffet table? Yep, a lovely ceramic serving bowl of Birchermuesli! And it totally tasted like mine! That made me smile on the inside. This dish will satisfy on the warmest summer day, like right now, since it is served cold, but works equally well in the middle of winter- it's just so hearty. Add a steaming cup of cocoa and you're all set.
So whether you're making up a batch for company, (just think, no work in the morning to get breakfast together for a crowd) or making it to eat over several mornings, I hope you like this recipe. It always makes me feel cozy on the inside.
Love Jen.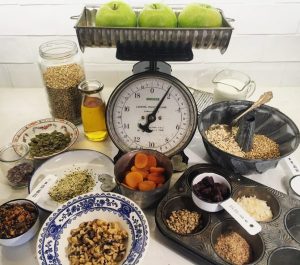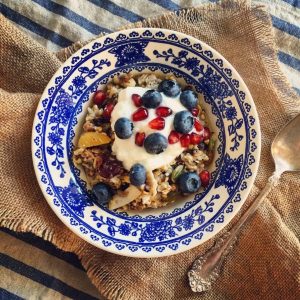 Birchermuesli
The original overnight oats! A classic combination of oats, buckwheat, nuts, seeds, and dried fruit all covered in milk and apple juice. The perfect Next Morning breakfast.
Ingredients
1

cup

rolled oats

1/2

cup

buckwheat

1/2

cup

granola

I use my gluten free buckwheat granola, in the archives

1/2

cup

dried fruit

chopped

1/4

cup

nuts

chopped

2

tbsp

flaxseed powder

1

apple

peeled and grated

2

tbsp

honey

1

cup

apple juice

almond milk

to cover the mixture

1

banana

sliced

1 1/2

cups

fresh berries

Greek yogurt
Instructions
In a large bowl, combine the oats, buckwheat, granola, flaxseed, dried fruit, nuts and grated apple.

Add the apple juice, honey and enough milk to cover the mixture.

Allow to soak in the refrigerator for at least 4 hours or overnight to soften the oats and buckwheat.

The next day, spoon 1/2 cup of the mixture into a bowl, add some bananas, 1/4 cup of berries etc and some yogurt. Enjoy!
Recipe Notes
This will make about 3 to 3 1/2 heaping cups of muesli. I am assuming that a good 1/2 cup should feed a person, by the time you add the fresh fruit and yogurt. You will see though.
I have taken this and travelled in the car with it. Travels very well!
HERE ARE SOME OPTIONS FOR THE NUTS AND FRUIT
Almonds, peanuts, hazelnuts, pistachios; pumpkin seeds, sunflower seeds, sesame seeds, hemp seeds; shredded coconut; dried apricots, cherries, cranberries etc. Add as much or little of each to make up the required amount above.
You can also add some wheat germ or oat bran if you'd like in the morning.