What's your favourite colour? Maroon? Magenta? Ochre? Mauve? Vermillion? Azure? Puce? Mine has always been chartreuse.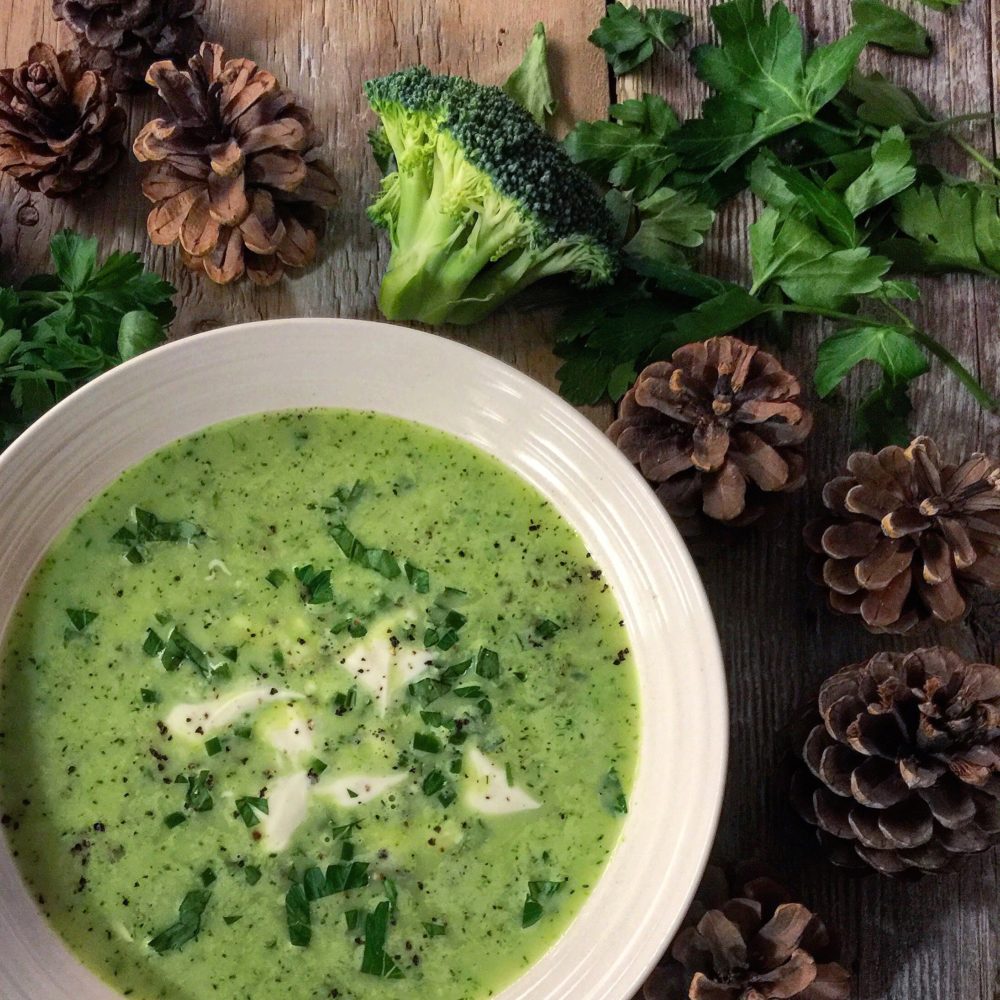 That acidy green that sometimes looks olive, sometimes has a lemon-y hint to it. It's not pea-green. It's not mint. It's closer to a peridot green, the colour of creeping jenny or some cats' eyes. It's a happy colour. And my sister teases me for the name. I didn't make it up, really! 🙂
Today I made up a broccoli soup. It's not chartreuse. It's more like the colour of grass. It has a soothing, restful, cool green tinge to it, and made me think of freshly mown lawns in June, with clover dotting the expanse. It is especially evocative of those restful summer hues, since right now it is February. It's so dismal today. Raining. With the threat of it turning into freezing rain as the day progresses. The last legs of winter always seem to last twice as long as the first 6 weeks or 2 months. Why is that? Are we just so tired of shivering, seeing naked trees, and wearing the blacks, browns and greys in heavy, woolen materials? Do we have cabin fever, wishing to get out and walk in the sunshine without the ache that comes with a heavy coat over our shoulders and our feet stuffed into heavy boots? Whatever the reason, Spring is just around the corner, and yet a lifetime away.
Whatever the case, we are desperate for refreshment. Thankfully we can find respite in the meals we make. It's rather nice to switch it up from the heavy braises and low and slow stews and pastas we've been enjoying. We still have a heap of fresh fruits and veggies at our fingertips. Whether it's the citrus, or all the root veggies that we can play with, we can come up with dishes that harken to springier times!
As is the case with this soup. Fresh broccoli is in abundance. Parsley is always available. Feta, like lemon, has a fresh tang to it. Some aromatics in the form of bright celery, onions, and garlic. I was initially inspired by a recipe by Emilie from The Clever Carrot. I often visit her book for fabulous and easy recipes. But I have put my own spin on it: Instead of using a potato for texture, I use cannellini beans. They add the perfect creaminess, along with fibre and protein. And if they are coming out of a can, they require less cooking time, making this a soup that will come together that much quicker.
To keep this a vegetarian soup, I will suggest two options: use vegetable stock. Obvious. But I also keep a jar of Nutritional Yeast Faux Chicken Bouillon Powder in fridge. All the flavours you want from a chicken stock or broth, but with no chicken involved. It really works fabulously in a variety of settings. Often if a recipe calls for just a cup or less of chicken stock, and it would be a pain to open a carton or can to only use a small portion, I opt for this magic powder! Just a spoonful into boiling water, and you get the effect you want, without the pain of opened packaging of stock. I have the recipe for this powder up on the Pantry section of the blog. Make up a batch and you'll be surprise at how often you tap into it. All natural, it keeps pretty indefinitely in the fridge.
Back to the soup. I also add some chopped jalapeño for kick. Add a little creme fraiche or more feta for garnish, and you have a hearty soup that at least looks like Springtime. This soup comes together so quickly, that you can actually get this from stove to table in less that a half hour!
Love Jen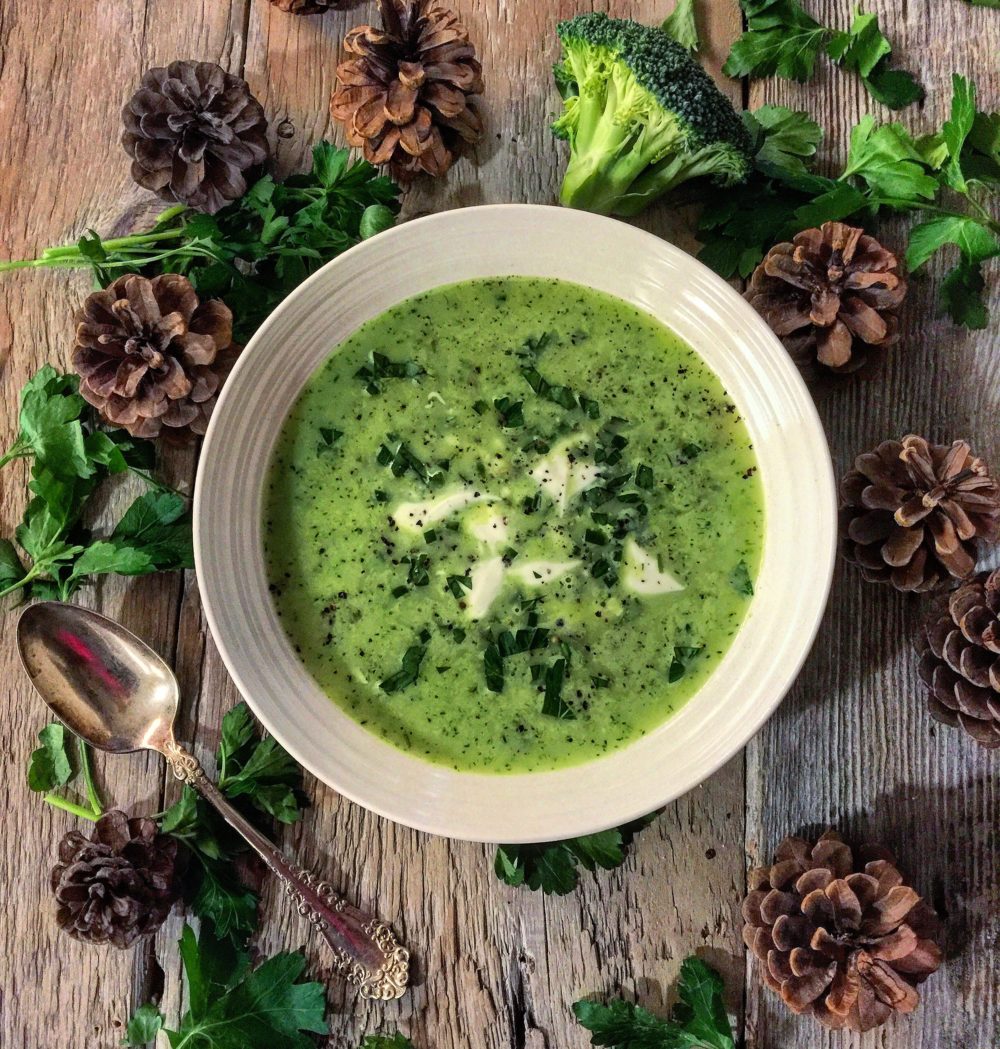 BROCCOLI AND FETA SOUP WITH WHITE BEANS AND PARSLEY
A happy and fresh broccoli soup, made creamy with the addition of white beans. The tang comes from feta and the kick comes from jalapeño!
Ingredients
2

tbsp

olive oil

1

medium onion

, diced (about 1 cup)

2

cloves

garlic

, minced

1/2

cup

celery

, chopped

kosher salt and cracked pepper

1 14-15

oz

can of white beans

(navy or cannellini), rinsed and drained

4

cups

of vegetable stock

(or water) Or 4 cups of vegetarian 'Chicken' stock made from my 'Chicken' Bouillon base recipe found on the Pantry page of the blog.

7

cups

of chopped broccoli

, including the stems

1/2

cup

feta cheese

, crumbled

1/2

cup

parsley

, chopped

1/2-1

medium jalapeno pepper

, diced small (use to the desired heat)

parsley

chopped for garnish

feta cheese

crumbled for garnish

creme fraiche

optional garnish
Instructions
In a large pot, warm the olive oil over medium heat. Add the onions, garlic and celery and stir, cooking till just softened, about 5 minutes. Season with salt and pepper.

Add the drained beans and stock.

Place a lid on the pot and bring the heat up to a rolling simmer. Simmer for about 5 minutes, just heating the beans through.

Add the broccoli and cook briefly- about 3-4 minutes. Do not overcook, or else the broccoli will turn to a grey green colour. It won't affect the taste, but it may look less than desirable (important when you're trying to get kids to eat anything!)

Working in batches, puree the soup with the feta cheese and parsley leaves. You can do this in a blender or using an immersion blender, or even a food processor. Puree till the desired consistency: rustic and chunky, completely smooth, or somewhere in between! Return to the pot and add additional stock or water if you would like it a touch thinner. Stir in jalapeño dice as desired.

Re-season as desired.

Serve with extra crumbled feta, parsley flakes, or a drizzle of olive oil.
Recipe Notes
If making this in advance, or reheating, use low heat to bring up to temperature. Too high a heat and you will get a muddy looking soup. Gently cooked broccoli and fresh parsley combined at the blending stage is what will give you the bright green colour!
Adapted from The Clever Carrot by Emilie Raffa