Yep, I am that girl. That one who is just geeky enough to spend an afternoon cutting up bricks of butter.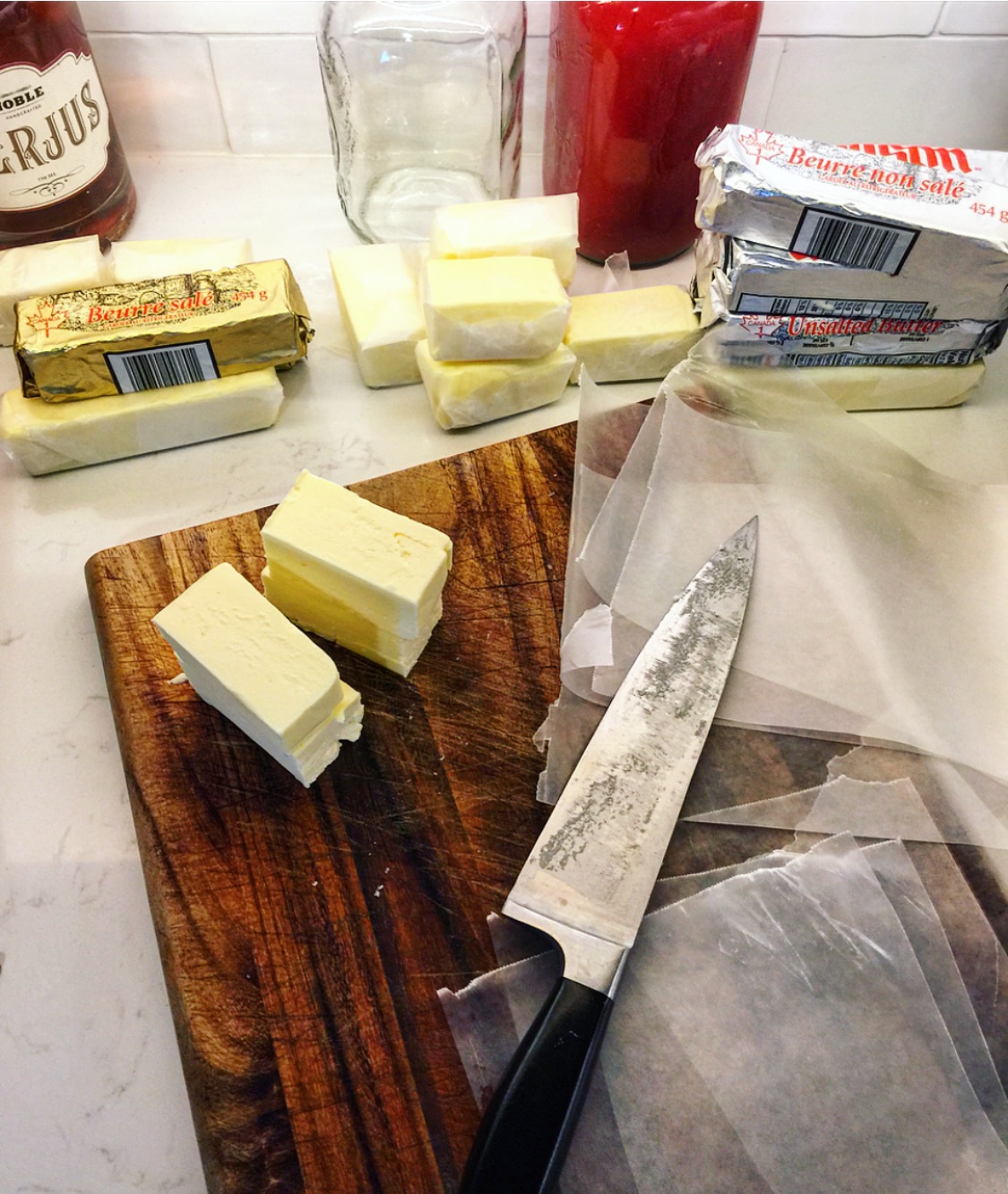 But it's so worth it. Baking season is now in full swing. And if you're anything like me, you go through your fair share of butter.
Is there anything quite like rich, sweet, creamy butter (cue Kate and Leopold's 'Butter Commercial' scene!) Even as a kid, I adored butter. I especially liked it if it was fresh out from the fridge. Then I would take the butter knife and scrape it along the top to create lovely curls. And then I'd pop those curls in my mouth! And if you offered me cake for dessert, I would instead ask if there was a bread roll leftover, that I could eat with butter. Yep, give me all the butter.
Being a 70's kid for some of my youth, our home went through a stage where… margarine was in the house! (oooh, the horror) All the hoopla surrounding the health benefits of margarine over butter swayed most households. But none of us really ever liked it. So when I was a teenager, and it was now the 80's, I convinced my mom to return to the Butter Side. She did. And we never looked back. I would rather use less, but real butter on my toast, than anything claiming to be better than butter.
So today, you will find butter all over the kitchen. There is fresh, grass fed butter stored in a butter container in a cupboard for easy spreadability (and for my personal Butter Coffee indulgences) There is butter in the fridge, ready to be used for pie. And there is a whole boatload of butter sticks in the freezer, ready for baking.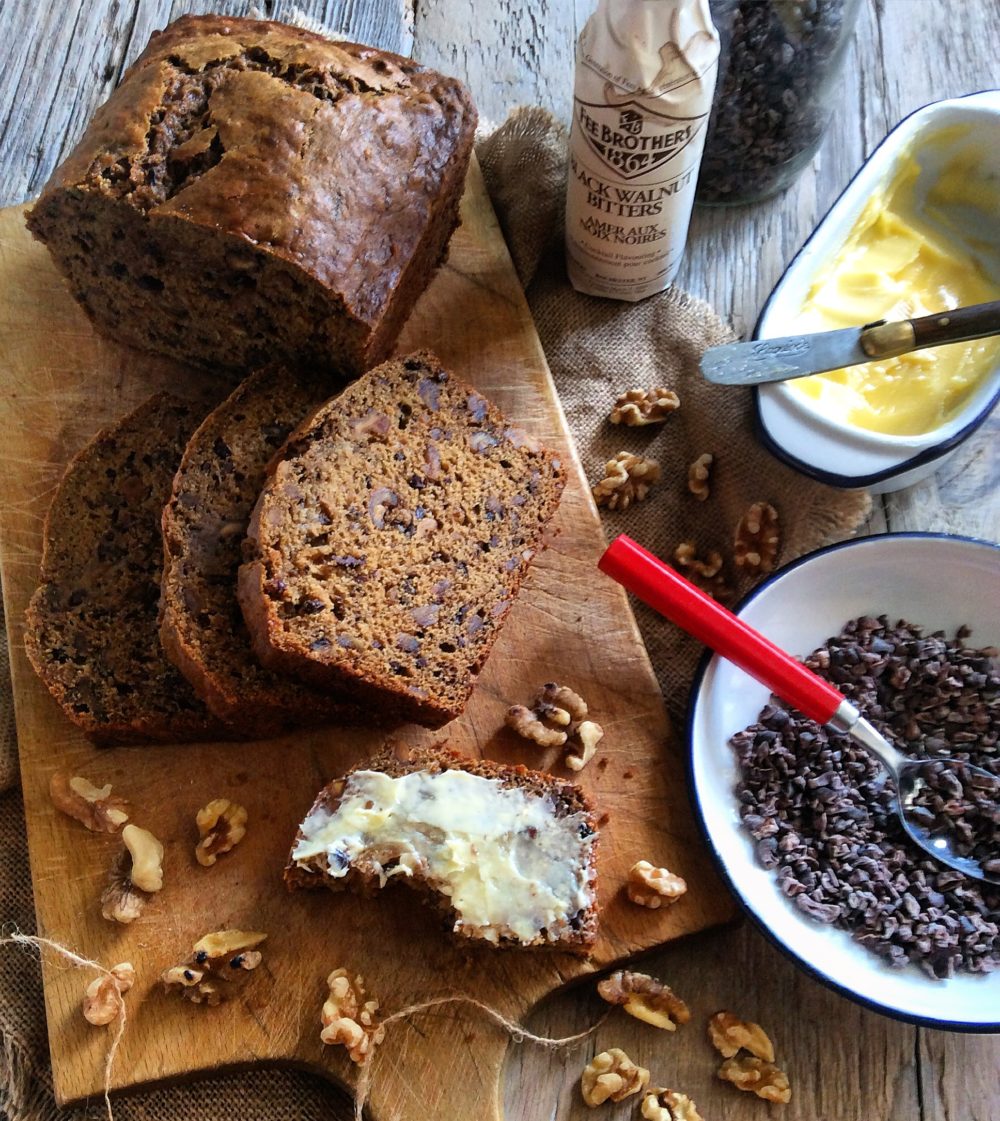 Butter isn't cheap. These days, it is nothing to pay between $6 and $8 for a brick of good butter. And the pre-wrapped butter sticks are even more expensive. What is a girl to do, when baking requires soooo much butter? That's when grocery flyers, shopping apps, and friends step in. When butter is on sale, and I mean, it has to be at least if not more than 1/2 off the typical cost, then I stock up. As of this blog post, I can still pick up butter at $2.88 per pound (brick). I will have friends text me to tell me that butter is on sale, and where. Or else they will just pick it up for me, knowing that they couldn't get me a better present! When I say that I stock up, it is typical that I will walk into the grocery store(s) with the sale going on, and walk out with 10 or 15 pounds of butter.
But then what do I do? Yes, now is when I get my geek on. I will take the afternoon, and cut up wax paper and butter and make my own butter sticks. This requires some really good music and a glass of wine, but it's worth it, really! And I take some of the sticks and cut them in half. If a recipe only calls for 4 tbsp or 1/4 cup of butter, then one of these smaller babies will do just fine! These will all get put into large or extra large freezer bags, that I can easily access as needed.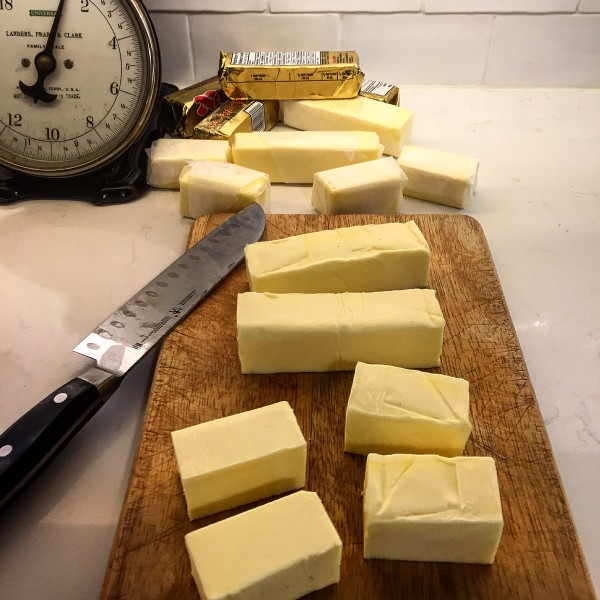 These days salted butter isn't nearly as salted as it was in days gone by. So if it is only salted butter that I can find on sale, I will still pick it up. I will keep it in a separate freezer bag, to use in savoury dishes. Or else, if I'm down to only salted butter sticks in the freezer, I will mentally add less salt than the recipe calls for.
As for the butter in the fridge for pie baking, this is my tip. I know that my pie crust recipe calls for 1/3 cup butter. There are two cups of butter in a brick. So I just open the wrapping and score the brick into 6 equal sections. And then I wrap it back up and store in the butter container in the fridge door. As I need butter for a pie, I can just slice off one section. I don't use that butter for any other reason, so I can always count on the correct proportions to be available.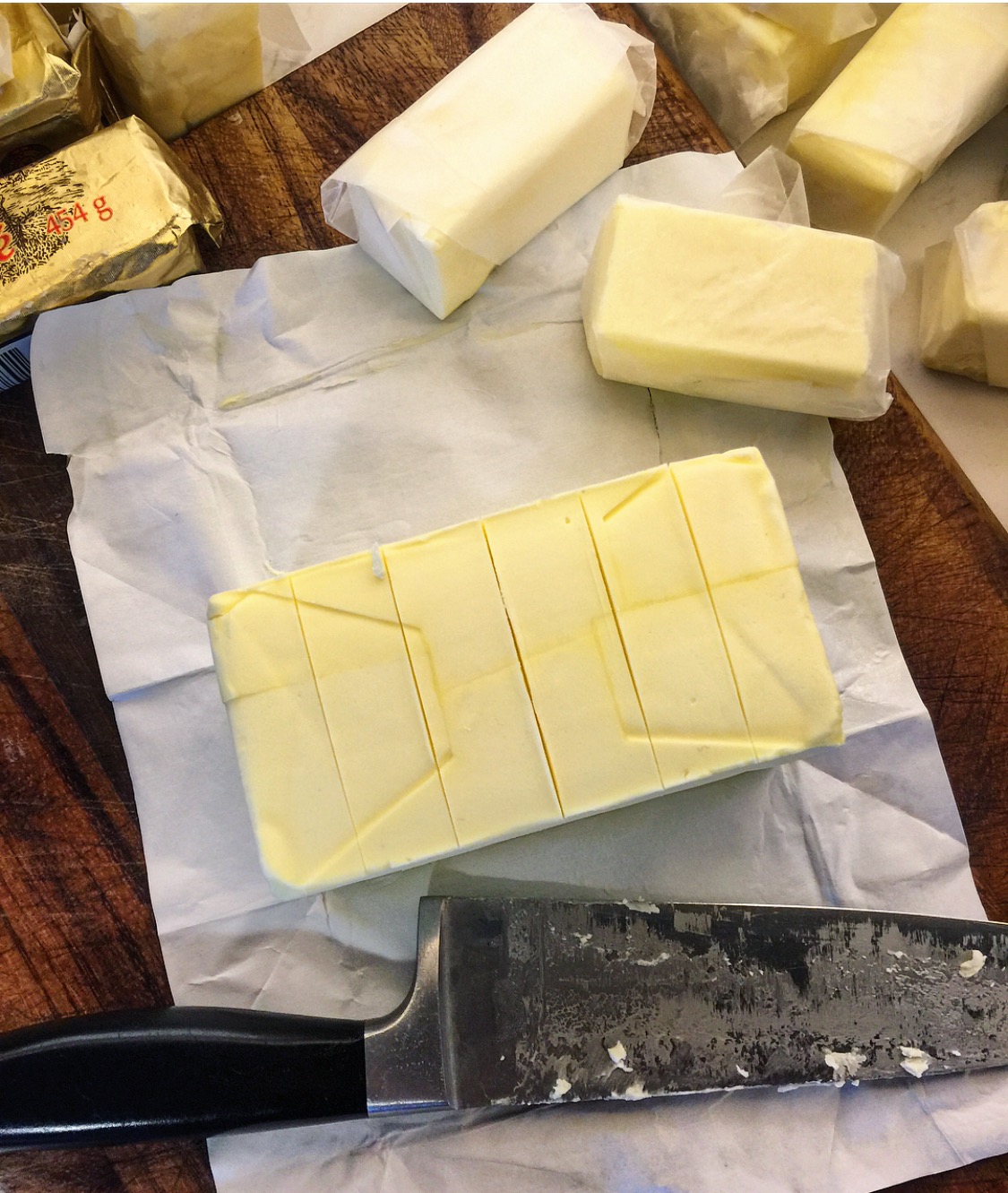 If you have room in freezer, I hope you can add some butter sticks of your own. Butter sticks at a better price!
When I see all those lovely sticks of butter in the freezer, I'm all giddy. Because now the baking can begin!
Love Jen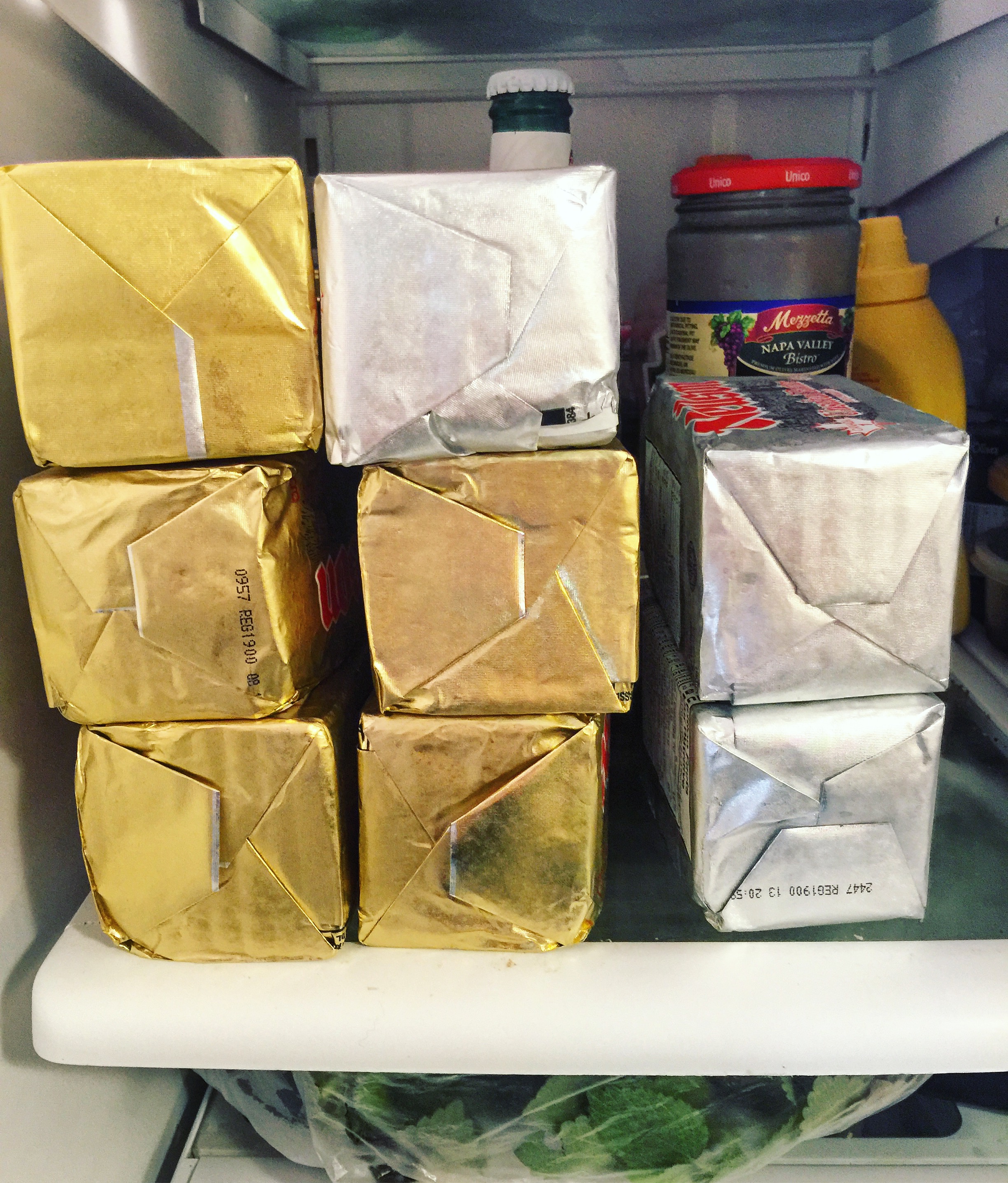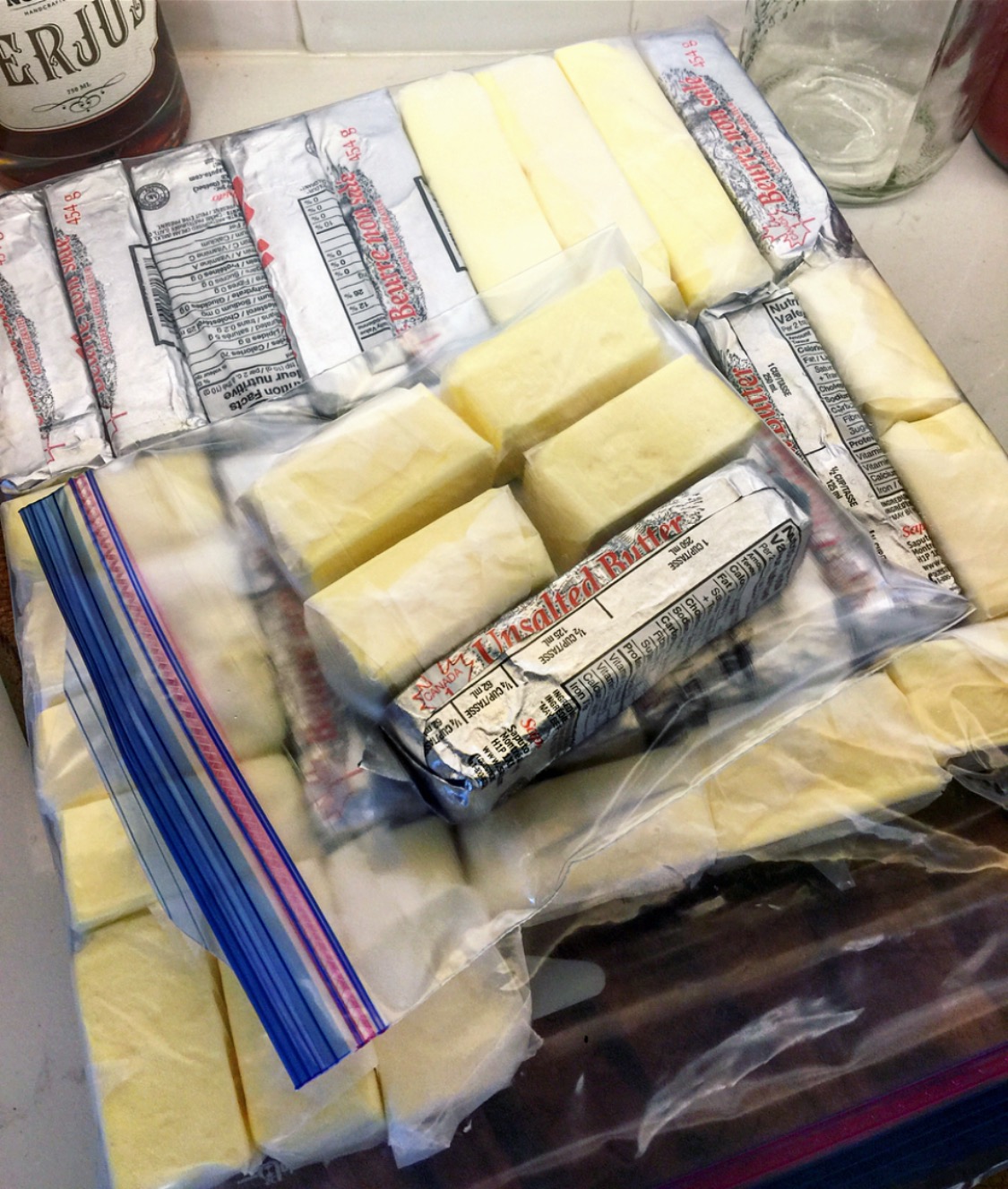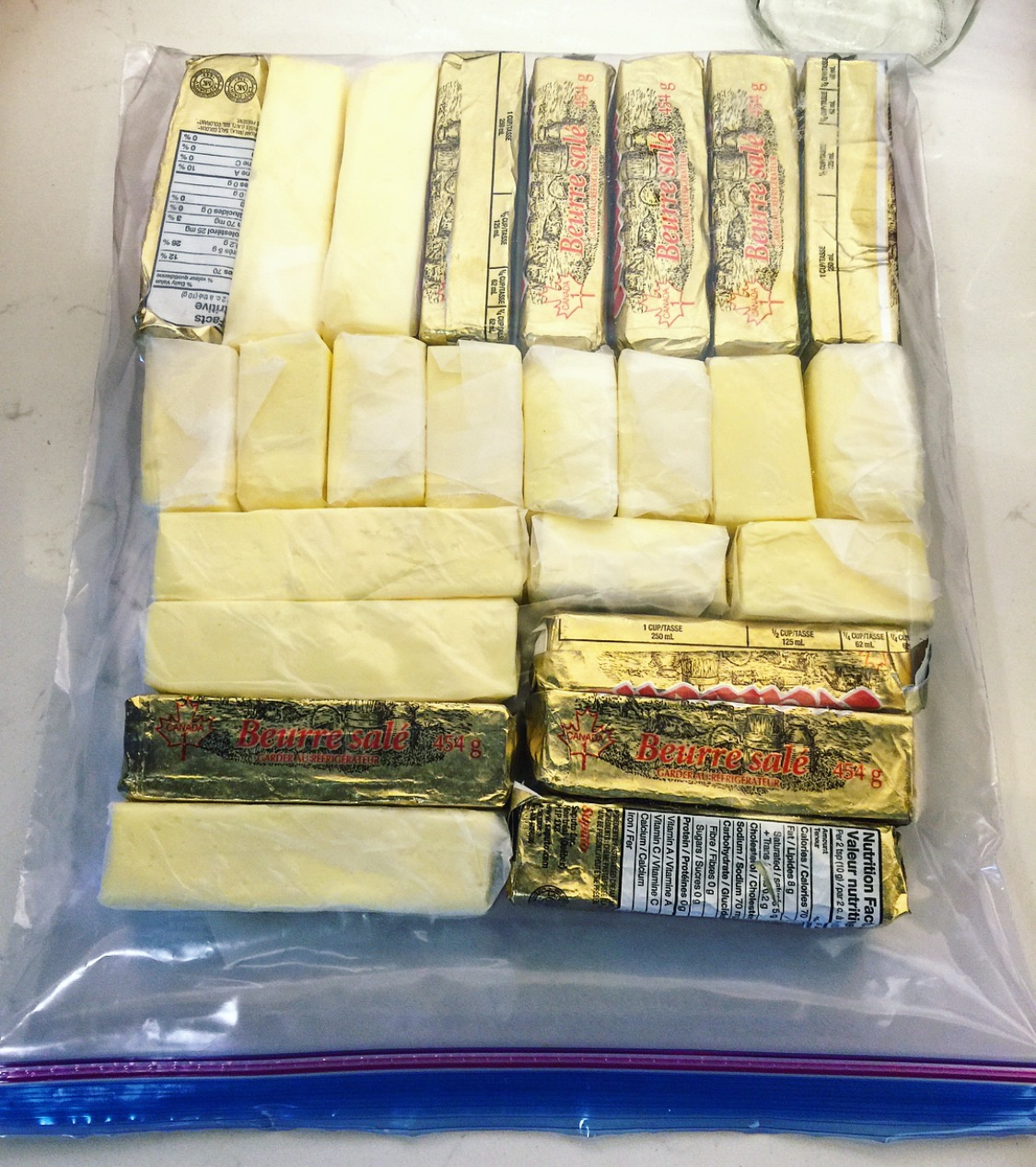 SaveSave
SaveSave
SaveSave
SaveSave