Growing up with German parents, Banana Bread was just not in the cards.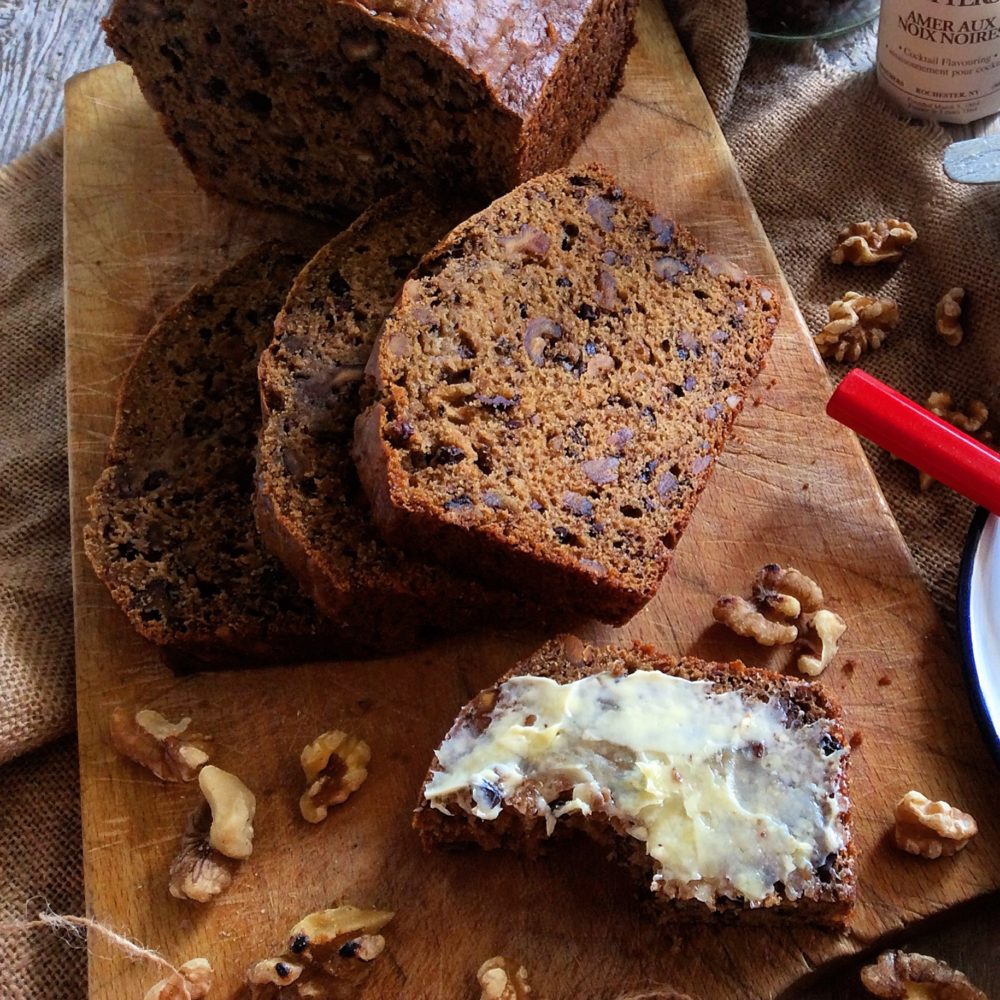 Don't get me wrong, we had wonderful snacks and desserts. My mother is an amazing cook and baker. She could take the most simple and meager ingredients, and transform them into a dish fit for visiting royalty.
I remember with special fondness, her marble cake, or Marmour Kuchen. It was a swirled madness of tart lemon and contrasting chocolate in a humble pound cake. I found out much later that the special, pronounced earthiness of the chocolate swirls came from the rum she added to the dark batter. Well, that made me adore it even more. Well, most any other German tortes and desserts involve mounds of whipped cream or fruit of some sort. But Banana Bread was never on my mother's radar. I didn't really think I was missing out on anything, until I tasted a piece that a friend brought to school. I thought, this is Ah-mazing!! When I told my mom about it, I'm not going to say her eyes glazed over or anything, but I don't think I really conveyed to her the necessity of baking this quickbread. Funny how just tasting something new, even though it is mainstream to everyone else, elevates it to gold-medal stature in your freshly exposed mind! So one of the first things I learned to bake at home was banana bread. It wasn't super impressive. But it was totally different from what my mom baked, and in a teenager's warped brain, different was good.
Fast forward to adulthood. My sister bakes (she is a pastry chef after all). Very well. I bow to her cake making and decorating abilities. She makes the most beautiful wedding and celebration cakes with sugared flowers etc. I always wanted to bake like her. So I keep trying. And now I do (okay, not yet). I still leave the wedding cakes to her. I have my banana bread, hee hee.
To intensify the banana-iness of this bread, I take three large, ripe bananas and slice them in half crosswise and then lengthwise. You don't want over ripe bananas, just really ripe. If they lean towards over ripe, the next step will be a tad challenging. Warm the slightest amount of butter in a pan over med-high heat, and add the slices. It may take only up to a minute or two per side to get those lovely sugars to begin to crust up nice and golden. Check both sides and then remove to mash them up. The aroma that hits your nose as you do this is brilliant.
Chopped walnuts and black walnut bitters get added to this recipe. In fact, I'll sneak bitters into almost anything. They seem to heighten the flavours of everything they come in contact with. They seem to make everything a touch sweeter, if you know what I mean. The same way that coffee and salt work in sweet baking. I like the assortment that Fee Brothers produces.
And when the mood strikes, I will also add chocolate chunks. Not necessary, but sometimes a good thing! Or you can also use raw cocoa nibs. But use less. Because they are raw, there is no sweetness to them. Intensity of chocolate, yes. But with it comes also the bitterness of raw cocoa. I like it, but you don't want it to overshadow the rest of the cake. Bitterness should not be the only flavour you remember when eating banana bread! A little goes a long way. I outline in the recipe below how much to use.
Drizzle it with honey or tahini. Spread it with your favourite nut butter and call it a day. Or at least breakfast!
Love Jen.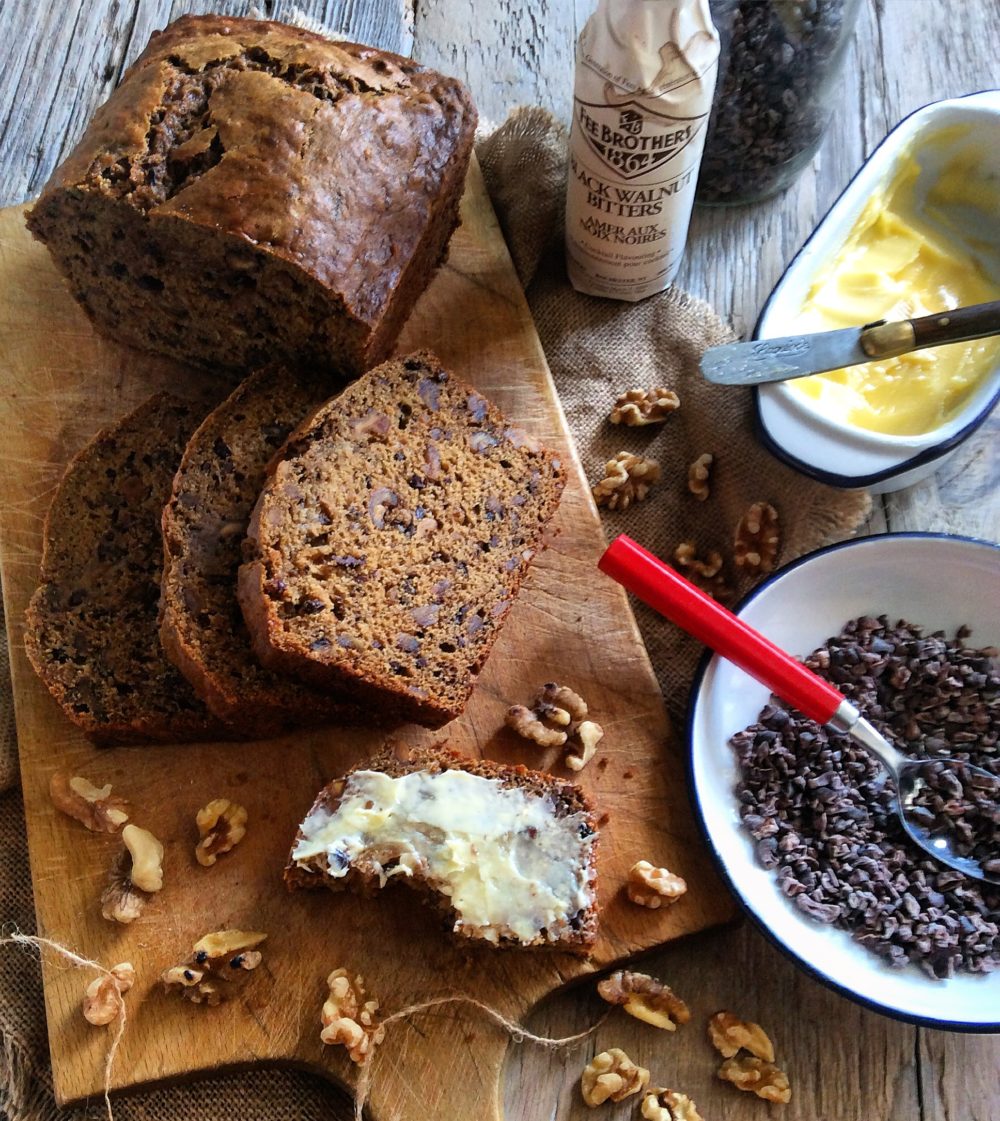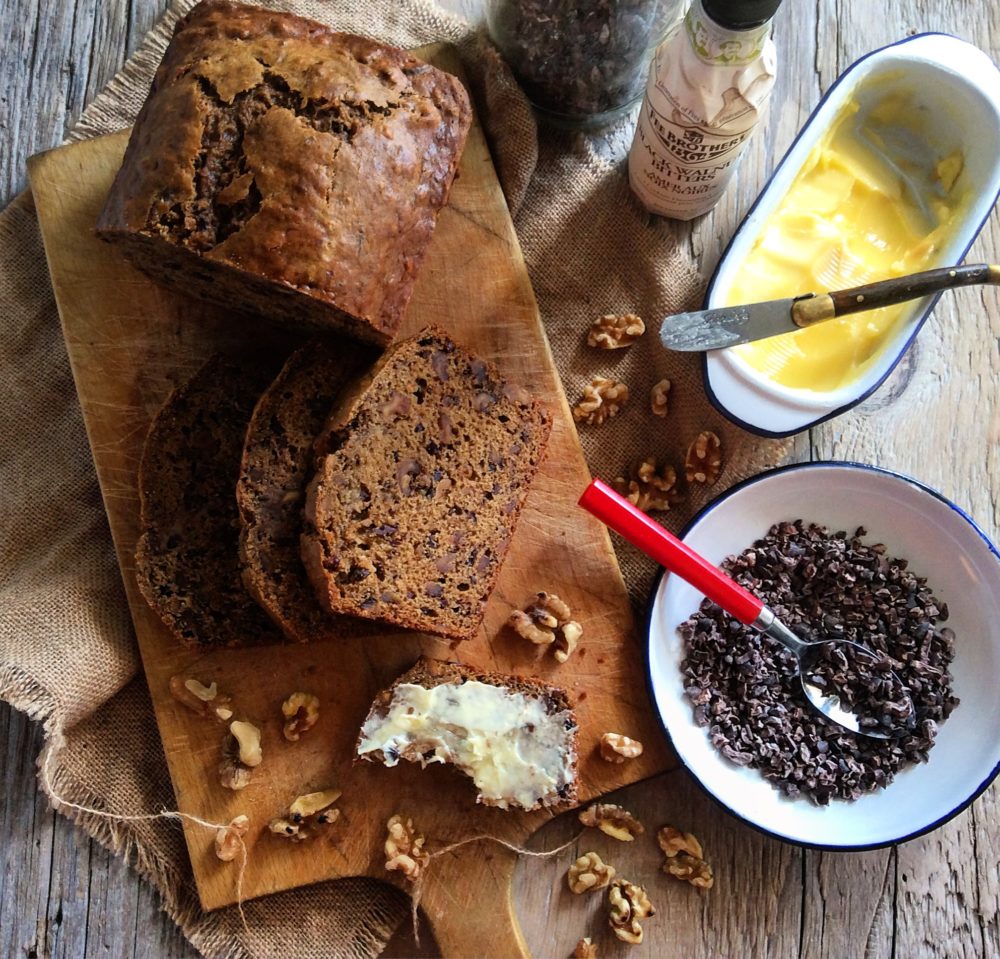 Caramelized Banana Bread with Walnuts
Every kitchen needs the perfect, moist banana bread recipe. This is it.
Cook Time
1
hour
10
minutes
Total Time
1
hour
30
minutes
Ingredients
2

cups

walnuts

3

large

ripe bananas

sliced lengthwise

2

tbsp

butter

1 1/4

cups

(275 g) brown sugar

3

large eggs

beaten

1/2

tsp

kosher salt

1/2

cup

plus 1.5 tbsp (140 ml total) whole milk

5

tbsp

(70 ml) avocado oil

or canola, sunflower etc

5

dashes

black walnut bitters

optional but so good!

2

cups

plus 3.5 tbsp (275 g total) AP flour

1 1/2

tsp

baking powder

1

tsp

baking soda

1

tsp

cinnamon

1/2

tsp

nutmeg
Instructions
Toast the walnuts in a non-stick skillet at med-high until fragrant and lightly browned. Set aside to cool, then chop up.

In the same skillet set at med-high, add a slight amount of butter (2 tsp?) and let it warm at the bottom of the pan.

Add the banana slices. Toast each side for 1 to 2 minutes. You are looking for nice brown caramelizing to happen. Turn and do the same to other side. Remove and mash with a fork till 'smooth'.


Preheat oven to 325 degrees F (170 C) Spray and line a 9x5 (23x12cm) loaf pan with parchment so that it hangs over the longer edges.

Place bananas, sugar and eggs in the bowl of a stand mixer. Beat at med speed till well combined.

Reduce speed and add 1/2 tsp salt, the milk and the oil. Add the bitters if using.

Sift together (I use a whisk) the flour, baking powder, baking soda, cinnamon. and nutmeg.

Slowly add to bowl (at reduced speed) Once all is in, mix at med speed till well combined.

Stir in the walnuts and pour the batter into the prepared pan.

Bake for about 1 hour and 10 minutes, or until a skewer inserted into the center comes out clean. Start checking after 1 hour. (Depending on the pan etc, I have had it take 1 hour and 20 minutes) Leave to cool for 10 minutes. Then remove by using the parchment paper and place on a cooling rack to finish cooling completely.

You can keep in airtight container for up to 5 days, or go ahead and freeze some of it!
Recipe Notes
I love using bitters in my cooking and baking. They're not just for 'Old Fashioneds' anymore! You can find them in a lot of bar supply establishments (here in Toronto we have BYOB) or even upscale grocery stores are starting to carry them. I like the assortment that Fee Brothers or Dillons has.
There are times when cacao nibs is also a lovely addition. Remove some of the walnuts and add 1/2 to 2/3 cup of cacao nibs when adding the walnuts. I will understand if you only use the 1/2 cup amount- cocoa nibs can be bitter- chocolatey yes, but no sweetness to them. They add a lovely texture though. Or instead of cacao nibs, try 2/3 cup chopped bittersweet chocolate.
Adapted from Yotam Ottolenghi's 'Plenty More'
SaveSave