I was so excited last weekend. I was at the market on Saturday morning, St Lawrence Market in Toronto to be exact.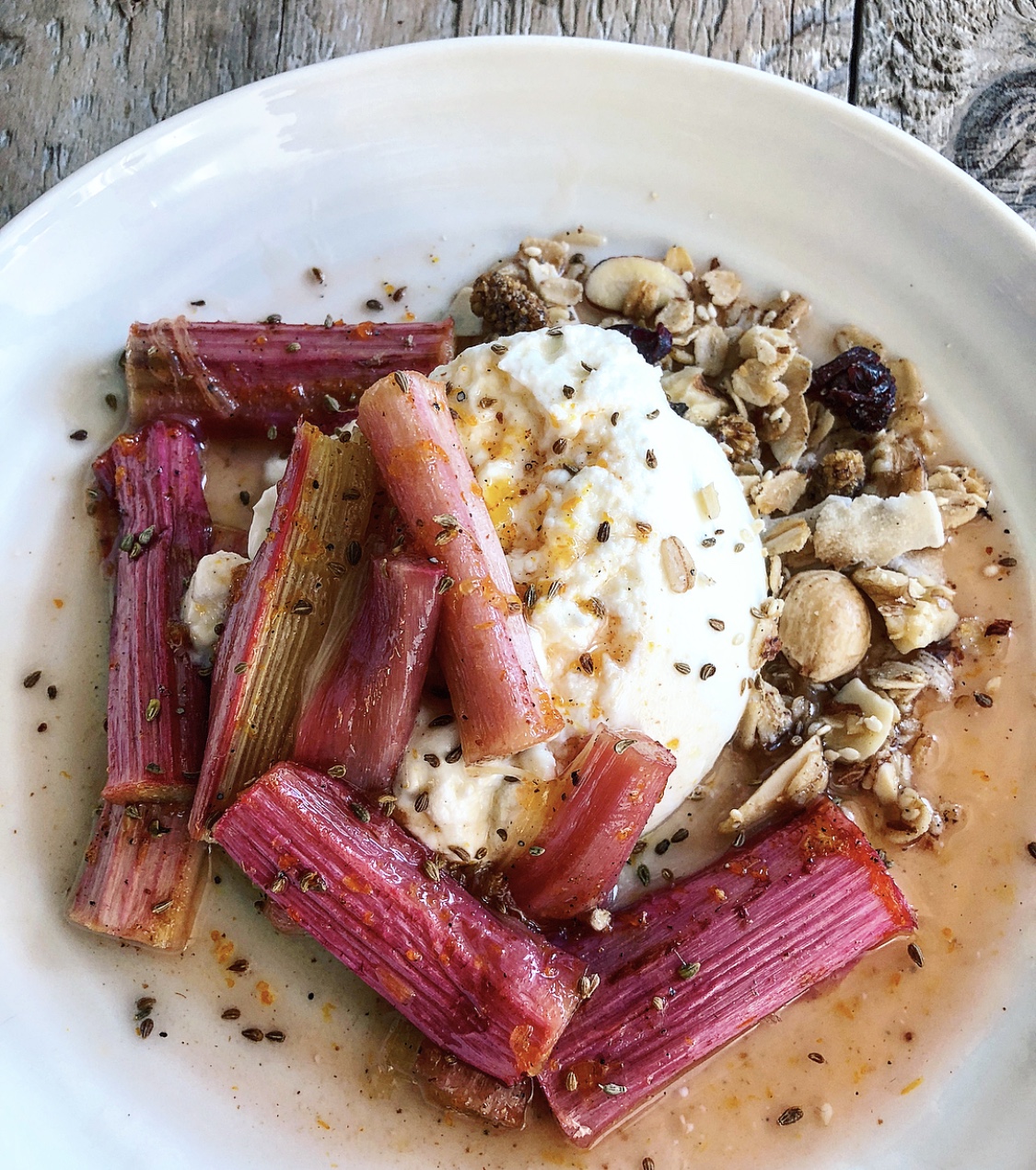 I was picking up some arugula and sea asparagus at one of the fruit and veg vendors, and what did I see in the corner of the refrigerated section of the shop? Can't guess? I'll tell you then: Rhubarb! Yep, it's the middle of February, and already the first stalks of rhubarb are gracing our shops. Obviously it is forced rhubarb. We won't see the garden variety for at least 2 to 2 1/2 months from now. But I didn't mind!!
Every year I try to see how many different ways I can prepare or serve rhubarb. It is such a staple in my pies. But then last year I prepared a rhubarb curd that was so sublime, I was just eating it with a spoon. Of course there are jams or compotes. And in crisps or cobblers.
My mom would most often prepare it by stewing it. Doing this helped break down the fibrous stalks into a lovely soupy concoction that we would eat on it's own. But obviously it works wonderfully over yogurt or ice cream as well. I even prepared it this way and served it over Almond Meal Polenta! You can see how I took almond meal instead of a corn based meal to create a lovely grits or polenta base here at my Stewed Rhubarb over Almond Grits. It's one of my early blog posts- the photos really show how much I've hopefully grown! But the recipe still tastes amazing. 🙂
This time around, instead of using the stovetop, I decided to use the oven. In fact, this is so simple, that if all you have is your toaster oven, that will work perfectly.
I decided that I would add a few touches to the rhubarb stalks which I trimmed into 2- 2 1/2 inch slices. If the stalks are extra thick, you can slice them lengthwise. Naturally these tart spears would need some sugar. So natural cane sugar works perfectly here. But to enhance the flavour of the rhubarb, and balance the sugar, I zested and juiced a clementine (or orange, whatever you have handy!) and added a dash of orange blossom water. And a spice was added to the mix: cardamom. It's earthy, sweet-savoury tang works wonderfully with citrus as well as rhubarb. This combo is a classic in northern European/Scandinavian cuisines.
So I tossed it all together, and spread it out in a baking dish. Don't make the dish too large for the contents. Or else you run the risk of cooking off the sauce. As long as it is all mostly in one layer and cozy, you're good!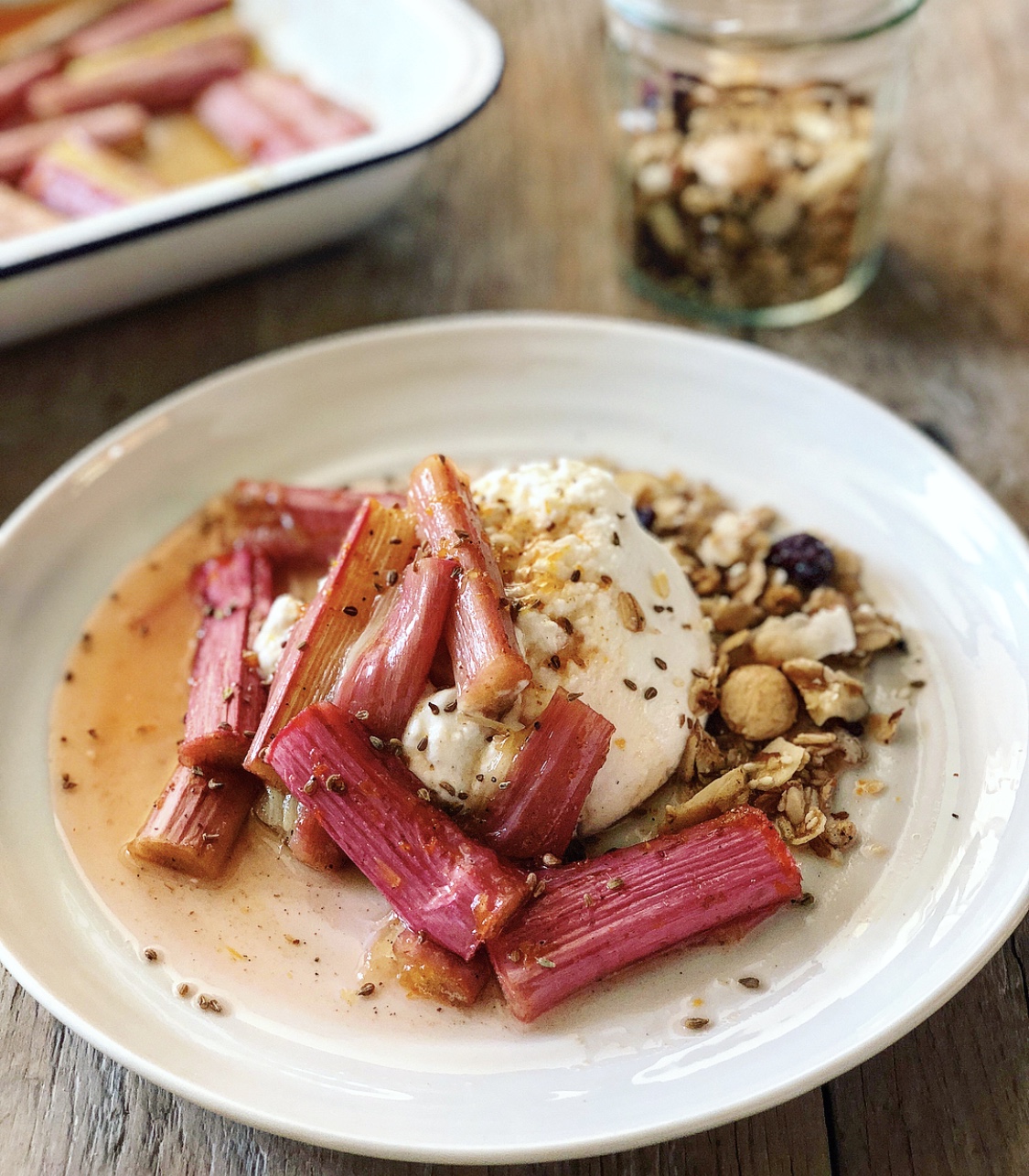 After 20 minutes or so, the aroma will have permeated the entire kitchen. And you'll want to dab a little of that liquid gold behind your ears! The rhubarb colour has intensified to a bright fuchsia, and it has coloured the liquid as well. I decided that since it was Family Day, a holiday here in Ontario, I would make Jim's favourite holiday brekkie, crepes. Using my Basic Crepes recipe, and adding a bit of lemon zest to the batter make these the perfect vehicle to transport the rich rhubarb to our mouths!
This can be spooned over just about anything you'd like: cereal, porridge, overnight oats, skyr, lemon pound cake, a pavlova, polenta, ice cream, or even crepes or pancakes. I had it over skyr with some granola and a sprinkling of anise seeds, and it was simply dreamy! If you think of more ways, please let me know- I'd love to try them!
Here's to a new season of rhubarb and all the lovely ways we can enjoy it! Plus isn't it just the most sublime and charming shade of pink?
Love Jen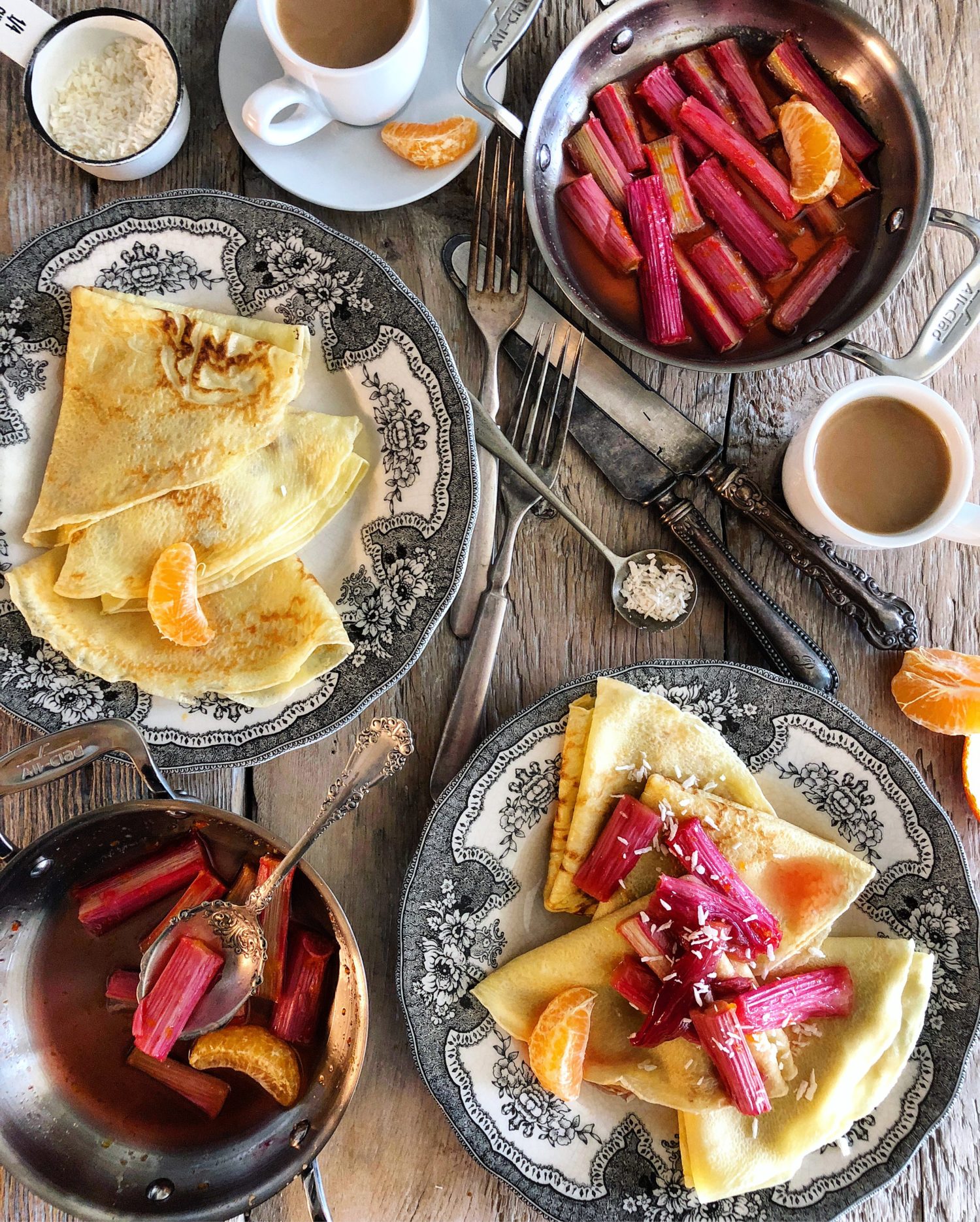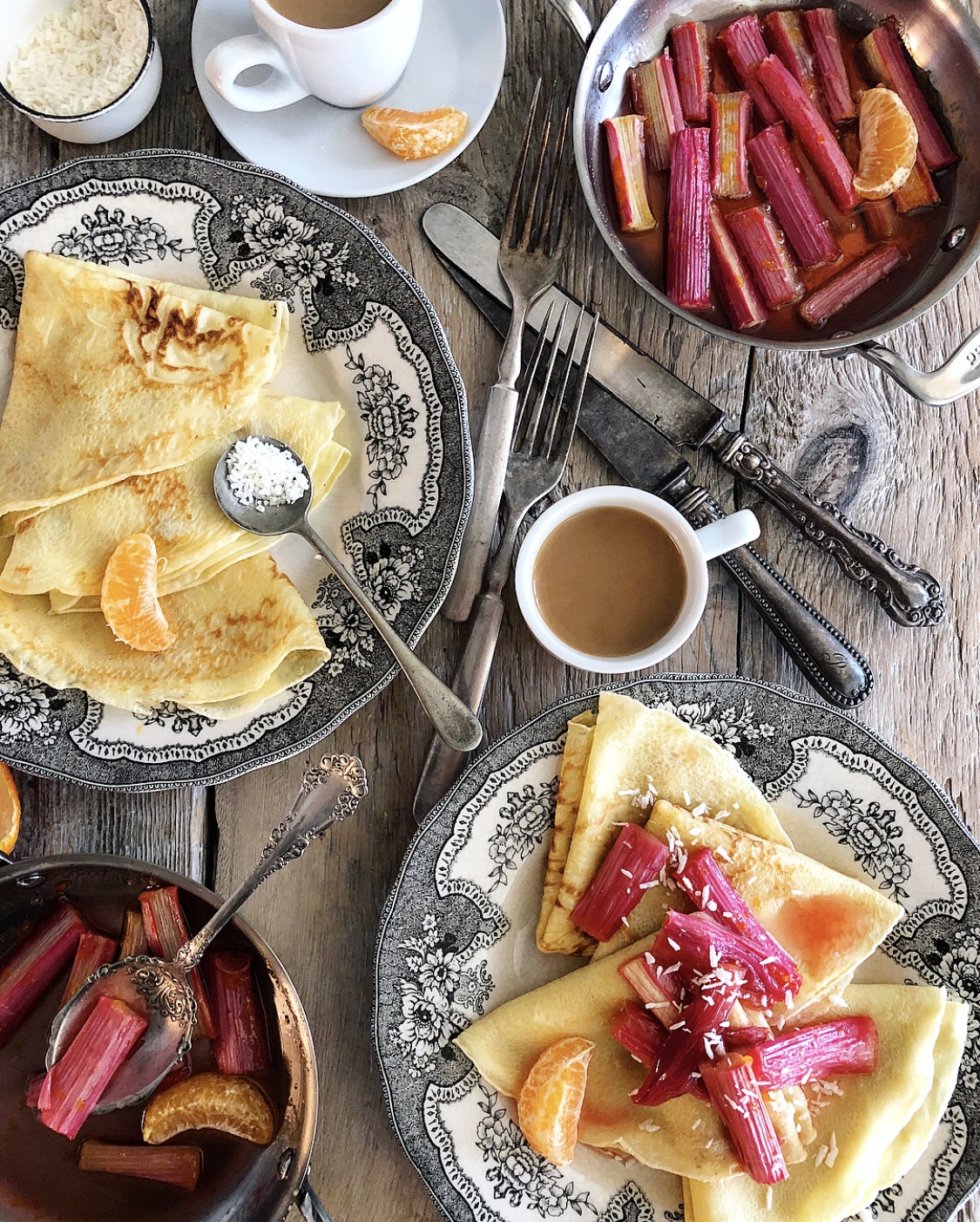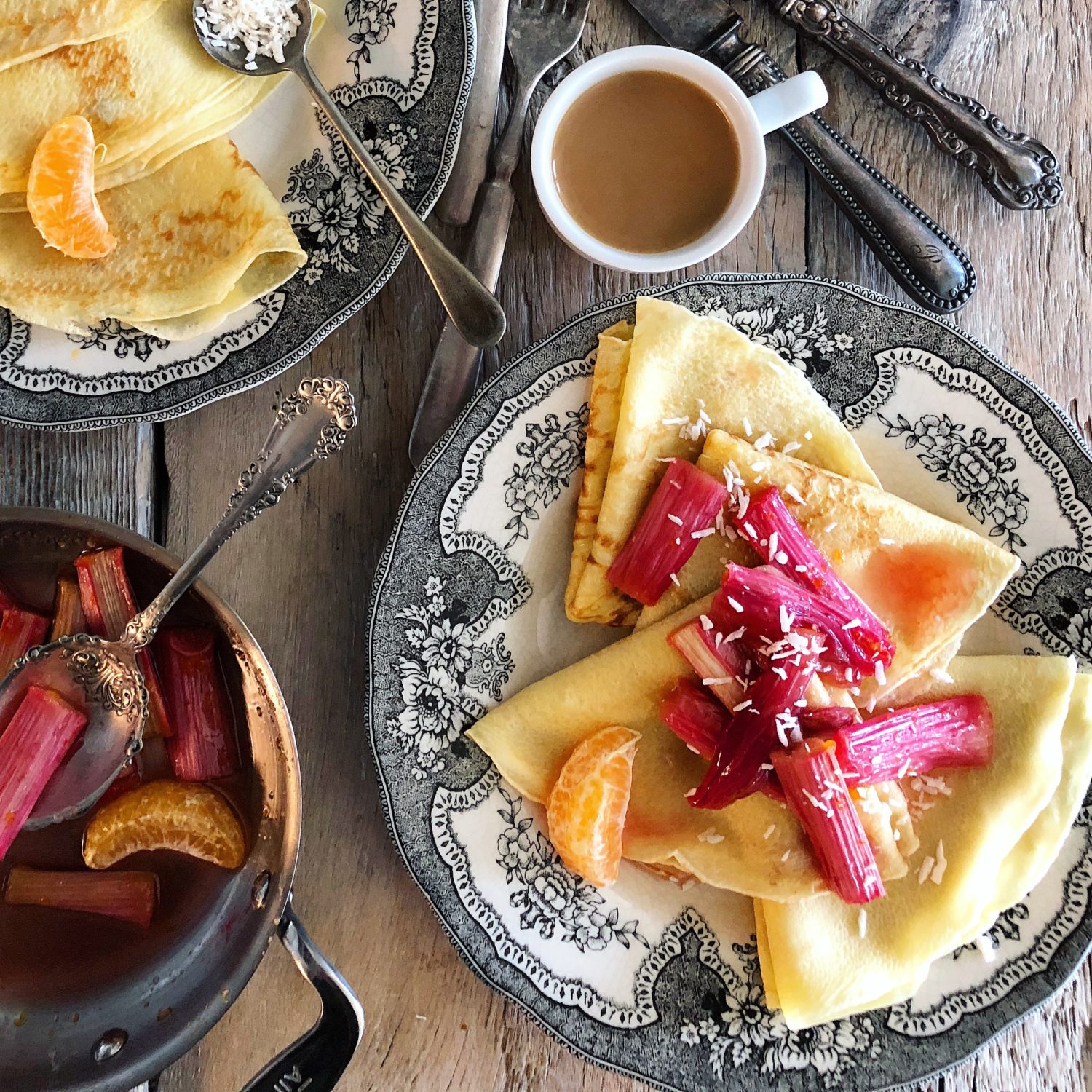 Cardamom and Orange Blossom Roasted Rhubarb
A simple way to roast off rhubarb enhanced with the exotic fragrance of cardamom and orange blossom water. Perfect over ice cream, yogurt, pound cake, even pancakes!
Ingredients
16

oz

(4-5 stalks) of rhubarb

zest from one orange or clementine

2/3

cup

freshly squeezed orange juice

2/3

cup

natural cane sugar

1/4

tsp

(rounded tsp) ground cardamom

1/8

tsp

orange blossom water

Anise seeds or shredded coconut for garnish
Instructions
Preheat the oven to 375F.

Slice the rhubarb into 2- 2 1/2 inch lengths. If the stalks are thick and wide, you can also slice them lengthwise before cutting the smaller lengths.

Place in a baking dish large enough to hold the rhubarb so that it mostly lays in one layer. A bit if crowding is fine, but you don't want too many layers of rhubarb.

Pour the remaining ingredients and toss to coat. Arrange neatly.

Bake on the centre rack until softened and fragrant. This should take about 15 minutes.

Let cool a minute or so.

Serve over whatever your heart desires. A sprinkling of anise seeds or grated coconut makes for a lovely texture finish.
Recipe Notes
This also tastes wonderful on it's own served in small dessert bowls with biscotti on the side.
SaveSave
SaveSave
SaveSave
SaveSave
SaveSave
SaveSave