I think that cherries are the best little stone fruit out there!  And well, rhubarb is the little stick that just keeps on giving.  Put them together, and it really doesn't get much better than that.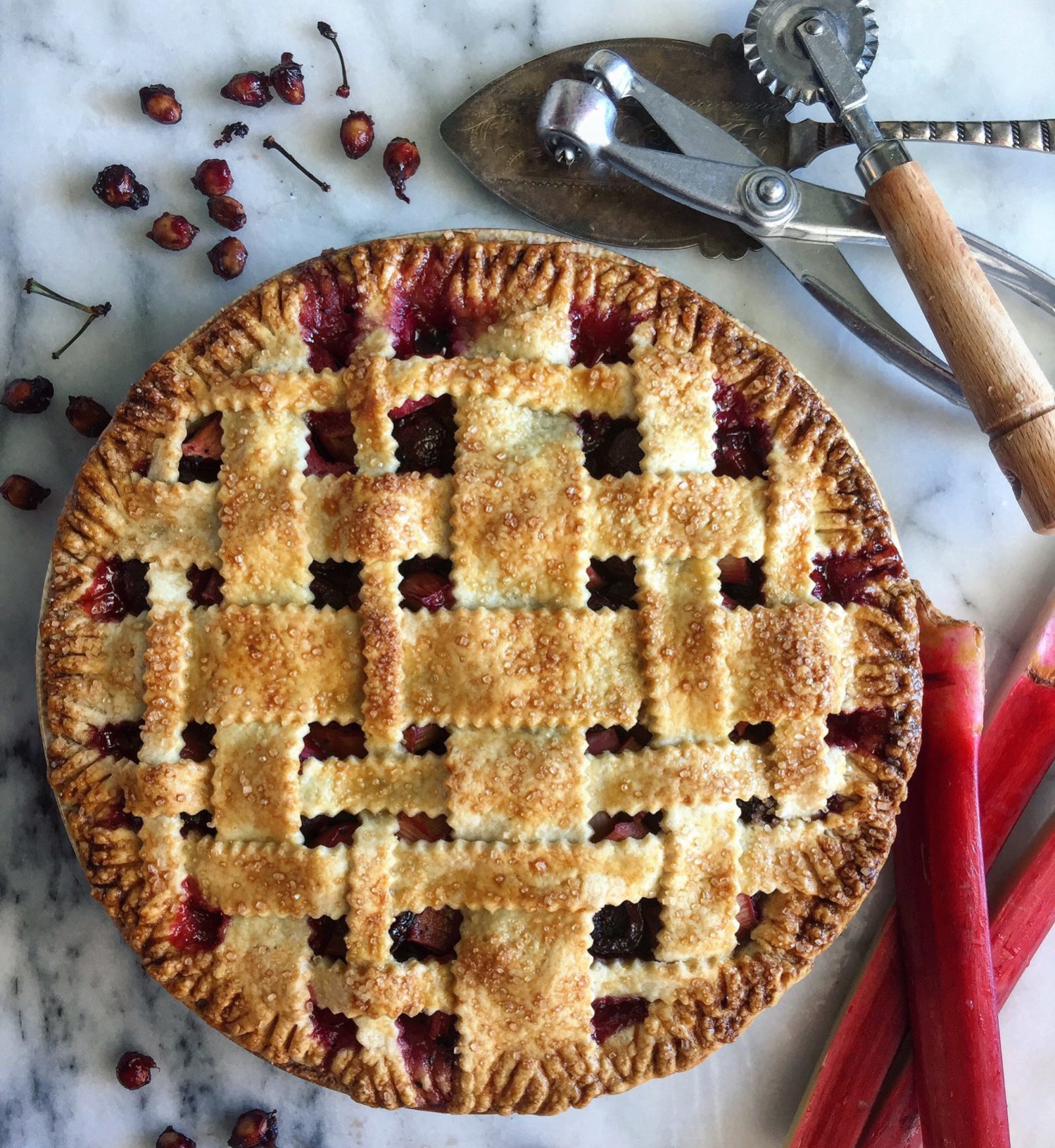 As soon as the forced rhubarb starts showing up at the market, I know it's Spring.  And I totally switch from winter cakes and heavier pastries to rhubarb pies and cobblers and crisps.
When cherries hit the market I know that Summer is nipping at our heels.  Memories of climbing cherry trees and eating a stomach-ache worthy belly full come back, and all the lovely desserts we can make with cherries start filling my head.
But for a few weeks, the Spring rhubarb and the Summer cherry seasons overlap.  So that's when I get to combine them both.  And this time around, it will be in a pie.  'Cuz it's PIE!  I already know that my strawberry rhubarb pie is a winner (no, I'm not biased in the slightest!!) So, why not take that morale boosting pie and switch it up a little?!  I took my pie filling recipe (Strawberry Rhubarb Pie) and switched it up just enough.  I replaced the strawberries with the pitted cherries (duh) but I also played with the side notes.  Instead of mint and rhubarb bitters, I thought, hmmm, allspice and pepper would be a great contrast to the fruit.  I decided on Urfa pepper, a flaked pepper from Turkey that has a smokey, almost dried fruit, like raisin, taste to it.  These two would give the pie some depth and earthiness.  I would really encourage you to seek out this pepper.  For sure Turkish or Middle Eastern stores will carry it.  And specialty boutiques like The Spice Trader here in Toronto will have it as well.  And if not, well, there's always Amazon!
May I speak for a moment about pitting or de-stoning cherries?  Thanks.  Wear an apron.  Wear gloves.  Do it into a plastic bag you will be throwing out afterwards.  If not, your counter will look like a crime scene, and your fingers will point directly to you as the perpetrator of some serial murder type of crime.  But of course, it was a crime of passion!  Passion for fruit pie!!  Death by pitter.  It'll get you 5-10 in a solitary confinement.  But I hear they serve pie and water. Moving on….
The pie turned out perfect!!  So happy with the flavours.  I served it with my Rhubarb Frozen Yogurt, which is flavoured with cardamom and rosewater, and it was the perfect cold and creamy contrast.  Which of course made Jim happy, since he doesn't consider it dessert unless there is ice cream on the side. And I'm so happy that I could marry two seasons together in my favourite vehicle.  Long live the pie.  And Sprimmer! (you got that, right…spring…summer… kay, I'm leaving now)
Love Jen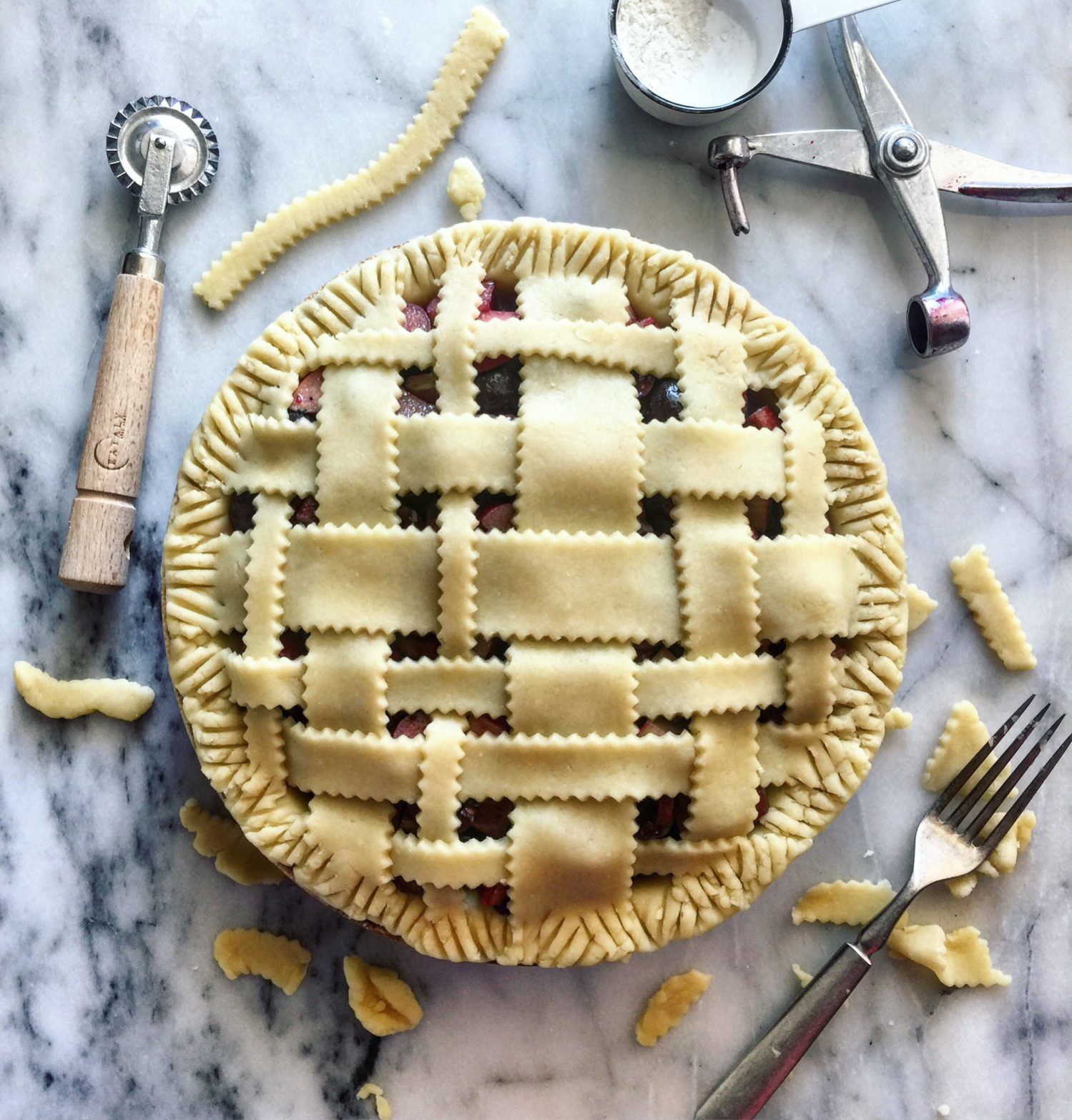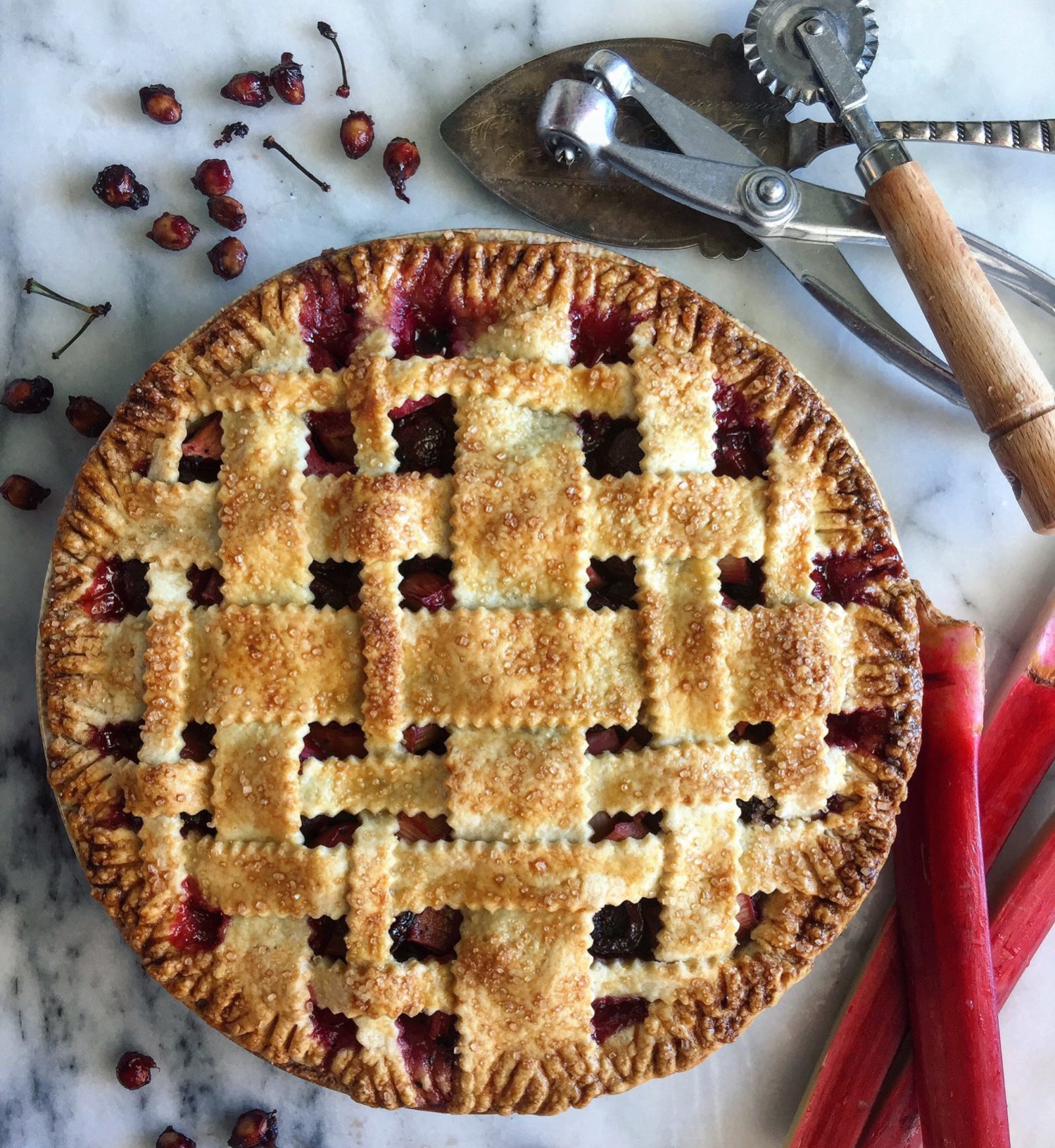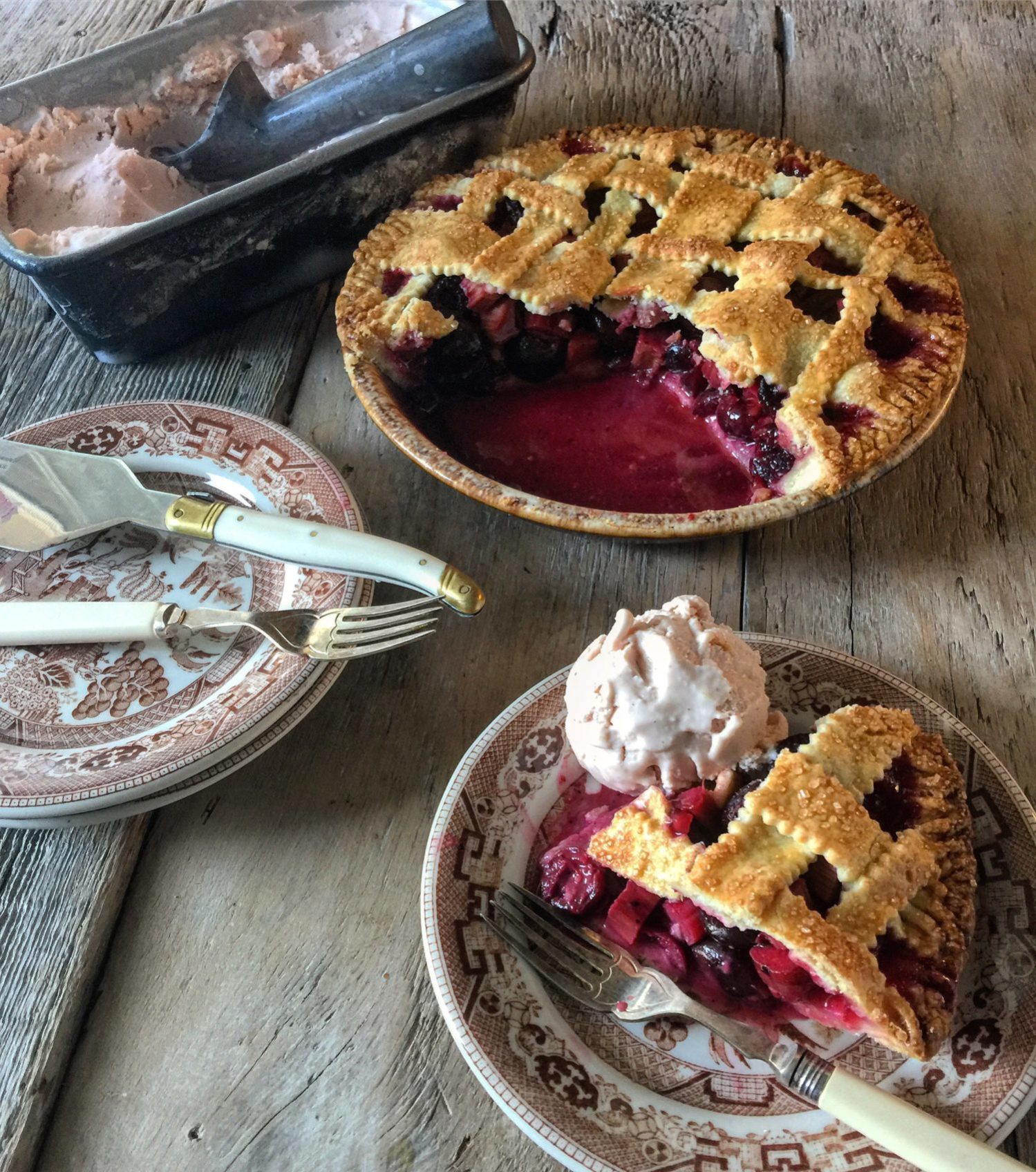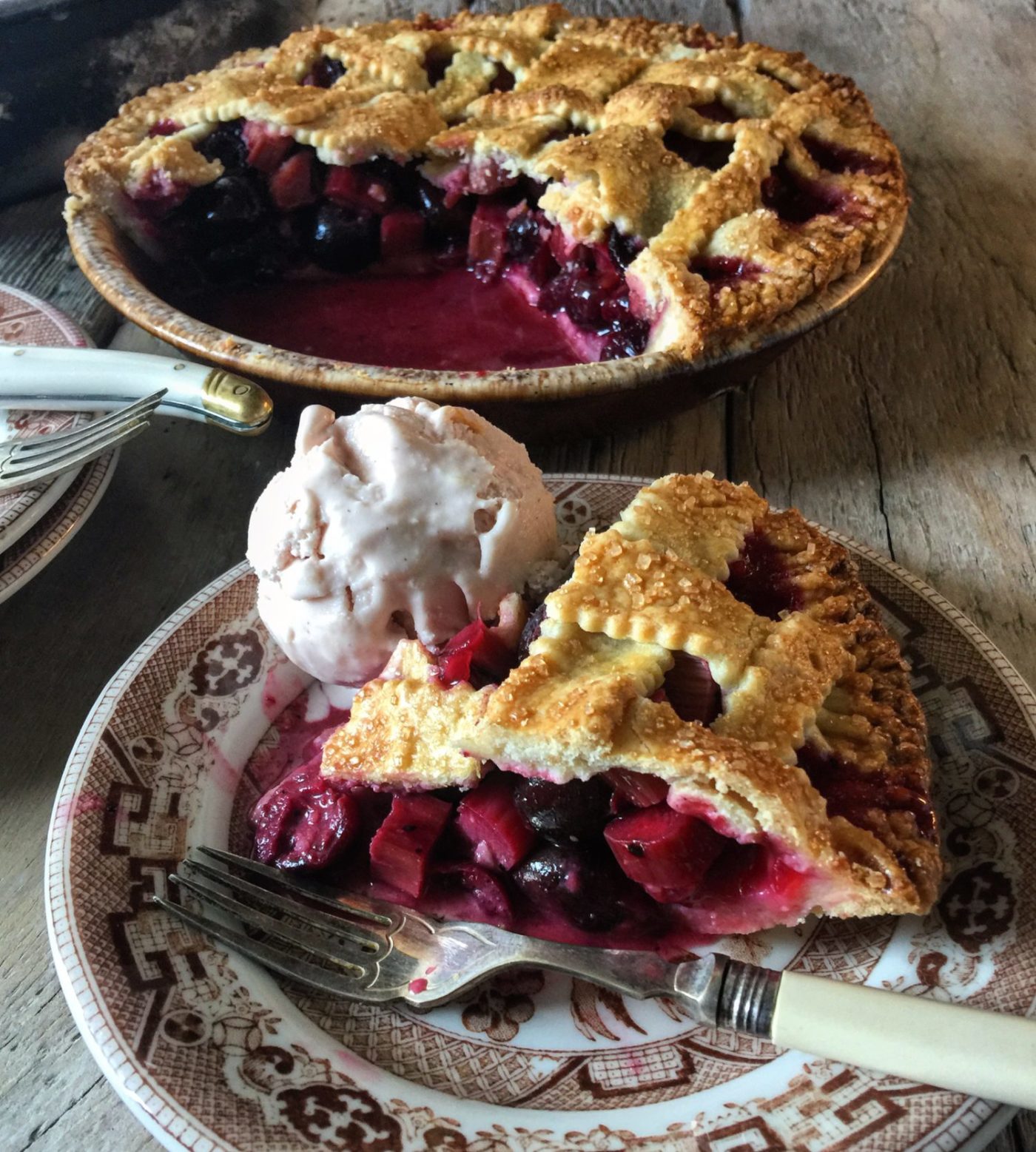 Cherry and Rhubarb Pie with Urfa Biber and Allspice
A sweet and yet earthy pie thanks to the addition of the smokey pepper and allspice. A great switch up for your rhubarb pie adventures
Total Time
1
hour
30
minutes
Ingredients
1

double crust Pie Pastry recipe

see archives for Perfect Pie recipe

2 1/2

cups

pitted and halved cherries

3

cups

chopped rhubarb

1

cup

sugar

3

tbsp

arrowroot or corn starch

3

tbsp

AP flour

3/4

tsp

ground allspice

3/4

tsp

urfa pepper

can be replaced with fresh cracked pepper, but start with 1/2 tsp as it usually has a sharper taste

3

tbsp

ground almonds

egg wash

egg mixed with a dash of water

1

tbsp

raw or demerara sugar
Instructions
Have pie pastry prepared, two disks, with one slightly larger than the other one in the fridge.

Bring the larger disk to room temperature and roll out on a well floured surface to fit a 9 inch pie plate.

Roll out the pastry onto a well floured rolling pin and transfer to the pie place, unrolling it to fit and gently hang over. Ease it into the plate. Trim the edges to a 1inch border along the edges. Return to the fridge to set for 30 minutes.

When ready to fill the pie, take the pie plate out of the fridge. Also remove the smaller disk of pastry.

Preheat the oven to 425F. Place one rack in the bottom third of the oven, and the other in the middle.

Combine the cherries and rhubarb in a large bowl.

Combine the sugar, starch, flour, allspice and pepper in a small bowl and mix well.

Pour this over the fruit and stir to combine well.

Pour the ground almonds over the bottom of the pie crust. Spread them out in a nice layer.

Add the fruit over the almonds. Spread out evenly.

Take the smaller disk of pastry and roll out. Prepare a lattice or use cookie cutters to make shapes to cover your pie. Or you can just make another circle to fit over the pie. Press the edges together and fold under and then crimp or flute. If using a full pastry top, cut vent holes to allow the steam to escape.

Refrigerate 30 minutes.

When ready to bake, place the pie on a baking sheet and brush the entire top with the egg wash. Then sprinkle the top with the finishing sugar.

Bake in the lower third for 30 minutes.

Reduce the temperature to 375F and move the baking sheet and pie to the middle rack. Continue baking for another 30 minutes or so, until the juices are bubbling and the crust is golden brown. (if you find that the edges are getting browned before the pie is done, place a pie guard or tinfoil over the edged and continue baking)

Let the pie cool at least 4 hours to set the filling and juices.
Recipe Notes
I find it best with juicy fruit pies to either bake it first thing in the morning or even the day before serving. You want the juices to set properly.
You can totally use frozen rhubarb here if you can't access fresh any longer. Just don't thaw the rhubarb, but add extra thickener.
You can also replace the rhubarb with strawberries or blueberries, or even chopped apricots.
SaveSave
SaveSave
SaveSave