I'm not sure if I should be apologizing for all the cherry spam this year. We're are in the midst of one of the best cherry seasons that I can remember.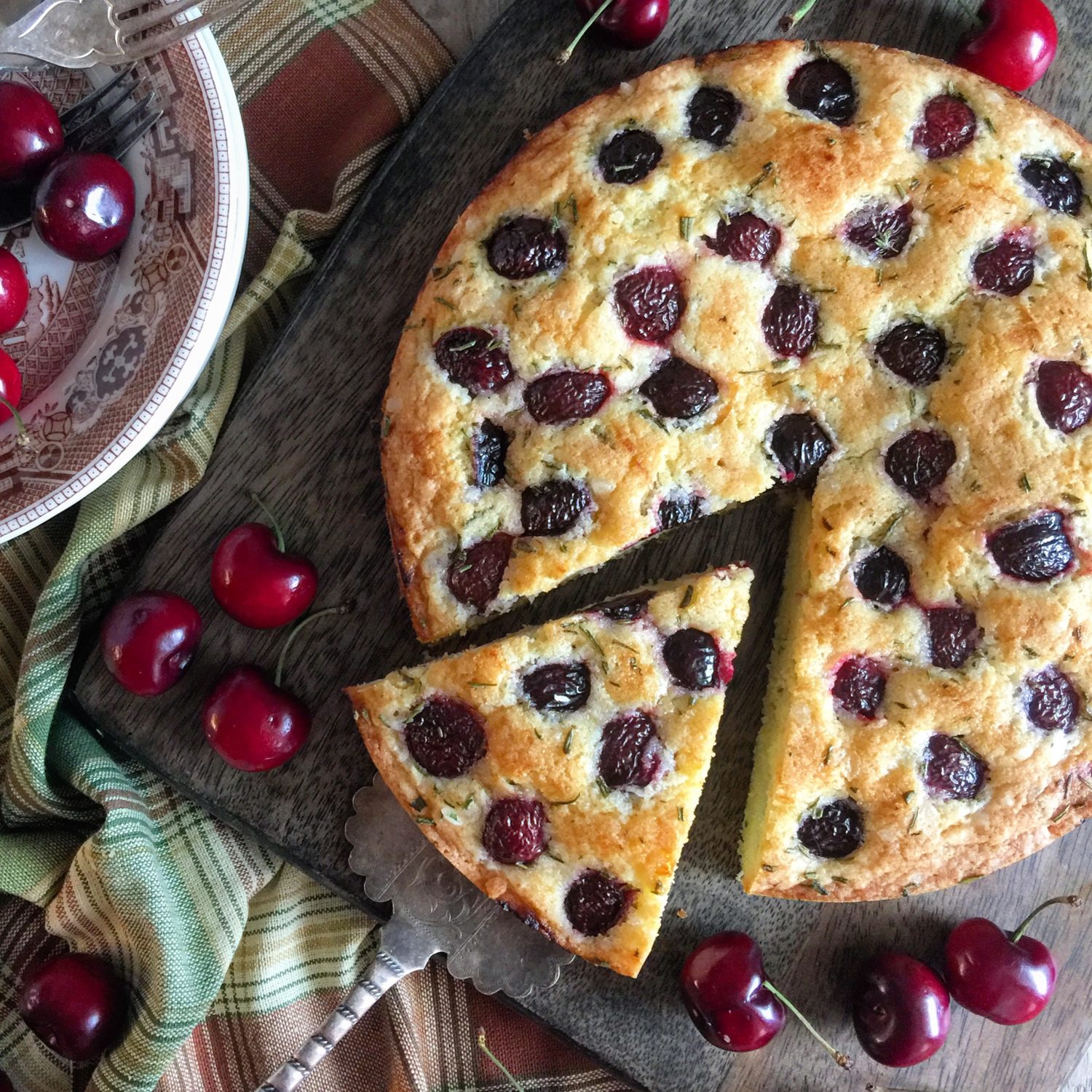 I am definitely having a field day with them. Side note: Do you remember taking a cherry cluster (you know- when two are attached at the top by their stems) and wearing them as earrings? Heehee! Fine, I was eight…
While I can totally just eat them from the bowl, I am trying to get them into all the baked good creations I can. Of course there is Cherry and Rhubarb Pie. And cobbler. And my Harissa Cherry Chocolate Blondies. And today it is a Cherry Torte.
No, this is not my own creation. Rather it is a variation of the Marian Burros Plum Torte recipe which is a New York Times recipe darling. I made the original Plum Torte for the first time about 5 years back, and it is now a late summer staple. You can find that delightful recipe here! This is the most brilliantly easy recipe to follow. It's a no-fail, impossible to ruin, works every time recipe. Trust me, You need it in your repertoire!
Instead of the plums, I switched in halved and pitted cherries. I didn't want to use a pitter, as pitting them often causes them to tear up more. I really wanted complete halves, just like you would get with the plums. Of course, using a knife and my fingers, did lead to a mini crime scene, yet again. But it's so worth it!
Marian's recipe calls for cinnamon and lemon for the additional flavouring to the plums. Instead of lemon and cinnamon, I opted for freshly chopped rosemary. Yep, rosemary. I find that the herb-iness and slight earthiness of rosemary compliments the deeper sweetness of the cherries, making them a tad fresher and giving the cake an all over perfectly sweet and savoury flavour profile. It is so much fun to see what herbs can be added to dishes where you don't automatically think to add herbs. I look at it as a personal cooking challenge!
So, I basically used as many cherry halves that would fit when pushed ever so gently into the top of the cake batter. I added most of the chopped rosemary into the batter itself, but I also saved extra to sprinkle on top over the cherries. It turned out perfect. This time around I used an 8 inch springform pan- I would rather use a smaller pan so that the cake gets a bit more height, even though Marian allows for using up to a 10 inch pan.
It was perfect. And the rosemary added a lovely fragrance and flavour to the finished cake. I will definitely be making this every year. In fact, before the cherries are all gone for another year, I will bake this and freeze it. Then I'll have my precious cherries, even when there is a chill in the air. It's just perfect with a cup of coffee for breakfast, or a glass of red wine in the evening to finish the day with a cherry. A cherry on top, so to speak 🙂
Love Jen.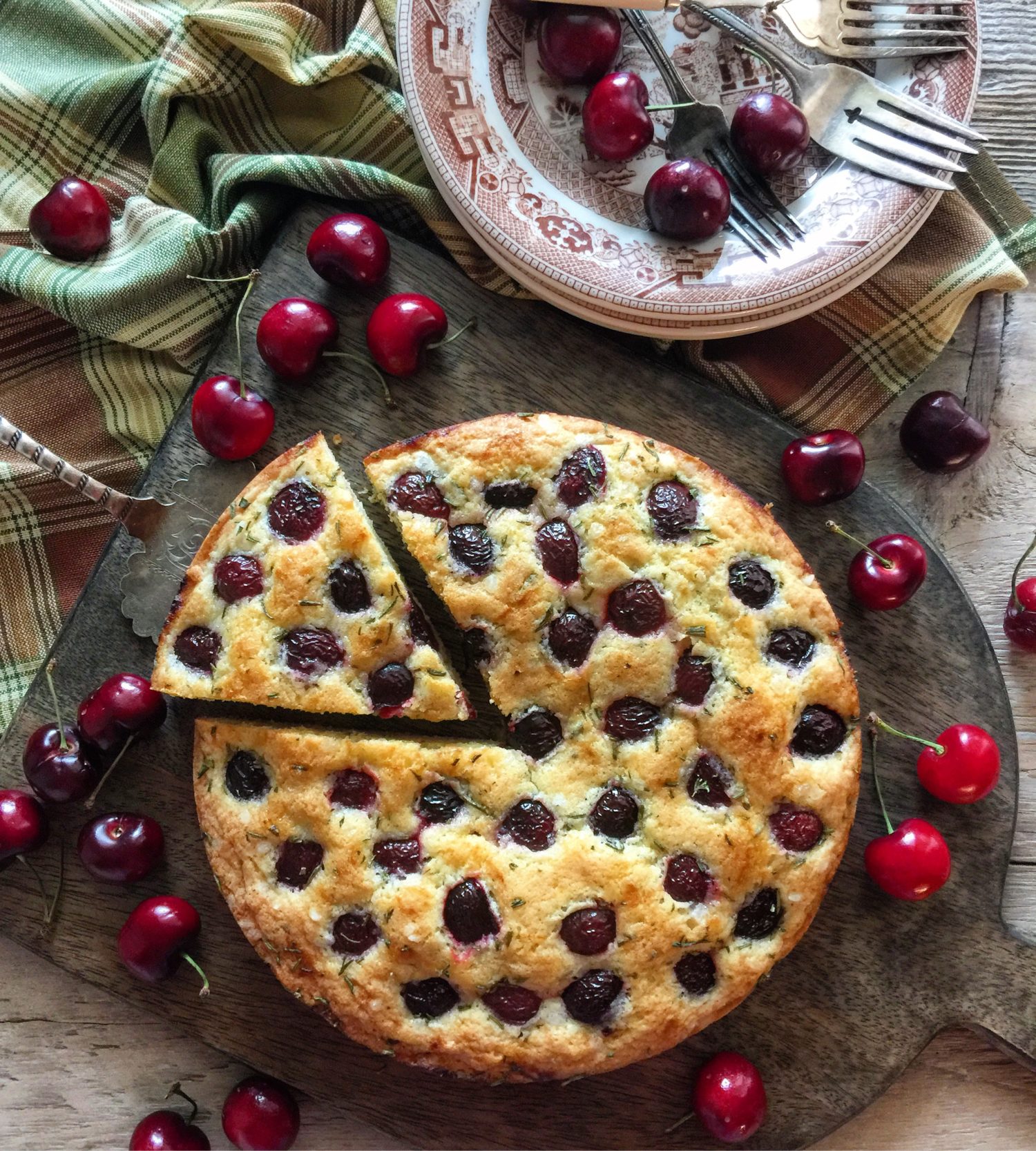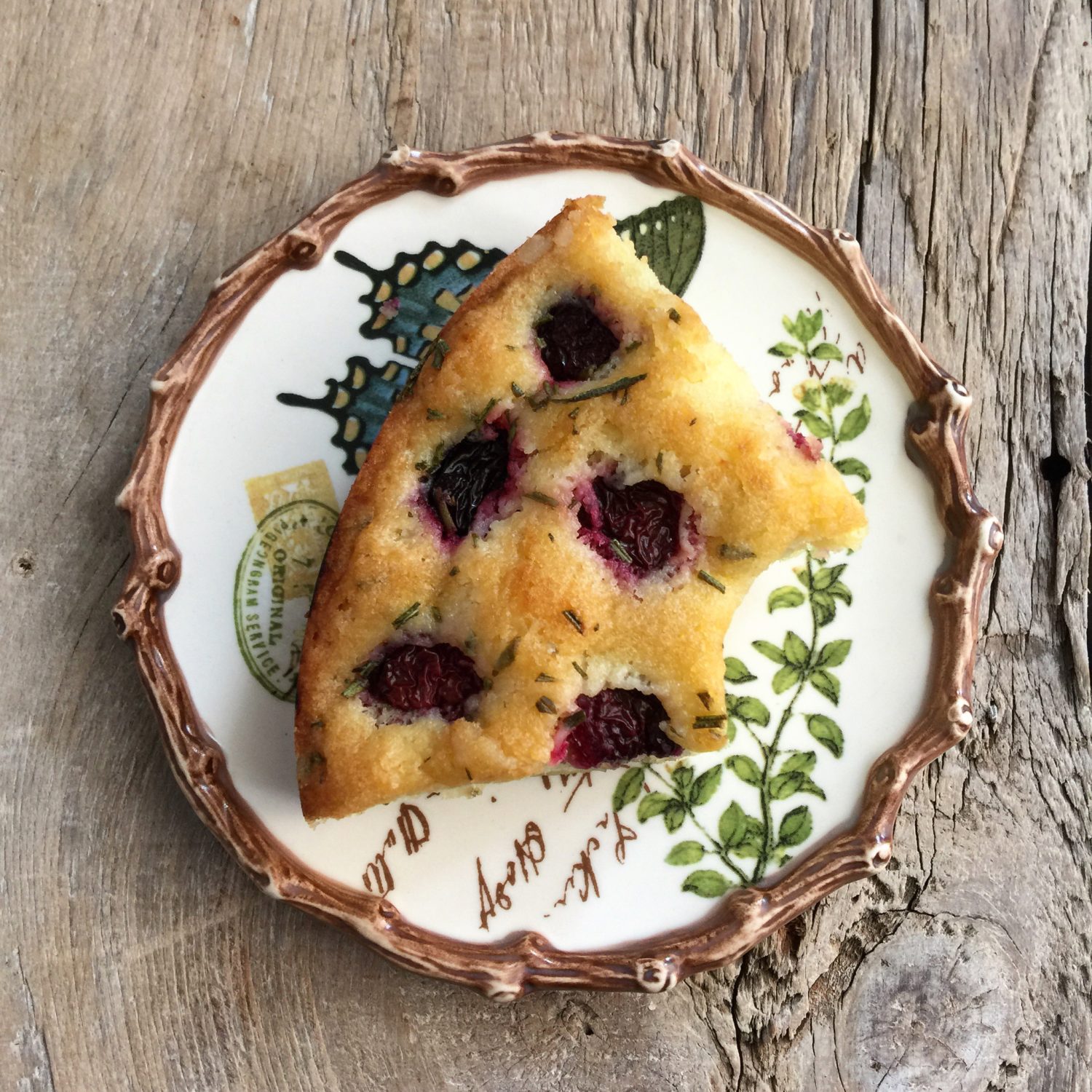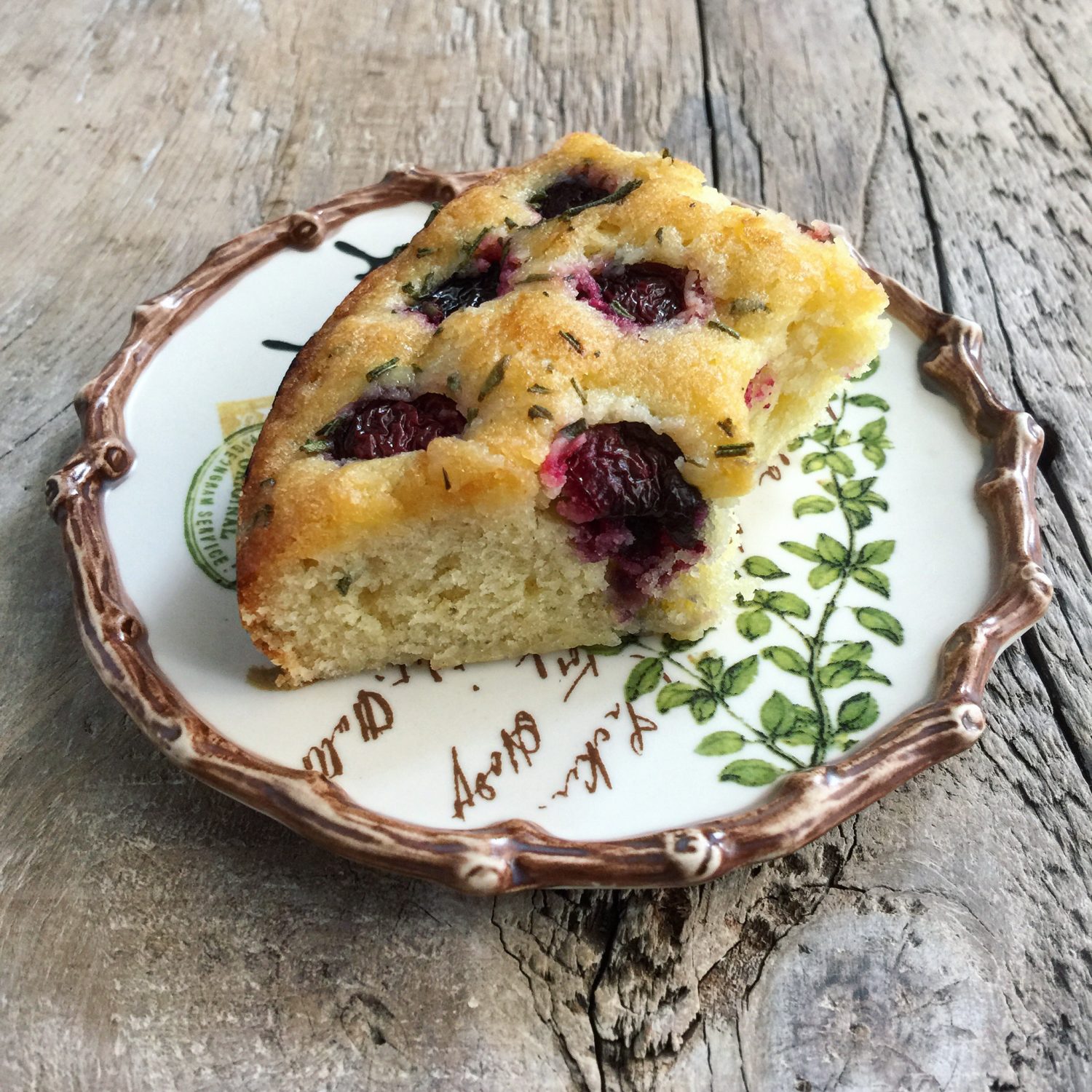 Cherry Rosemary Torte
A simple yet tasty moist cake filled with as many cherries as you can fit into it! And the savoury treat of freshly chopped rosemary to compliment the deep sweetness of the cherries.
Ingredients
3/4

cup

sugar

1/2

cup

unsalted butter

(1 stick) softened

1

cup

unbleached flour sifted

1

tsp

baking powder

pinch of salt

2

eggs

2

tbsp

freshly chopped rosemary

1

cup

sweet cherries

, pitted and halved

juice from 1/2 lemon
Instructions
Preheat the oven to 350F

Cream the sugar and butter with a hand mixer or stand mixer.

Add the flour, baking powder, and salt.

Add the eggs, one at a time and mix well.

Fold in 1 1/2 tbsp of the rosemary.

Spoon the batter into a greased springform pan (an 8" or 9" is best)

Place the cherry halves skin side up on top of the batter, fitting as many as will comfortably fit depending on the size of pan you choose. A little squishing is fine, but don't totally over crowd.

Sprinkle lemon juice and with remaining chopped rosemary.

Bake for 40-50 minutes, until a cake tester inserted into the centre comes out clean.

Cool on a rack.
Recipe Notes
This cake will keep in a sealed container for 3 days on the counter, or for a week in the fridge. It freezes beautifully.
SaveSave
SaveSave
SaveSave
SaveSave
SaveSave