Chestnut Cream. Crème de Marrons. How I love you, let me count the ways!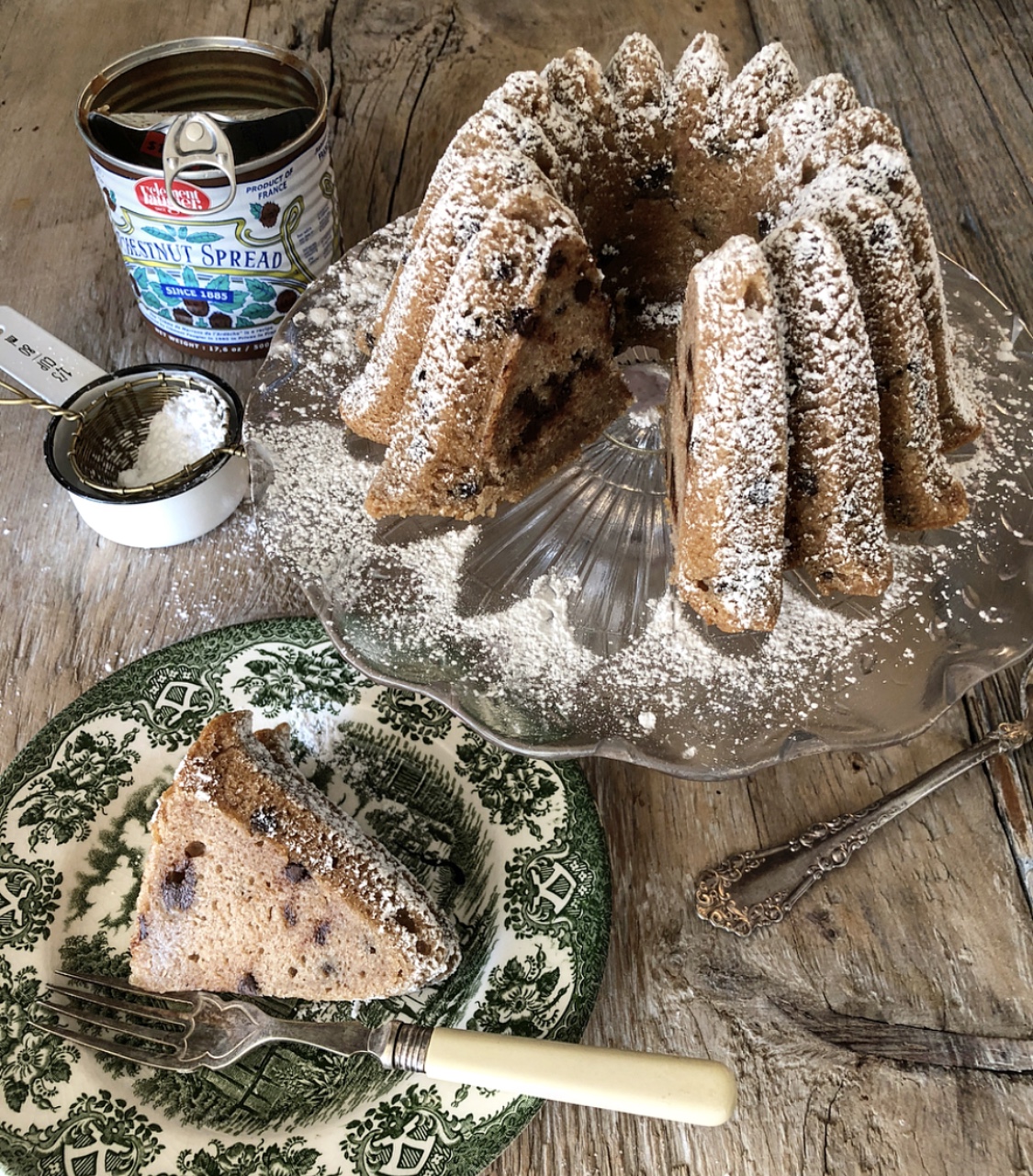 There is something so dreamy about this little condiment or spread. Perfectly puréed chestnuts with a touch of sugar and vanilla make for a decadent and yet adorable addition to the pantry. I first had this when we were visiting Paris, and popped into a Creperie. Of course, loving anything and everything chestnut, I had to order the crepes filled with chestnut cream, and topped with whipped cream and drizzled with chocolate. Oh my!! Honestly, if there is a jar open and in the fridge, there are times when I will just pull it out and dig in with a spoon. It's smoother and a tad runnier than a nut butter, and of course sweeter. Not as sweet as Nutellla, but heading in that direction. It has more the consistency of a thick apple or pumpkin butter.
You already know my fascination with chestnuts. They showed up last year in Chestnut Ice Cream. Which would be wonderful with this cake! This is a delightful little cake. Tender, moist, wonderfully light despite the richness of the ingredients. A perfect snacking cake, yet pretty enough for a tea party.
When I came across this recipe on Mimi Thorrison's blog, I just had to make it. Her blog is a visual feast, her photography harkens to times past. It almost seems unreal that people can still live like this. But it is lovely to live vicariously through the visions of various bloggers who have achieved such a heightened deliberateness. Beth Kirby, Eva Kosmas Flores, and Marta Marie Forsberg are others who seem to capture every moment with such clarity and yet thoughtfulness. These blogs harken to days gone by, and a world that seems almost magical in its beauty and appreciation for the details.
Anyway, Mimi, who lives in France with her family, has a brilliant little recipe for a chestnut cream cake. I knew I just had to make it. Her recipe is so simple- it really makes the most of eggs and a can or jar of chestnut cream. Of course there are flour and some butter, but in the grand scheme of things, not the major components. The eggs are divided, the yolks added to the batter and mixed with the butter and chestnut cream and flour. Then the whites are beaten separately till stiff peaks form and get folded into the batter. This adds such a lightness to the batter, you'll love the texture already before it's even baked up! And really, this recipe can be brought together with two bowls, a wooden spoon and a whisk. Of course, the egg whites will require some elbow grease to whip up, but the work out you'll get will make up for the fact that you'll want to inhale half the cake when it comes out of the oven! And you can always pull out your hand mixer instead.
Naturally, in honour of those crepes that I enjoyed in Paris, I had to add something chocolatey to the batter. So I opted for mini chocolate chips. I wanted them for the texture. But I didn't want them to melt into the batter, hence using chips instead of cutting up a good chocolate bar. There is a stabilizer added to chips that causes them to maintain their shape, even when hitting an oven. And I wanted mini chips because I didn't want large pieces to detract from the delicate nature of the batter. And there was one more way to add a chocolate presence: Bitters. As you guys have figured out, I love using bitters. They add such a depth to recipes. Just like herbs add roundness to recipes, and enhance the flavour profiles of dishes. So I used chocolate bitters to create a balance to the one note flavour of the chestnut cream. If you don't have, or can't find bitters where you are, the cake will be just fine without, but honestly, why not make a day of it and go and explore your neighbourhood or town to hunt some down. Or else of course, there is good old Amazon!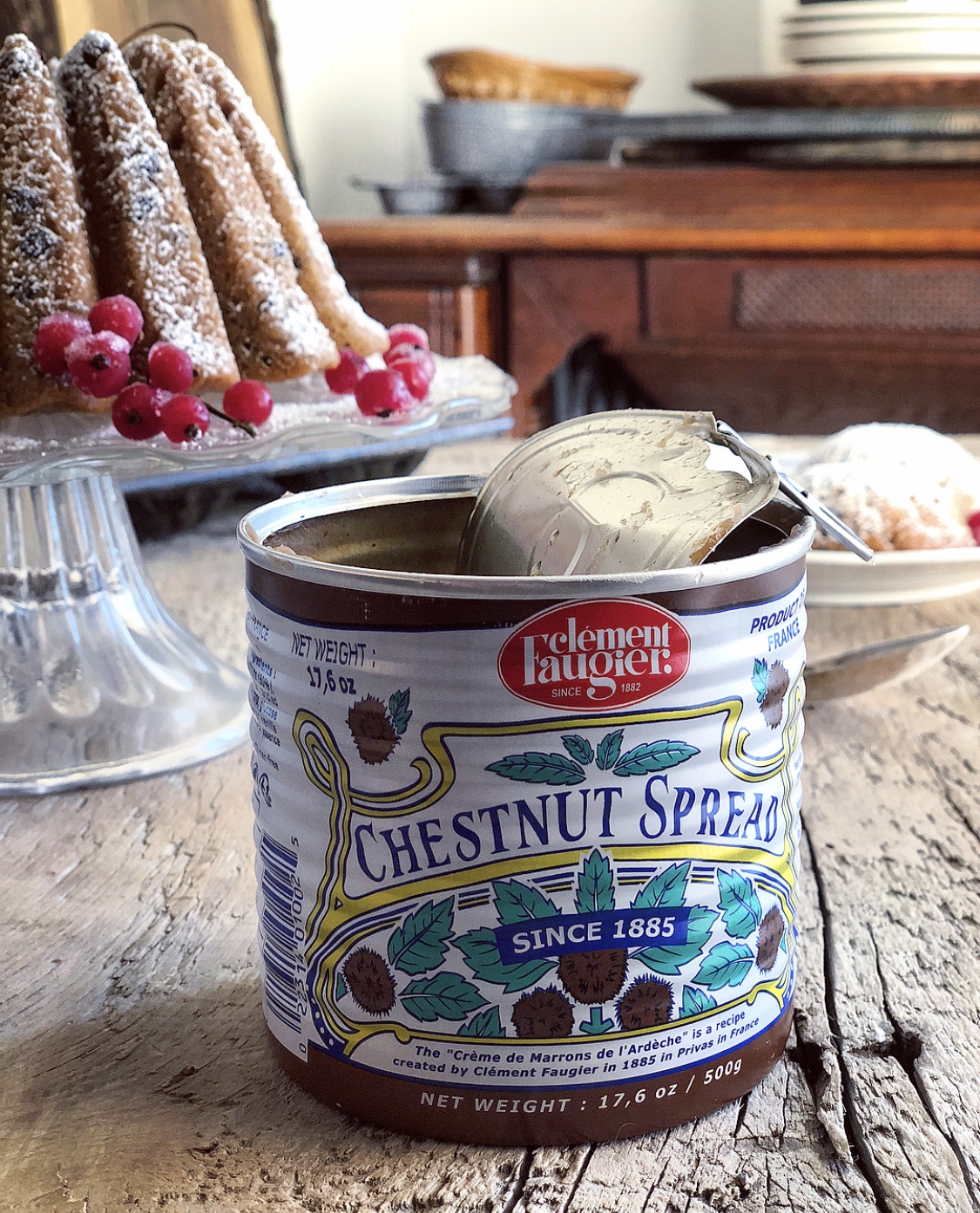 In fact, if you can't find chestnut cream in your local Euro grocery stores (but you should be able to find some sort of version) you can also purchase the very same cream that I used, online. This container is the exact size you will need for the recipe. Some other jars may contain less, so make sure you check the label, and perhaps pick up two. It may mean that you will use one and a half jars, but that will just mean that you'll have half a jar in the fridge, for late night snacking with your spoon! It also works fabulously on toast.
The first time I made this recipe, I actually didn't have the correct amount of chestnut cream. So I supplemented with almond butter. Don't laugh!! It worked. It didn't really affect the taste at all, since the almond butter was such a small addition in the long run. And the cake still baked up correctly.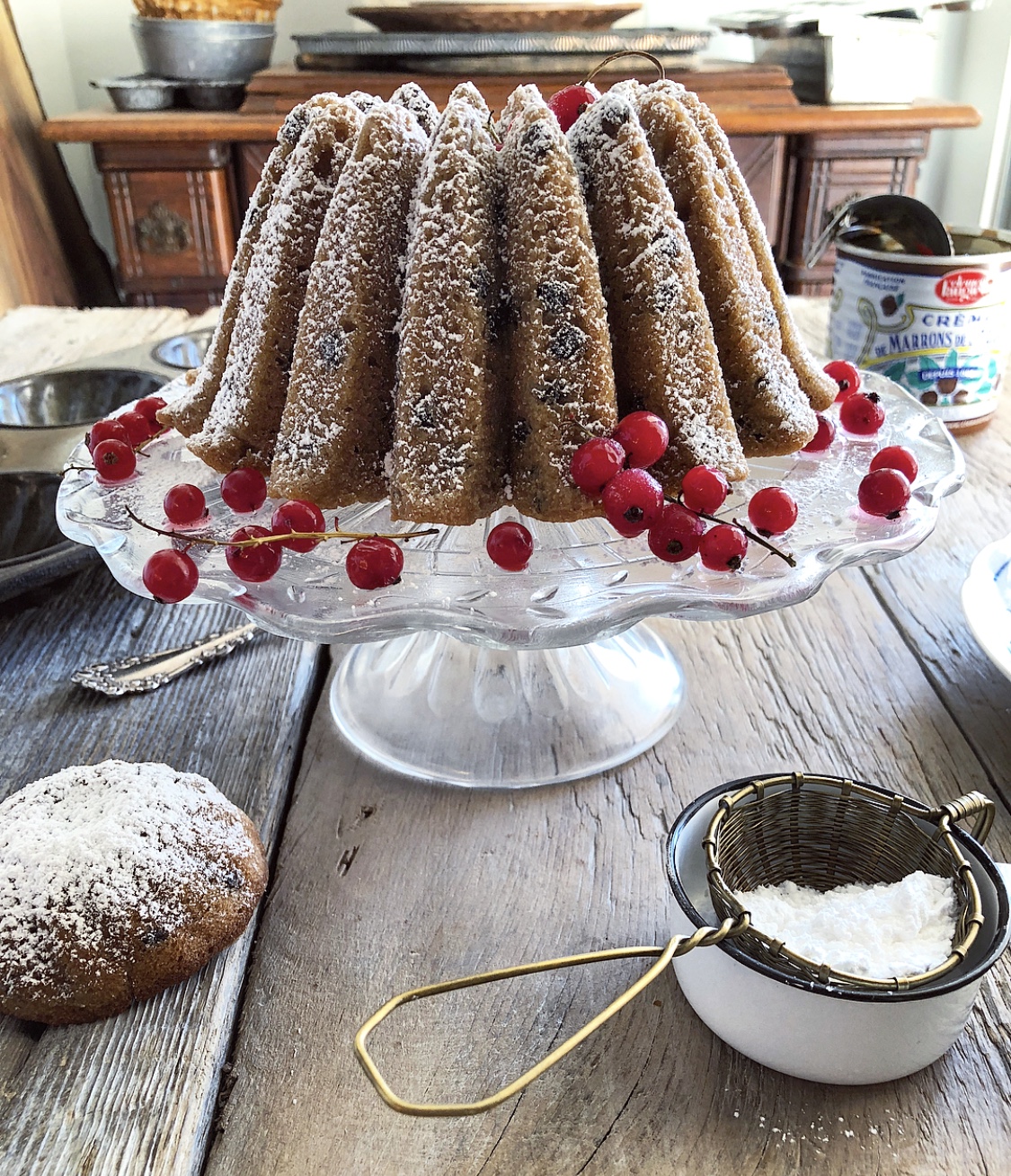 You can serve this as is- Jim or I will just sneak slices and eat with our hands. But if you wanted to make it for a special occasion, which it would certainly live up to, why not drizzle it with chocolate? Or a fruit compote? This time around, I used up the last of my frozen red currants from last season, and their tartness was a lovely contrast to the perfect sweetness of the cake.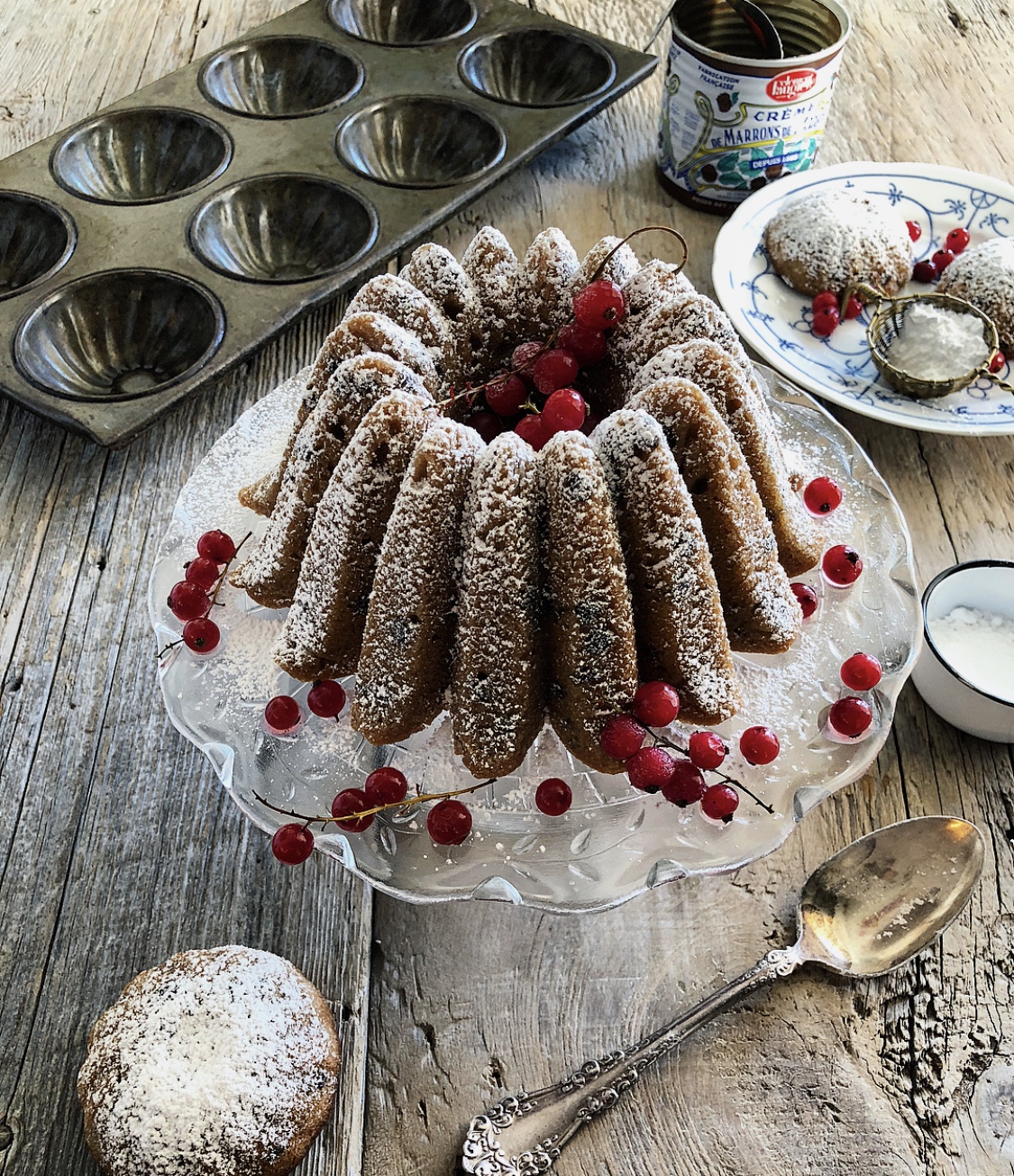 Quick notes: Mimi's recipe allows for using a 9″ cake round as the baking pan. I wanted to use a bundt pan. The amount of batter this recipe makes will fit into a smaller bundt pan, such as a 4 cup capacity. Here I used a 3 cup capacity Nordic ware pan, and just poured the remaining batter into a muffin tin (about 4 average sized muffins) I baked them side by side and just removed the muffin tin about 20-25 minutes into the baking. You will have to check as yours are baking up, since sizing may differ, let alone your oven. But you'll be able to tell when they are ready- they will be set, and a skewer will slide in easily.
I hope you like this cake as much as I do. It really comes together so easily. Imagine this on a tea party or shower buffet spread- it's so charming and tasty. And it is perfect year round. Just add seasonal fruit as your garnish, and it will be très jolie!
Love Jen.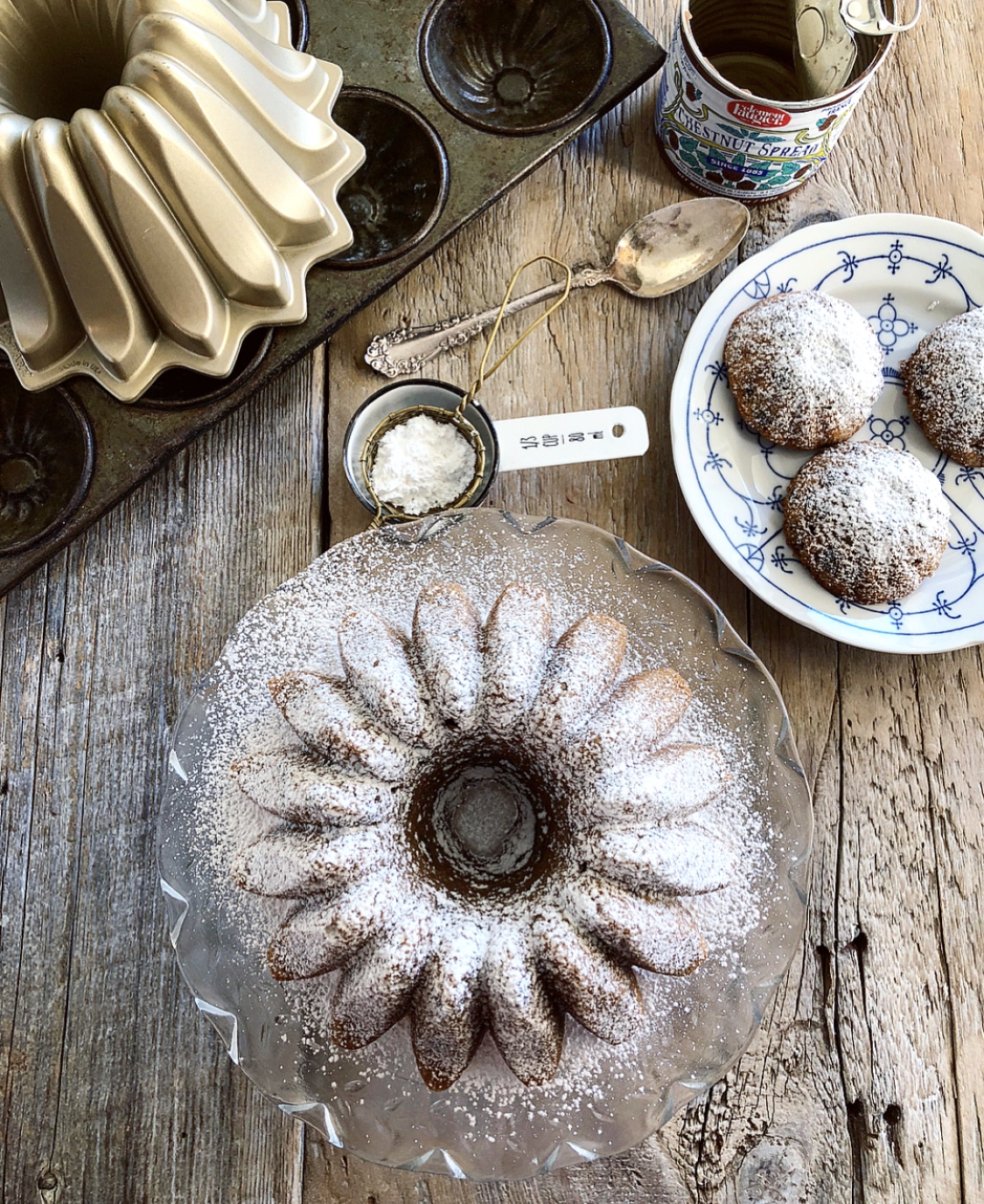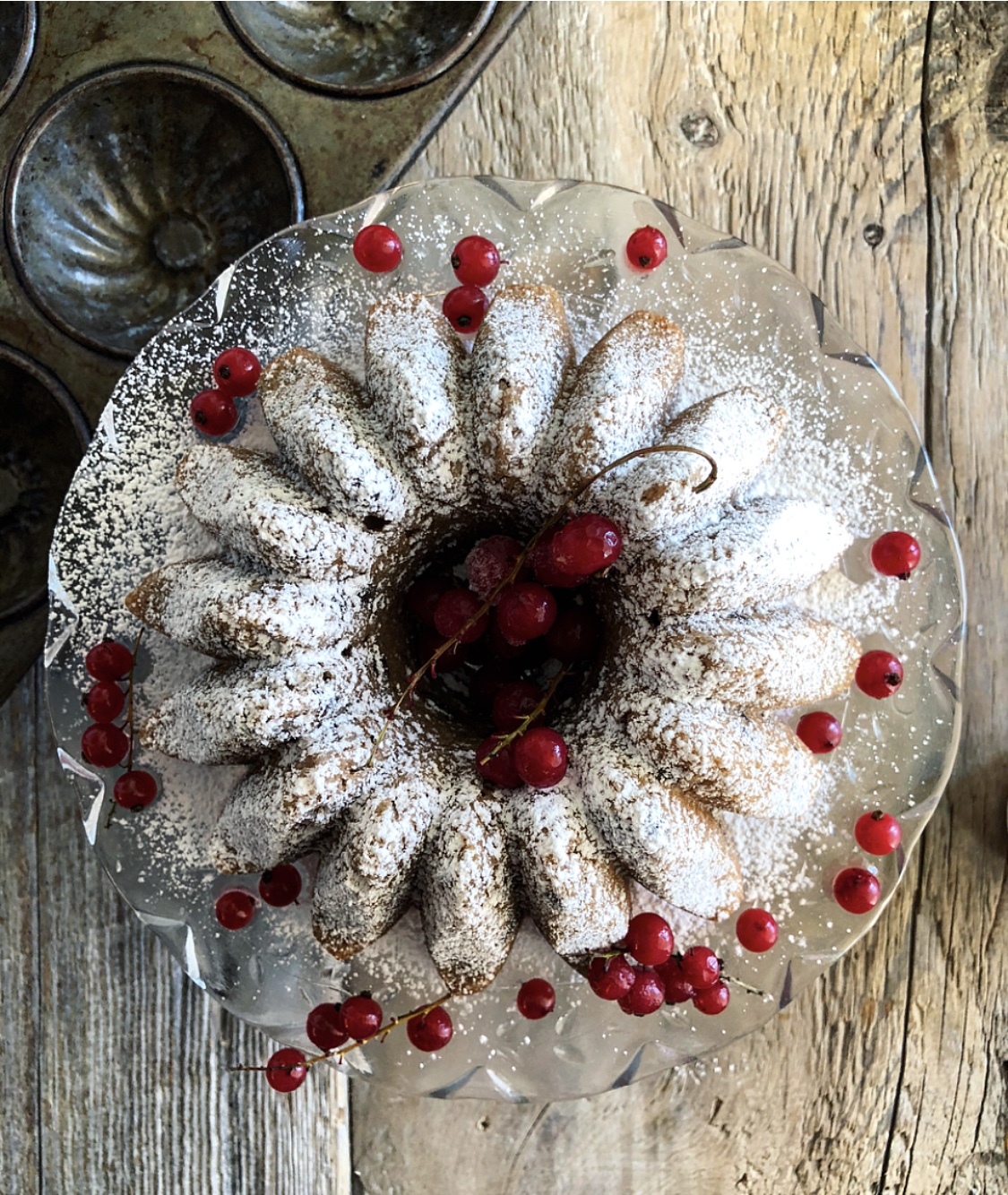 Chestnut Cream Cake with Chocolate Bitters
A dainty little cake that comes together so easily. It uses sweetened Chestnut Cream as a base, with folded egg whites for lightness. And chocolate bitters and mini chips add the perfect texture and flavour balance. Drizzle with chocolate sauce or garnish with fruit, this goes from snacking cake to special occasion.
Ingredients
1/2

cup

55 g AP flour

1 1/2

tsp

baking powder

1/4

tsp

kosher salt

18

ounces

/ 500 g crème de marron

(sweetened vanilla chestnut cream)

4

eggs

, separated

1/3

cup

(6 tbsp, 80 g) butter, softened at room temperature

5-6

good dashes of chocolate bitters

7

tbsp

mini dark chocolate chips

Confectioner's sugar

, for dusting
Instructions
Preheat the oven to 350°F/180°C.

Generously butter a cake pan, approx 9 inches, or medium-sized bundt pan (4 cup capacity), and dust with a little flour. Shake off any excess flour, set aside.

In a small bowl whisk together the flour, baking powder and salt. Set aside.

In a large bowl, whisk the egg yolks, softened salted-butter and chestnut cream until smooth.

Fold in the flour. Add the bitters and stir together.

Whisk the egg whites until stiff. You can do this by hand (in a metal or copper bowl) or use a hand held mixer.

Add 1/3 of the stiffened egg whites to the batter and fold together gently. Add another 1/3 and repeat till smooth. Add the final 1/3 of the egg whites and fold together till smooth.

Gently fold in the chocolate chips.

Pour the batter into the prepared cake pan. Place on a baking sheet.

Bake on the centre rack for approximately 40 minutes, or until the cake is golden. (please note that a Bundt pan will take slightly longer because it is deeper).

A skewer will come out clean when ready.

Sprinkle with confectioner's sugar.

Garnish with fruit or even glazed chestnuts
Recipe Notes
Adapted from Mimi Thorrison's recipe, here.
SaveSave
SaveSave
SaveSave
SaveSave
SaveSave
SaveSave
SaveSave
SaveSave