There is something so delightful about the combination of spices that come together to create gingerbread.
I love the warmth, the heat, that comes from the ginger; the warm tangy-ness from the nutmeg and allspice; the earthy sweetness from the cinnamon and cardamom; and the aromatic goodness from the cloves. In some German versions, including Pfeffernusse, there is even black pepper. This is something that I now bring to all my gingerbread recipes. As well as a couple of dashes of cayenne! But not so much to smack you in the face- it's a little tickle at the end of a bite. A little surprise from me to you! I adore that kick of heat mixing with the sweetness of the molasses, brown sugar, and in the case of these cookies, chocolate!
Instead of being a dry or crisp cookie generally associated with gingerbread cookies, this one is delightfully soft and chewy. The chocolate is the other star of the recipe. But they are in perfect balance. This is one of those recipes that you will pull out regularly, and bring to work functions, hostess gifts etc. It never fails to make everyone happy, young and old. The hardest part of this recipe is having the dough chill in the fridge for a couple of hours. But the rest is easy peasy!
I realize that gingerbread is a flavour that everyone associates with the cooler months. Which is a shame. I would enjoy it year round. The kitchen smells amazing when these spices get together to party. Such a cozy feeling is what these spices create, at least in my mind. If Starbucks handed me a Gingerbread Latte in July, I'd happily cradle that mug in my hands. Who cares if I'm wearing shorts and on my way to the beach, that gingerbread would still make my tastebuds dance.
With all these spices crowded into a baked good, and all the research coming out on the digestive, anti-inflammatory, pain relief, detox benefits, even insomnia reducing and immune system function improvement of all these spices, these cookies are actually a health food! Then, finding out how high in iron and B vitamins blackstrap molasses is, and that dark chocolate is a fabulous source of anti-oxidants, these cookies enter the stratosphere of uber-nutritional!?? I'm happy to fill your prescription for a yummy tummy 🙂 By the way, I've had this recipe for so long, the piece of paper is wrinkled and greasy. I wish I could remember where I got it from, just so that I could give credit to the deserving person who developed this recipe. I thank…Whomever likes Gingerbread like I do!
Love Jen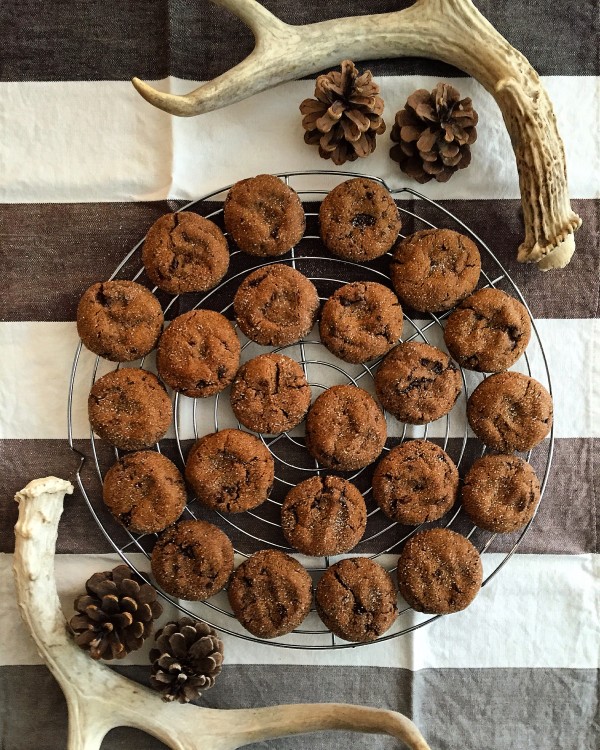 CHEWY GINGERBREAD CHOCOLATE COOKIES
The moistest, chewiest gingerbreadiest chocolate chunk cookie you'll ever want or need.
Prep Time
2
hours
30
minutes
Total Time
2
hours
42
minutes
Ingredients
1 1/2

cups

plus 1 tbsp AP flour

1

tbsp

unsweetened cocoa powder

1 1/4

tsp

ground ginger

1

tsp

ground cinnamon

1/4

tsp

ground cloves

1/4

tsp

ground nutmeg

1/8

tsp

black pepper

1/8

tsp

cayenne pepper

1/2

cup

(1 stick) unsalted butter, softened

1

tbsp

grated fresh ginger

1/2

cup

packed dark brown sugar

1/4

cup

blackstrap molasses

1

tsp

baking soda dissolved in 1.5 tsp boiling water

6

oz

dark chocolate

, chopped into 1/4" pieces

1/4

granulated sugar
Instructions
Sift the flour through the cayenne pepper in a medium bowl, set aside.

Put softened butter and ginger into a mixer fitted with the paddle attachment (or hand held mixer is fine) Mix on medium speed until lightened, about 4 minutes. Add brown sugar, mix till combined. Add molasses, mix till combined.

Mix in the flour mixture in 2 batches, alternating with the baking soda mixture. Mix in chocolate chunks.

Transfer dough to plastic wrap, and chill for at least 2 hours (or overnight)

Preheat oven to 325F. Line 2 baking sheets with parchment. Roll the dough into 1- 1.5" balls. Lay out on sheets and chill in the fridge for 20 minutes.

Bring the sheets back out to the counter, fill a small bowl with granulated sugar, and roll each ball in the sugar. Space the balls 2" apart on the sheets. Lightly press down with your fingers or a rubber spatula. Just a little.

Bake until surfaces crack slightly, about 10-12 minutes. Let cool on the sheets for 5 minutes. Transfer to a wire rack and cool completely.

They can be stored in an airtight container for up to 5 days.
Recipe Notes
This recipe can be started the day before and baked off the next day.
SaveSave
SaveSave