The first time I ever had satay, I was living in Sydney, Australia. When I say it was life-changing, you may raise and eyebrow, or both, but I am totally serious.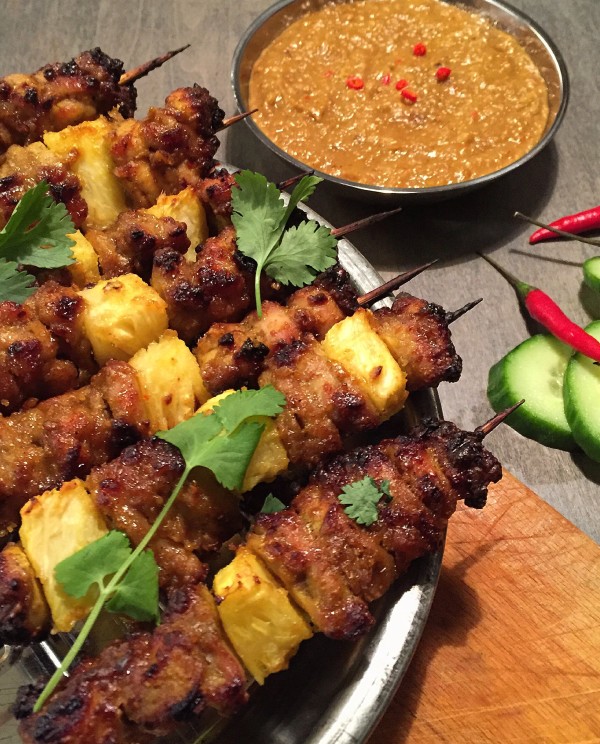 In late 80's southwestern Ontario, Canada, when we said we were going out for ethnic food, we meant Canadian-Chinese (you know what I mean!) or maybe Chi-Chi's for chimichangas. Or to really go out on a limb, we'd head across the border to Detroit, for great Greek (Greektown is still a favourite place to head for a Greek treat!) Yes, exotic and ethnic cuisines had not yet found Canada.
And then I moved to Australia. I had no idea what I was in for. I had studied the history of the country just to prep myself for appreciating the world I was entering. I had even done a school project on Australia back in grade school, so I knew all about echidnas, platypuses, koalas, and kangaroos. We had even learned 'Waltzing Matilda' in school.
But Australia is so much more than that. I had no idea how European Sydney was. It was (and still is I'm sure) a cosmopolitan, continental, and modern city, young and vibrant, but in the most exotic setting I had ever visited. It was normal to walk down the residential streets and be greeted by a cockatoo or kookaburra, or see little gecko lizards scurrying by. Going out for cappucino was a daily ritual (cappuccinos, iced coffees, espressos, etc hadn't even entered the everyday Canadian vocabulary yet) The beaches were topless, gum trees (which look like deciduous trees with lovely leaves) kept their leaves, even when covered with snow in the winter, and the architecture was the most lovely nod to the past: Victorian/Federation styles of intricate wrought iron railings and balconies paired with tudor stucco, and the clay tiles of warmer climates made me wish for a home in Woolwich or Lane Cove. The jasmine could almost make you drunk with its heady fragrance when the summer sun beat down on the bushes, and the jacaranda and wisteria were so ethereal and romantic in their beauty. Yes, I was enamoured by this world.
And then one day, my roommate and I joined a few others for a day of hanging out at Manly Beach. Think of it as Venice Beach, or any of the fun-loving beaches along the east coast: the Jersey Shore, Myrtle Beach, Cocoa Beach etc. After a great time wandering the boardwalk and taking in the sights, and goofing around, we went to grab a bite to eat. Someone suggested Thai. I was totally intrigued, as this was a new flavour palate for me. Australia is definitely influenced by all the Asian lands, with the close proximity and all. We all crowded around a table, and they ordered beef and chicken satay sticks, dipping sauce, and I'm sure other dishes as well. I don't remember them, because all I can remember from that meal, was the dipping sauce!! What a fantastical blend of flavours hit my mouth! Hot, sweet, spicy, warm. I couldn't get enough of it. I can't tell you how many times I made sure we went back to that cafe before I returned to Canada.
Back home…I tried to explain to everyone how wonderful this dish was. I got a few intrigued supporters. But when I said curry and peanuts in a sauce, there were more than a few who just couldn't imagine it. I started asking around, "Were there any Thai restaurants in Windsor?" No. This was before the days of Google or the Internet, so I couldn't even look up a recipe to replicate at home to show what I was hooked on.
When I was visiting friends in NYC the following summer, and we were driving around trying to come up with a place to grab a bite, right away I asked if Thai would interest everyone. They looked at me and replied that maybe if we checked a phonebook we could find a Thai place. 'Cuz they had never been to one. I'm telling you, ethnic cuisines had not yet found their stride in mainstream eating! We did find a cute little hole-in-the-wall place that was run by a Thai family. Way off the beaten track. There was a mama cooking away in the back. And they had satay on the menu. And it tasted just the way I remembered it.
I was vindicated (was I starting to imagine the whole satay experience back at Manly Beach??) So I literally asked the server (probably the son of said mama in the kitchen) how to make the peanut sauce. So I learned it. And never looked back. And then Thai and Vietnamese, and Japanese, and Korean, and Ethiopian, and Turkish started to sprout up everywhere. So now I don't have to convince anyone that peanuts and curry go together quite fabulously.
I've played with this recipe through the years. In the last few years I have not just accepted fruit with meat, but have actually embraced it. So now I include pineapple in my recipe. But this is by no means a deal breaker. So if you'd rather leave it out, I understand. Enjoy this meal that took me forever to find, but makes me yearn for Australia every time I think of it.
Love Jen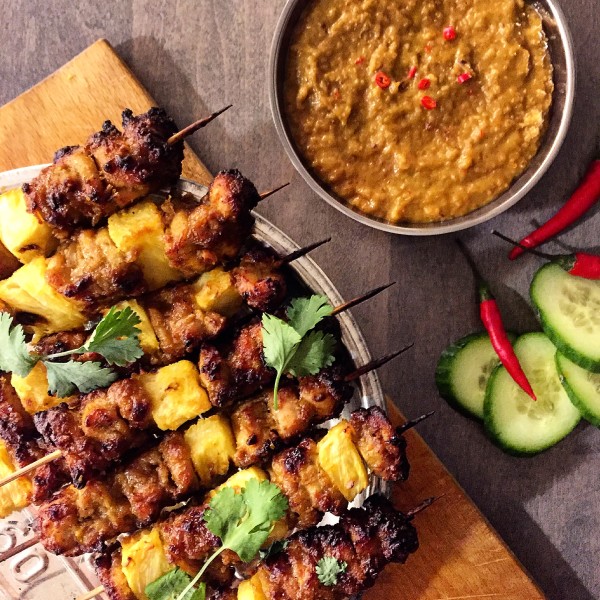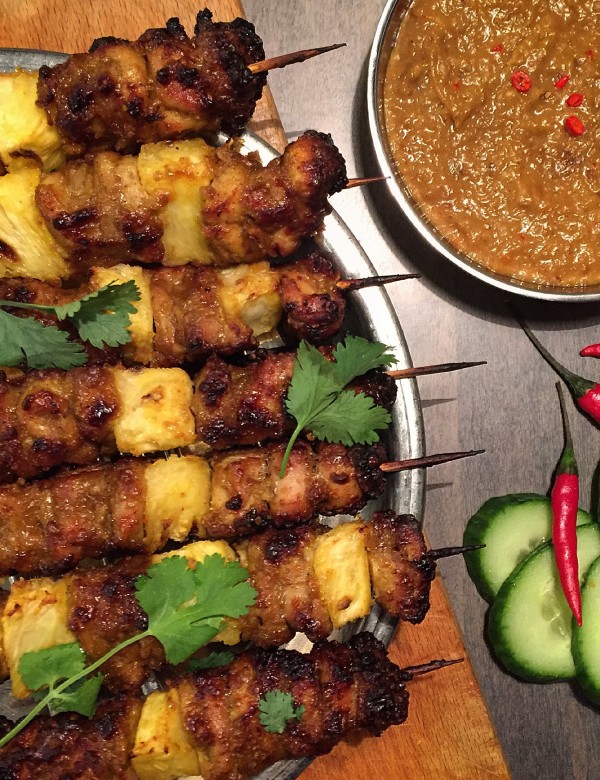 CHICKEN AND PINEAPPLE SATAY WITH PEANUT SAUCE
A spicy, warm, sweet, sauce to accompany juicy, marinated chicken and pineapple skewers.
Total Time
3
hours
15
minutes
Ingredients
2

lbs

(1 kilo) chicken thighs, cubed into no larger than 1inch pieces

1

onion

, roughly chopped

4-5

garlic cloves

1/4

tsp

lemon zest

1/2

cup

crunchy organic peanut butter

(no added sugar)

3

tbsp

honey or coconut palm sugar

1

tsp

salt

2

tbsp

curry powder

1

Thai red chilli pepper

20

bamboo skewers

, soaked in water for at least 1/2 hour

1.5-2

cups

of pineapple

, cubed (no larger than 1inch) Try for similar size to your cubed chicken
PEANUT SAUCE
1

onion

, roughly chopped

4

garlic cloves

1/2

cup

of crunchy organic peanut butter

(no added sugar)

3

Thai red chillies

3

tbsp

honey or coconut sugar

2

tbsp

pineapple juice

1/2

cup

coconut cream
Instructions
Place cubed chicken into a shallow baking dish.

Combine all the marinade ingredients (onion through chilli pepper) in a food processor and blend till as smooth as possible

Pour marinade over the chicken, massaging it into all the nooks and crannies. Cover in cling wrap and refrigerate for at least 2-3 hours or overnight.

When ready to grill off, prepare the skewers. Try to remove excess marinade off the chicken pieces (leave some on of course- this will add so much flavour while baking) Skewer pieces of meat alternating with pineapple cubes. Leave enough of the skewer for a handle. I fill to half way or a bit more. If the meat is thin and longer, you may be able to fold in half and skewer through both layers. Clean of the tips of the skewers of any excess marinade, or else the tips will char during the grilling. I've learned this one the hard way!

Prepare a baking tray(s) with tinfoil. If you have an oblong cooling rack, you can set this over the tinfoil. I do this but it isn't necessary.

Set your broil feature on your oven to low. If you have only one setting for Broil, then ensure that the oven rack isn't too close to the top element.

Broil the skewers, turning every 5 minutes or so, to avoid scorching, until they are cooked through. This should take around 15-20 minutes at the most.

While the skewers are grilling prepare the Peanut Sauce.
PEANUT SAUCE
Combine all the ingredients (except the coconut cream) in the food processor. Put this mixture into a small pot. Add the coconut cream. Bring to a boil and then immediately reduce the heat to simmer and reduce the consistency. Reduce until you are happy with the thickness of the sauce. Remove to cool down a bit.

Serve skewers on a platter with the dipping sauce on the side.
Recipe Notes
Serve crudites on the side- veggies are a great accompaniment to this dip. There may be extra sauce left over. This sauce will work wonderfully on pork chops or with shrimp or even chicken wings. Great for game night. Or even sending home with a friend!
SaveSave
SaveSave