This is one of those retro dishes that probably had it's heyday back in the 70's.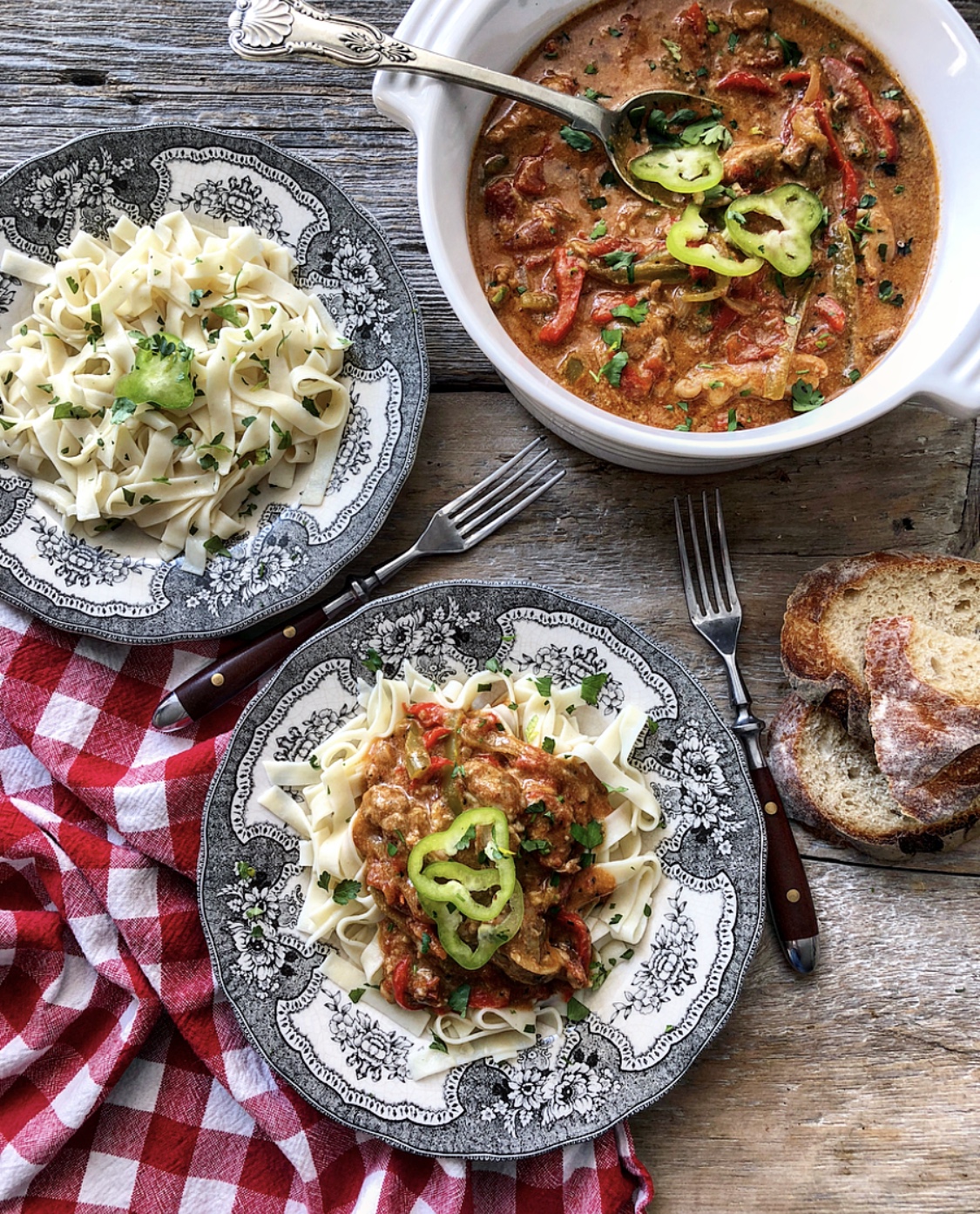 Growing up, my mom always made Goulash (most likely her German interpretation of the Hungarian dish), which is just another beef stew/braise, with Euro seasonings, and served over either mashed or boiled potatoes, or noodles if us kids had our way. But she never really made Chicken Paprikash, also a Hungarian classic. At least I don't remember her making it. I'll have to ask my sister. If so, maybe I just didn't appreciate hungarian paprika as a spice back then. I was a kid, after all.
But when I struck out on my own, I discovered that this dish was meant to be in my repertoire. It had chicken. It had sour cream. And it had spice! The inclusion of heat and spice will always make a dish rank higher in my books. This time around, it is the smokey, bright burnt red of Hungarian Paprika that is the star. Yes, there is also Sweet Paprika in the dish. There is a difference between these ground pepper blends. The names are self-explanatory. One is much hotter, and one-noted, the other is milder and sweeter. And you really do want both in your spice cupboard. Combined, they bring a brilliant depth of flavour to the dish, as well as it's signature colour.
When we got married, I quickly learned that Jim likes his heat. Any dishes that involve heat in some way would become ones that he would request often. So, this dish that I am sharing with you today, is one that has Jim's stamp of approval, and will always get a smile when it shows up on the table. I actually can't believe I have been making this for him for over 21 years!
A classic Chicken Paprikas or Paprikash usually puts chicken legs or bone-in thighs to work. And I do like using them. But for this version today, there is something so immediate about using boneless thighs. It comes together so much faster this way. I think that was one of the first reasons I did like the recipe. I was working in a marketing firm, sketching away at a drawing board all day, that I really did't have time to come home and start a meal that would take over an hour to prepare. I just couldn't be bothered.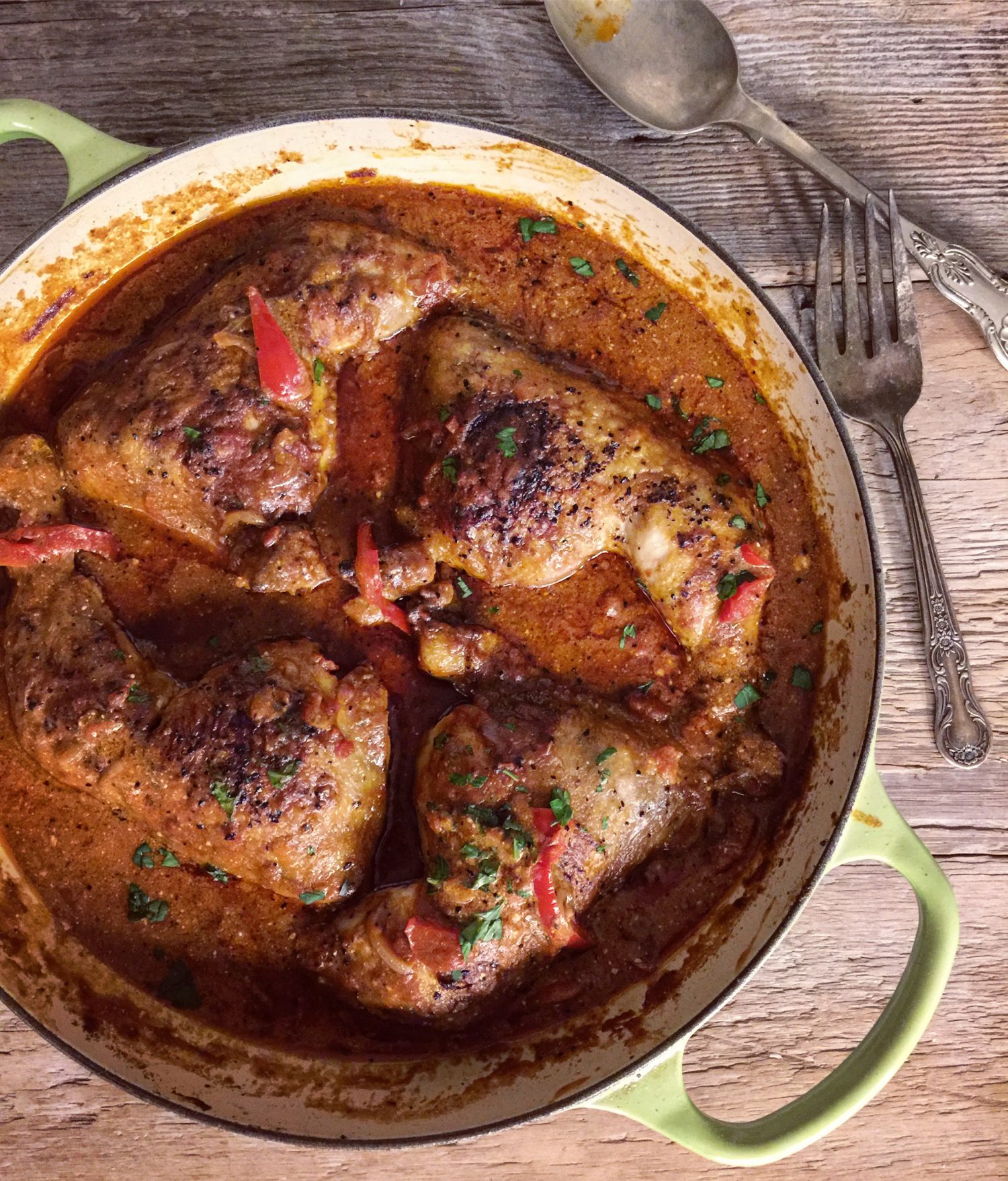 And while some recipes may use boneless chicken breasts, I really like using thighs better. They have more flavour to begin with, and they will not dry out, no matter how you cook or overcook them! So they really add a lot to the recipe. There is nothing worse that having a meal look so enticing, only to find that you are biting into dry, tasteless chicken breast meat. This will not happen on my watch! So, it's thighs all the way!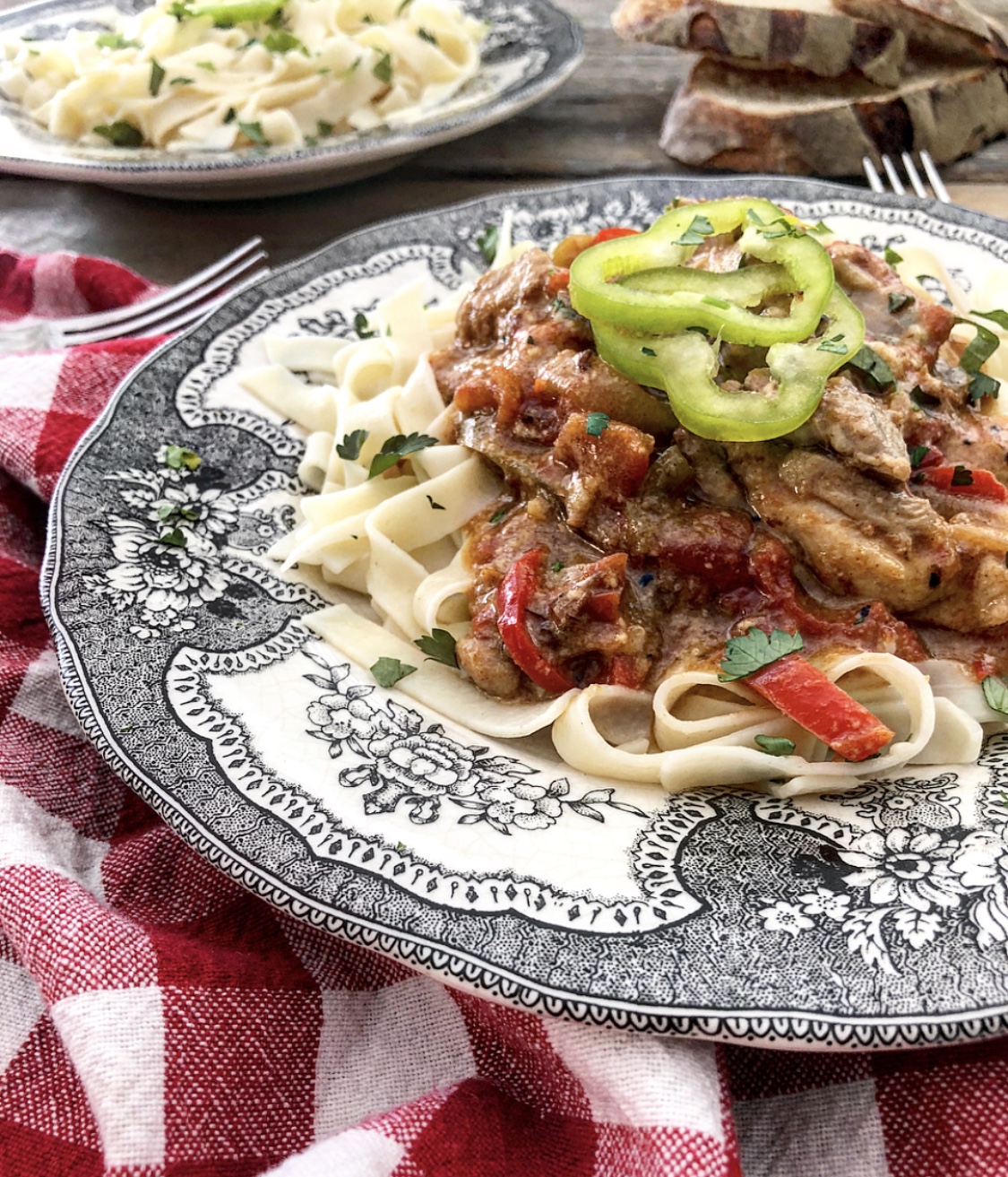 For the peppers, I like to use red peppers. You can also use yellow or orange. They will still have enough sweetness to them. But the dark green peppers really seem to turn bitter once cooked, so I avoid them for this dish. I will use the Cubanelle peppers- the long light green ones. They are still sweet enough that even when cooked, their flavour isn't distracting in a negative way. I like to use Roma tomatoes for this recipe. They are more meaty, less watery. Since you will be seeding and dicing them, they won't water down the final dish too much. You could used canned diced tomatoes, but then you will have to adjust the amount of stock you are using. You'll need less. You know there is enough, if there is liquid covering about 2/3 of the components. You don't want soup. And once the sour cream is added, you want enough for it to mix into.
And when it comes to the sour cream, which is how this dish goes from lovely to brilliant, don't skimp by purchasing the low fat kind. You need the fullness of the fat to keep the sour cream from separating once it mixes with the hot stock and juices. I have been known to use plain Skyr (an Icelandic yogurt/cheese with the consistency of a really thick firm Greek yogurt) when I don't have sour cream in the fridge. It works perfectly. It doesn't break down or separate. And here's my trick: Instead of adding the flour for thickening on it's own and trying to get it to blend into the liquids without clumping, mix it thoroughly into the sour cream! Then, when you spoon the cream into the pot, bit by bit, everything melds together, slowly thickens, and you will never have to worry about flour clumps floating around. Paprikash, like Stroganoff relies on the sour cream for the tang. This is not to be under estimated. I love a good tangy and spicy dish, with all the richness of cream, all poured over buttered and parsley egg noodles or spätzle.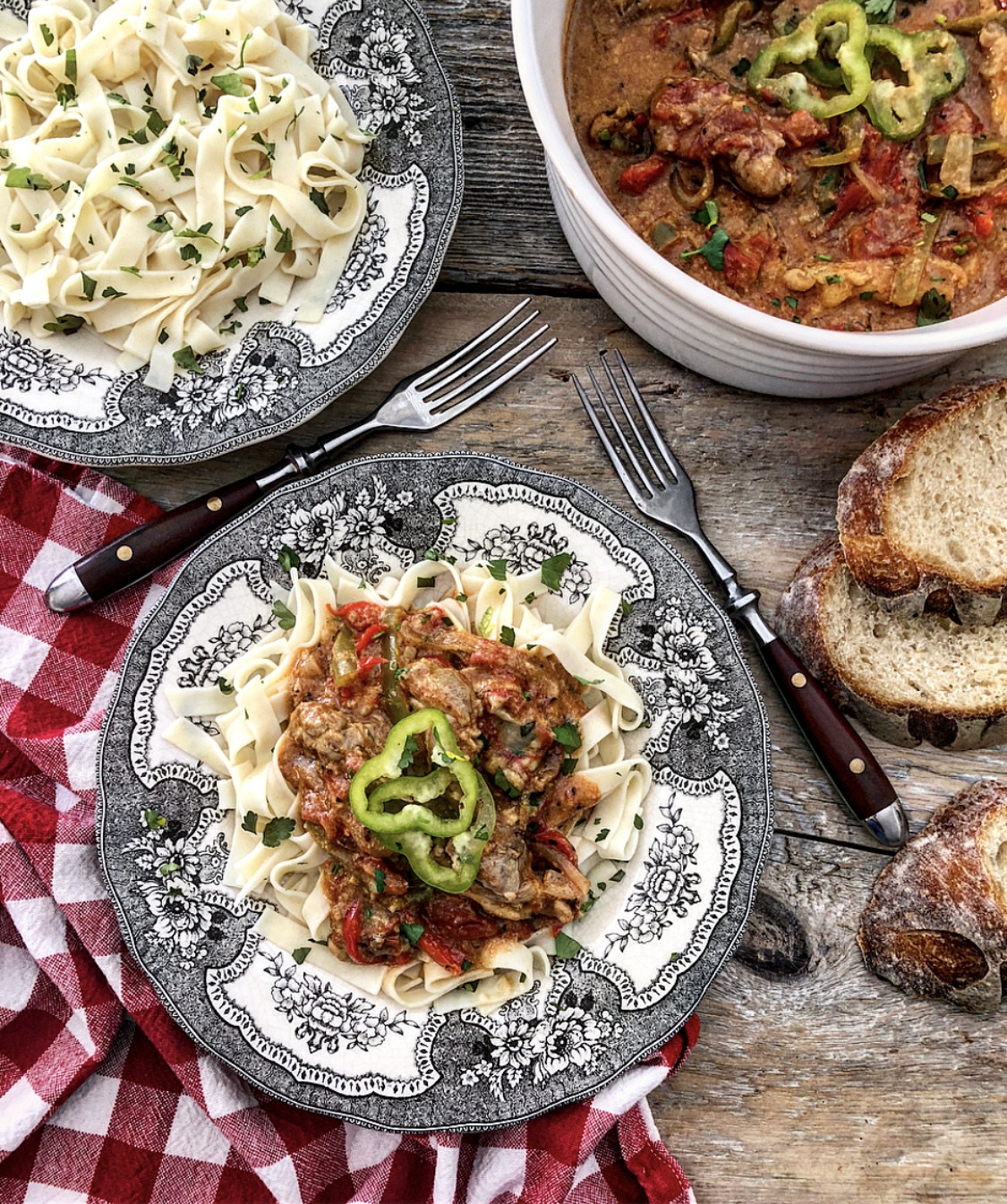 Speaking of noodles. Jim isn't as much of the noodle lover as I am. He would rather have this dish served over rice or even mashed potatoes. Which is perfectly fine. Feel free to use the carb that your family craves. I grew up with noodles. Personally, I would serve this over my Spätzle for the best version of Chicken Paprikash ever. If you want to serve it this way, you can find the recipe for this wondrous little German noodle/dumpling here: Sauerbraten with Spätlze.
This recipe doesn't take long from beginning to end. It's on the stove 30-35 minutes. Here are some tricks for keeping the time needed to a minimum if you have a tight schedule. Cut up the chicken and place in a air tight container into the fridge the eve before. Slice your onions and store in fridge separately. Slice up your peppers the same way and store. In fact, if you are making the spätzle, you can make those on the weekend and store till needed. You can reheat these by a quick sauté in a pan with butter. Or of course, you can prepare the rice in a rice cooker while the chicken is simmering away. And if you are doing noodles on the stove top, these can also cook while the paprikash is cooking away.
I just thought, this dish would be amazing over the Spinach Ricotta Gnocchi I shared a couple of posts back!! Make those the day before as well. Reheat in a skillet with a bit of butter, while the Paprikash is staying warm on the back burner. In fact, you can have your gnocchi ready to go, kept warm in a bowl, and then add the sour cream to the Paprikash, and then serve it all. What a splendid meal awaits!!
I hope you like this as much as we do! And don't be afraid to crank up the heat from the amount shown below. I err on the side of conservative when I share these types of recipes with all of you!
Love Jen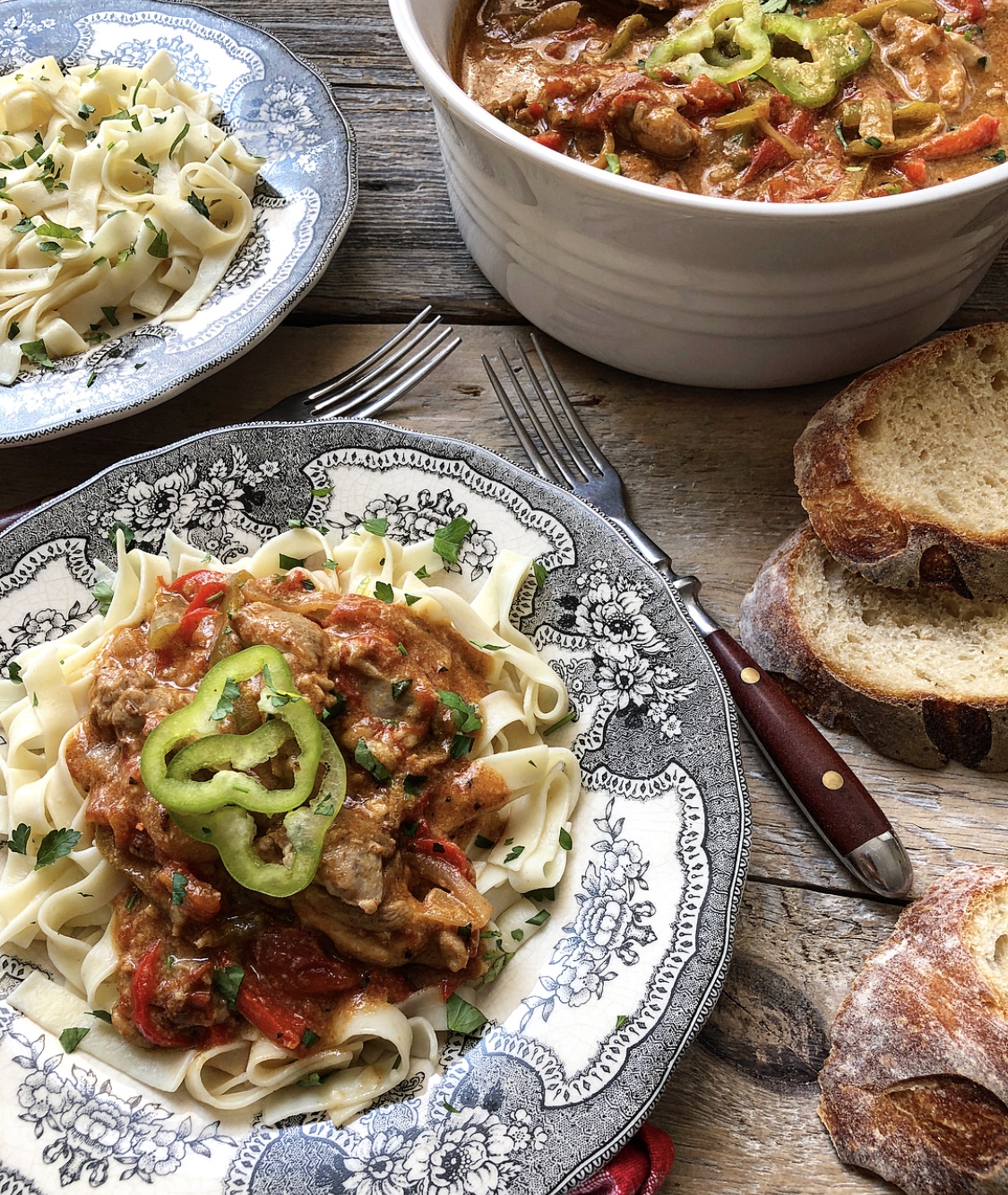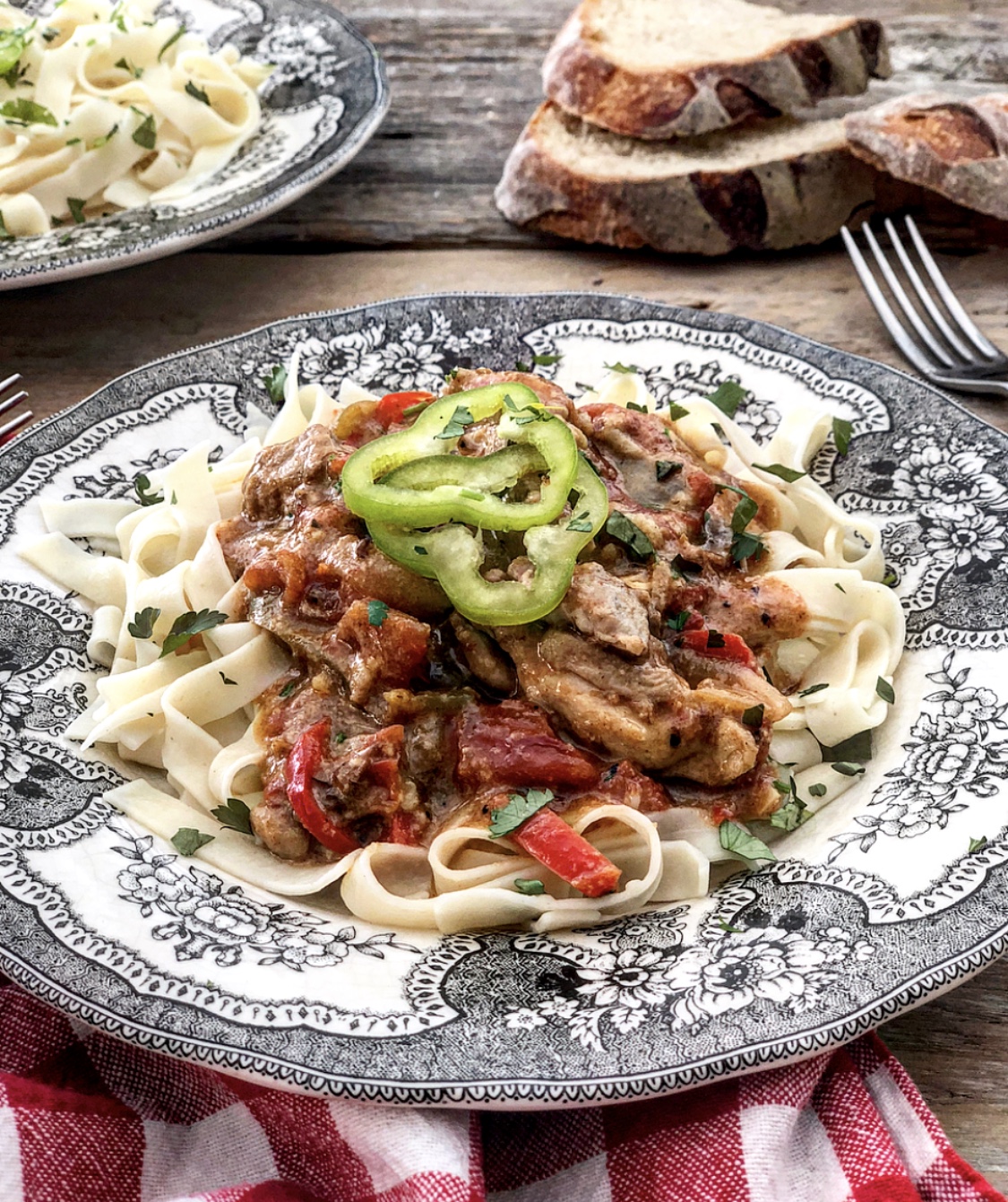 Chicken Paprikash
This wonderfully fragrant and flavoured braise puts boneless chicken thighs to work, combined with peppers, tomatoes, onions and two types of paprika. Perfect over noodles, rice or even mashed potatoes.
Ingredients
6-8

boneless skinless chicken thighs

, enough to make about 2 lbs

2

tbsp

butter

1

tbsp

olive oil

1

large onion

, sliced thinly lengthwise

3

garlic cloves

, minced

1

tbsp

sweet paprika

1

tsp

hot Hungarian paprika

1/2

tsp

kosher salt

1/2

tsp

cracked black pepper

1

red pepper

, julienned

1/2

of a yellow

, orange or even green pepper, julienned

6

Roma tomatoes

, seeded and diced

1 1/2

cups

chicken stock

1

cup

full fat sour cream

2 1/2

tbsp

AP flour

2

tbsp

chopped fresh parsley

1

lb

egg noodles

, cooked and tossed in butter and chopped parsley
Instructions
Slice the chicken thighs into thin slices

Heat 1 tbsp of the butter and 1tbsp olive oil in a large skillet or pot over medium heat.

Add the chicken and cook, turning regularly till almost cooked through, about 6 minutes. You are not looking to brown or sear the outsides. Just cook through gently. If you find the heat too low, adjust to medium high. Use a slotted spoon to remove the chicken to a plate. Set aside.

Add the other tbsp of butter. Add the onions and sauté over medium high heat for 3-4 minutes, or until softened. Add the garlic and cook one more minute.

Add the paprikas and salt and pepper and stir to coat well.

Add the peppers and stir around till just starting to soften, about 3 minutes.

Return the chicken to the pan, as well as the tomatoes. Stir to combine.

Add the stock. Place a lid on the pan. Let simmer over medium heat till everything is warmed through and the chicken is cooked through. This should only take about 5-7 minutes. If the heat seems too high, reduce to medium low. There should be a gentle bubbling, not a boiling happening.

Meanwhile, stir together the sour cream and flour in a small bowl.

One spoonful at a time, add the sour cream mixture to the pan and blend well. Keep adding the sour cream till everything has been added. The sauce should be coming together well. Taste. See if you would like to add some more heat! If so, sprinkle some more paprika over it all and blend in.

Garnish with chopped parsley.

Serve over noodles or rice, or even your favourite dumplings!
Recipe Notes
This serves 4 comfortably. I have used plain Skyr in place of sour cream with excellent results.
SaveSave
SaveSave