This is one of those wonderful recipes that has saved me from all sorts of last minute panics.
People coming for dinner and I can't think of what to make: this pork roast more often than not, will be what I turn to. There's something about a roast that gives the impression that you laboured more than you really did (but that can be our little secret!). Roasts just seem to mean company is coming.
Because I'm using a pork loin cut, and not a tenderloin, it may take a tad longer to cook, but it will end up being way juicier than what often ends up happening with tenderloins. And when I say a tad longer, I'm not saying that this is an all afternoon recipe. The roast is in the oven for just under or about 1 hour total. But it will still have all the juiciness of a good pork shoulder and the tenderness of a tenderloin.
Remember back in the day there was a commercial calling pork 'the other white meat'? It's true. Depending on the cut, it is really pretty lean, full of protein, and lends itself to all sorts of flavours. We love a good thick, pork chop- that perfect caramelized and crispy outside, and tender, juicy inside. Add a mustard sauce, and I'm in my happy place.
So a pork loin, with the bones attached, is really a bunch of pork chops all lined up, right? I love getting a roast with the bones attached, but that makes for a different cooking time. Today's recipe is all about flavour, and turn around time. Hence, the boneless roast below.
The star of this recipe is the spice rub. Oh, it's not even really a rub. Just more of a seasoning blend. It's a fabulous combo of citrus zest (orange is best) fennel seeds, fresh thyme, salt and pepper. I grind all of these ingredients with a mortar and pestle. But you can easily throw them all into a little blender (Bullit type, you know what I mean, right?) and whiz them together. And then you're going to rub the entire outside of the roast with the mixture.
Adding parsnips or carrots (or both) or even fennel to the roast is a wonderful exchange of flavours. As the pork roasts away, the fats get mingled with that fantastic seasoning blend and drip all over the veggies. These flavours were made for these veggies. Add some mashed or roasted potatoes, and you've got a great little meal.
I love making this for just Jim and I as well. I just have the butcher cut me a smaller roast. Really, including the bit of peeling, cutting and crushing (spice blend), dinner is still ready well within an hour and a quarter. And you could even cut this prep time down, by having the spice blend prepared and put into a container in the fridge, as well as the veggies all cut up and stored in tupperware. That way, if it's a weeknight, you could still have this onto the table not long after you walk in the door.
I'm telling you, after letting the roast rest and then slicing it and spreading out the slices on a platter, adding the veggies and a garnish or two, and this will impress even the most demanding of company. The aromas will have already tempted them. And then the visual will cement the conclusion that you are a really great cook!! Which of course, you are. 🙂
Love Jen.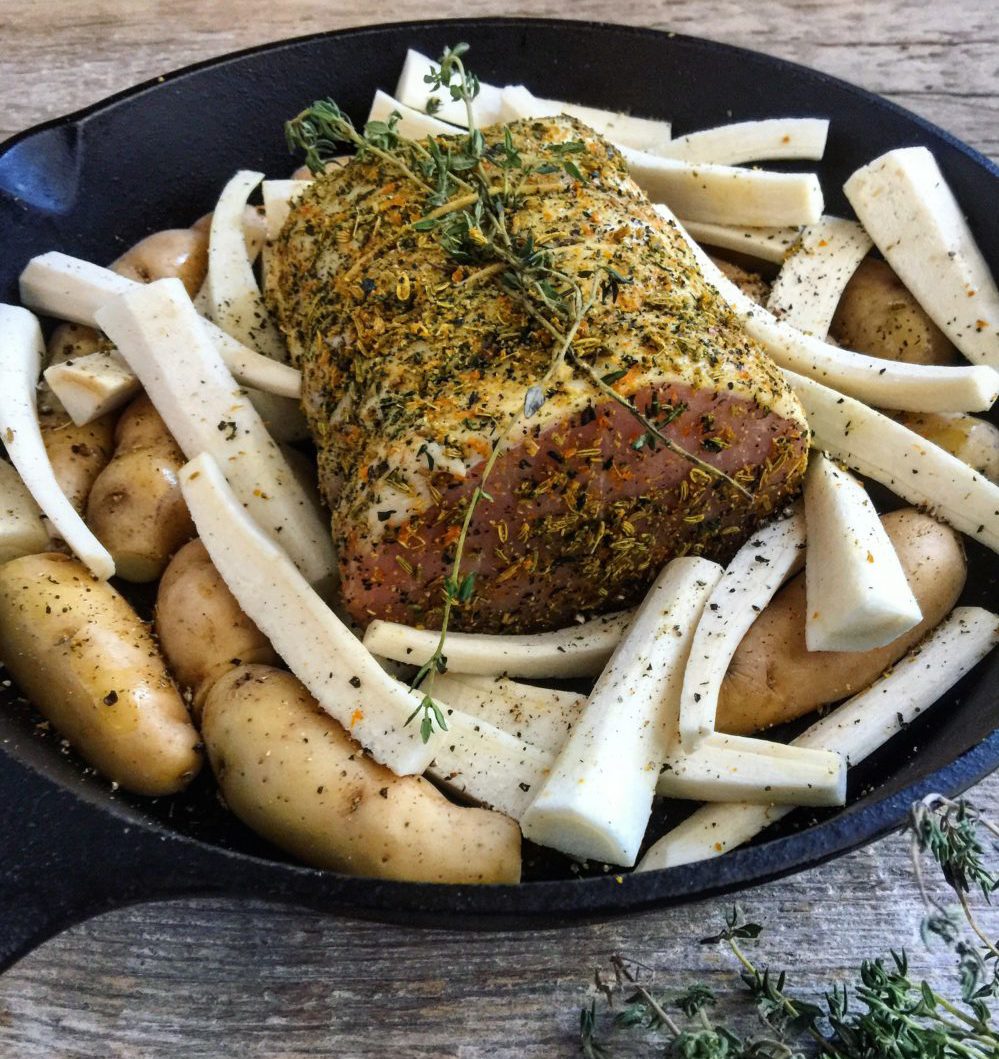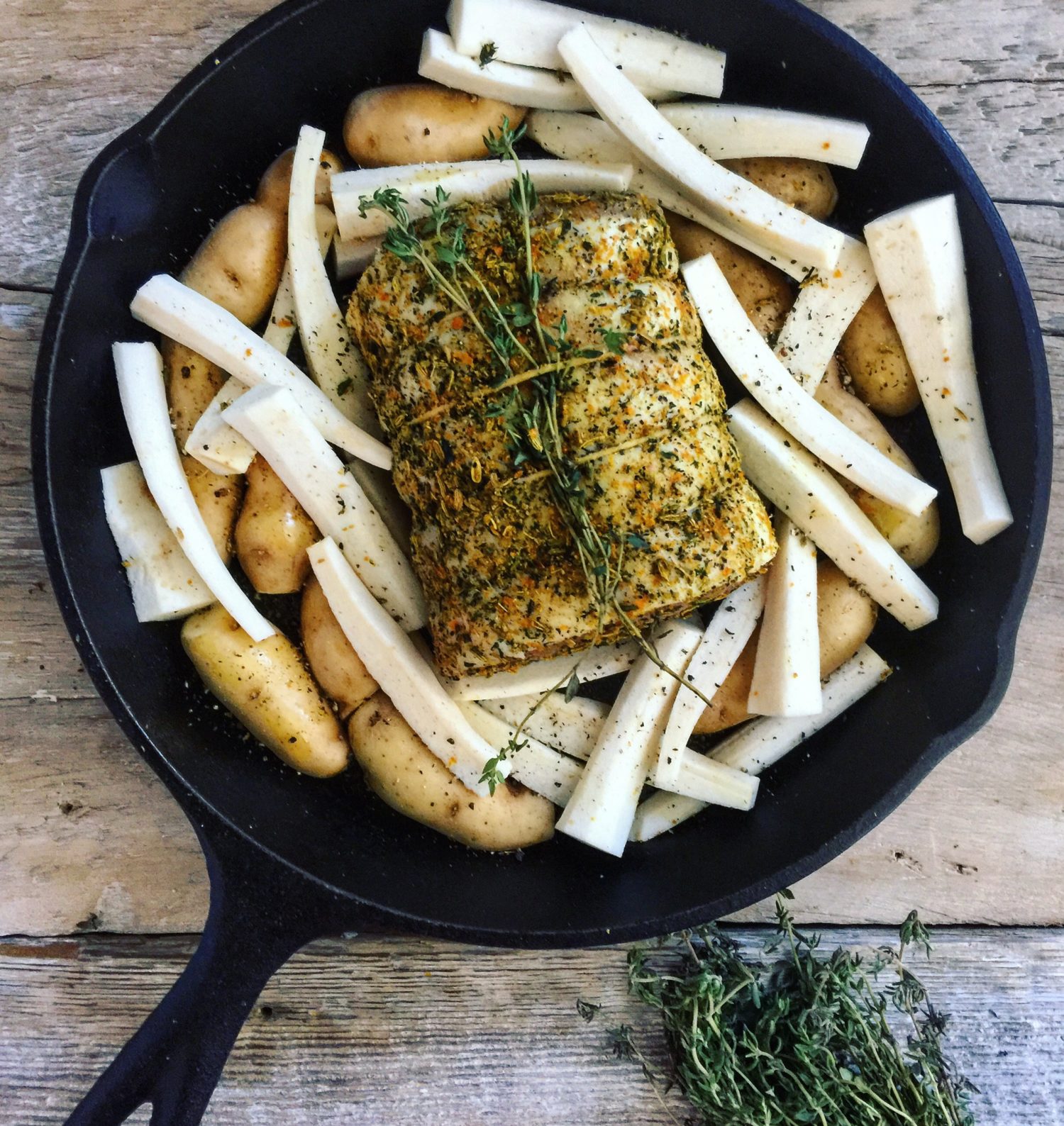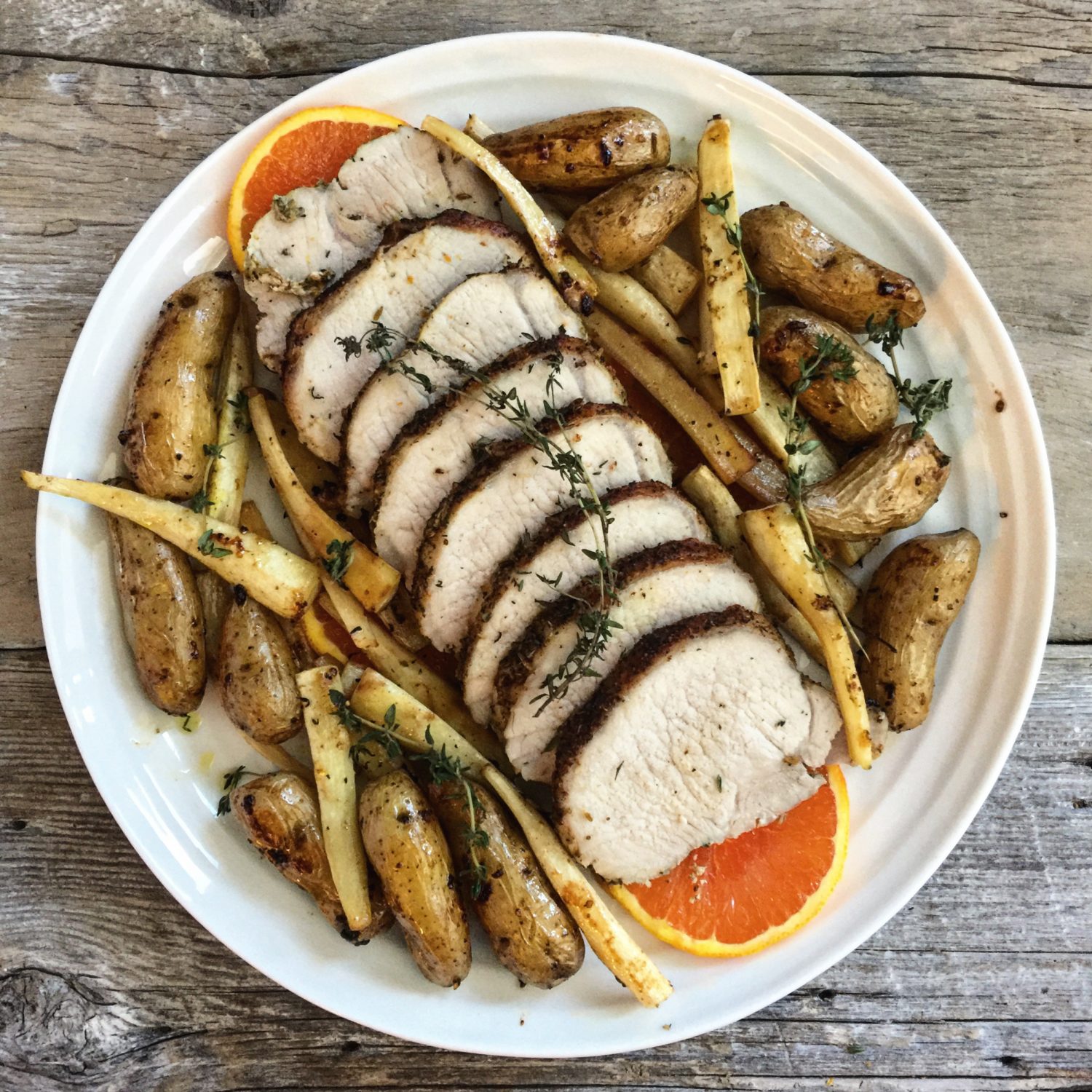 Citrus, Fennel and Thyme Roast Pork Loin
A juicy pork roast flavoured with orange, fennel and thyme, which also flavour the veggies that are roasting along. This makes for a festive and aromatic dinner for two or more. Perfect for company.
Total Time
1
hour
10
minutes
Ingredients
2

tsp

freshly grated orange zest

1

tsp

fennel seeds

1

tsp

fresh chopped thyme

2

tsp

kosher salt

1

tsp

fresh cracked pepper

2 1/2

lb

boneless pork loin roast, tied

if larger at 3 lb size, double the spice blend above

1

lb

carrots or parsnips (or both)

cut into sticks about 1/2 inch thick by 2-3 inches long

1/2

lb

fennel bulb

cut into 1/2 inch wedges

16-20

fingerling potatoes

scrubbed

3

tbsp

olive oil

kosher salt and cracked pepper

1/4

cup

freshly squeezed orange juice

2/3

cup

chicken stock
Instructions
Preheat the oven to 425F

Place the orange zest, fennel seeds, thyme, salt and pepper in a small food grinder or mortar and pestle. Grind till coarsely chopped, just make sure that the fennel seeds get broken down.

Rub the spice mixture all over the pork roast.

Transfer the roast to a large oven proof skillet or baking dish. One that will hold all of the other veggies as well. If you don't have one large enough, you can roast the potatoes separately.

Roast the pork for 20 minutes. While the pork is roasting, prepare the carrots/parsnips, fennel and potatoes by placing them all in a bowl and tossing them with the olive oil and seasoning them well with salt and pepper.

Arrange the veggies around the pork after the first 20 minutes. If they will not all fit in the one pan, place the potatoes into a separate pan at this time as well. If this is the case, drizzle with an extra tbsp of olive oil to make up for the lack of drippings from the pork roast.

Place them all back into the oven.

Roast for another 20 minutes. Sir the veggies around, ensuring that they are browning evenly.

Roast until the pork has reached an internal temperature of 140F. This should take about 15 minutes more (or longer, depending on the size of your roast) You don't want to cook beyond this temperature- you run the risk of drying the pork out.

Transfer the pork to a cutting board and cover loosely with tented foil. Let rest for at least 10 minutes.

Check the veggies. They should be done. But if you want some more caramelizing, another 5 minutes or so should do it.

Test the potatoes- a knife should slide easily into the centre of the potatoes.

Place the cooked veggies onto a warming platter or bowl. Tent loosely with foil while you prepare the sauce.

Place the skillet (if you were using a skillet) onto a stove burner set at medium high. If you were using a baking dish, remove all juices and scrape up any bits form the bottom into a sauce pan. Place on the burner.

Add the fresh orange juice to the pan. Bring to a boil. Reduce to not quite half. Add the chicken stock and cook, stirring, until everything has reduced into a glorious sauce. Taste and re-season with salt and pepper.

Slice the pork into 1/2 inch slices and arrange on a platter. Arrange the veggies around the roast. You can drizzle some of the sauce over everything at this time, or serve the sauce on the side.
Recipe Notes
This is a great recipe to personalize. If I am making it for just the two of us, I just have the butcher cut me a smaller roast. And then I reduce all the rest by half. You can judge how many veggies and potatoes you think you'd like. Maybe you want to make enough for leftovers.
I state that you can use 16-20 fingerling potatoes. This would be around 4-5 per person if you are preparing the meal for four. If you can't find fingerling or baby potatoes, just use larger Yukon Gold potatoes and cut them into large bite size pieces.
Feel free to substitute rosemary for the thyme, also a great flavour with citrus.
SaveSave
SaveSave