Do you ever come across a recipe and wonder, how the heck will that taste? And you push apprehension aside and make it anyway?
And then you are thrilled with your adventurous spirit? This has been me with so many of the recipes found in the Four and Twenty Blackbirds Pie Book. With names like 'Chocolate Julep', 'Paprika Peach', 'Muskmelon Chiffon', 'Maple Lime Custard', 'Junipear', and 'Egg 'n Grogg', this book is filled with mysteries waiting to be solved.
Growing up, we had all of the Bobbsey Twins, Nancy Drew and Hardy Boys books. Being a junior sleuth was just the cool thing to be in the kid's lit world! Thanks to all that detecting that I read about, I'm now a great Nancy Drew when it comes to discovering new flavour combos in the culinary world! I have had a blast exploring and solving the mysteries from this brilliant baking book. If you want a Pie cookbook, you can't do better than adding this one to your collection. And if you ever get the opportunity, go to their quirky bakery in Brooklyn, New York and try a slice of their 'Salty Honey', my personal favourite.
So here it is, mid November, and I needed a pie to go with turkey dinner. Out came the book. And the 'Cranberry Sage' just begged to be baked. Plus, I thought, if I bake them in a pie, then that would be one less side dish on the table to worry about. I used my own Perfect Pie Pastry recipe but stuck to the filling that is described in the book.
All the Autumn spices are there. As well as a grated apple for binding. Would it taste like a savoury side? Oh no… it is a pleasingly tart, and yet rich dessert pie. Just sweet enough. It was gone, all too quickly… Let me know what you think of it. I have baked it quite a few times since the first time, and I like it even more now than I did the original time I baked it!! What is perfect about this pie, is that you can bake it up the day before company is coming, so you have one more thing out of the way.
Update: I bake this several times over the Autumn and Winter every year now. It is a joy of an easy recipe to whip up. There are both frozen chopped cranberries, as well as dried cranberries in the dish. The sage is the perfect savoury compliment without being distracting. It is tart, which is balanced by vanilla ice cream or sweetened whipped cream. The colour of the filling is vibrant. A real showstopper of a pie. The design of the top is totally up to you. Feel free to use a lattice, or cut outs, or even a full top, with vents for breathing.
Love Jen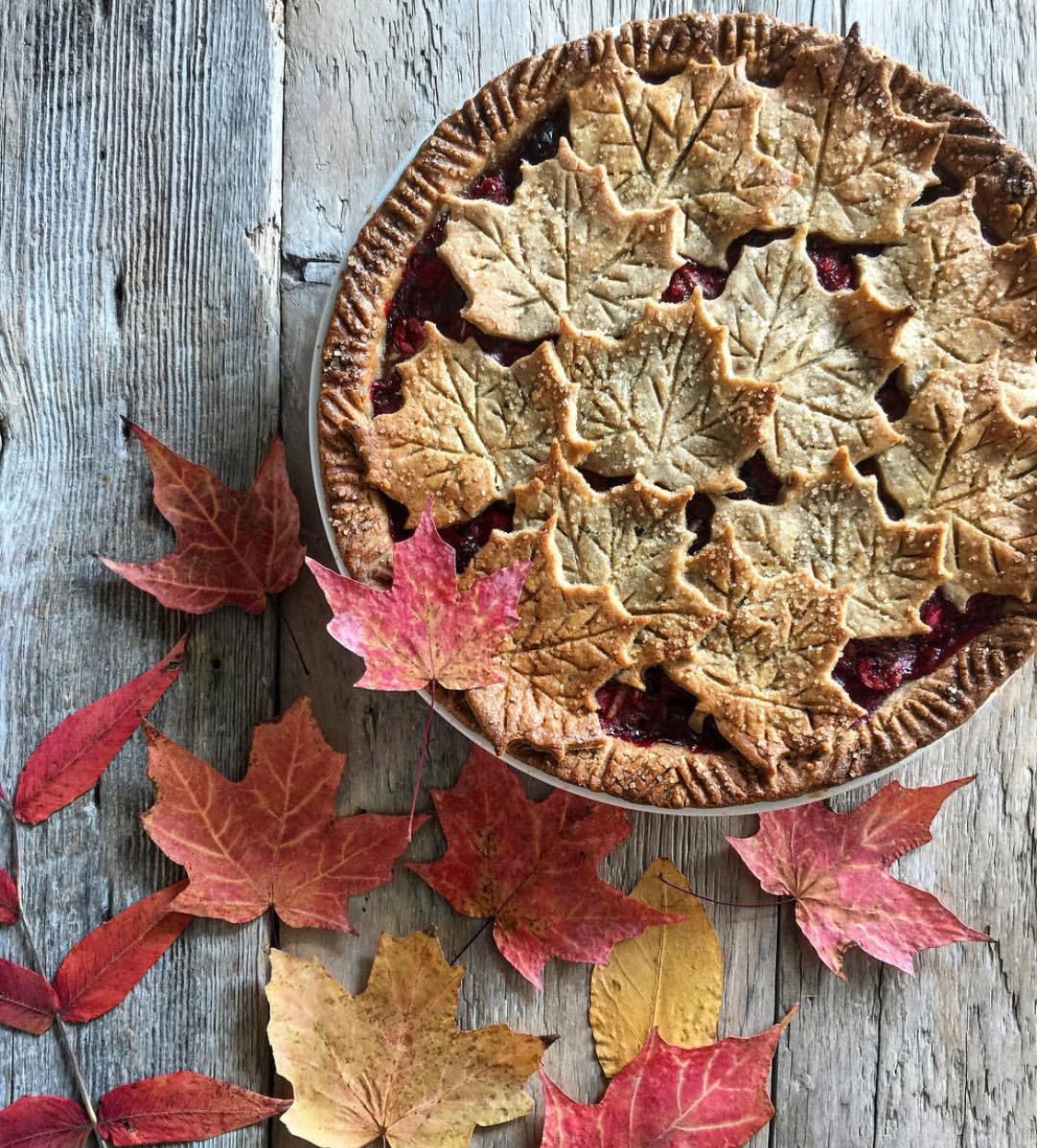 CRANBERRY SAGE PIE
A warm, autumnal pie that is sweet and tart at the same time
Total Time
1
hour
25
minutes
Ingredients
My Perfect Pie Crust Recipe for double crust pie

3/4

cup

dried sweetened cranberries

1

tbsp

coarsely chopped fresh sage

1/2

cup

granulated sugar

1/2

cup

packed brown sugar

1/2

tsp

kosher salt

4

tbsp

ground arrowroot

(or arrowroot flour)

1/4

tsp

ground cinnamon

1/4

tsp

ground allspice

4

cups

whole cranberries

(fresh or frozen)

1

small baking apple

, i.e. Northern Spy or Golden Delicious

4-5

dashes of cardamom bitters

(optional)

1

tbsp

vanilla

1

large egg

, slightly beaten

Egg wash

(1 large egg whisked with 1 tsp water and pinch of salt)

Raw or demerara sugar
Instructions
Preheat oven to 425F

Have pie plate lined with pie dough in refrigerator, and the other disk ready to roll out into desired top.

In a heatproof bowl, pour boiling water over the dried cranberries to cover them by about an inch. Allow to plump while preparing the filling

In a food processor, combine the chopped sage, both sugars, salt, arrowroot, cinnamon and allspice. Process till sage is fully incorporated. Place into a large bowl.

Use the same processor to briefly process 2 cups of the whole cranberries to a rough chop. Add these, along with the remaining 2 cups of whole cranberries to the bowl with the sugar mixture.

Peel and shred the apple on a box grater. Drain the dried cranberries from the bowl of water, but do not squeeze or press them. Add the apple and dried drained cranberries to the bowl of filling. Mix well. Stir in the bitters if using, the vanilla extract and the egg. Mix well. Pour into the refrigerated pie shell. Arrange a lattice, or pastry round on top with vents, and crimp as desired.

Chill the pie for 10-15 minutes in the refrigerator.

Take pie out of the refrigerator and brush with egg wash. Sprinkle with desired amount of sugar.

Place the pie on the rimmed baking sheet on a rack set at the lower third of the oven. Bake for 20-25 minutes, or until the pastry is set and beginning to brown.

Lower the oven temperature to 375 F and move the pie to the centre rack. Continue to bake until the pastry is golden brown, and the juices are bubbling, another 35-45 minutes.

Allow to cool completely on a rack, a good 2-3 hours. Serve warm or at room temperature.
Recipe Notes
This pie is awesome with whipping cream, perhaps slightly spiked with maple whiskey or bourbon! You can keep this pie for up to 2 days at room temperature, or 3 days in the refrigerator. Who are we kidding, it won't last that long.
Adapted from Four and Twenty Blackbirds Pie Book
SaveSave
SaveSave
SaveSave
SaveSave
SaveSave
SaveSave