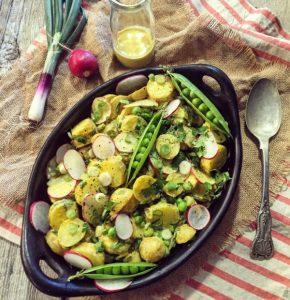 Isn't it kinda funny that we really only eat potato salad in the summer? I mean, we have potatoes year round, right? The dreaded 'mayo in the sun' fear is not an issue in the winter, right? It's not like potatoes scream summer. And yet, I have not made a potato salad this year until yesterday.
I guess it's the whole 'potato salad for picnics and bbq's, in a lovely container or bowl, sitting on a red and white checked cloth or wooden table, surrounded by sliced watermelon and hot dogs' image. We really are affected by imagery and what the social protocol of the day is. And it has been determined by the social and gastro experts that we must not serve potato salad until the long weekend of May has arrived, hehe! After that we're good. But heaven forbid we serve that same potato salad in October! Oh the horror!!
But I am such a renegade and now I say, "Potato Salad for All, All Year Round!" Especially this potato salad. It has all the freshness of summer, with freshly shelled peas, radishes, and spring onions. And it has the warmth and creaminess of a good plate of 'Aloo Gobi', minus the Gobi. For my non Indian cuisine aficionados, this is a lovely curried potato and cauliflower dish that I could eat once a week. All year round. So this salad is really a nod to that dish, utilizing the flavours and spices, and making them 'summer worthy'. But just as comforting in the cold days of winter.
I've been teaming up with Entube, a company with a fresh approach to condiments and pastes, to come up with some fun recipes using their pastes. As much as we all got excited when tomato paste was first offered to us in a tube, Entube is doing the same with sauces like Harissa and Curry. All natural ingredients, nothing you can't pronounce, and oh so handy. You can find their Harissa and Curry pastes in upscale locations across Toronto, and beyond! So I tried out this recipe using the Entube Curry paste and created a salad dressing using tahini as the base. Just the right amount of kick and spice was the result. So happy. And it would also make a great sauce for over grilled chicken or even fish.
So I made this for dinner yesterday. It came together pretty quickly. Using baby yellow fleshed potatoes really helped. I didn't have to peel them, and I cut them pretty thick after they had cooled. They soak up the dressing wonderfully (save some dressing, since as we know, if there are leftovers, and they are refrigerated, they will need a bit more dressing the next day- just the nature of the potato soaking up all the dressing and drying out a tad) You could easily serve this salad warm (a la German potato salad) and then suddenly it becomes a winter salad! But if you want it to be a fresh summer version, I would let the potatoes cool down pretty well before tossing them in the dressing, and adding all the other ingredients. Then refrigerate.
Enjoy summer. Enjoy this potato salad. Just don't stop at summer to do so!
Love Jen
Curried Potato Salad with Peas and Cilantro
A potato salad without any mayo or eggs, but with all the spices and kick of a good curry in a creamy tahini dressing.
Ingredients
1/4

cup

tahini

3

tbsp

lemon juice

2

tbsp

olive oil

1/4

tsp

cayenne pepper

1

tbsp

Entube Curry paste

kosher salt and cracked black pepper

1

bag

mini yellow fleshed potatoes

about 1 1/2 lb or 680 g

1/3

cup

freshly shelled peas

if fresh peas aren't available, then by all means, use frozen

2-3

medium to large

radishes

sliced thinly

3

scallions

sliced thinly crosswise

1/3

cup

packed fresh cilantro

chopped
Instructions
CURRY TAHINI DRESSING

Mix all the ingredients (tahini through cayenne pepper) together.

Add 1/4 cup of water to thin. Whisk. Season with salt and pepper to taste.

If still too thick, add 1tsp of water in addition at a time till desired thickness. Refrigerate until needed.

POTATOES AND PEAS

Fill a mid sized sauce pan with water and season generously with salt. Bring to a boil. Add the scrubbed potatoes and reduce the heat to medium. Simmer until just fork tender, about 15 minutes depending on the size of your potatoes.

Add the fresh shelled peas one minute before removing the potatoes) Drain all and let cool.

Once cool enough to handle easily, slice the potatoes into rounds about 1/2 inch thick (for most potatoes I get 4 slices, for some I get only 3) Let cool completely.

If you are using frozen peas, add the peas to a bowl. Cover with boiling water for about 1 minute, or until softened and tender. Drain and cool.

ASSEMBLE

Take the potatoes, peas, 3/4 of the onions, 3/4 of the radishes, and 3/4 of the cilantro and place in a bowl.

Pour 2/3-3/4 of the dressing over the entire contents. Stir gently with a rubber spatula to avoid breaking the potatoes too much, until completely coated.

At this point you can garnish with the remaining onions, radishes and cilantro and serve, or you can return it to the fridge until ready to serve.

If coming from the fridge, check to see if the salad requires any more dressing. The potatoes will soak up some of the dressing, so it may appear drier than it did when it first went into the fridge.

Finish with the remaining onions, radishes and cilantro and serve.

If there are leftovers, use the remaining dressing to add moisture to the salad that may have been lost during its time in the fridge.
Recipe Notes
I have stated that this serves 6. It may only be 4 if everyone is VERY hungry. But I still think 6 would be happy!
This is a versatile dressing. It could make a great dip. It could also be used as a sauce over grilled chicken or fish.