As a kid, eggnog was such a treat. That thick, sweet, creamy drink, dolled out in small glasses, since that's all our childish bellies could handle.
And because it was seasonal, it was extra special. Then as we got older, it just became a tradition, because it was THERE. It was in the grocery stores, so that meant we had to purchase it, right? And while we were so sad to have mum say "It's all gone" as children, as adults, we realize that finishing off one carton of eggnog isn't that easy. It is a tad rich…
This is one of those recipes that came about because I had extra eggnog in the house.
Eggnog is one of those indulgences that seems awesome at the moment, but can quickly wear a tad thin. It tastes amazing…and then suddenly it's just too rich. Can't imagine having another glass. So, the first half of a container goes quickly, and then the bottom half just smiles tauntingly at you every time you open the fridge door, saying "Here I am, taking up valuable real estate. Better use me before I go bad." And yet that first sip still can be wonderful. So what to do with the eggnog?
Good ole Pinterest came through for me, yet again. These days, you can search just about anything, and find out that someone has come up with the answer to your culinary conundrums. I guess it was a year or so back that I came across this recipe. Jim loves cinnamon buns.
Quick digress. Is it the Cinnamon Bun or the Cinnamon Roll? When I think Bun, I think of Princess Leia's galactic hairdo. I know that both are acceptable. I like Roll. Which do you prefer? Anyway, back to the recipe.
I had the eggnog already. So, why not give it a go? And what makes this recipe even more appealing, is that it is a no-yeast recipe. I have this love-hate relationship with yeast. The best breads and baked goods use yeast. But it's that step and ingredient that can mess everything up. What if the yeast isn't as 'alive' as you need? What if my water wasn't warm enough this time around? Why will I have to wait overnight to enjoy what I have a craving for? I get it, the house smells amazing, and your life must be so together that planning a yeasted recipe is just so normal, like picking up the socks from the floor and throwing them in the hamper. But I'm not usually that patient or organized. My cravings are too instant and demanding. So I tend to push the yeast recipes to the back burner. I will get to them eventually. So unlike the classic Cinnamon Bun/Roll which requires yeast and proofing, this dough comes together quickly and next thing you know, you are enjoying that warm, glazed pastry with a mug of hot chocolate or coffee and watching the snow fall…or Princess Bride for the fifteenth time.
I have played with the recipe quite a few times now. The original has a brown sugar, cinnamon and butter filling. I couldn't leave well enough alone, so now mine has chopped pecans or walnuts, a few dashes of cardamom bitters, and a couple of teaspoons of cardamom or instant coffee. Yes, coffee- it does one of those, 'intensifying all the other flavours' actions. So worth it. Other times I have switched it out completely, and filled them with pulsed frozen cranberries and orange zest, even adding some of the orange zest to the dough.
The dough is amazing. The only rise is coming from baking powder. I'm not sure if there is something chemical going on when the eggnog is added to it, but the dough has the most beautiful consistency. If it does start to get sticky as you are rolling it, just use a bench scraper or spatula to help loosen it as you roll. A really well floured surface and hands will be your best friend with this recipe.
Jim adores these. That first time, I ended up purchasing extra eggnog, and freezing it in amounts needed per batch. After all that, worrying about what I was going to do with the extra eggnog, now I am actually buying some on purpose to use later in the year. And it freezes really well- I was worried it would separate- not at all. Once it thaws, just give it a good shake and all is good again. Really. But please, this is not the time to buy low fat eggnog. The recipe really benefits from buying the full fat good stuff! Don't worry, you really aren't getting that much in one cinnamon roll. Eggnog- not just for drinking or holidays anymore!!
Love Jen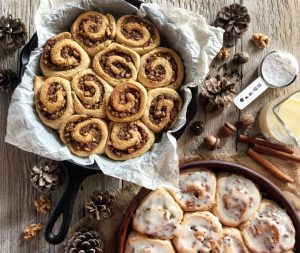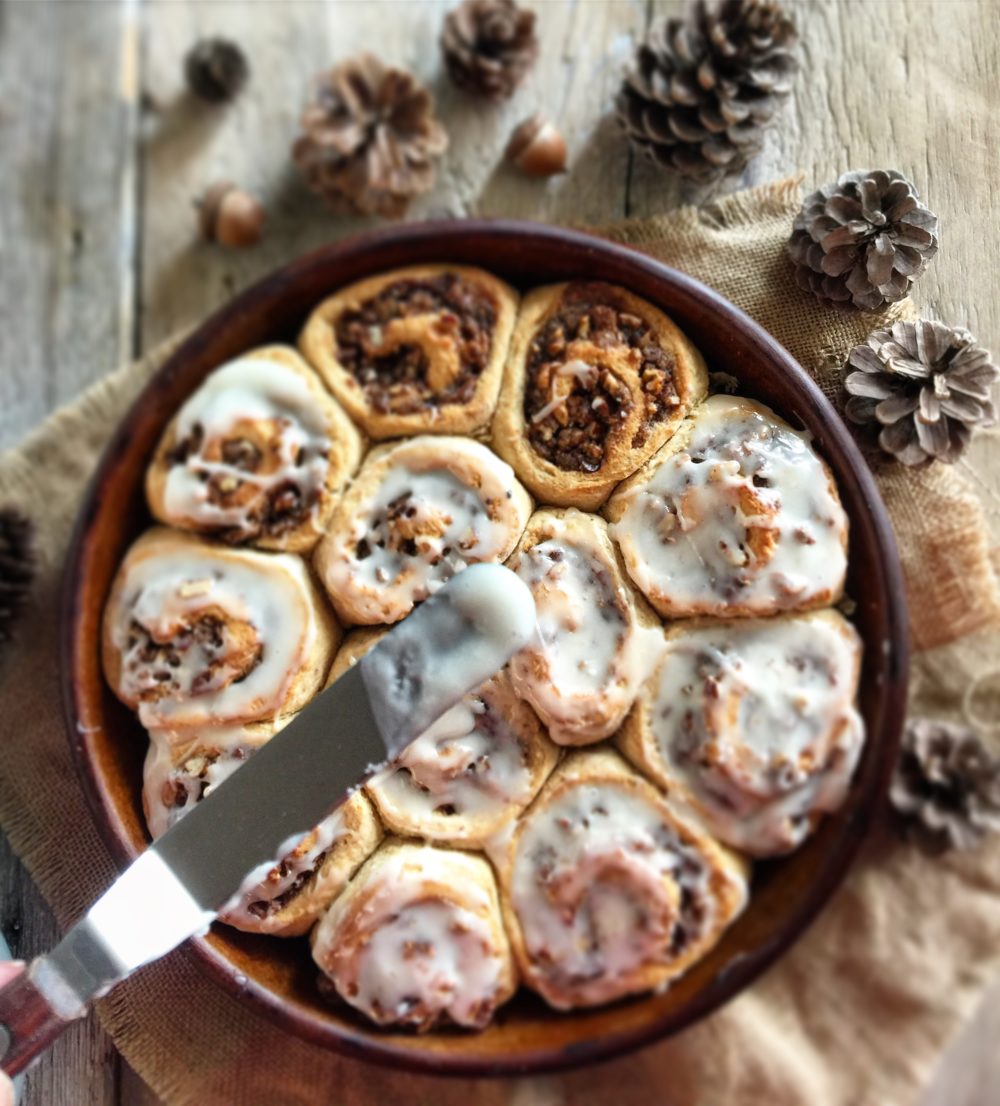 Eggnog Cinnamon Rolls with Walnuts and Coffee
A quick, no yeast cinnamon roll made with rich eggnog, and filled with walnuts and a hint of coffee.
Ingredients
4

tbsp

unsalted butter

softened

1

cup

packed brown sugar

1

tbsp

ground cinnamon

5-6

dashes

cardamom or walnuts bitters

optional

2

tsp

instant coffee granules

1

cup

walnuts or pecans

toasted and chopped small (makes rolling easier if they aren't too large)

2

cups

AP flour

2

tbsp

granulated sugar

1

tbsp

baking powder

1

tsp

salt

3

tbsp

unsalted butter

melted

1/2

cup

full fat eggnog

2

large

eggs

more flour for rolling

3-4

tbsp

eggnog

1

cup

powdered sugar

sifted to remove lumps
Instructions
Preheat oven to 400F. Spray a 10" round cake pan or grease with butter. I often use a cast iron pan: just line with a dampened and crushed up square of parchment paper.

Prepare Filling

Mix butter through nuts thoroughly with a fork till smooth.

PREPARE DOUGH

In a medium bowl, whisk the flour, sugar, baking powder and salt together.

In a separate bowl whisk the melted butter, eggnog, and eggs. Add the wet ingredients to the dry, and use a wooden spoon to stir till combined.

Remove the dough to a well floured surface and pat flat.

Fold once or twice, flouring your hands and the dough as you go. Then using a floured rolling pin, roll out the dough to a 12x8" rectangle.

Have the 8" ends to your left and right. In other words, a horizontal or landscape rectangle.

Sprinkle the dough with the filling mixture- spread it evenly across the surface. Leave the bottom 1/2" or so edge free of filling, to help with closing.

Roll up the dough, log style. I find that if the counter is warm, or not floured well enough, the dough may become a tad sticky. In this case, I use a bench scraper or metal spatula (either one well floured) to help loosen the dough from underneath. Once you get going it will get easier to finish rolling.

So now you have a 12" long. Slice it into two 6" logs. Then cut each 6" log in half.

Now slice each quarter into 3 equal slices. You will have 12. Carefully place each roll into the prepared pan, leaving a little space between each one.

(Alternatively, you can roll the dough into a roughly 10X10" square. Fill as described above. Roll, and divide into 8 equal cinnamon rolls. They will be larger, both width and height. I bake these in a 11x7 rectangular baking pan)

Bake 20-25 minutes, or until the rolls are golden brown and just bubbling.

GLAZE

In a medium bowl whisk 3 tbsp of eggnog and the icing sugar. Add a little more eggnog if it is too thick. But add only a bit at a time: it is amazing how quickly that icing sugar can thin out.

Pour the glaze over the warm rolls. If you like it really thick, requiring an offset spatula or spoon to ice these, then adjust with more icing sugar. An even better way to thicken up the glaze is the start with 1/4 cup softened cream cheese- Must be totally stir-able. Then add your eggnog and icing sugar.

These are best served warm. But they can easily be stored in an airtight container and rewarmed in a 300F oven or microwave.
Recipe Notes
GINGERBREAD SPICES AND PECAN FILLING
4 tbsp unsalted butter, softened
1 cup packed brown sugar
1 tbsp ground ginger
1 tbsp cinnamon
1 tsp ground cardamom
1 tsp ground cloves
1/2 tsp grated nutmeg
1/4 tsp ground allspice and black pepper
1 cup chopped toasted pecans
This is another one of those recipes that lends itself to getting creative. Why not change up your filling to chopped frozen cranberries and orange zest in with the butter instead? Or add 1 tbsp of cocoa powder to the filling? If you come up with some fun alternatives, let me know!
SaveSave
SaveSave
SaveSave