I'm going to let you in on a little secret. You know how our mums all had those little brown cubes wrapped in foil, that they'd crumble up and add to soups or stews?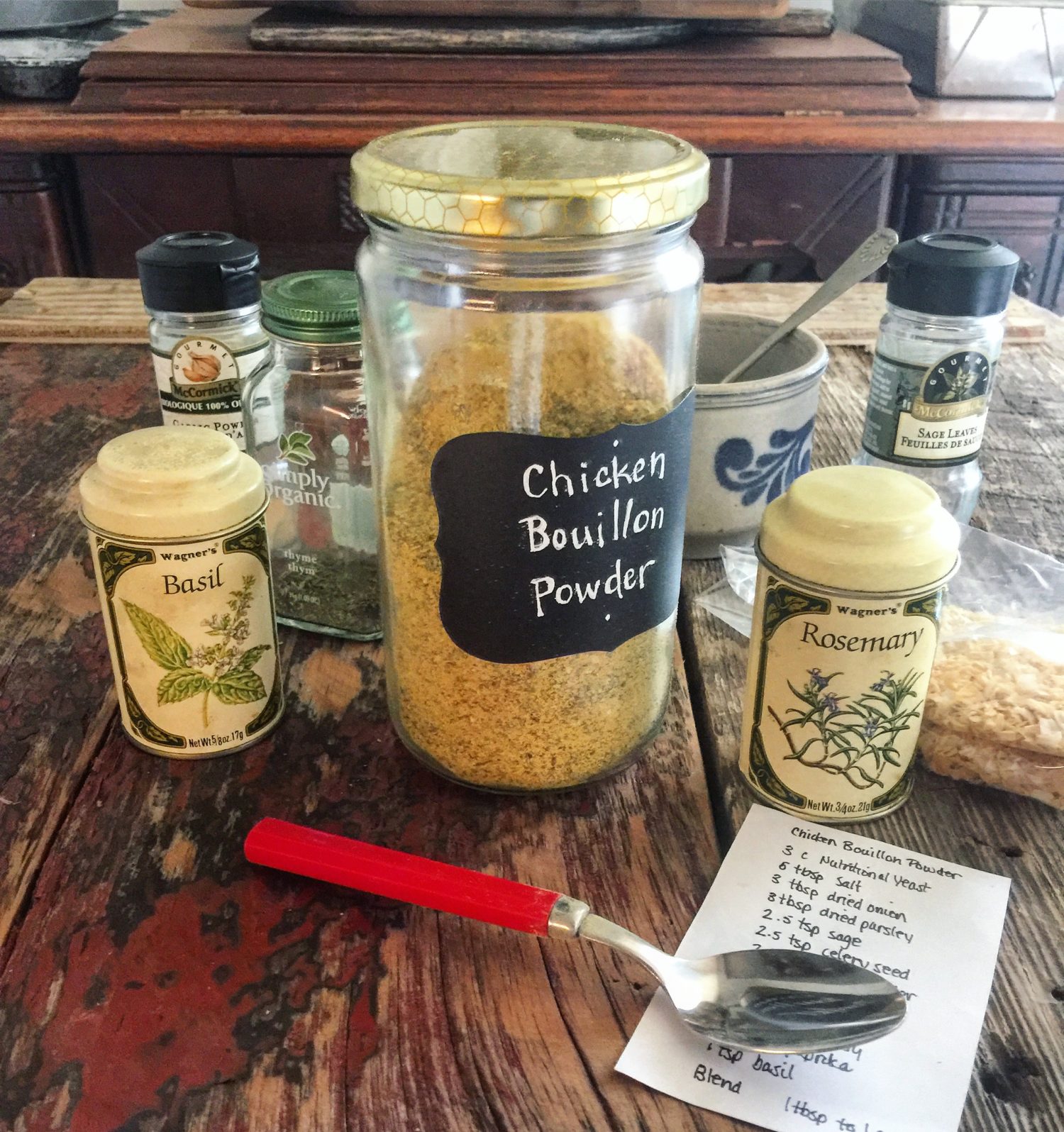 For many moms, if they weren't going to make their own chicken stock or beef broth, they relied on those little cubes. But were those little cubes really chicken? Or beef?
Well, I have my own version. Now, unlike the cubes, which are more sodium, MSG and other preservatives etc, than anything remotely close to chicken, what I rely on only uses ingredients we can pronounce and probably already have in our pantry. True, there is nothing remotely resembling chicken in this concoction either. But I swear, when you taste it, you will be more than amazed at how great this tastes, and works as the perfect chicken bouillon.
And even better, there's nothing related to an animal in here. It's totally vegetarian. So embrace it as a way to get that umami-ness of chicken stock, without offending anyone. I originally got this recipe from my sister-in-law, who is vegan. But when I mentioned it to her recently, she was surprised at how enthusiastic I am about using it, she doesn't even use it as much as I do!
The key ingredient that makes this work is Nutritional Yeast. It is deactivated yeast, and is usually found in the form of either a yellow flake or in powder form. You will most likely find it in the bulk aisle of your health food store. It has a significant amount of B-complex vitamins as well as trace amounts of other minerals and vitamins. Some brands of nutritional yeast are also fortified with vitamin B12. Often it's flavour has been described as nutty or cheesy, so many will use it as a substitute for cheese (sprinkling it instead of parmesan on pasta, popcorn etc) So yes, it is the savoury base for my bouillon powder.
It's the addition of all the herbs and spices that transform this yellow flakey powder into something that works well as a chicken broth substitute.
Now, I'm not saying to use this as the way to make your soup. NOOOO!! Please, I beg you, try making your own stock. It's the most therapeutic activity you can take on in the kitchen, when it is pouring cats and dogs outside. And the aroma is worth it. Make a batch and freeze it in smaller portions, for when the craving for soup hits. I get giddy when I think about making up a batch of stock. Soooo healthy. See my New You Bone Broth! In fact, I usually keep some on hand, to drink as a hot cup (like tea) for all it's health benefits, including getting needed collagen.
No, this little powder is for different occasions. You know those times where a recipe calls for 1/2 or 1 cup of chicken stock or broth, and you thought you had a can or tetra pack in the pantry or fridge? And yet when you open the door, it isn't there? Or when that recipes calls for the 1/2 cup of chicken broth, and you just don't want to open a carton for such a small amount? That's when you reach into the fridge, for your handy dandy jar of faux chicken bouillon powder. Most likely, the recipe you are cooking with has all sorts of other ingredients, and the stock or broth is just the liquid being used to help thin out or deglaze, or extend the ingredients in the pan or pot. Or let's say you thought you had a full two cups or whatever of stock for a recipe. Only to find out that you're short. This jar of bouillon powder will come to your rescue.
This little powder is so easy to use: 1 tablespoon of powder to 1 cup of boiling water. That's it. So I will just add my spoonful to a measuring cup, add the water and give it a good stir. Then it is ready to go into the recipe on the stove cooking away.
It's healthy, all natural, and a great little thing to have in your fridge. Kept in the fridge, it will be there for you, for a good long while. And please, get rid of those nasty cubes!! Also, once you have purchased your Nutritional Yeast, store it in the fridge as well.
Love Jen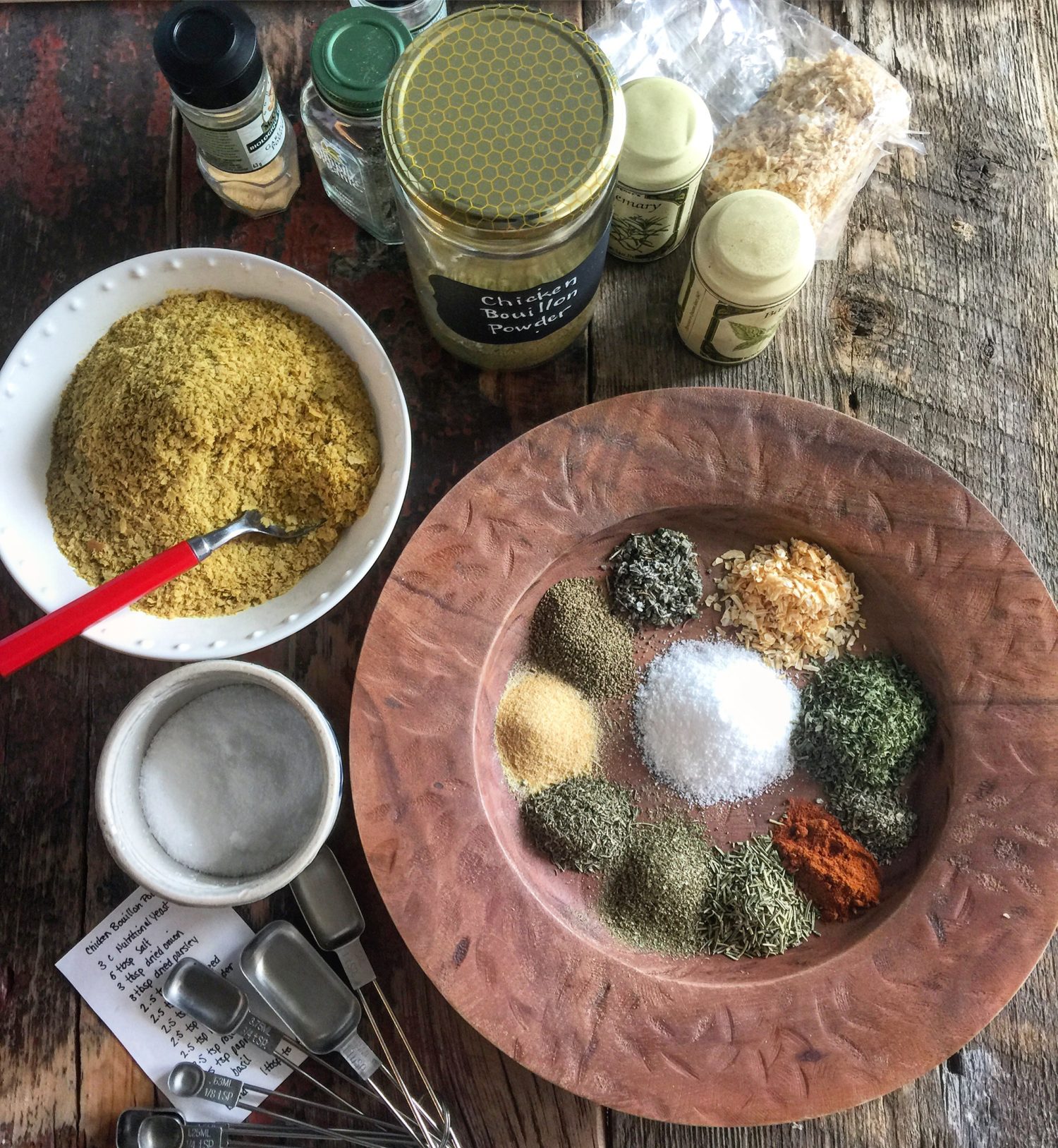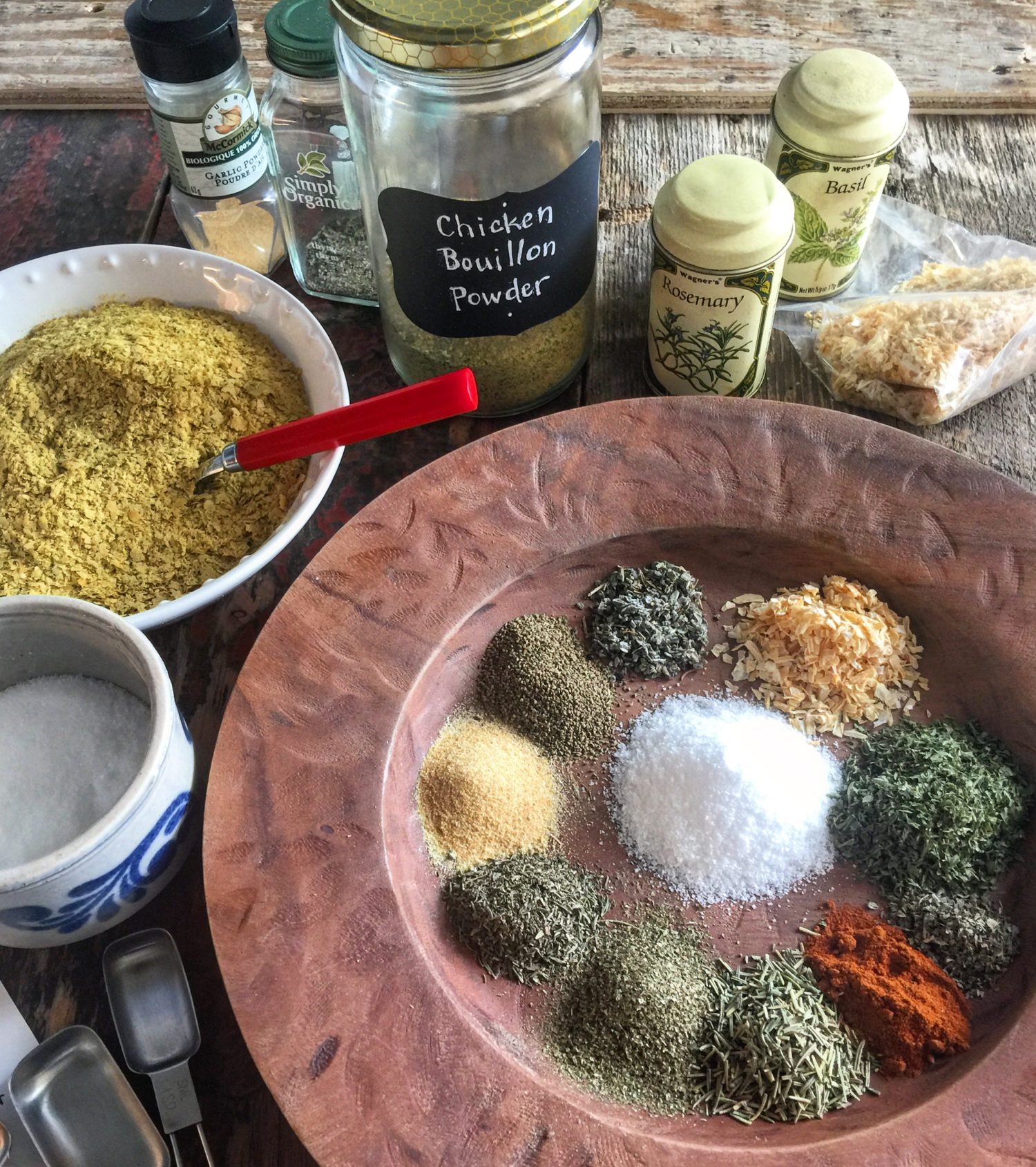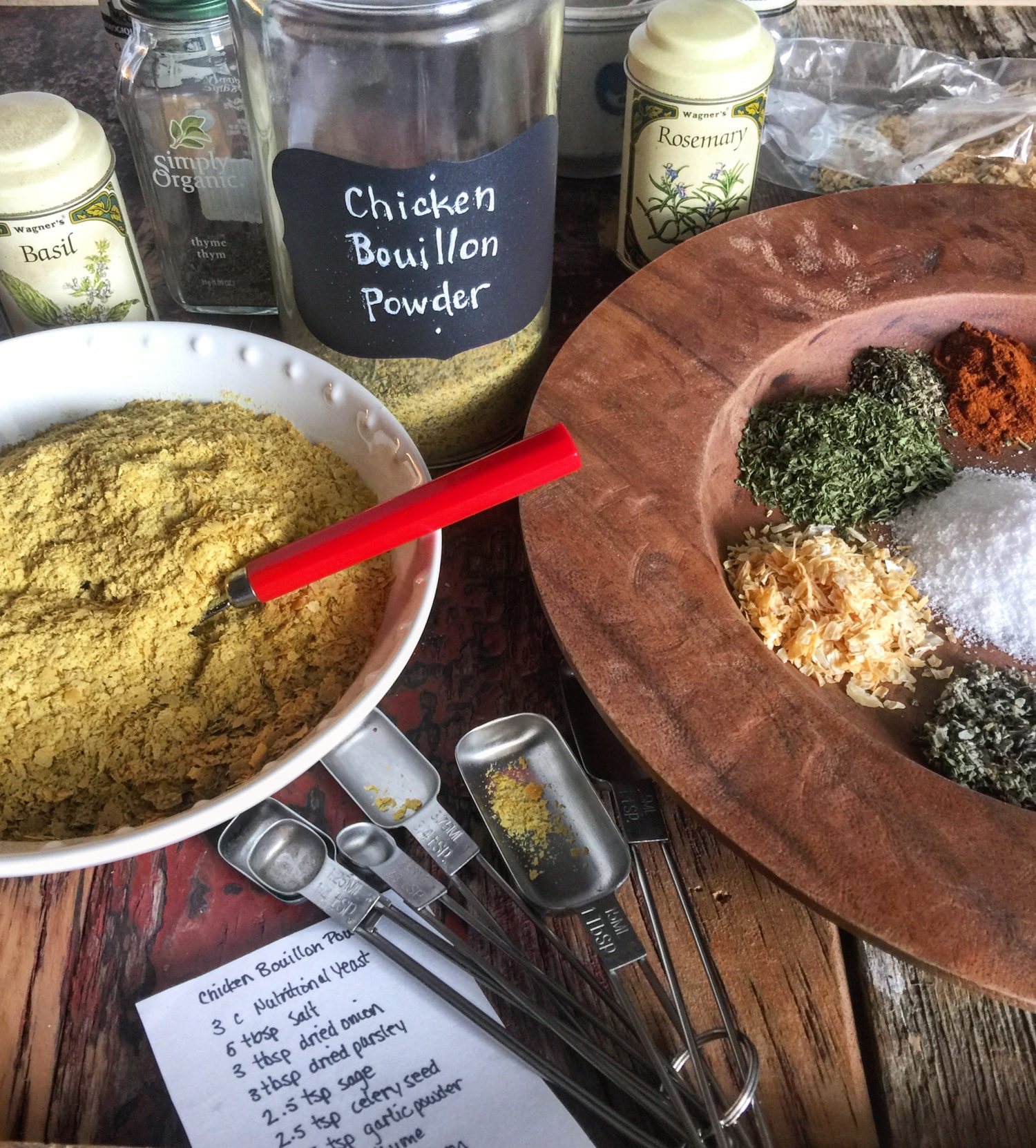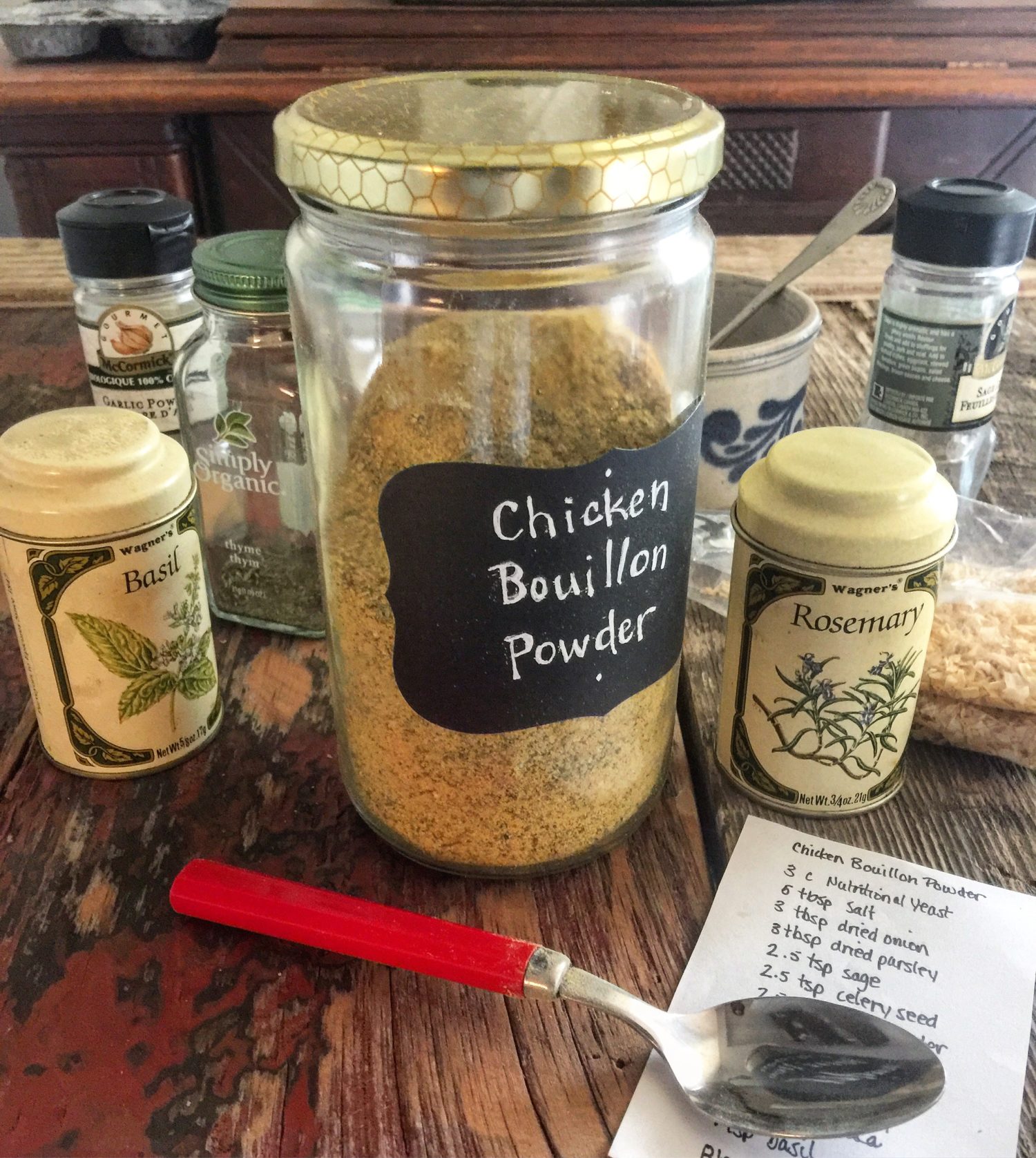 Faux Chicken Bouillon Powder
All natural, all healthy, and an instant way to get the chicken flavour you need in a recipe. Yay for Nutritional Yeast!
Ingredients
3

cups

nutritional yeast

5

tbsp

kosher salt

3

tbsp

dried onion flakes or powder

not onion salt

3

tbsp

dried parsley

2 1/2

tsp

dried sage

2 1/2

tsp

celery seed

not celery salt

2 1/2

tsp

garlic powder

not garlic salt

2 1/2

tsp

dreid thyme

2 1/2

tsp

dried marjoram

2 1/2

tsp

dried rosemary

2 1.2

tsp

paprika

1

tsp

dried basil
Instructions
Place all the ingredients into a food processor and blend into a fine, smooth texture.

Store in a sealed jar in the refrigerater.

1 tbsp to 1 cup of boiling water.
SaveSave