Fiddleheads are a relatively recent discovery for me. About six years back, we were living north of Toronto, in Bolton, Ontario.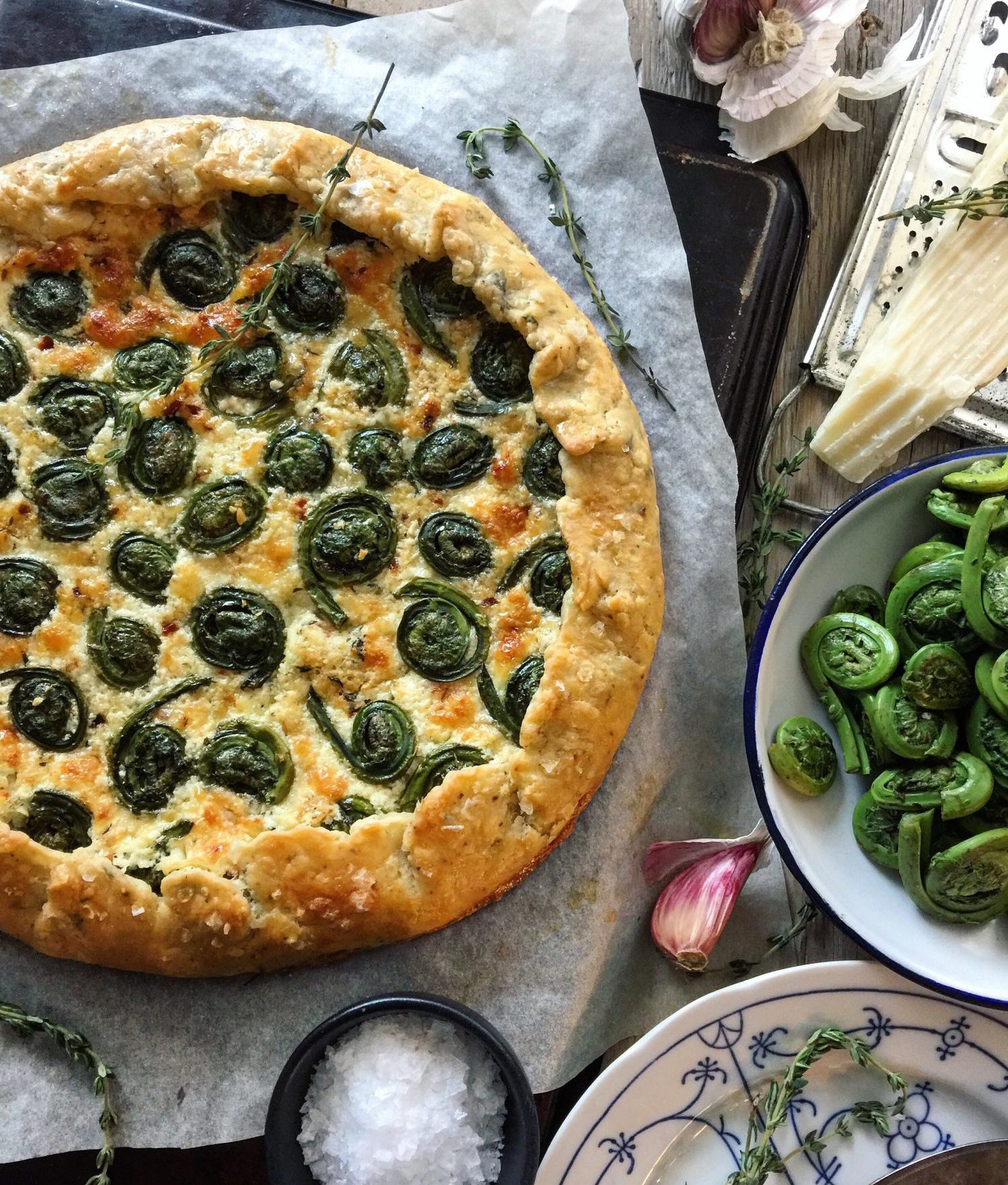 A small town with a decidedly Italian influence. More of a bedroom community, with easy access to the neighbouring cities for work and shopping. It is a small, connected community, with farmland all around. I could totally relate: I had grown up in southern Ontario, in Amherstburg, then a town of about 6,ooo with a large Italian community. And surrounded by farmland.
During our time in Bolton, we got to know one family that was living out in the country. And like most country folk, they knew their way around the flora and fauna of the countryside. I knew that wild asparagus grew in ditches, down where I grew up. In fact, asparagus season was actually only as long you could pick them, before they went to seed for the summer (not like today where asparagus, and pretty well every vegetable and fruit is available year round) So fiddleheads. I had heard of them, but had never actually seen them in person, let alone tried them. They are the shoots of a fern before it begins to mature and unfurl. It is only while they are tightly curled up that we can eat them. Really a fleeting moment of spring. And they look like fiddleheads! We were given a bag that the family had foraged. They explained how to prepare them: they must be boiled or steamed for at least 10 minutes before they are fit for human consumption. That was their only disclaimer. So I did that. But what to expect for my tastebuds? Pleasant, remarkably like asparagus! And like asparagus, they are a good detoxifier, are anti-inflammatory, are high in anti-oxidants, polyphenols, and are good for cardiovascular health.
Naturally, I started to think of ways to serve them. Pretty well any way that I served asparagus, I could serve fiddleheads. With olive oil, lemon and some pecorino over pasta; tossed into a warm salad; in a risotto; quiches, frittatas, and in this tart.
This is a recipe that I first tried last year with great success. I had already tried a savoury galette with goat cheese and tomatoes; I had used my own pie crust as well as used puff pastry for savoury galettes, both summer and autumnal. Then I came across a recipe for an asparagus galette on the Simple Bites website. The filling was similar to one I had created for a marrow and herb galette, but it was the crust that intrigued me. Allison Ruth used yogurt in it. It came together beautifully. rolled out nicely, and baked up so buttery and tender. Definitely a keeper dough for this application. In fact this dough would be great for my autumn harvest tomato tart, for which I usually use puff pastry. Will share that recipe in tomato season!
So I made the galette with fiddleheads. I steamed them first, and then let them cool while I prepared the pastry and the filling. Once all together, it bakes up so easily, and becomes a wonderful meatless meal. It can be served as a brunch, lunch or dinner main, with a lovely green salad on the side. We have been known to sneak slices and eat them cold as well. It is that good!
And this past weekend, on that most successful trip to St Lawrence Market, I found fiddleheads. And it's not even April! I got so excited. Sure, they did come from British Columbia, where they are a good month ahead of us in warmer weather. But they were cute little fiddleheads. I just had to pick them up. Having been able to make this tart before April starts means that I can extend fiddlehead season, yay!!
I hope you get to try fiddleheads. And if you can't find them, then prepare this with asparagus. You don't need to cook the asparagus ahead of time. You can lay it out in long spears, or you can cut them into 1-1.5″ pieces and spread them out the way I did the fiddleheads. You'll be so happy you made this. Trust me! As has been the case for a while now, I play with the flours, so when I make it, I use einkorn flour mixed with the AP, but since most of you may not have access to einkorn or emmer, I will write out her dough recipe in the original state. And isn't is wild the way lighting changes images. The first image below was the natural late afternoon sunlight. The second was my kitchen lighting. Oh well. I'll get better, I hope! (I'd like to think I'm getting a hang of this photography thing, I've added some more recent photos of the same recipe in the same kitchen! 🙂 )
Love Jen.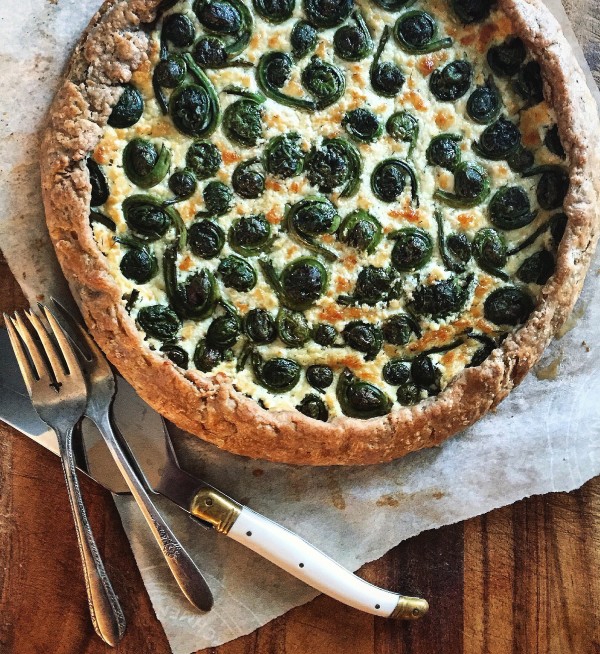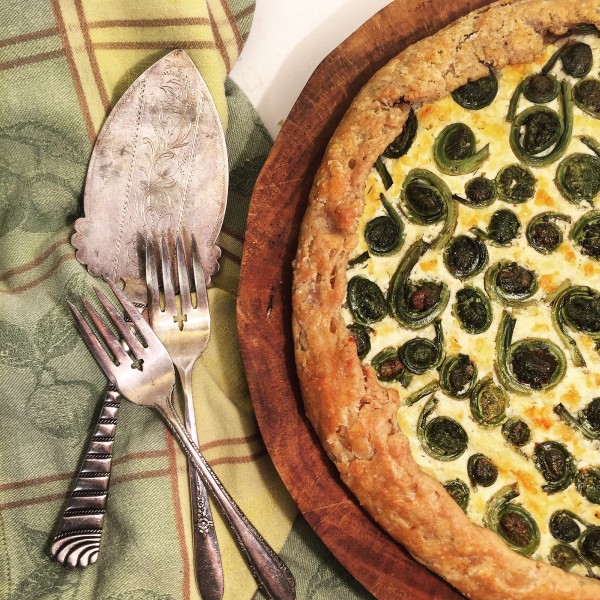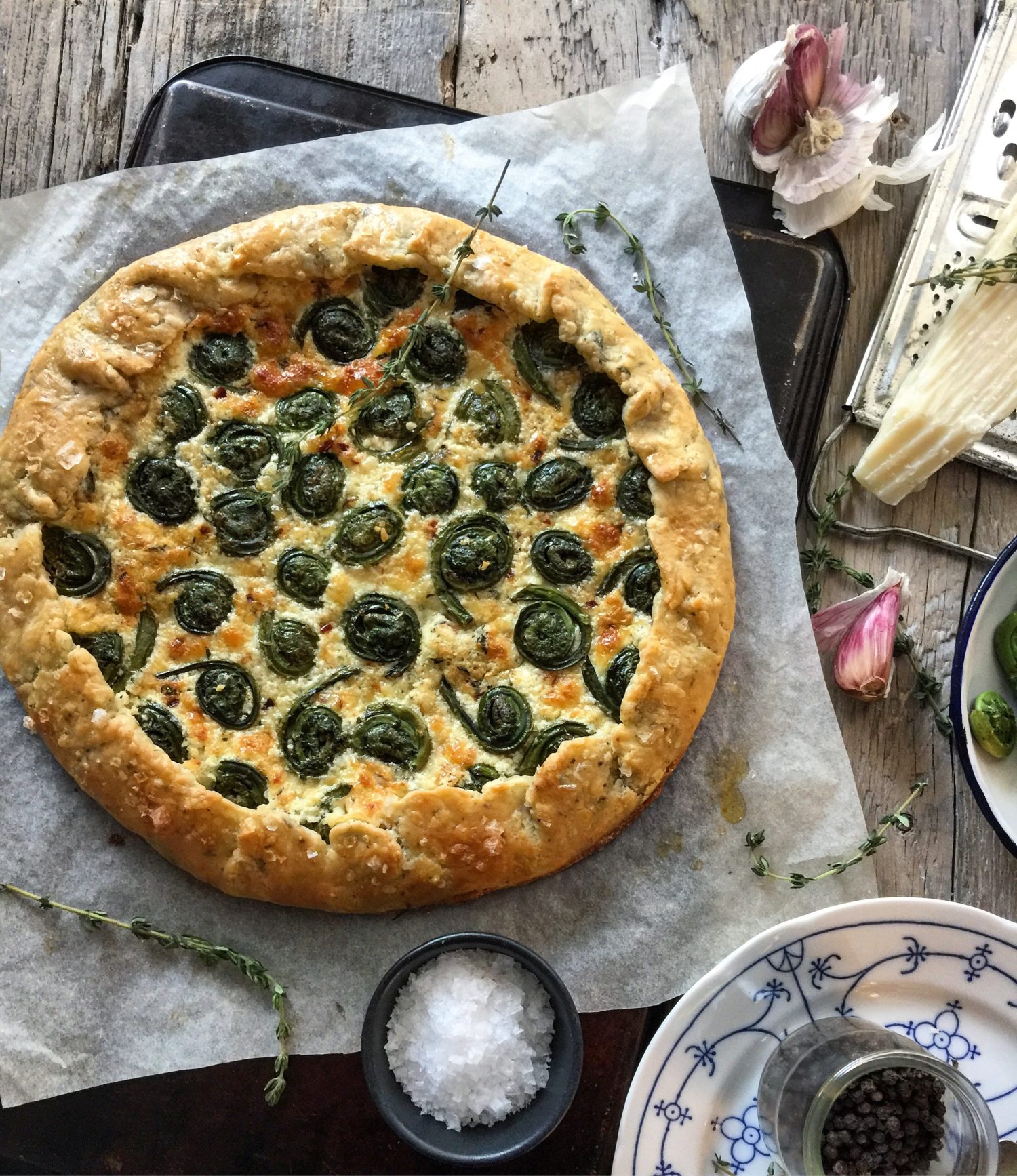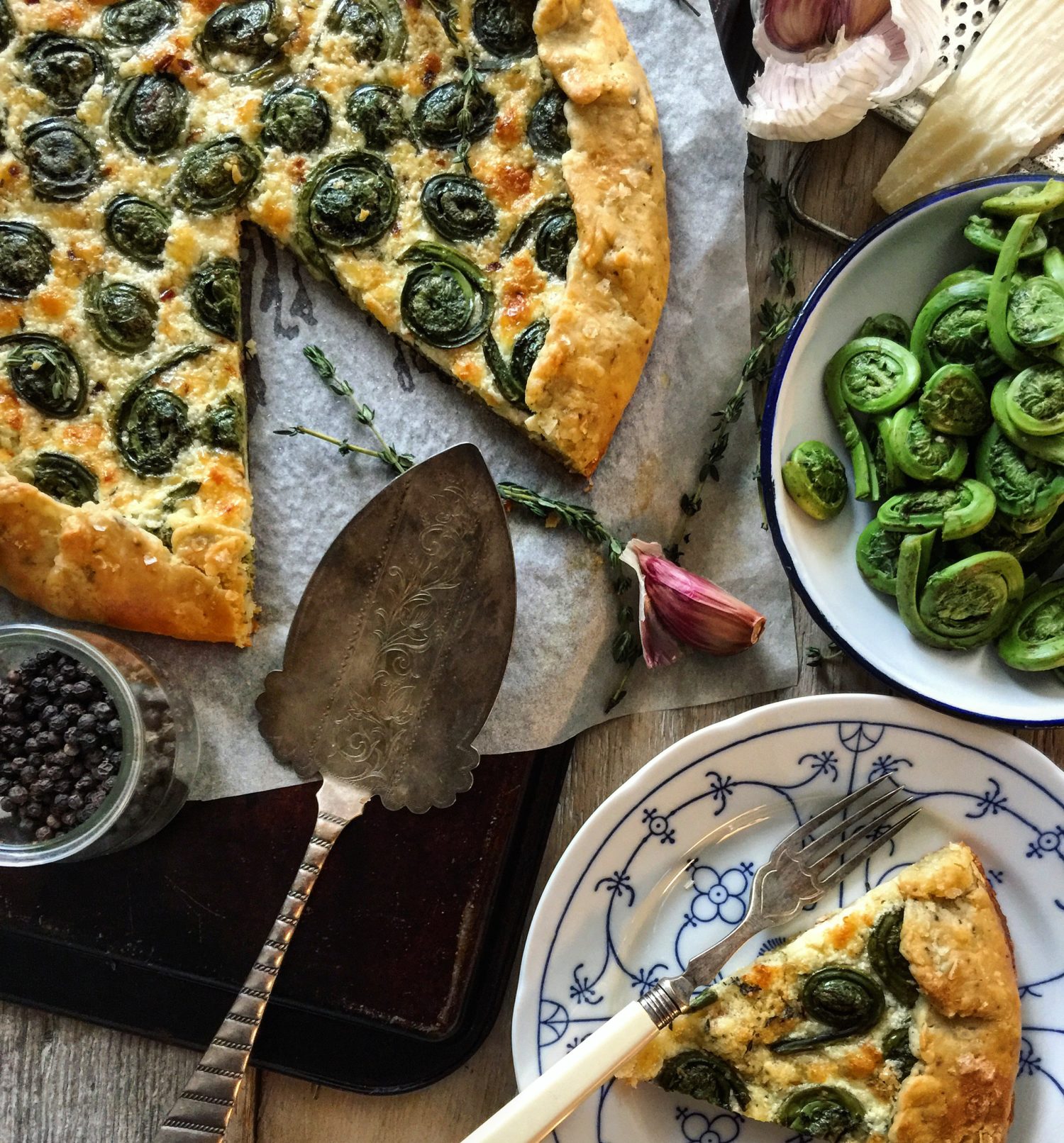 Fleeting Fiddlehead Galette
This Springtime Galette makes the best use of fiddleheads in the short time we have them around. Treat them like asparagus. They get added to a bed of cheeses in a tender, almost Puff Pastry type crust that has yogurt. Perfect for brunch or weekday dinners!
Ingredients
1 1/4

cup

unbleached AP flour

1/4

tsp

salt

2

tsp

fresh chopped thyme

8

tbsp

(1 stick) frozen unsalted butter

1/4

cup

plain greek yogurt

1/4

cup

ice cold water

2

tsp

lemon juice

1/2

cup

goat cheese

softened to room temperature

1/2

cup

shredded mozzarella cheese

I just use 'pizza' mozzarella

1/4

cup

grated parmesan cheese

fresh is best

2

tsp

olive oil

2

garlic cloves

minced

1

tsp

fresh thyme

chopped

1

tsp

hot pepper flakes

1.5

lb or so

fresh fiddleheads

, trimmed and cleaned of the brown bits. Rinse well under cold water.

1

egg

1

tbsp

fresh thyme or basil

chiffonade'ed

Maldon finishing salt for the crust
Instructions
For the Crust"

Add the flour and 1/4 tsp salt to a bowl. Whisk to combine. Add 2 tsp fresh chopped thyme.

With the large holes of a grater, grate the butter stick into the flour. Mix gently with your fingers until mixture resembles coarse meal.

In a smaller bowl, whisk together the yogurt, water and lemon juice. Pour this over the flour mixture and use your hands or a wooden spoon to form the dough into a ball. Flatten slightly and wrap in plastic wrap. Place in the freezer for 20 minutes.

Take a medium pot and fill with water. Heat to boil.

Add the rinsed fiddleheads and rapidly simmer for 10 minutes. This is needed to kill off any bacteria, since they do grow wild. You should never cook or bake with fiddleheads until you have done this. Drain well and set aside.

To prepare the Filling:

Whisk together the olive and garlic cloves in a small bowl.

In a separate bowl, combine the three cheeses and then add the olive oil mixture. Stir in the thyme and hot pepper flakes. Refrigerate till ready to use.

To Assemble:

Preheat the oven to 400F. Remove the dough from the freezer.

Line a baking sheet with parchment paper and set aside.

On a well floured surface, roll out the dough into a 12 inch circle, trimming the edges to clean it up. Transfer the dough to the parchment lined baking sheet.

Leaving a 2 inch border untouched, spread the cheese mixture evenly over the dough. Arrange the fiddleheads over the cheese, then drizzle 1 tsp of olive oil over the top. Sprinkle with the fresh thyme and/or basil.

Fold the edges of the dough in and over the filling, pleating to make it lay nicely.

Whisk together the egg and 1 tsp water. Brush this over the crust. Sprinkle the edges with the finishing salt.

Bake for 30 minutes or until the cheese is puffed and crust is golden brown.

Using the parchment paper to transfer, move the galette after 5 minutes to a cutting board. Let the baked galette rest on a cutting board for another 10 minutes before cutting into it. The cheeses need to set.
Recipe Notes
This also tastes lovely at room temperature. It even tastes good cold!