This is one of those fabulous recipes where the total is greater than the sum of the parts.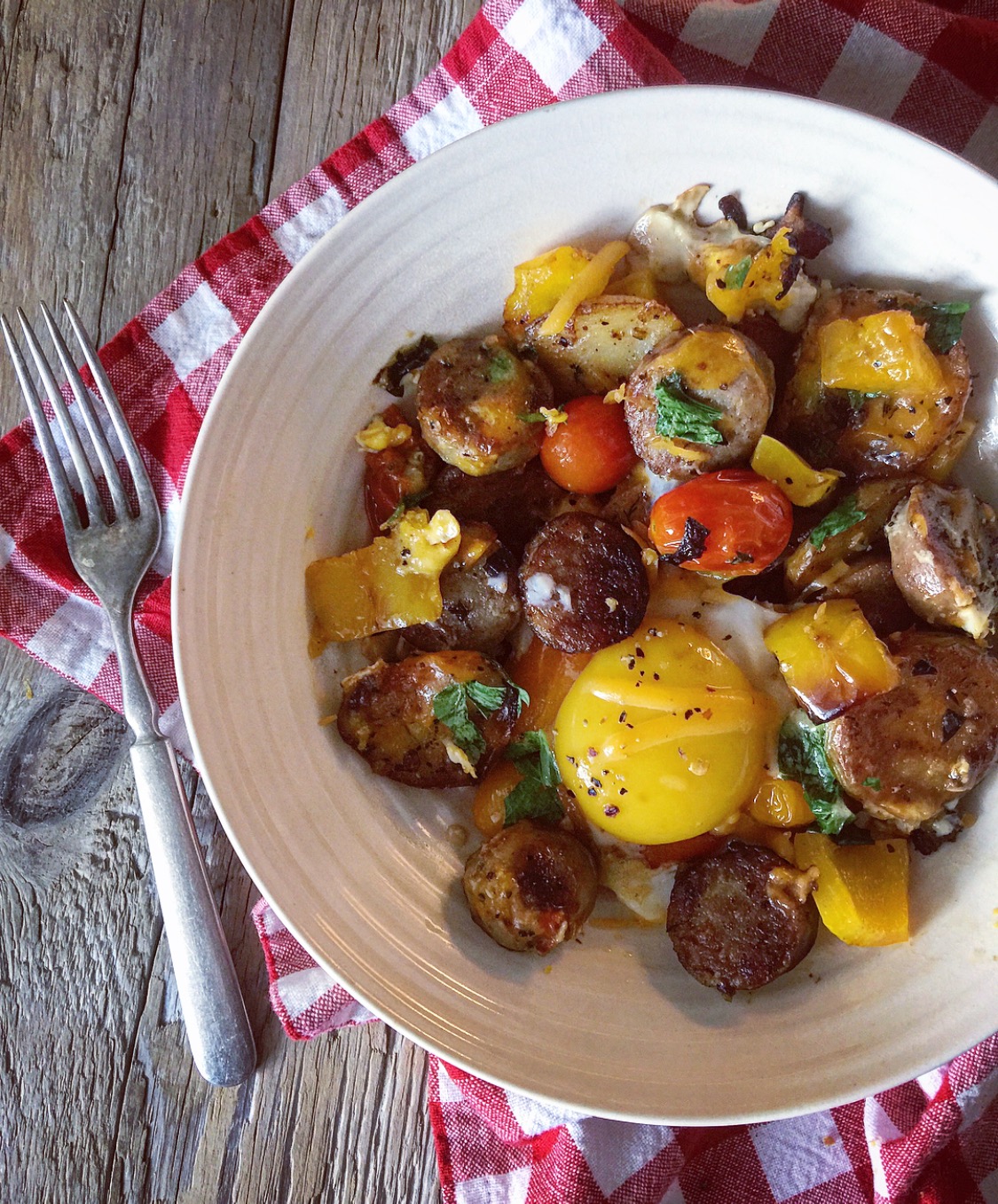 Sometimes when you have leftovers after a meal, you're left wondering what to do with them. Do you really want an exact repeat of the meal? Will the kids even eat it again, let alone your significant other? So the various components sit in tupperware containers mocking you every time you open the fridge door.
Well, this is one of those times where you will wish you had leftovers. In fact, I suggest you just make extra in the first place. In this case I am referring to my German Roasted Potato Salad that I posted last month. A salad that is wonderful all year round, with onions, bacon, a light mustardy vinaigrette, and the best roasted baby potatoes. I serve it with burgers, pork chops, grilled chicken, and most especially grilled German sausages. So I am truly suggesting that you make more salad that you need, and grill a few extra sausages, just so that you can make this dish I am sharing today.
In German we call it 'Bauernfrühstük'. And even though it's called Farmers Breakfast, we most usually had it for dinner growing up. It's really a mash up of last night's dinner, with eggs cracked on top. But everyone loves breakfast for dinner, so why not just embrace it, and go for this casual and yet tasty meal?! Originally I'm supposing, this was a recipe where the farm wife would take all the leftovers and turn them into the next morning's breakfast for her hard working family. It's a hearty meal, that depending on how much you put on your plate, will keep you going for many hours, ploughing the back 40!
So, in a nutshell, this is a recipe of fried potatoes, sliced up grilled sausages, sautéed veggies, eggs and grated cheese. But it really is so much more. Truly. The heat and spice of the sausages, the crispy edges of the potatoes, the freshness of the veggies, the oozing of the eggs (if a yolk breaks, which really adds to the whole experience) and the gooey cheese holding it all together.
The reason it works so well with leftovers is that the potatoes are already cooked. As are the sausages. So there is no real cooking, other than the veggies, which is a snap. Because there is bacon and onions already in my potato salad, I don't need to add these to the dish, but that doesn't mean you can't add these on your own.
The other treat about this dish, is that you can really add the veggies of you choice. I usually add green and yellow or red peppers, some tomatoes, and onion. But if you want zucchini, go for it. Have a hankering for kale, throw it in. Craving leftover roast butternut squash, well, add it! The other aspect I love, is add your eggs the way you want. Sunny side up, add them carefully!! Over hard or scrambled, crack in and stir about. If you want to make all the eggs scrambled, then beat the eggs gently first and then pour them into the potato, sausage and veggie mixture and let them set up before gently folding and cooking them. In just a few minutes the eggs will combine in a most velvety way over all the veggies and meat. And finally the cheese. Good ole cheddar is my fromage of choice. But if you would rather use gouda, go for it! Or swiss, even provolone or mozzarella would work just smashingly.
Because this is a recipe of leftovers, I just want to direct you to the Potato Salad recipe for the first components. But that wouldn't be fair if you want to make it fresh. So in the recipe below I will try and outline the way to do it from scratch. Ideally, you should boil or roast your potatoes the day before. Potatoes slice up better once they are cold. And half the fun of this recipe is taking those cold potatoes and slicing them up to be fried!
So, happy breakfasting, even if it is for dinner!
Love Jen.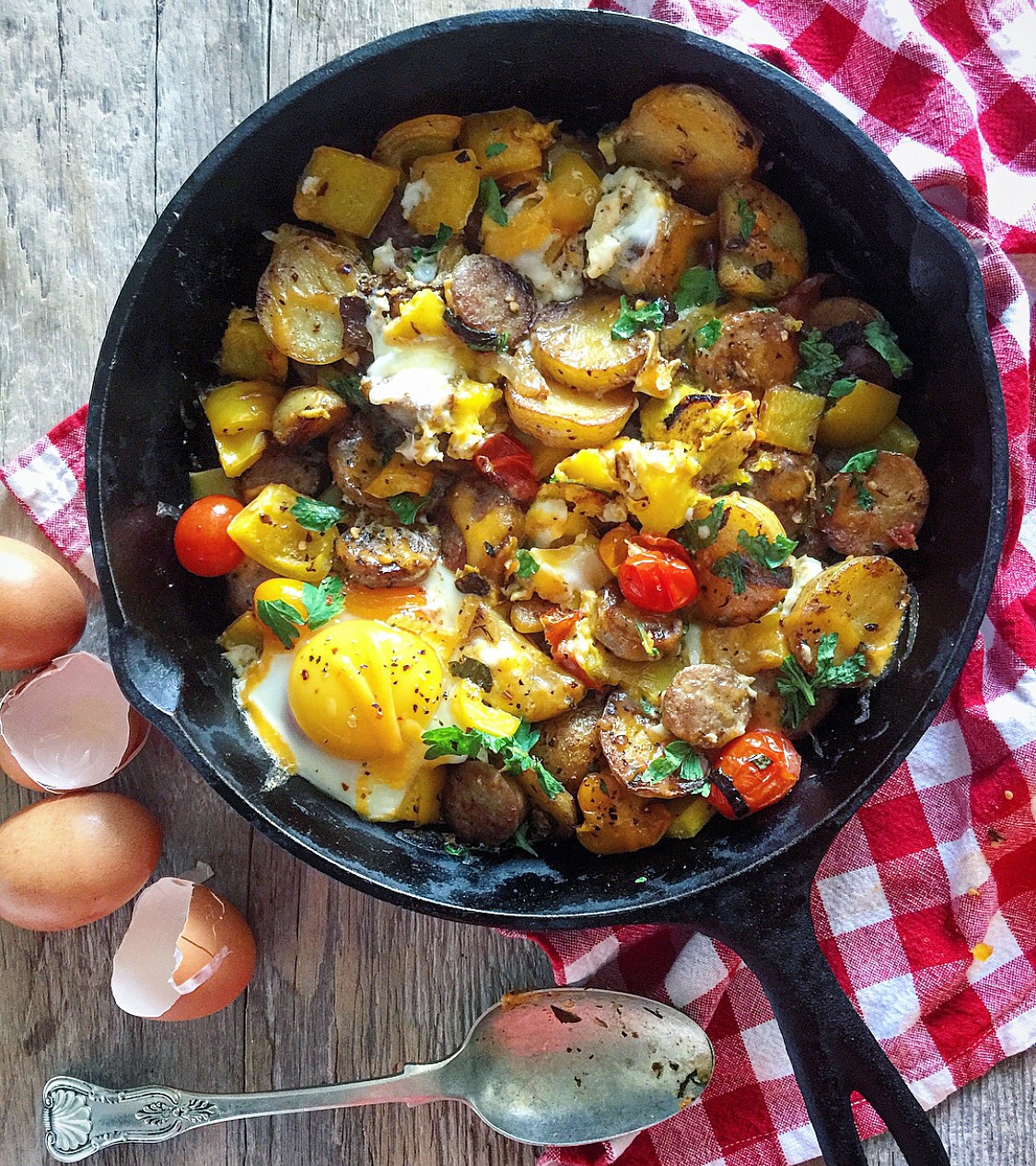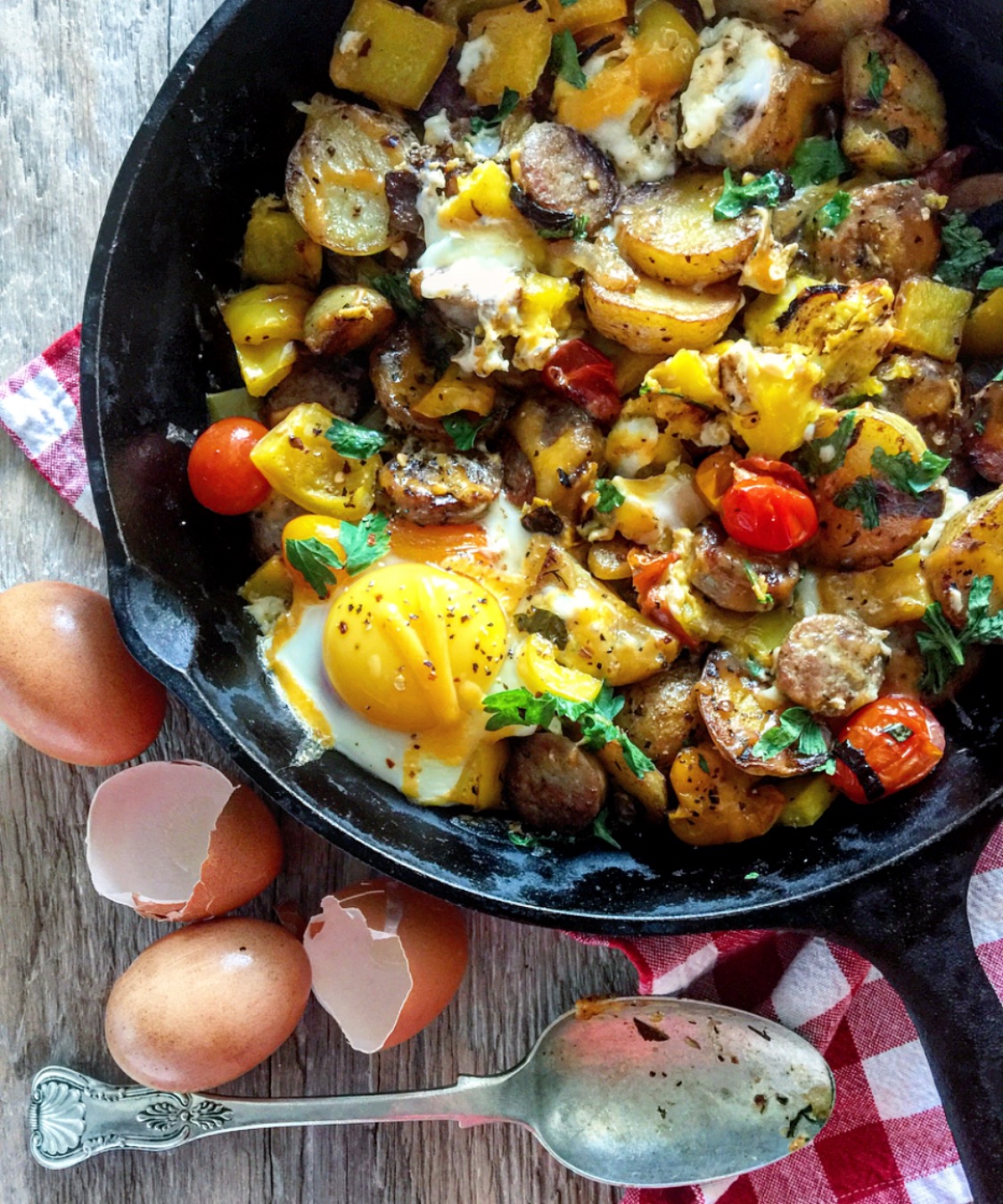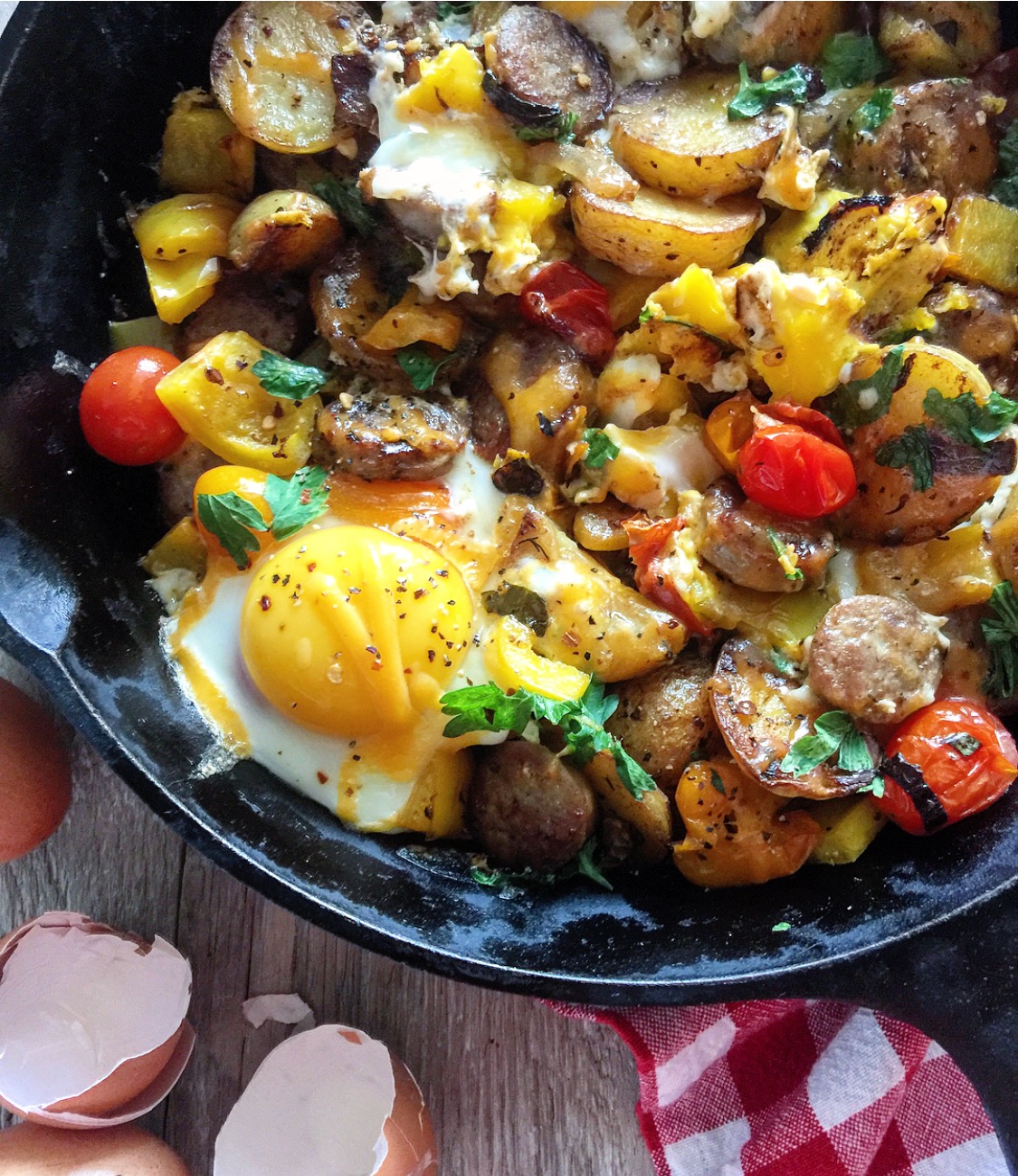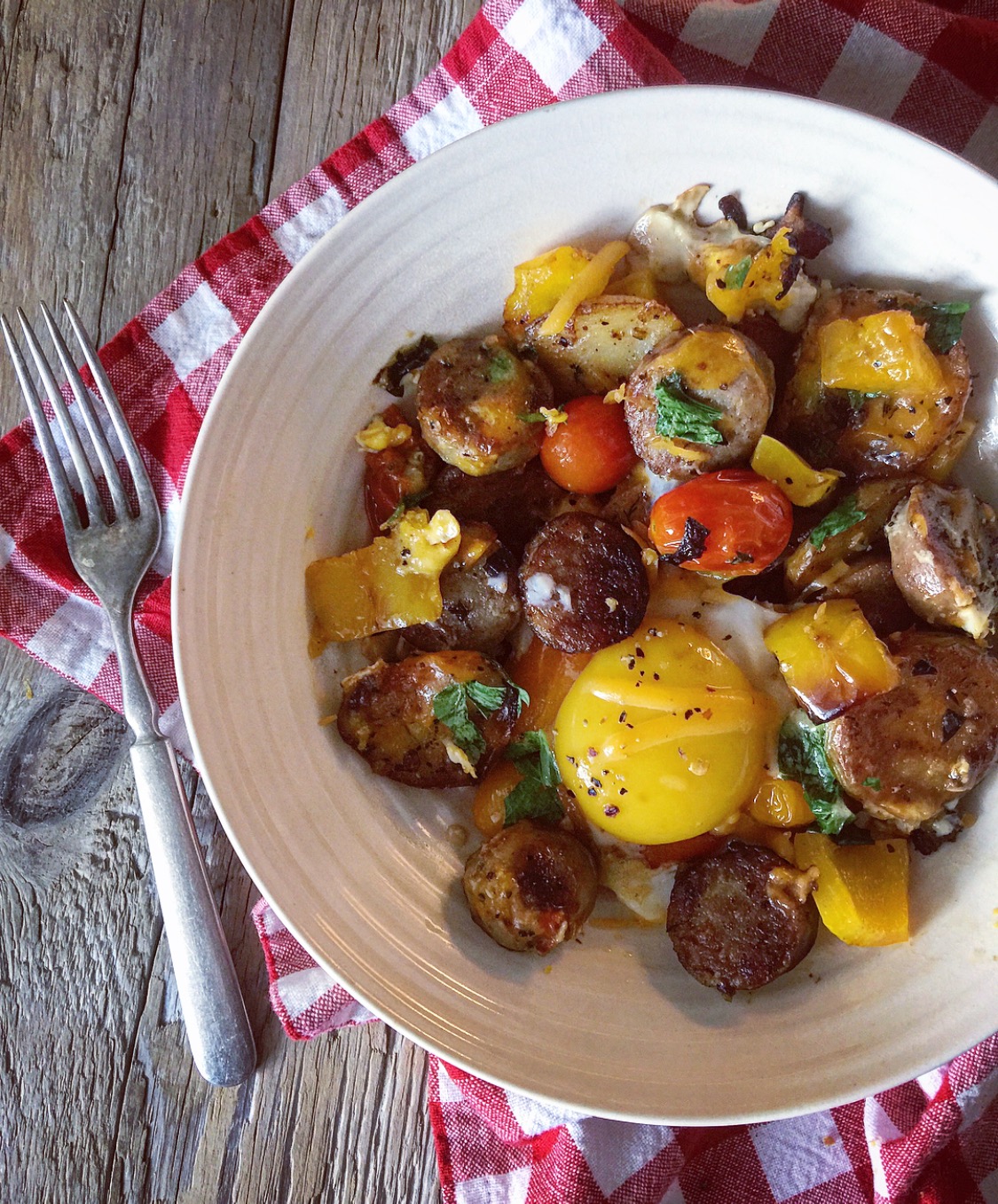 German Farmers Breakfast
The best 'leftovers' meal ever! Potatoes, grilled sausages, veggies, eggs and cheese all come together in a meal that can be dinner even though it's called breakfast.
Ingredients
2

lbs

of baby potatoes

, scrubbed, boiled to fork tender or roasted, and cooled

2

large spicy sausages

, grilled

2

tbsp

olive oil

, or bacon fat!

1

small to medium yellow onion

, large diced

1

green pepper

, diced

1

red pepper

, diced

1/2

cup

small cherry or grape tomatoes

4-6

large eggs

2/3

cup

grated cheese

, such as cheddar, gouda, gruyere, mozzarella etc

4

tbsp

parsley

, chopped, for garnish

kosher salt and cracked pepper to taste

(don't skimp, but the amount of salt in the sausage will determine how much extra you add)

1/2

tsp

chilli flakes
Instructions
Have your potatoes boiled to fork tender in well salted water or roasted in a 400F oven till just tender done in advance. Cool. Then slice into 1/2 inch slices. Trying to slice these up while hot or warm will cause them to crumble. Set aside.

Take your grilled and cooled sausages and slice into 1/2 slices. Set aside.

In a large skillet, heat the olive oil over medium high heat. Add the onion and sauté till just starting to turn translucent.

Add the green and red peppers, and a quick pinch of salt and pepper. Continue to sauté till the edges just start to brown. Push these all to the outside edges.

Add the potatoes and sausages to the centre of the pan. Let these start to crisp up, not stirring too often.

Once the edges are crispy and browned, add the tomatoes. Let the tomatoes warm through and start to char slightly. Stir to combine nicely

Crack each egg over the whole mixture. If you want sunny side up eggs, let each egg set without too much movement. If you want over hard, let them set, and then gently turn over into the veggies.

If you want to have scrambled eggs over this all, take your eggs and beat them gently in a bowl before pouring them over the potato, sausage and veggie mixture. Allow the eggs to set before gently stirring everything together.

Scatter the cheese over everything and place a lid over everything for about 30 seconds to 45 to start the melting process.

Do a final season with salt and pepper. Don't be skimpy, but taste first to see how salty the sausage etc is. Pepper is less of a worry.

Garnish with parsley and serve!
Recipe Notes
Feel free to swap out the veggies for others you may like. Kale, roasted squash pieces, zucchini, even steamed broccoli or cauliflower would work. Just make sure the veggies are already cooked through, as this preparation isn't about cooking veggies that require loads of time. This is all about compiling and heating!!
SaveSave
SaveSave