I have a confession to make. As a kid I didn't really like my mom's potato salad.
It was a classic German potato salad. The potatoes were boiled and then sliced. A warm broth was poured over them to flavour them. There were onions, vinegar, parsley and some mustard involved. It was the the Schwäbisher Kartoffelsalat. But I didn't like it. 'Cuz it was warm. And maybe also because as a kid, I hated boiled potatoes. My mom's favourite way of preparing them. But I really didn't have much say at 10 years old, so I ate what was put in front of me. Or I didn't get to leave the table.
Fast forward several decades. Now I get it. It is a lovely, simple way to prepare a potato salad. Not overdressed, or goopy with too much mayo. The potatoes aren't competing with all sorts of cut up and crunchy veggies etc. This salad is truly a Northern European way of eating, where there aren't too many confusing things happening in one dish. Simple rules the day.
But I still don't LOVE boiled potatoes. So I didn't really make this salad often once I got married. Of course, if it was on a picnic buffet table, I would gladly take a scoopful. But I wouldn't make it on purpose in my own kitchen. This would have to change somehow. Jim loves potatoes. Pretty well any way imaginable.
That's when this salad happened. I adore roasted potatoes. So, could I somehow marry the two preparations, and still achieve a German style potato salad? At first I would roast the potato slices, and then create the same sort of beef broth/vinegar/mustard marinade for the roasted potatoes. Some onions and parsley, and all was done. It was good. But not good enough.
Potatoes, onion, mustard. What else could work here to make me happy? Finally the cast iron pan hit me in the head! Bacon!! Yes, bacon would be perfect with these other ingredients. So I would fry off bacon lardons, and add them to the salad. But I was still using the Schwäbischer method of dousing the potatoes in warm broth. Maybe this could be played with. And that's what finally led me to making a bacon vinaigrette instead of preparing the broth. It seemed like less work to use some of the bacon fat to mix with the vinegar and mustard etc, than to have to fry up bacon AND heat up broth.
Using small new yellow potatoes instead of larger older ones also eliminates the peeling. My mother would boil her potatoes, and then using a knife would gently and elegantly peel away the skins, softened in the boiling water. I can still see her doing this in my head. But these days we have access to lovely new potatoes. My mother would cringe if you handed her a dish of unpeeled potatoes. Then again, she also thought we don't cook our vegetables long enough these days! Old school approach to cooking is what my mom had, for sure.
The classic way to serve this salad: grilled or fried wurst on the side! I'm a sucker for Weißwurst, a mild veal sausage that is the perfect vehicle for spicy mustard; but Bratwurst is also the alternative sausage side. Add some sauerkraut on the plate, and you've just entered German paradise! Okay, the clincher is a cold ceramic stein of Weißbier to wash it all down with.
So, roasted potatoes, bacon fat, apple cider vinegar and mustard dressing, sliced onions, bacon pieces and parsley. The best of all worlds! It may not exactly be my mother's potato salad, but at least I'll eat it warm.
Love Jen.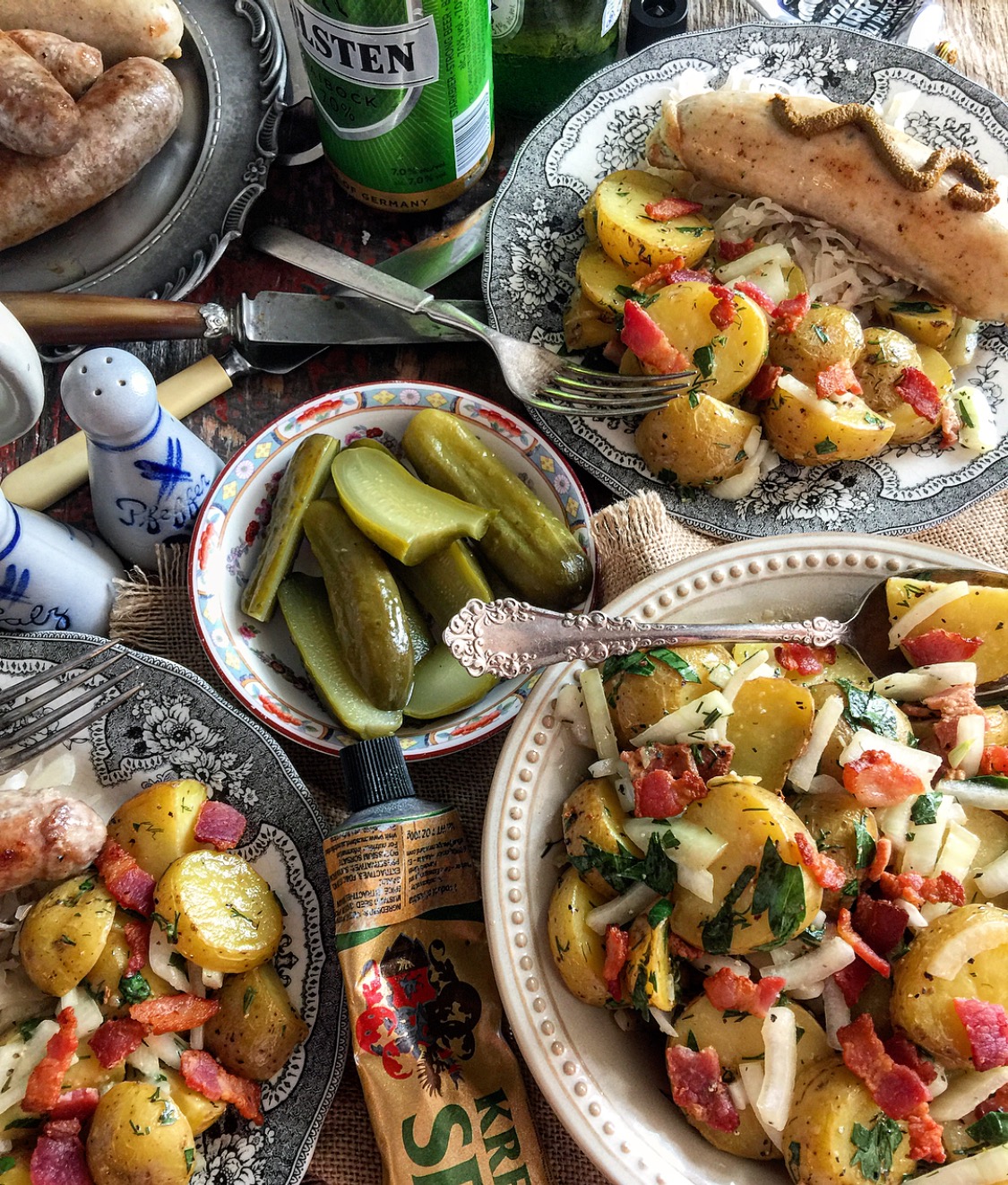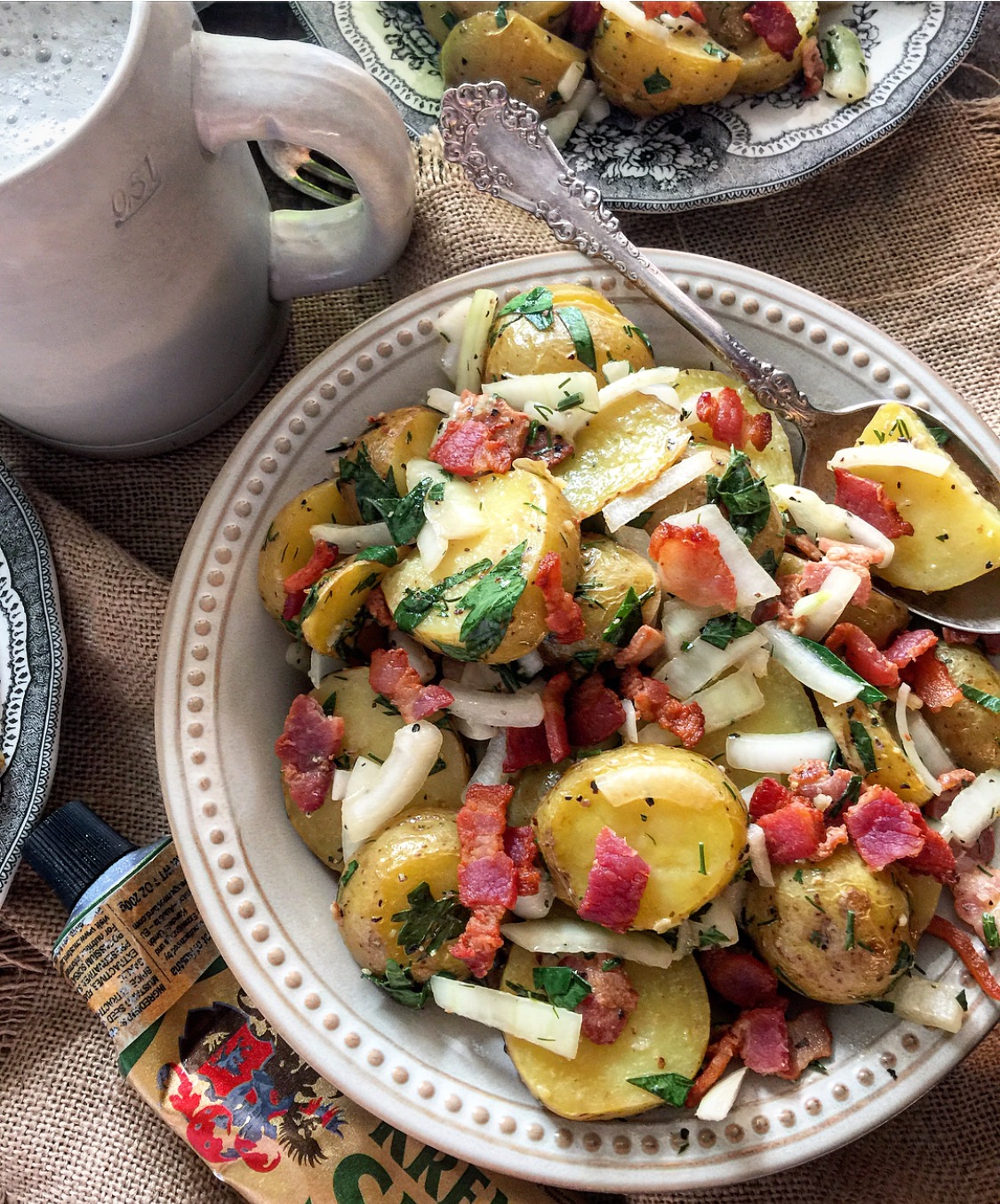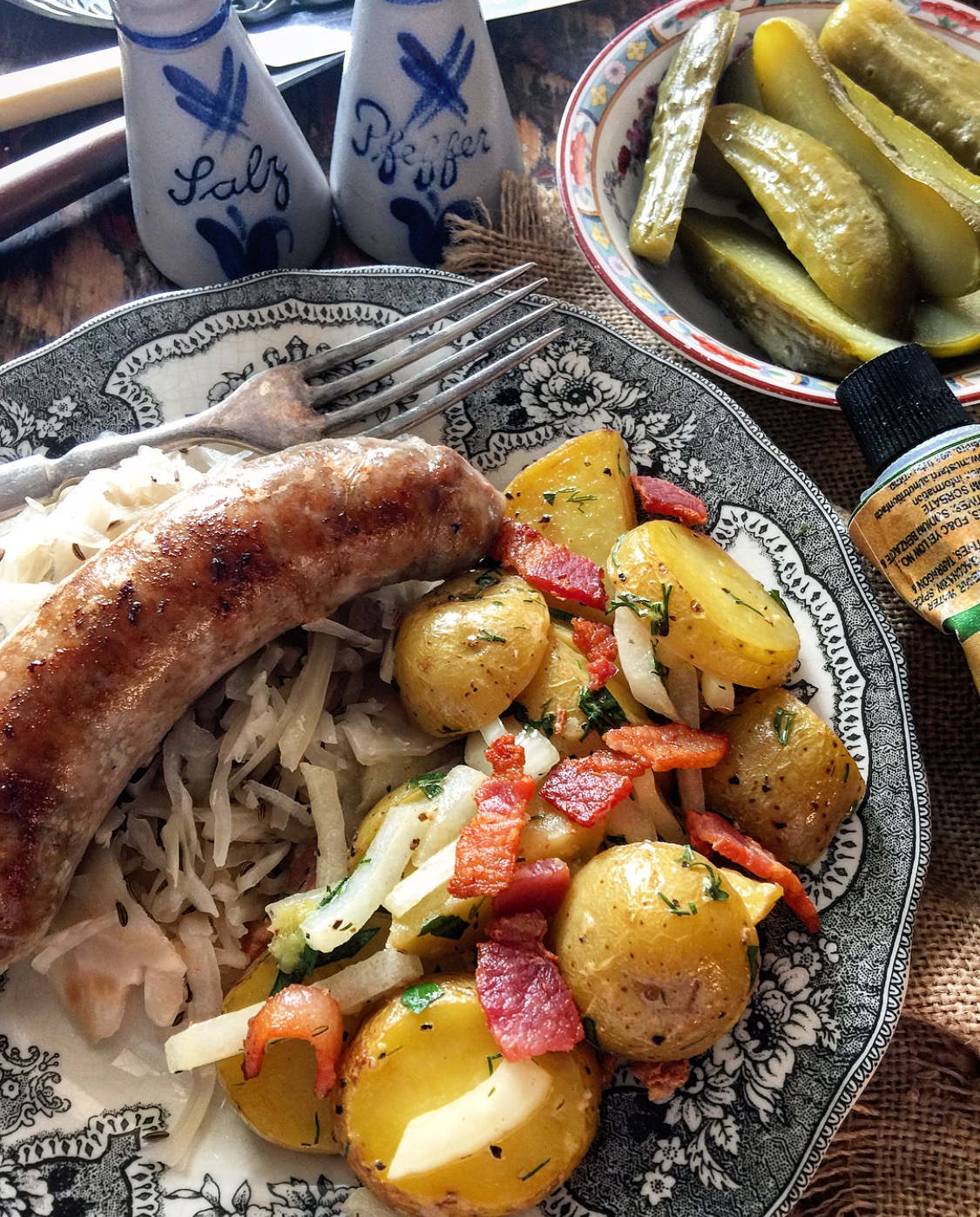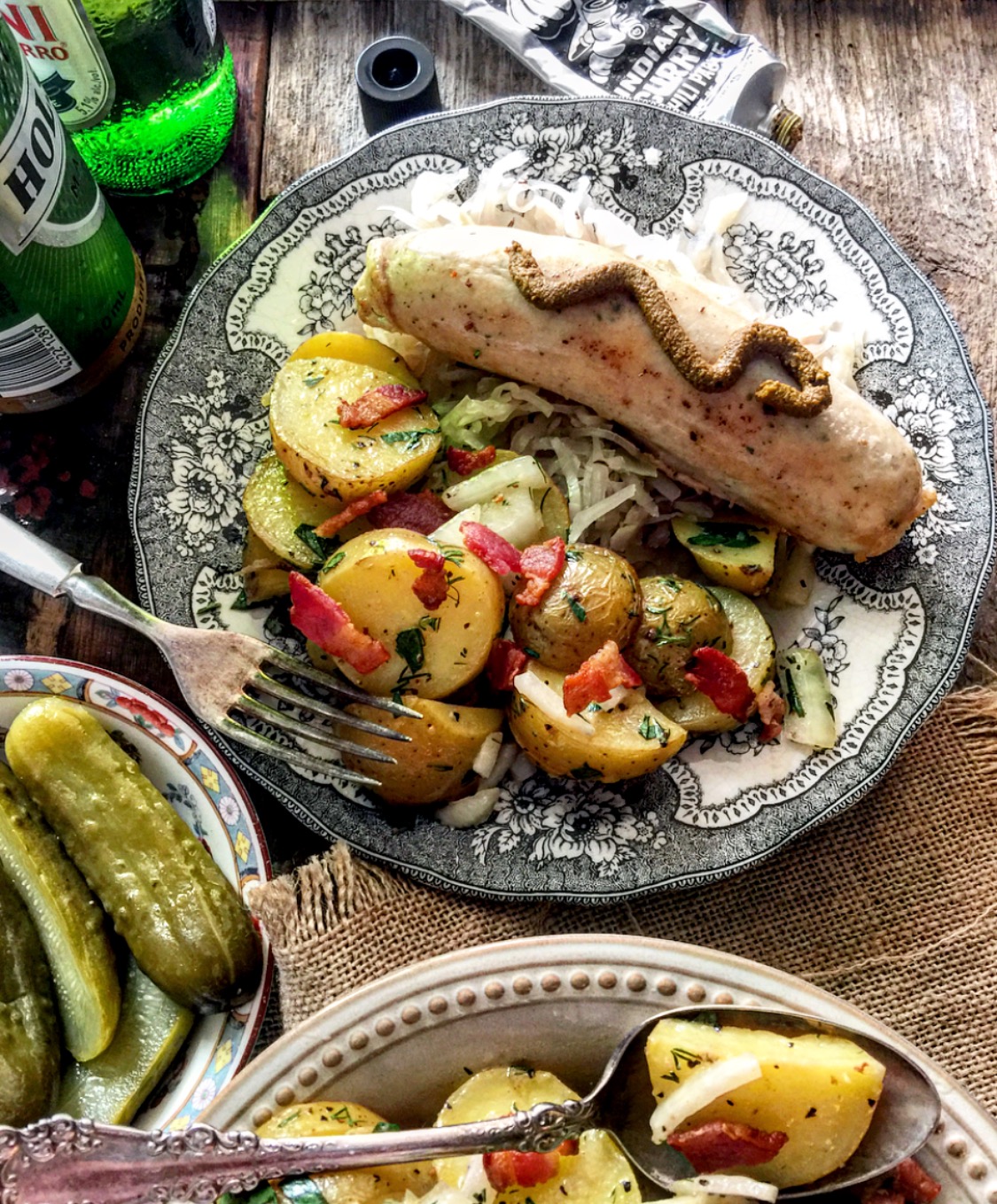 German Roasted Potato Salad
A classic German Potato Salad, with the slight adjustment of roasting instead of boiling the potatoes. Perfect with grilled sausages, or fried chicken for your next picnic!
Ingredients
2

lbs

new yellow baby potatoes

, sliced into 1/2 inch thick slices

2

tbsp

olive oil

1/2

tsp

kosher salt

1

tsp

cracked black pepper

1

medium white or Spanish onion

, sliced very thinly

6

strips bacon

, chopped into small lardons

1-2

tablespoons

flat-leaf parsley

, chopped

1-2

tbsp

chopped fresh dill
Bacon Vinaigrette:
3

tbsp

bacon drippings

3

tbsp

apple cider or white wine vinegar

1

tbsp

olive oil

(if needed)

2

tsp

dijon mustard

, add a third tsp if you really like dijon!

1/2

tsp

sugar

1/2

tsp

salt

1/2

tsp

pepper
Instructions
Preheat oven to 400F. Line a baking sheet with parchment paper.

In a large bowl, add the sliced potatoes along with the olive oil, salt and pepper.

Toss well and lay out on the baking sheet in one layer. If you can't fit in one layer, use a second sheet. Roast between 20-25 minutes until golden brown and edges are getting crisp.

Remove the potatoes and any collected oils to a bowl. Add the sliced onions to the potatoes.


While the potatoes are roasting work on the bacon and dressing.

Heat a medium skillet or pan over medium high heat and then add the bacon.

Stir regularly until they are cooked through, but not overly crisp and blackened. Turn off the heat.

Remove the bacon with a slotted spoon to the bowl with the potatoes and onions.


Reserve 2-3 tbsp of the bacon fat from the skillet to a small bowl. If you only get 2 tbsp of bacon fat, use olive oil to supplement.

Bacon Vinaigrette

In a small bowl, whisk all the Vinaigrette ingredients together until a smooth dressing is achieved. Taste and re-season as desired.

Pour the dressing over the potatoes, onions and bacon. Toss to coat well. Then add the fresh parsley and dill.

Serve.
Recipe Notes
This salad is classically served warm. But it is just fine cold as well. If you let it sit in the fridge overnight though, you may find it has 'stiffened' up a bit, or dried out. Just add some olive oil to loosen it up again.
If you have leftover potato salad, as well as any grilled sausages, these will work fabulously as a traditional German breakfast. Stay tuned for that recipe!!
SaveSave
SaveSave
SaveSave
SaveSave
SaveSave