I love the word 'umami'. That hard to define, but oh so perfect balance of flavours;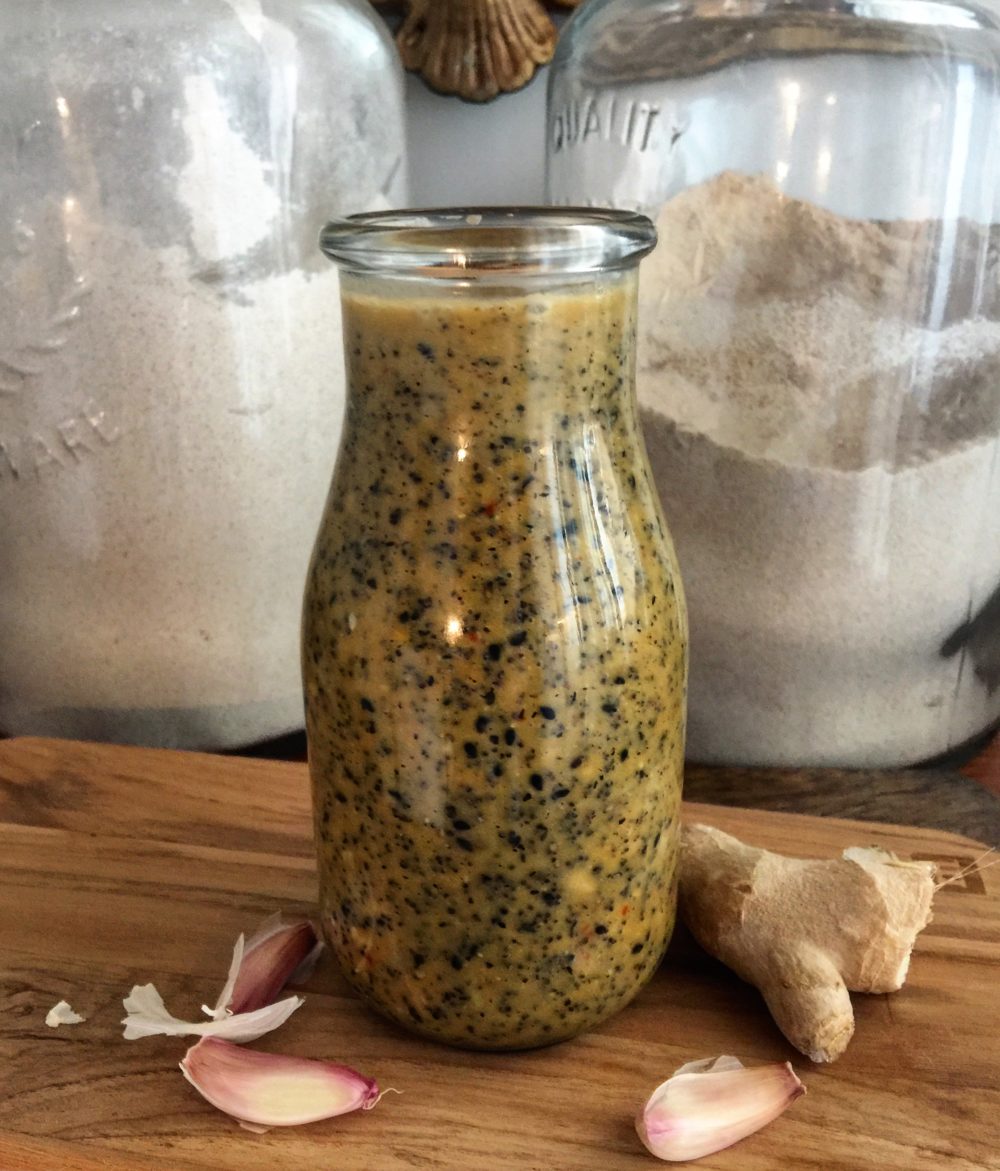 that perfect combination of salty and sour, sweet and bitter; the moment when your tongue smiles in slow delight (if tongues had lips). Umami is a savoury flavour and the word comes from the Japanese words for 'pleasant taste'. And while I say it's a combination, it really isn't. And it is definitely more salty than sweet. It is now considered it's very own taste, with a spot on the tongue reserved just for it. And then there's that whole "Umami Unagi" episode from Friends, remember!?
We often think of soy sauce, beef broth, smoked dried fish or shiitake mushrooms, or even Vegemite and nutritional yeast as being examples of umami. And since I already loved the flavour of each of these anyway, it must be the umami they have in common. But I now present to you another way to get umami on to your taste buds: a salad dressing!
This is not just a salad dressing. You can drizzle it over grilled meats, use it as a marinade for salmon, or even add it to strained yogurt for a really fun veggie dip. I use it as a sauce for Asian pasta noodle dishes, it's fabulous. It really is more of a Master Miso Salad Sauce!
A favourite way that I like to use it is for cole slaw. The veggies that are generally included in cole slaws are heartier and can bear up under this dressing, even if dressed in advance. In fact, don't you find that preparing a cole slaw ahead of time allows it to marinate and soften into the perfect side salad that can even be packed for a picnic etc?! Jim loves this salad so much, that he's happy to have it for dinner. Just the cole slaw. A huge Big Salad (cue Elaine from Seinfeld) An Asian Cole Slaw. And if you add crushed cashews to the mix, you have some protein that packs a crunch (get that, packs a 'crunch'?!) But if you were making a taco, a little of this cole slaw, would make a great bed for grilled fish etc.
I'm sharing with you the recipe for the dressing, and the salad. But this is more about the dressing. My cole slaw changes with what's in the fridge etc. So just use my ingredients as a guideline and make it your own!! The recipe for the dressing yields about 1 1/5 cups, so you have enough for several meals. It keeps in the fridge very well.
Love Jen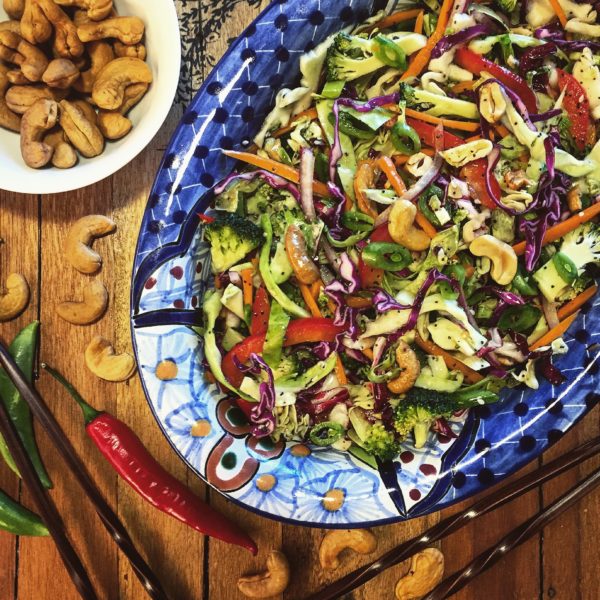 Ginger Miso Dressing
A perfect dressing or marinade. Use it in salads, pasta dishes and to marinade meats for grilling. A fabulous Master Sauce
Ingredients
Dressing
2

medium garlic cloves

finely minced

1

tbsp

fresh ginger

finely chopped or grated

2

tsp

finely chopped red onion

1/3

cup

rice wine vinegar

1 1/3

tbsp

light miso

1/2

tsp

dijon mustard

5

tbsp

honey

or to taste, use the runny kind

1 1/3

tbsp

tamari

1

tsp

toasted sesame oil

2

tsp

Sriracha

or to taste

2

tbsp

sesame seeds

2

tbsp

poppy seeds

3/4

cup

EV olive oil

1

tsp

sea salt

3/4

tsp

finely ground black pepper
Cole Slaw
cabbage, red and green

shredded

carrots

julienned or shredded

broccoli florets

red pepper

thinly sliced

snap peas

sliced

celery

thinly sliced

bean sprouts

cashew nuts
Instructions
For the Dressing:

Add all ingredients into a bowl.

Whisk well. Ensure that you have broken up the miso paste. Taste for salt and pepper and re-season if necessary.

I will also run the dressing through a small blender (i.e. Magic Bullet type blender) to truly combine the dressing. But this is not absolutely necessary

Can be stored in the fridge for at least 2 weeks. Shake well before using.

Cole Slaw:

Add the amount of each to your liking and how many you are feeding. I know this sounds vague. I know you will figure out how much person will work. Good to know: this kind of salad doesn't wilt or shrink under the dressing, so what you see in the bowl before adding the dressing will be the same amount you will have when serving.

Add 1 tbsp (to start with, you may want more) of dressing per person. Toss well. This can sit in the fridge until serving. Just before serving add a handful of bean sprouts and cashews and toss once more.
Recipe Notes
This dressing recipe yields about 1 1/5 cups.
This dressing is fabulous in salads...duh.
But it also works for drizzling over grilled meats and fish.
Try adding some to yogurt for a creamy dressing.
It works especially well in Asian noodle dishes with grilled or sautéed meat and bok choy etc.
This is truly a recipe you can play with to make your own.
I left the salad portions up to you: you may not have all the ingredients at the same time. Or you may not like all of them. Use these as suggestions, and just cut up enough to create a final large handful per person. Unless of course you want some leftovers, since this keeps well.
SaveSave
SaveSave