Last year I took on a detox that lasted about six weeks. At first I thought I was going to die!
No grains- breads, pasta, etc; no dairy (aaghh!) no caffeine; no sugars of any kind (even healthy ones); no alcohol; no red meats; no pickled or brined foods; and so on…
Many good things came out of that excruciating time, in the end. I embraced millet, amaranth, quinoa, buckwheat. I tried all sorts of new fruits and veggies; I learned to enjoy some new herbal teas and tisanes; I discovered the spiralizer!! And my love affair with baking took on new meaning. I missed breads terribly. So I experimented with all sorts of gluten and grain free recipes. Some worked. Others produced dense bricks that took the joy out of a breakfast toast. And then I discovered this recipe. I was totally intrigued when I found a recipe on Colourful Eats, for a paleo brown bread that utilized chestnut and almond flours.
I adore chestnuts. When we were in Rome one year, it was November, and with the cooler eves we found that on pretty well every street corner there was a vendor selling freshly roasted chestnuts wrapped up in newspaper or paper bags. The steam rising from those chestnuts was so inviting. The aroma was sublime. And I ate them as often as I could. Years earlier, in Paris we stopped at a cafe for coffee and crepes. I had chestnut crepes filled with creme de marron (the french word for chestnut). Oh my! The next stop after that cafe was to find a food emporium that sold that creamy goodness in a jar. Now I will put creme de marron on almost everything. Well, not like chicken or mac 'n cheese, of course.
So, a bread that featured chestnut flour? I had to try it. Chestnut flour is an Italian flour that has been used for centuries in traditional baking and has a sweet, slightly spiced flavor to it. But sourcing chestnut flour wasn't as easy as I thought it would be. Here in the Toronto area we have a thriving Italian community. And so many Italian baking recipes feature chestnut flour. But it seems to be more of a seasonal ingredient. So here I was in June, trying to purchase chestnut flour, that most shops wouldn't be carrying until October or November. I finally found it via Aurora Importing. I bought more than I knew I'd need just for the latest bread experiment, as I knew I'd happily try more chestnut flour recipes. And I learned that if you have a sizeable amount of the more delicate nut flours, it is best to keep them in the freezer. They will last much longer (avoid going rancid) and will be ready when you need them, even months later. But try Amazon or online shopping wherever you may be, I'm sure you'll find it.
I baked off my loaf. The other ingredients, almond flour (or meal) and psyllium husk powder, were easier to find. And the rest were basic pantry ingredients. The coconut milk used in the recipe shouldn't be confused with the coconut milk you can now purchase in milk aisle of your grocery store. This is the full fat coconut milk that comes in a can and is usually found in the Thai, Asian, or baking section of your grocery store.
I patiently waited for the loaf to cool. It looked good. Like a loaf of bread. Okay, a little more flat than a tall, fluffy, pullman loaf, but still pretty acceptable, considering how some of my other loaves had turned out. The test would come when I could slice it and spread nut butter on it. Would it be a rock? Would it fall apart as my knife scraped along the top of the slice? Would it toast well, and act like a sandwich? So many expectations for this poor little loaf! Was I being too demanding??
It not only passed, it was darn yummy! The nuttiness of the two flours were not overpowering, but just right. It held up to the spread test. It toasted up nicely in my toaster oven. I had omitted the maple sugar topping and replaced it with a sprinkling of sunflower and flaxseeds. This way I knew I could also eat it with my favourite food: eggs! I had finally found a bread that not only met the test for my detox restrictions, I found a loaf of bread that I would actually eat when I wasn't doing a detox!
If you are dealing with dietary restrictions, or have digestive concerns, or just want to try out a new flour and bake a loaf of bread that doesn't involve hours of proofing etc, try this one out. It's a lovely little gem. And freezes well too 🙂
Love Jen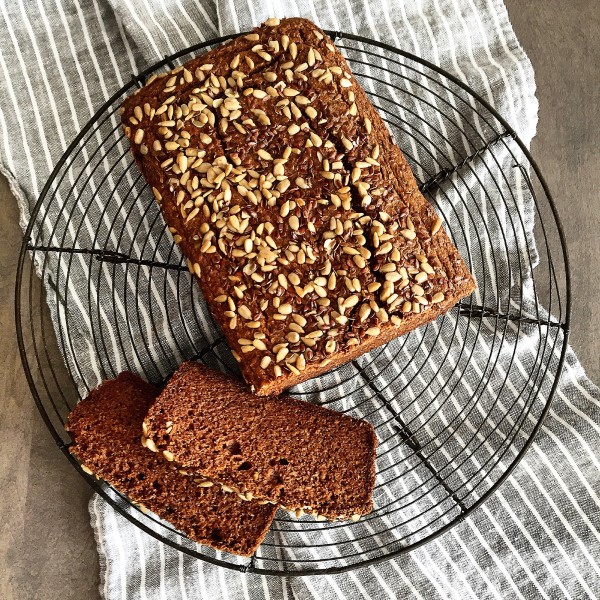 GUILT FREE PALEO BROWN BREAD
A guilt free, gluten free, grain free brown bread featuring the nuttiness of chestnut flour. It actually tastes and acts like bread should!
Total Time
1
hour
10
minutes
Ingredients
1

cup

chestnut flour

1

cup

almond flour

3

tbsp

psyllium husk powder

1 1/2

tsp

baking soda

2

tsp

cinnamon

1/2

tsp

nutmeg

1/2

tsp

cardamom

5

eggs

3/4

cup

coconut milk

, full fat and unsweetened (from a can, not the milk aisle)

8

tbsp

butter

, melted

1

tbsp

apple cider vinegar

1/2

tsp

maple sugar

, for dusting on top (optional) I replaced this with approx 2 tsp of sunflower seeds and 2 tsp of flaxseeds
Instructions
Preheat the oven to 350 degrees F. Line a 8.5 by 4.5 inch loaf pan with parchment paper lengthwise, cutting to fit the pan.

Sift together all dry ingredients being thorough to remove all clumps. Add remaining wet ingredients and blend together with a hand mixer. Scrape down the sides of the bowl and briefly blend again. Immediately pour the batter into the prepared loaf pan, smoothing out the top with a spatula. Sprinkle the top with the seeds if using.

Bake for 60-65 minutes or until a tester comes out clean and the bread feels firm to touch.

Cool the bread in the pan for 15 minutes then gently lift up on the edges of the parchment paper to remove the bread. Discard the parchment paper and cool for an additional 10 minutes before slicing.

Serve toasted and warm topped with a slice of butter.
Recipe Notes
The psyllium husk powder is not the same as psyllium husks. Make sure you buy accordingly. I chose to top the bread batter with seeds for a more savoury bread.
You could top with rolled oats (just make sure they are gluten free), hemp seeds etc.
This easily freezes, wrapped well in plastic wrap. Store unused chestnut flour in the freezer to avoid it going rancid. It is a delicate flour made from nuts, so really, all nut flours ideally should be stored in the freezer, unless of course you go through them quite regularly.
Adapted from Colourful Eats Nutrition Paleo Brown Bread