That's a pretty long name for a little bundle of goodness, eh?! We're right in the middle of cherry season, so there is a constant bowl of cherries in my fridge that I pick away at daily.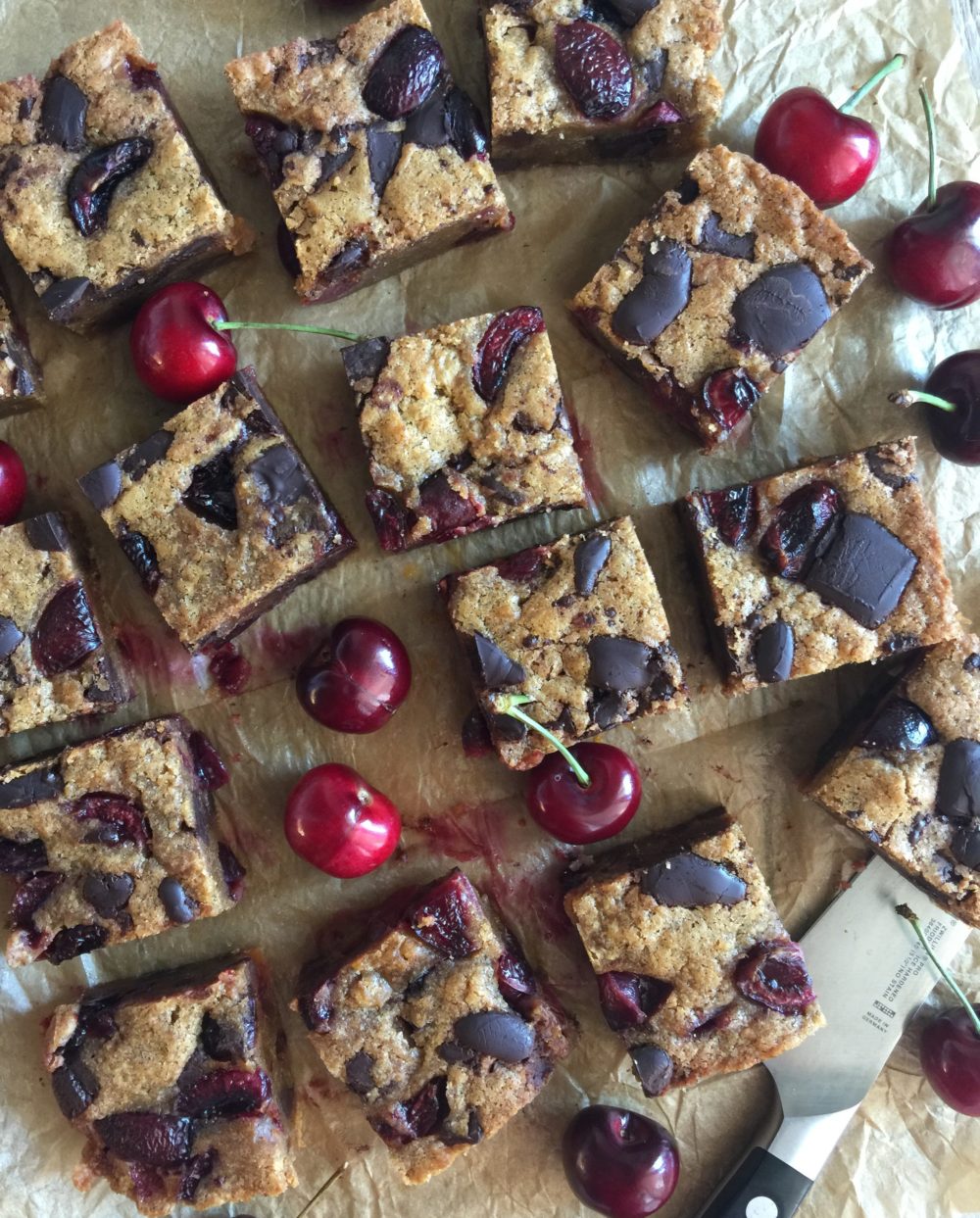 But I thought, I better come up with something sensational before the season is over, and all I have to show for it is a bunch of pits!!
So I thought, I'd like to bake something. Well, I didn't want to bake a cake, I wanted something more portable and handy. So then I thought, I could put them in a muffin or scone. But I just didn't want to do the scone thing- Jim isn't a big scone eater, so that would mean I would either have to freeze them and whittle away at them myself, or else I would have to give them away to friends.
Then I thought. cherries, chocolate- classic. Why not put them in a brownie! Genius. Then I thought a tad longer, and realized, I would rather SEE the cherries, than just taste them. So that meant Blondie instead of Brownie. I could still sneak in some chocolate by chopping up a Lindt bar and scattering it into the batter. Done. I knew what I would be baking. Then I thought some more (there was a lot of thinking going on in my messy head that night in bed) and realized, I love chili chocolate, why not add some heat to the batter? I had a new tube of Entube Harissa waiting to be opened. Yep, it was going to be a Blondie with a kick! And not from Dagwood! From Harissa 🙂
So I took a classic Blondie recipe, and played with it. There are so many filled Blondie recipes online and Pinterest, that I had a plethora to choose from. Averie Cooks is where I landed in my search for a jumping off point. She had one that already utilized the cherries and she used chocolate chips. So this was a recipe that I could play with. And play, I did!!
I decided to turn her butter addition into a browned butter addition. That extra nuttiness would add a layer of depth to the base. And when it came time to adding the Harissa, I went slowly. First I added a teaspoon for the entire batter. Taste. Nope, not enough to notice. Added another half teaspoon. Taste. Getting there, but not the effect I was looking for. Another half teaspoon. Taste. Yep, now I noticed it. That warmth and slight tingling at the back of my tongue. Now I could tell there would be an effect when eating one of these blondies! So I used two teaspoons of Harissa. I'll say it now, I will probably even go up another half teaspoon next time! But I don't expect everyone to be as masochistic as myself, so I will respect you if you stop at two teaspoons!
Pitting Cherries sidenote: Yes, I have a cherry pitter. I don't mind using it, for cherry pie. But you have to admit, using one, can turn the counter and all surrounding surfaces into a crime scene, minus the police tape. So, for this recipe, I just used a sharp knife and sliced in half, poked out the pit, and then quartered them.
They turned out perfectly. After cooling them entirely (including a short stint in the freezer, just to help cutting them and not having them crumble all over) I bit into one. Oh I was so happy! I could taste my precious cherries, enjoy the silkiness of the chocolate, and the hint of heat just made me giggle. Yes, I giggled! I was so happy that this turned out. It will be the way I make these blondies all the time now. I could easily see replacing the cherries with chopped strawberries and having an equally enjoyable time!
Let me know what you think- and if you were able to handle the heat!
Enjoy these last few weeks of cherry season 🙂
Love Jen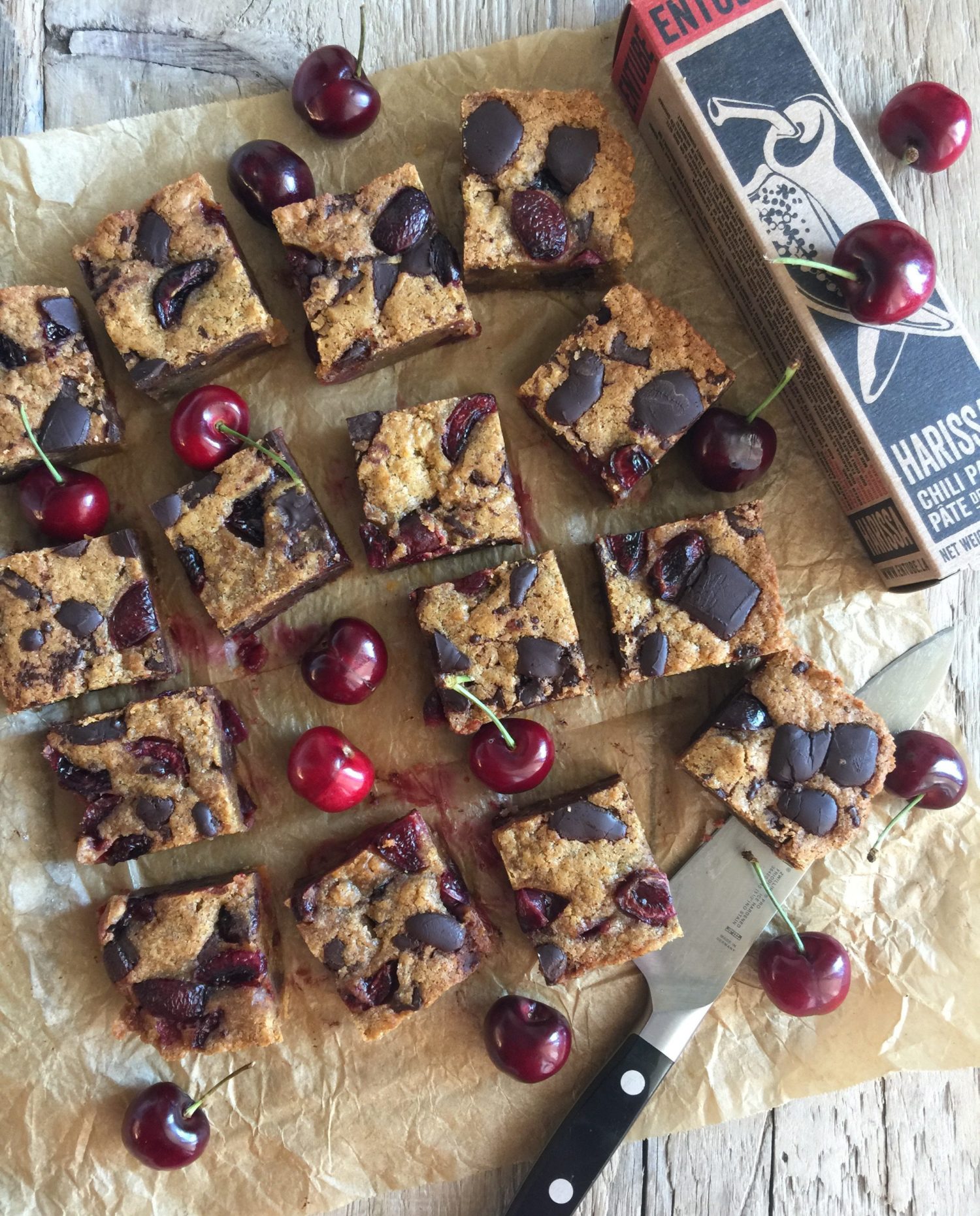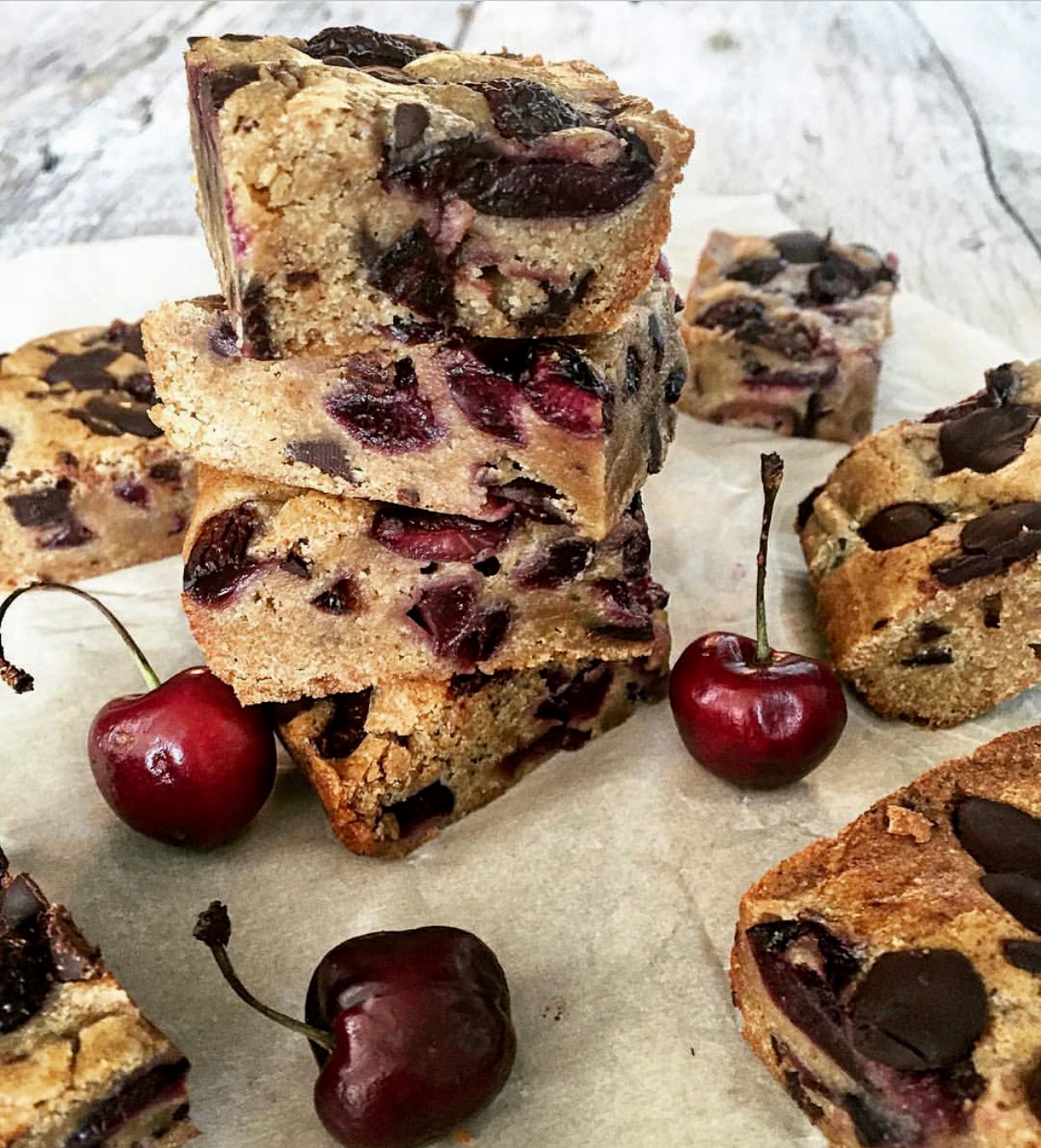 Harissa Cherry Chocolate Brown Butter Blondies
A classic moist blondie with the richness of cherries and the chocolate chunks, and the subtle heat of harissa. Think chilli chocolate and run with it!
Ingredients
1/2

cup

unsalted butter

1

cup

light brown sugar

1

large

egg

room temperature

2

tsp

Entube Harissa paste

or to taste

1

tsp

vanilla extract

1/8

tsp

salt

1

cup

AP flour

1

cup

Bing cherries (heaping cup)

pitted and quartered. You could substitute these with strawberries or raspberries

6

tbsp

of a good quality chocolate bar (i.e.: Lindt 85% Dark Chocolate)

chopped
Instructions
Preheat oven to 350F. Spray an 8 x 8 inch pan with non-stick spray. Line the pan with parchment paper going up and over two sides; set aside.

Cook butter in a heavy saucepan over medium heat, stirring constantly until it foams, turns clear, and then turns a golden brown and has a nutty aroma, about 6 minutes.

Pour brown butter into a medium bowl and let cool to room temperature.

To the melted butter, add the brown sugar and stir to combine. Whisk well to remove any lumps of sugar.

Add the egg, vanilla, and harissa and blend well.

Add the flour, salt, and stir until just combined, taking care not to over mix or the blondies will be tough.

Setting aside 1 heaping tbsp of the cherries, and 1 heaping tbsp of the chocolate chunks, fold the rest of the cherries and chocolate into the batter.

Pour batter into prepared pan, smoothing it lightly with a spatula or offset knife if necessary. The sprinkle the remaining cherries and chocolate over the top.

Bake for 33-35 minutes, or until edges begin to slightly pull away from sides of pan and center is set. Baking time will vary based on types of fruit used, fresh or frozen; and the moisture content of the fruit; and how gooey you like your blondies. A toothpick inserted into the middle may not come out clean due to the chocolate chips or juicy fruit.

Allow bars to cool for at least 1 hour in the pan on a rack before slicing and serving. I actually place the pan into the freezer for about 8 minutes to set them. This will ensure that cutting will result in less crumbs and cracks. Using the parchment paper, pull the blondie slab out of the pan and place on a cutting board.
Recipe Notes
Blondies can be stored in an airtight container at room temperature or in the refrigerator for up to 1 week or frozen for up to 3 months.
SaveSave
SaveSave
SaveSave