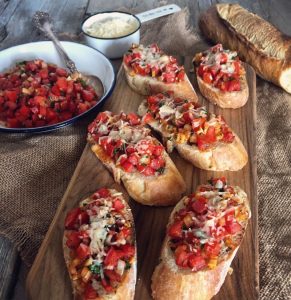 Jim doesn't like tomatoes. Or so he says.
He loves marinara sauce, bolognese, pizza with a good tomato sauce, he'll even eat the odd cherry tomato. But he insists he doesn't like tomatoes.
When we were dating I didn't believe him. Till I watched him pick out tomatoes from his burgers, eat around large chunks in a salad, or avoid ordering a dish on a menu that highlighted tomatoes. I know he likes the flavour. It must be a texture thing.
So one day I made bruschetta. And topped it with some grated parmesan and put the crostini under the broiler to melt the cheese. Well, he ate up the whole plate. "I thought you didn't like tomatoes?" "But they don't seem like tomatoes this way." So I learned the secret: cut up small, with the jelly-like seed pulp removed, makes tomatoes not 'feel' like tomatoes. And thus acceptable in Jim's world.
Bruschetta: It's such a wonderful little appetizer. So fresh, and a wonderful combination of textures and flavours. Easily put together, and it can be personalized with a change of an herb or seasoning. But it's not just an appetizer. We love having it as our whole meal. Especially during tomato season. Although in a pinch, good hot house Roma tomatoes will work just fine.
I'm pretty classic when it comes to my bruschetta recipe. Tomatoes, garlic, onions, parsley, a touch of olive oil. Till recently. We both love heat in our meals, so I thought I would add a touch using some Entube Harissa. Oh my! It added a lovely smokey heat to the topping. I hadn't told Jim what I had done, but after that meal, Jim did mention, "The bruschetta this evening was really good!" So, I know how I will be making it from now on.
The classic way of serving bruschetta is to rub some garlic on the crostini, along with a drizzle of olive oil and quickly broil or toast to get some warmth and crunch to the bread. And then serve the bruschetta topping on the side in a bowl to spoon over the heated crostini. And I will do this no problem. But we love our bruschetta topped with melted grated parmesan, so I spoon the topping on the sliced, fresh baguette and sprinkle parmesan (or mozzarella) over each one and broil quickly. Then they are ready to serve.
Let me know what you think, or how you like to serve your bruschetta!
Oh, and Jim does eat more tomatoes now. Even if I have to push him! But they are so good for him, right?
Love Jen.
Harissa Spiked Bruschetta
A fresh, vibrant bruschetta with the added punch of harissa heat!
Ingredients
5-6

Roma tomatoes

quartered, middle pulp and seeds removed, finely diced

3-4

garlic cloves

finely minced

1/3

cup

white onion

finely diced

2

tbsp

chopped parsley

1-2

tbsp

olive oil

2-3

tsp

Entube Harissa paste

to taste

kosher salt and cracked black pepper

1

baguette

1/2

cup

freshly grated parmesan cheese

for topping
Instructions
Preheat the oven to 375F and raise the rack to the top third of the oven.

Mix the tomatoes, garlic, onions and parsley in a bowl.

In a separate bowl, mix the olive oil and harissa paste together. Toss into the veggies.

Taste and season with salt and pepper. Let sit to let the flavours marry.

Cut up the baguette into bite size slices and lay out on a baking sheet.

Spoon some of the topping onto each slice. (about 2-3 tbsp depending on the size of the slices)

Sprinkle some of the grated cheese onto each slice. (about 1 tbsp)

Place the baking sheet into the oven and bake for about 3-5 minutes, until the cheese has started to melt into a gooey topping.

Serve.
Recipe Notes
This recipe makes about 2 cups, depending on the size of the tomatoes you are using.
This amount will easily make about 16-18 crostini, or a bit more. For an appetizer, I count on 3 pieces per person.
For a meal where you would probably eat around 5 slices, this will easily serve 4 people.