There is something so adorably comforting about fresh biscuits. Their flaky texture, warm from the oven, slathered with butter, or jam, or even an egg. There are so many reasons to enjoy baking up a batch. They come together quickly, and bake equally fast. And they lend themselves to so many different flavour additions.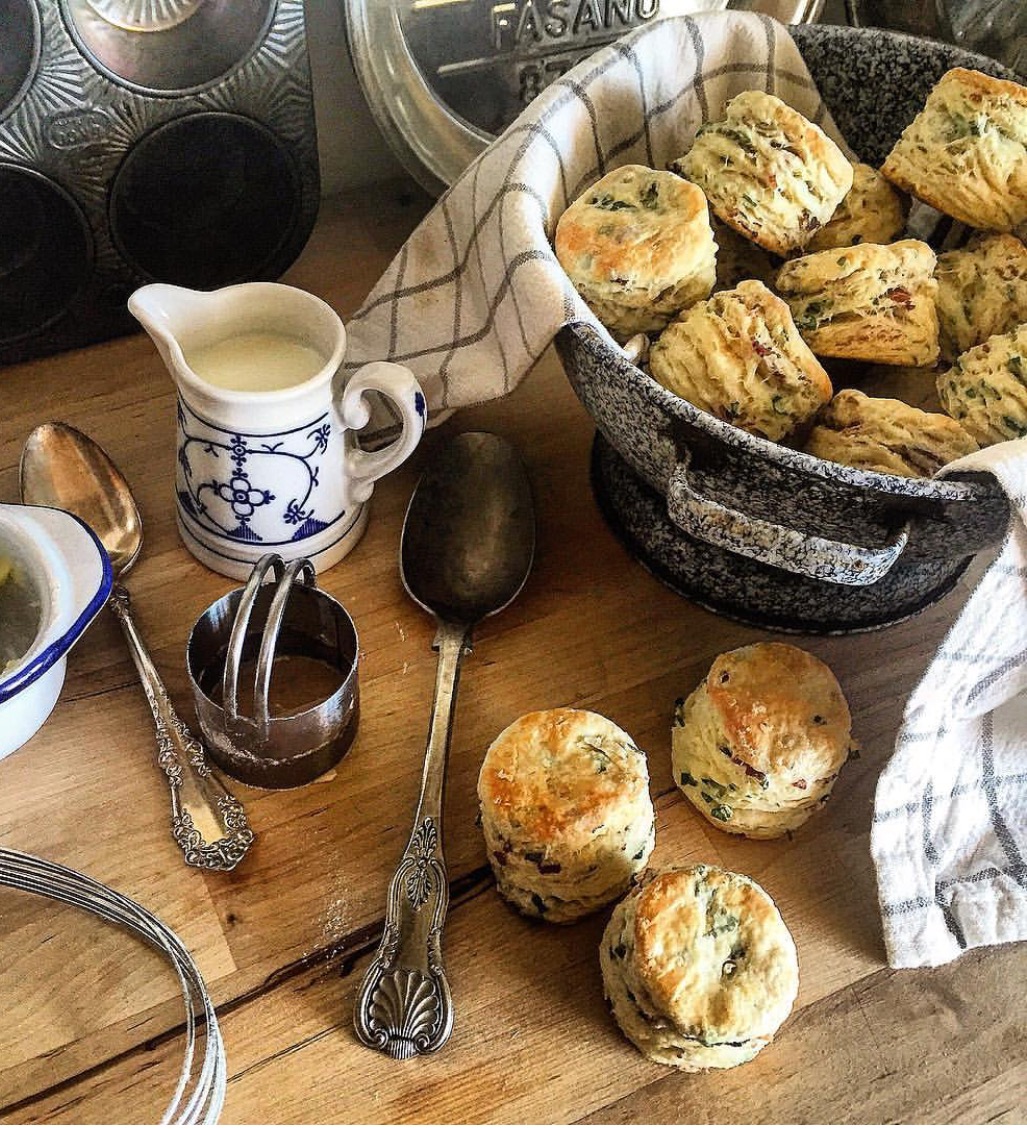 This recipe was adapted from the Local Milk cooking and photography blog. Elizabeth Kirby has such a deliberate and yet serene, ethereal approach to her work and life. It comes through in each photo she shares. When I first tried out her recipe for Buttermilk Biscuits, I was enthralled with the process, and then the stellar outcome. The layers, the rise, the flavour. I was hooked. Got rid of all my other biscuit recipes.
Of course, not one to leave well enough alone, I have made it many times, changing it up, both with the extra components, and the buttermilk itself. I don't know about you guys, but as much as I love baking with buttermilk, I'm always at a quandary about what to do with the other 3 cups left in the carton. Of course I can come up with more recipes, but often it is a matter of time management, room in the freezer for the extra baking that would use up the buttermilk, etc. Sure I could make pancakes etc, but suddenly the schedule changes and we're not home to enjoy a batch of pancakes. And next thing I know, the buttermilk has gone WAY past the expiry date, despite my best intentions. If only I liked just drinking it. How many of you actually drink buttermilk? Maybe I just haven't had good tasting buttermilk. All I know is, when I did try it, it was so sour, and not in a good way. Maybe my palate has matured, and I'd like it now? And yes, I know, I could make soured milk for baking, and I do this at times. But kefir is a game changer.
I do like kefir. And right now some of you are saying, But Jen, that is just as sour (nasty) as buttermilk any day. You may be right. But having made the decision to try it because of all the health benefits: probiotics galore (so so so necessary for everyone for good digestive health), protein, vitamins etc, I have learned to love it. I can put it in smoothies, drink it plain (I don't even want it sweetened) or bake with it. So a container of kefir actually gets used by me before the expiry date. And now I'm even making my own kefir. It's so much fun watching those 'grains' grow and get all thick in the glass jar, knowing that they are a living organism.
Before any of you question my desire to bake with kefir, because it kills off the probiotics, I realize this. Yes, the 'living' part of the kefir will not survive the heat of cooking or baking, just like using yogurt or kimchi etc won't either, in the cooking process. But there are still so many other nutrients that remain. So, I enjoy a glass or two of kefir each day, with all the probiotic goodness intact, and any extra goes into my baking without any qualms. I would not be able to say this regarding buttermilk.
These biscuits are a perfect thing to have in your recipe collection. Try it and then play with it. Try adding a bit of sugar, chopped mint, and dried currants for a sweet biscuit to serve with strawberries and cream (yay to Strawberry Shortcake season fast approaching!) Or add shredded cheese and some jalapeños for a great savoury biscuit on the side of soup etc. Bacon and herbs is always a go-to, since it's great as a breakfast biscuit.
Have a glorious, sunny day, and try adding kefir to your repertoire! For those of you who are new to kefir and would like to investigate further, I'm including the site and 'recipe' I use for mine. It will also give you an great overview of why kefir should ve a vital addition to everyone's diet. I use goat milk as it is easier to digest than cow's milk for me. Enjoy: Goat Milk Kefir.
Love Jen.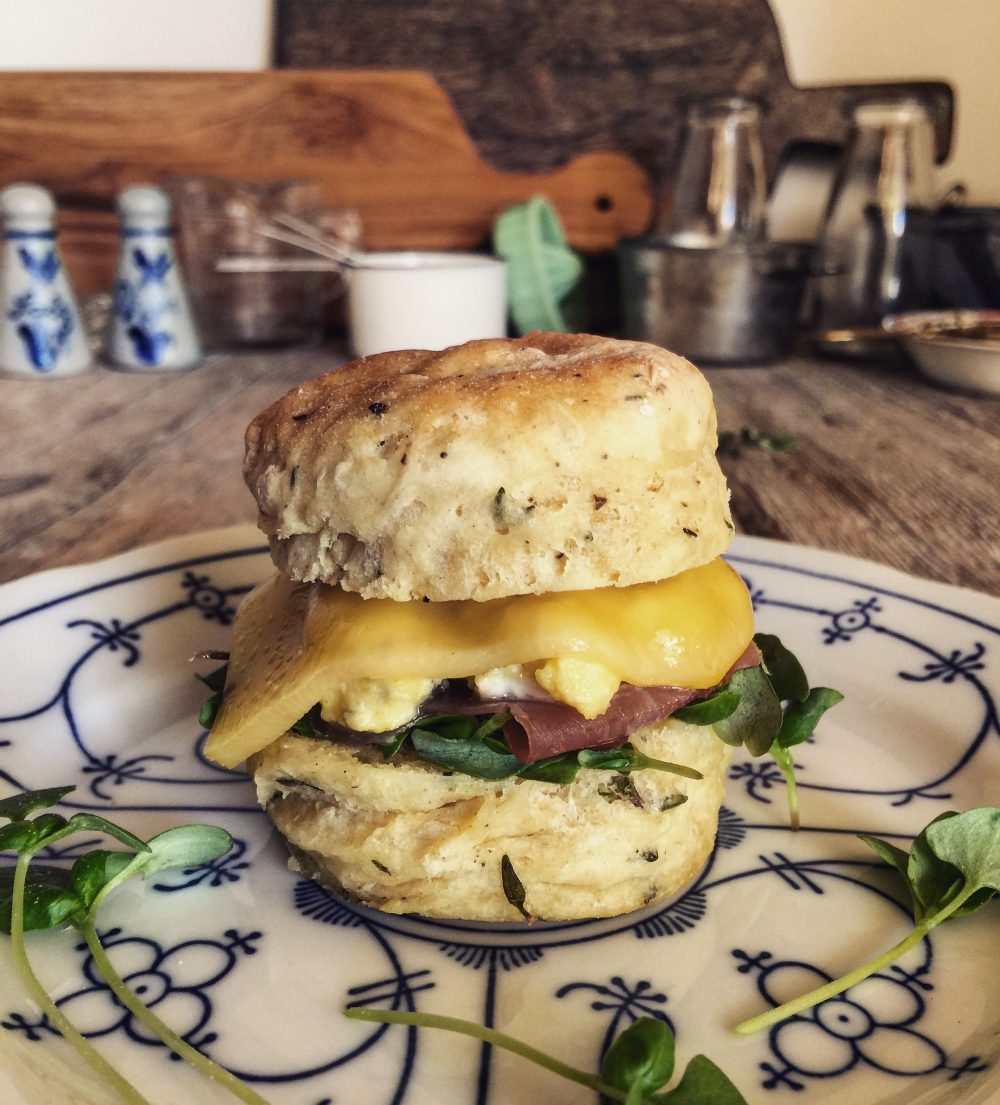 Herbed Kefir Biscuits
The most flakey biscuit you will ever meet! Perfect for breakfast, or just slathered with butter and jam and a cuppa tea.
Ingredients
2

cups

(250 g) unbleached AP flour

1

tbsp

baking powder

1

tsp

kosher salt

1/4

cup

(56 g;1/2 stick) frozen unsalted butter

1

cup

(230 g) kefir

scant cup

2

tbsp

chopped fresh herbs

I used thyme, parsley and chervil. You can also try tarragon, chives and rosemary or any combo!
Instructions
Heat oven to 425F

Whisk together the flour, baking powder and salt

Using the large holes on your grater, grate the butter into the flour mixture and mix lightly with your fingers until well distributed, and it looks like all the butter bits are covered with flour.

Add the chopped herbs you are using.

Pour in the kefir.

Stir just until all the dry bits are incorporated, no longer.

It should be sticky and shaggy, not wet. Sometimes humidity will affect this. You'll get used to your dough, and know when to add a splash extra liquid, or to flour your surface a bit more heavily. See next step.

Lightly flour the work surface and turn your dough out onto it. Lightly flour the top of your dough and use your hands to pat it out into a rectangle little over 1 inch thick.

Fold that rectangle towards you. Rotate the dough counter clockwise and roll it out gently using a rolling pin. Use a bouncing motions from the centre of the dough, careful not to crush the out edges and destroy the layers. It's important to roll very gently.

Repeat the folding and rolling two more times. Sometimes I add an extra fold if I'm feeling extra 'foldy'!

Roll the dough out to about an 1 1/4 inch (35 mm) thick. Using a floured biscuit cutter, cut your biscuits (be sure not to twist the cutter or it will seal the outer edges and they won't rise well) Gently gather and re-roll the dough until it is all used up.

Place the cut biscuits onto a parchment covered baking sheet, so that the biscuits are just touching (a slight kiss!) each other. This will ensure that they can help each other rise.

I don't brush them with anything, I like them simple. But you could easily wash them with either egg, or a bit of kefir for a glaze. Sprinkle them with salt and pepper if you want.

Bake for 10-15 minutes depending on the size of your biscuits, the weather, and your oven. They should be golden brown and fluffily cooked through.

Enjoy them warm with all manner of honey, sausage, jams, ham, and of course, grass fed butter.
Recipe Notes
This recipe is truly about the process. Don't skimp on the directions to roll and fold. And also the idea of placing them on the baking sheet so that they are just touching, a bare kiss, really does work!
Obviously you can make these with buttermilk.
if you want to make these a sweet biscuit (for strawberries and whipped cream) cut back on the salt and add 3 tbsp of sugar. Use mint or thyme as your herb of choice.
Adapted from Local Milk, Flakey and Fluffy Buttermilk Biscuits
SaveSave
SaveSave