Tomato Season is sheer brilliance. As a kid, my mom had all sorts of tomatoes growing out in the garden. It was rather funny to look out at them all, old panty hose tied around the stocks and wooden stakes to keep them from falling over.
There was nothing better that to see the first of the beefsteak tomatoes come into the kitchen, totally warm from the summer sun. But that warmth is what brought out the sweetness of the flesh inside. Oh my. I so looked forward to cutting thick slices, just to place one or two (a good beefsteak tomato was large enough that sometimes one slice covered the entire slice of bread!) on mayo covered toast. And then sprinkled with pepper. That was my breakfast.
For as long as those tomatoes kept showing up on the counter. And there were always a couple of tomatoes sitting on the window sill by the sink, to finish ripening. I would go over, turning them around to check how much longer I had to wait before I could nab one! If it wasn't tomato on toast, it was BLT's- the family favourite way of indulging in tomatoes!! 'Cuz, bacon, you know…
This dish is truly a summer treat. Not that we can't get tomatoes year round. But right now the tomatoes are coming into their own, their juicy, meaty goodness just beckoning us from all the veggie stands and markets. Local tomatoes rule!
The other day I came across the most perfect cherry tomatoes still on the vine, and knew that they had to come home with me. I wasn't quite sure what I would do with them, but I think I was taken by the visual impact of those perfect vines of yumminess. So I thought, keep them intact and roast them. Then I thought, why not add some shallots and garlic and roast all of them together to create some sort of sauce to go over pasta? So I did just that.
I peeled the shallots and garlic (left the skins on the garlic), but cut them in half to speed up the baking time) and put them in a bowl. I added enough oil to cover. Added a lovely spice and nut blend by Glory Kitchen called Umbria. It just seemed perfect, since the seasonings and nuts totally suit Italian and Mediterranean cooking. I poured all of this into a baking dish. And then I added the two vines gently on top. I drizzled some oil over the vines. And then gave everything a good sprinkling of salt and pepper. Final addition: Chestnut Honey. Oh, how honey brings out the intensity of the tomatoes, and adds a lovely layer of depth to all the other ingredients.
While they were all roasting away, I prepared my pasta. I used a fancy one that I had picked up in Chicago, all ridged like old fashioned lasagna noodles, but narrower. Kinda like uber wide fettucini noodles! And super duper long!! I actually had to break them in half to get them to boil properly.
The fun came when serving this dish. I also added some soft Macedonian feta in little clumps over the pasta, to melt beautifully with the hot oil and heat from the noodles. Jim got a vine, and I got a vine. And all the rest of the veggies in the pan, spooned over our pasta. As we'd cut the tomatoes off the vine with our forks and knives, they would break up and their juices joined the flavoured oil and shallots. This 'sauce' flavoured all the pasta perfectly and the contrast of the sweetness of the tomatoes, the seasoned olive oil, and the slight saltiness of the cheese made for a perfect meal.
I know I'm extolling the virtues of summertime tomatoes. But what's great about this dish is that it is truly a year round dish. Little vine tomatoes are available all year round these days. As are all of the other ingredients. So when you have a craving for the brightness of Summer in say February, you can recreate that lovely sensation!
I'm not going to lie, be careful when cutting the tomatoes off the vines. Wear a bib!! Or please use a pair of scissors to trim them off the vine. If not, you may get projectile tomato juice hurtling through the air and targeting your favourite t-shirt!
Love Jen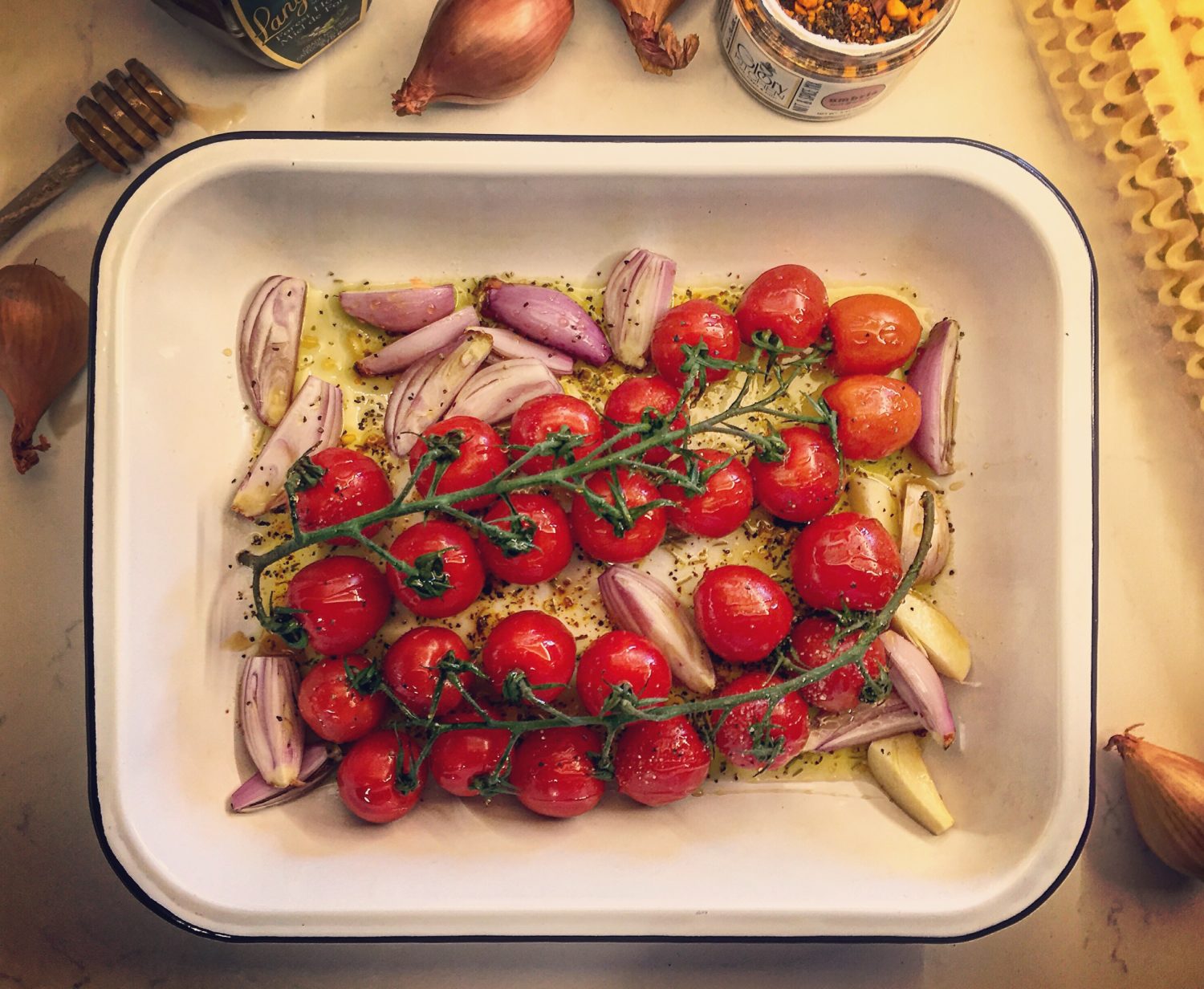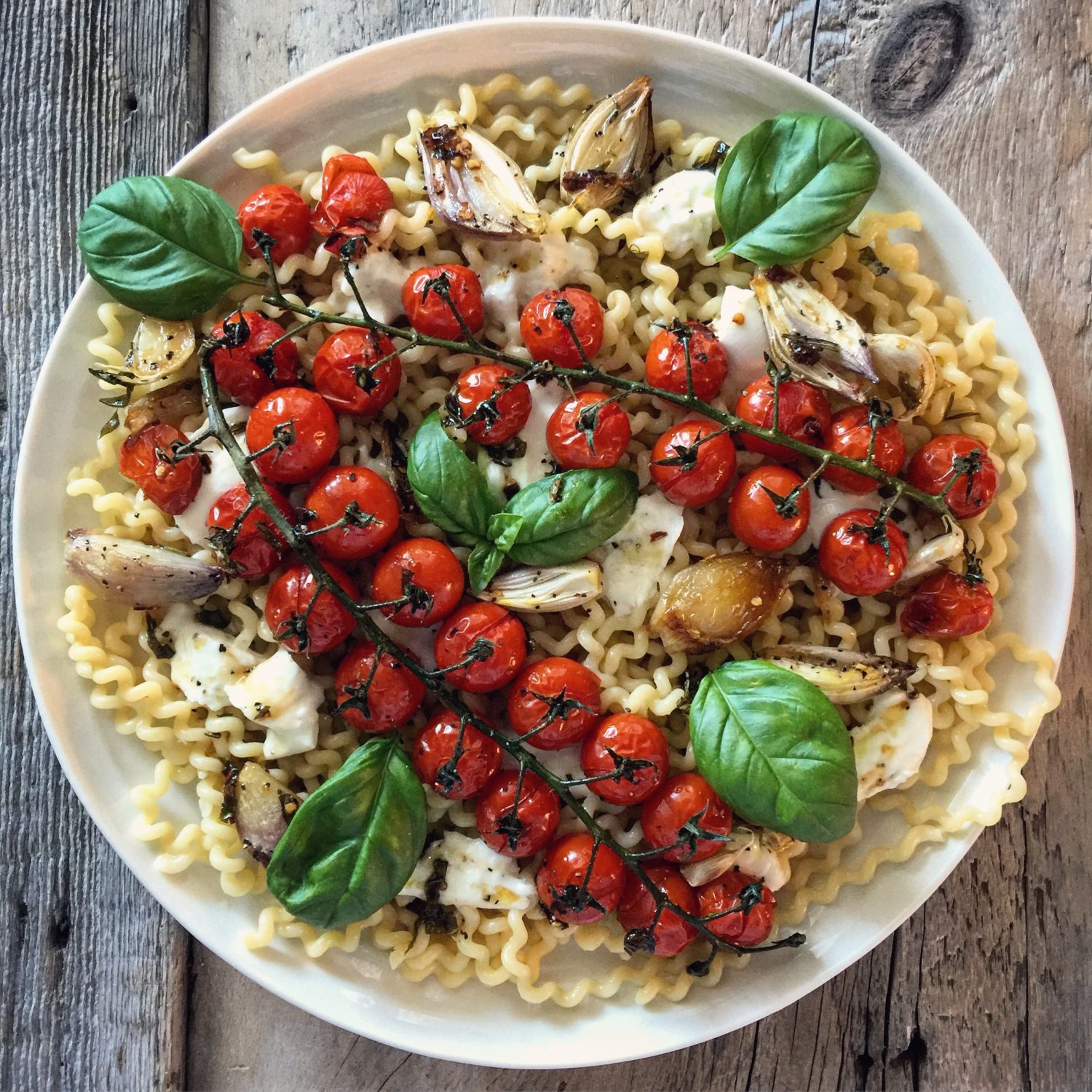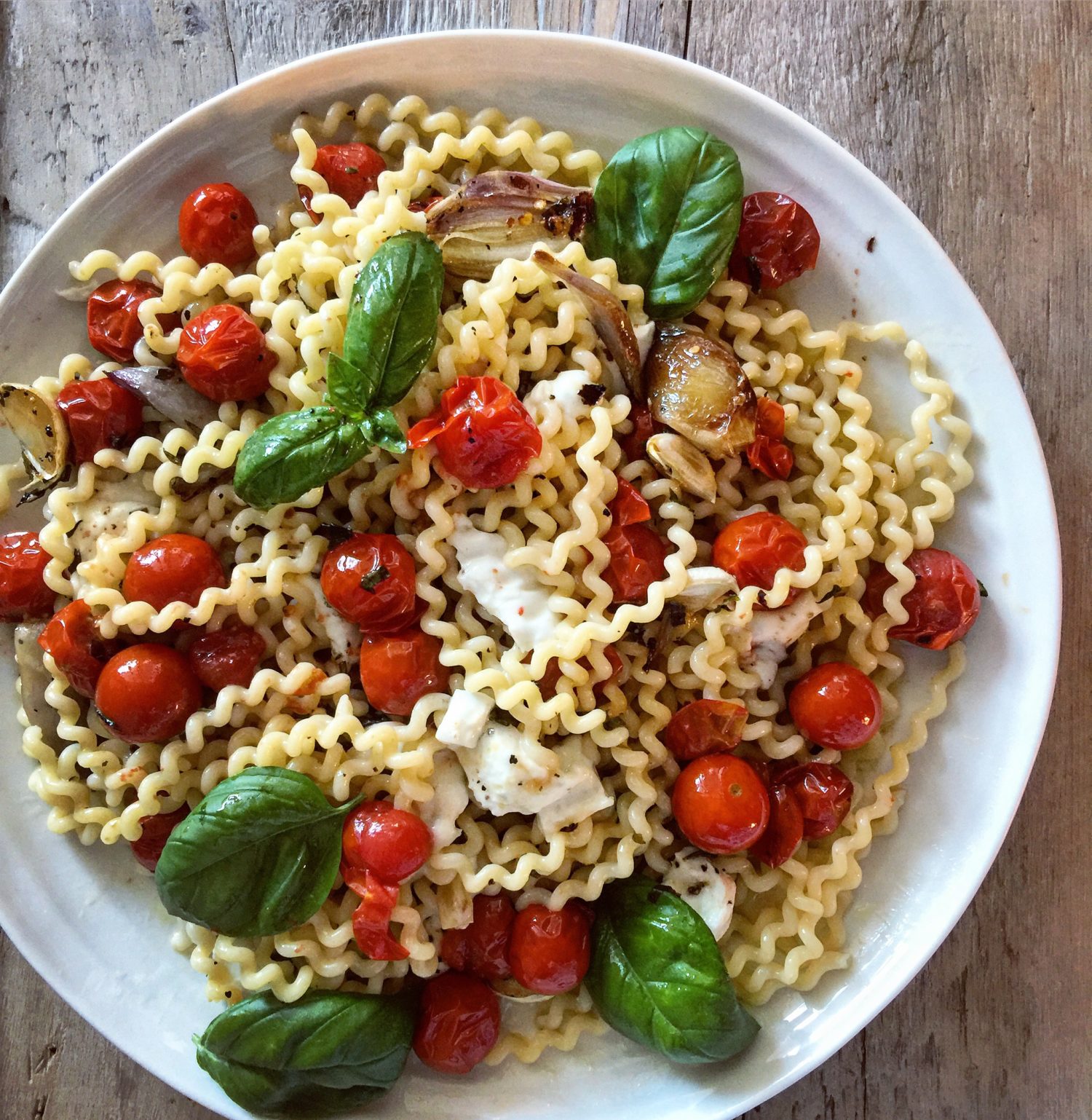 Honey Roasted Cherry Tomato Pasta
A summer delight of a pasta dish. Sweet juicy roasted tomatoes, shallots and flavour infused olive oil make the perfect 'sauce' over your favourite pasta.
Ingredients
3-4

cherry tomato vines

alternately you can use a pint of cherry tomatoes, about 5-8 per person, depending on the size of tomato

8

large shallots

peeled and halved

8

medium garlic cloves

halved, skinned

1/4

cup

or so of good olive oil

1

tsp

hot chilli flakes

or aleppo pepper

2

tsp

dried basil

or 2 tsp finely chopped fresh

1

tsp

crushed dried rosemary

or 2 tsp finely chopped fresh

1/2

tsp each

kosher salt and cracked black pepper

2 or more

tbsp

wildflower or clover honey

for drizzling (depending on how sweet you like things!

pasta for 4

1/2 lb uncooked

1/2-3/4

cup

soft feta, soft goat cheese, ricotta or fiore de latte

, or 300 grams

1

small handful of fresh basil for garnish

loosely chopped
Instructions
Preheat oven to 350F

In a baking pan (not too big, but large enough so that you can spread out the vines) toss the shallots, garlic, olive oil, chilli flakes, and basil and rosemary.

On top of these lay out your tomato vines (or loose tomatoes) Season with some salt and pepper. Drizzle some more olive oil over the tomatoes.

Drizzle honey over all of the above.

Roast until the tomatoes are starting to burst but are still intact. There may be a slight browning to the skin. The shallots and garlic should be softened. The garlic skin may have started to burn, but the garlic inside will be fine. Check after 15 minutes, but it may take 20 minutes or a tad longer. That's alright, the kitchen will smell amazing!

While the veggies are roasting, prepare and drain your pasta as per the pasta instructions.

Spread out your pasta (either on individual plates, or onto a platter)

Crumble the cheese over the pasta.

Spread the shallots and garlic evenly over the pasta. Take your vines and lay gently onto the pasta. Pour all the olive oil and seasonings over everything so that the pasta is also coated with some.

Serve.
Recipe Notes
This looks impressive. But be careful if serving the tomatoes on the vine. In the process of removing them to eat, they can burst, and splash!!
Maybe have a pair of scissors handy to trim each of the tomatoes off and place on the plates.
I've given options for the cheese. Just ensure that it is a soft cheese that will gently melt with the heat from the pasta and the olive oil. It's this creaminess that really makes the dish!
I have outlined some of the spices that are found in the Umbria Nut and Spice Mix from Glory Kitchen. If you can find this (go online and you'll have fun shopping for all sorts of blends) use 1tbsp spoon of this instead of the seasonings I outlined in the ingredients.
SaveSave
SaveSave
SaveSave
SaveSave
SaveSave
SaveSave
SaveSave