Hard to believe, but it wasn't awfully long ago when most of us had no idea what hummus was.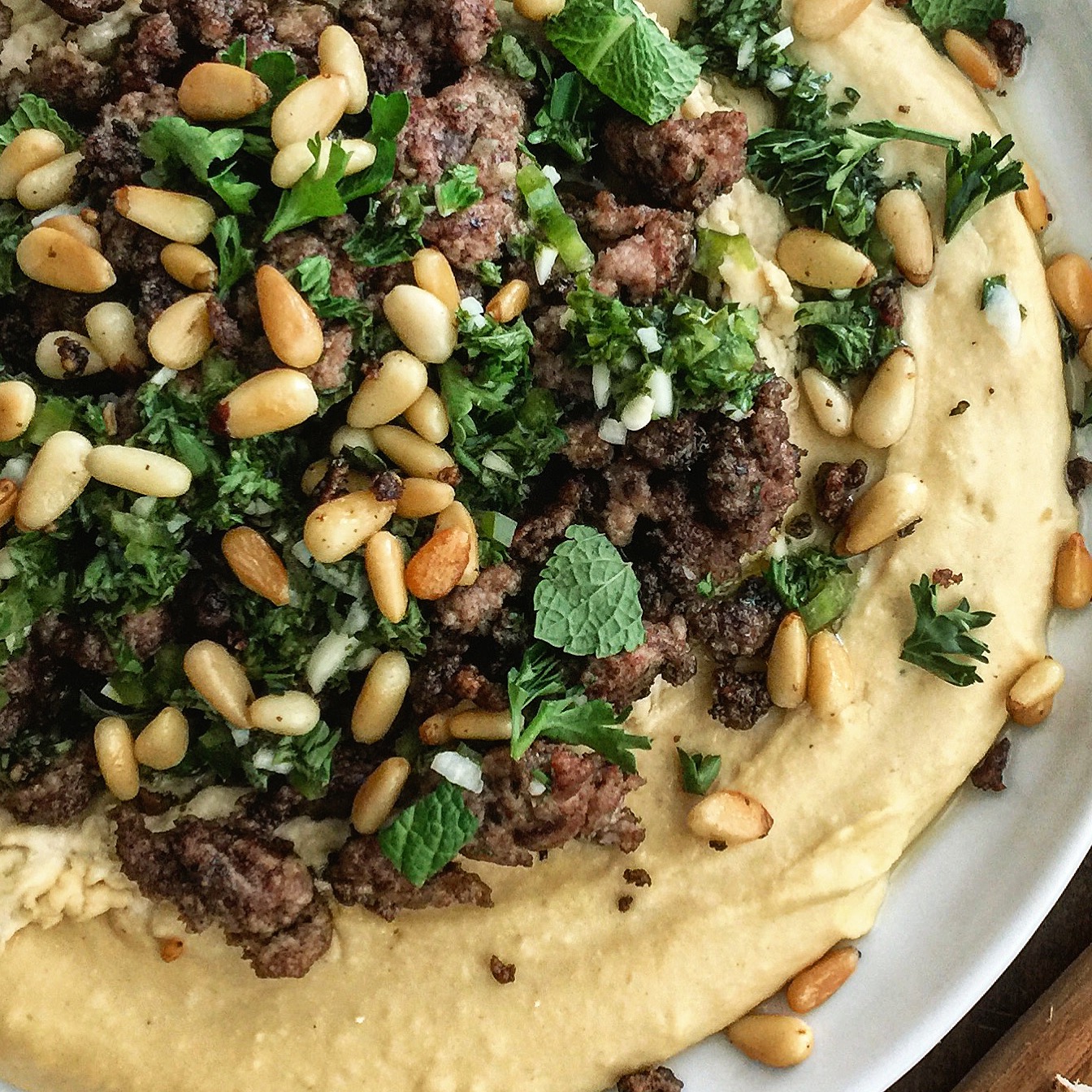 I mean, it was only back in the early 90's that hummus was starting to become visible here in North America. Hummus became what guacamole was in the 80's. Now it was starting to become mainstream. This fabulous chickpea and tahini dip laced with garlic and lemon suddenly became trendy, even the healthy alternative to so many other dips. These days hummus is being made out of everything, and it is virtually every colour of the rainbow.
I remember clearly watching a friend of mine make it at home for the first time. It was 1995, and I had still never made hummus at home. Being from Cyprus, this dip was a natural for her to whip up- all that lemon and garlic! She made it look so easy. I tried to replicate what I remembered her doing. I always seemed to get close, but I was never satisfied. Through the years I have tasted some meh hummus, at restaurants, from the grocery store, or made in-house. Either too thick, too bland, too garlicky, always leaving me wanting. But I had resigned myself to this.
That is, until I discovered this recipe. My sister had gifted me Jerusalem by Yotam Ottolenghi and Sami Tamimi. As most of you who keep me company on this blog know, I adore this book. It has opened my eyes and skills to new flavour combos and techniques. The recipes always turn out, and are both healthy and uberly tasty. So, I knew that if I tried this hummus recipe, I would surely be happy.
Was I ever! The smoothest, creamiest texture ever. The perfect ratio of lemon to garlic. And a method I had never heard of before. Obviously in my Canadian attempt to recreate hummus from scratch, I had always resorted to canned chickpeas. Didn't everyone? Duh. Apparently not. For the first time, making hummus from scratch took on a whole new meaning. Dried chickpeas, soaked overnight and then cooked in water with baking soda is what Yotam and Sami said I had to do. So I did. This is the game changer. Adding the baking soda to the soaked chickpeas and stirring them together in the hot pot before adding the water does something fantastic to the chickpeas. The skins separate easily, and the chickpeas become so very tender while cooking away in the water. It also means that instead of having to cook the chickpeas for an hour or so, the cooking time is vastly reduced. And the final result will be a super smooth and creamy texture. And I really think that this is the key to this fabulous hummus. I can never go back. I will never go back.
How do you top Jerusalem's Hummus? You make Jerusalem's Hummus Kawarma. A few pages after the basic hummus recipe can be found the recipe for Hummus Kawarma (Lamb). Sautéed chopped lamb which has been spiced with the likes of cinnamon, allspice, white pepper, nutmeg, za'atar, mint, parsley and vinegar is spooned over the creamy hummus. Then a lemon sauce of parsley, green chili, lemon, vinegar and garlic is drizzled over top the lamb. Add some toasted pine nuts, and call it a day.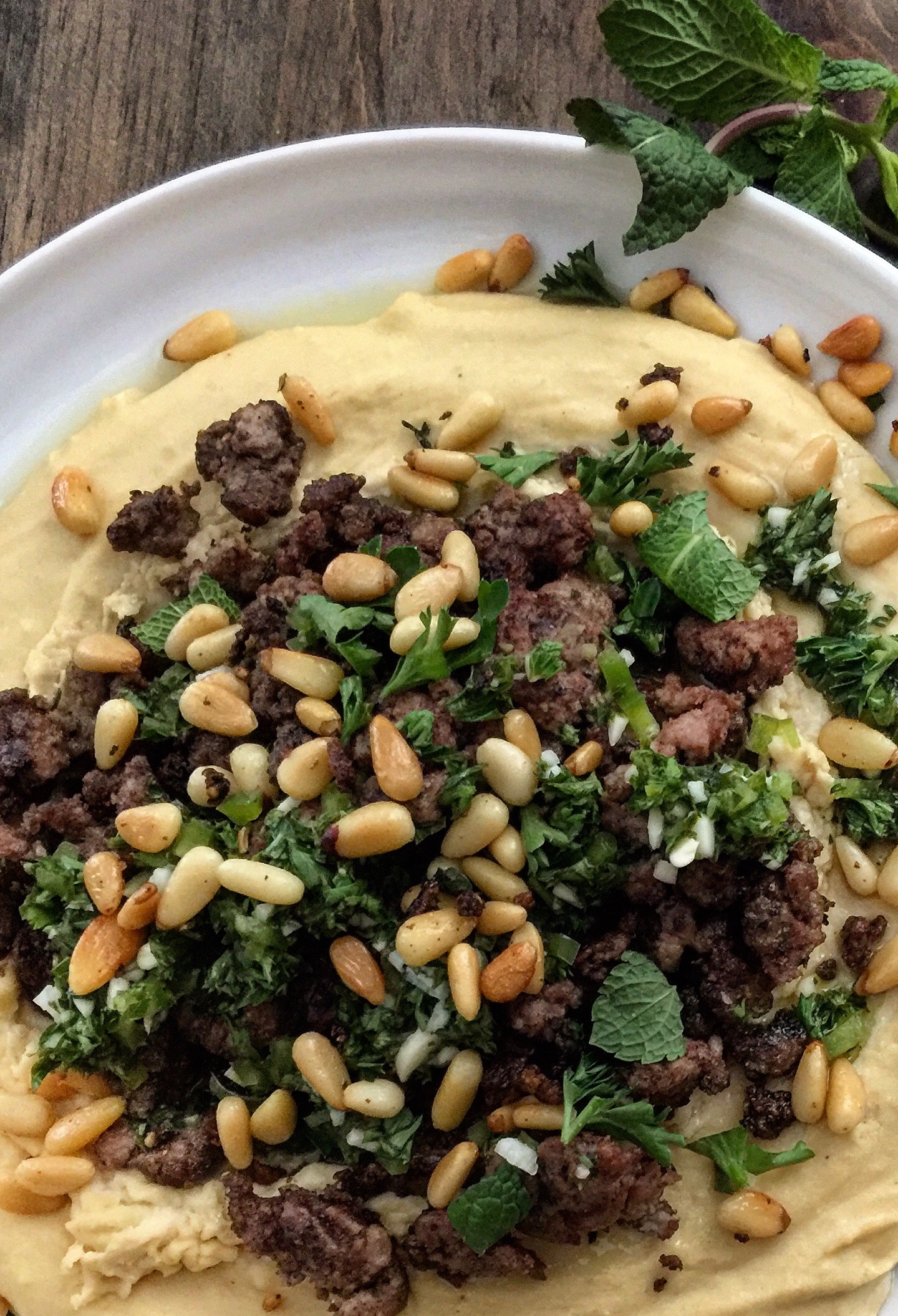 I have served this as first course for dinner parties, and it gets inhaled. I have made this for dinner for just the two of us, and it gets inhaled. Add a salad on the side (Ottolenghi and Tamimi suggest fattoush, so I will share my Fattoush recipe link as well) and it is an amazing meal for any occasion. You could totally skip the lamb and replace it with some toasted chickpeas and the lemon sauce etc, and it becomes a wonderful vegetarian dish.
I know that beet, carrot, red pepper etc hummus is all the rage. But I contend that a good classic hummus recipe is where it all starts. And this is it. I have had so many ask me for the recipe I use, so I knew I had to share it here. But all credit goes to Yotam and Sami. Thanks Yotam and Sami!
*I'm including this recipe in the Pantry section of the Blog, because I think every kitchen needs the perfect hummus recipe. I'm also including this in the Vegetarian section of the Recipe Index, because if you leave out the lamb and just serve it with some of the whole spiced roasted chickpeas and the lemon sauce (as Jerusalem's recipe suggests) it is a lovely vegetarian dish.
Love Jen.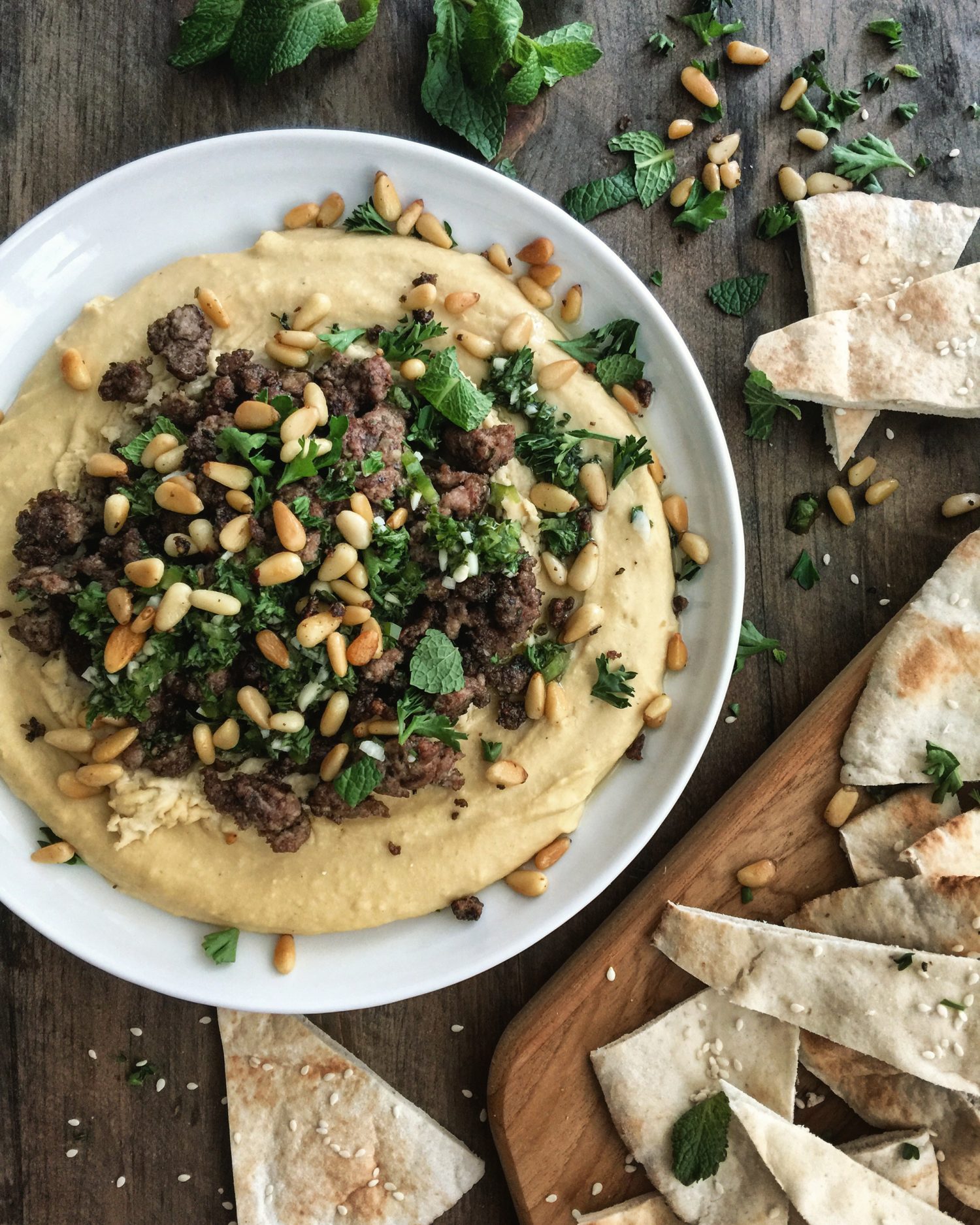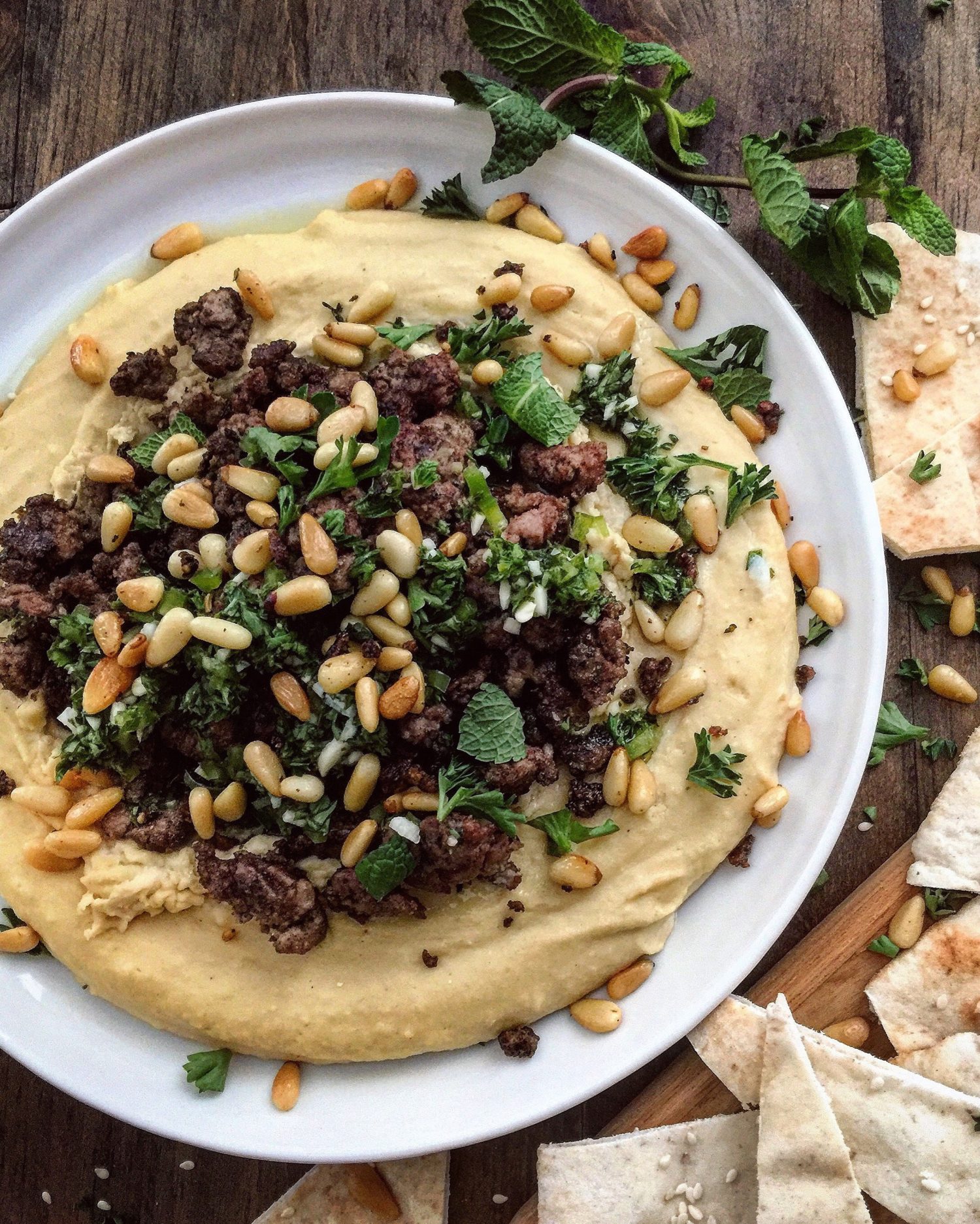 Hummus Kawarma
Fresh creamy hummus topped with fried spiced, aromatic lamb and a wonderful garlicky lemon and parsley sauce. Perfect as a first course, or even as a main meal with a side salad like Fattoush.
Total Time
1
hour
10
minutes
Ingredients
Hummus
1 1/4

cups

dried chickpeas

1

teaspoon

baking soda

6 1/2

cups

water

1

cup

plus 2 tablespoons tahini

(light roast)

4

tablespoons

freshly squeezed lemon juice

4

cloves

garlic

, crushed

6 1/2

tablespoons

ice cold water

Salt

Good quality olive oil

, to serve (optional)
Hummus Kawarma
1

quantity of Basic hummus

(see page 114), reserving 4 tablespoons of the cooked chickpeas to garnish
Kawarma:
300

g

neck fillet of lamb

, finely chopped by hand

1/4

tsp

ground black pepper

1/4

tsp

ground white pepper

1

tsp

ground allspice

1/2

tsp

ground cinnamon

good pinch of freshly grated nutmeg

1

tsp

crushed dried za'atar or oregano leaves

1

tbsp

white wine vinegar

1

tbsp

chopped fresh mint

1

tbsp

chopped flat-leaf parsley

, plus extra to garnish

1

tsp

salt

1

tbsp

unsalted butter or ghee

1

tsp

olive oil
Lemon sauce:
10

g

flat-leaf parsley

, finely chopped

1

green chilli

, finely chopped

4

tbsp

lemon juice

2

tbsp

white wine vinegar

2

garlic cloves

, crushed

1/4

tsp

salt

2

tbsp

pine nuts

, toasted in the oven or fried in a little unsalted butter
Instructions
Hummus
The night before, put the chickpeas in a large bowl and cover them with cold water at least twice their volume. Leave to soak overnight.

The next day, drain the chickpeas. Place a medium saucepan over high heat and add the drained chickpeas and baking soda. Cook for about three minutes, stirring constantly

Add the water and bring to a boil. Cook, skimming off any foam and any skins that float to the surface.

The chickpeas will need to cook for 20 to 40 minutes, depending on the type and freshness, sometimes even longer. Once done, they should be very tender, breaking up easily when pressed between your thumb and finger, almost but not quite mushy.

Drain the chickpeas. You should have roughly 3 2/3 cups now. Place the chickpeas in a food processor and process until you get a stiff paste.

Then, with the machine sill running, add the tahini paste, lemon juice, garlic, and 1 1/2 teaspoons salt.

Finally, slowly drizzle in the ice water and allow it to mix for about five minutes, until you get a very smooth and creamy paste.

Transfer the hummus to a bowl, cover the surface with plastic wrap, and let it rest for at least 30 minutes. If not using straightaway, refrigerate until needed.

Make sure to take it out of the fridge at least 30 minutes before serving.

Optionally, to serve, top with a layer of good quality olive oil.

This hummus will keep in the refrigerator for up to three days.
Kawarma
To make the kawarma, place all the ingredients apart from he butter or ghee and oil in a medium bowl. Mix well, cover, and allow the mixture to marinate int eh fridge for 30 minutes.

Just before you are ready to cook the meat, place all the ingredients for the lemon sauce in a small bowl and stir well.

Heat the butter or ghee and the love oil in a large frying pan over medium-high heat. Add the meat in two or three batches and stir as you fry each batch until cooked through. For chopped lamb pieces, you want to have it all little pink in the middle, which means it should take about 2 to 3 minutes to cook. You are also looking for a good sear on the outside, so adjust the heat to get the sear without overcooking the meat. This would mean a touch higher, so that the outside gets browned before the inside is overdone.

Dive the hummus among 6 individual shallow bowls, leaving a slight hollow in the centre of each.

Spoon the warm kawarma into the hollow and scatter with eh reserved chickpeas. Drizzle generously with the lemon sauce and garnish with some parsley and the pine nuts.
Recipe Notes
I have cut the recipe in half for a meal for just the two of us. I have used ground lamb and it works quite well. If you have made the hummus in advance, and don't have the reserved chickpeas for the final kawarma dish, it's not the end of the world.
Recipe by Yotam Ottolenghi and Sami Tamimi, in the book Jerusalem.
SaveSave
SaveSave