Despite the weatherman, the season is changing from Summer to Autumn. Here in Toronto, someone broke the weather.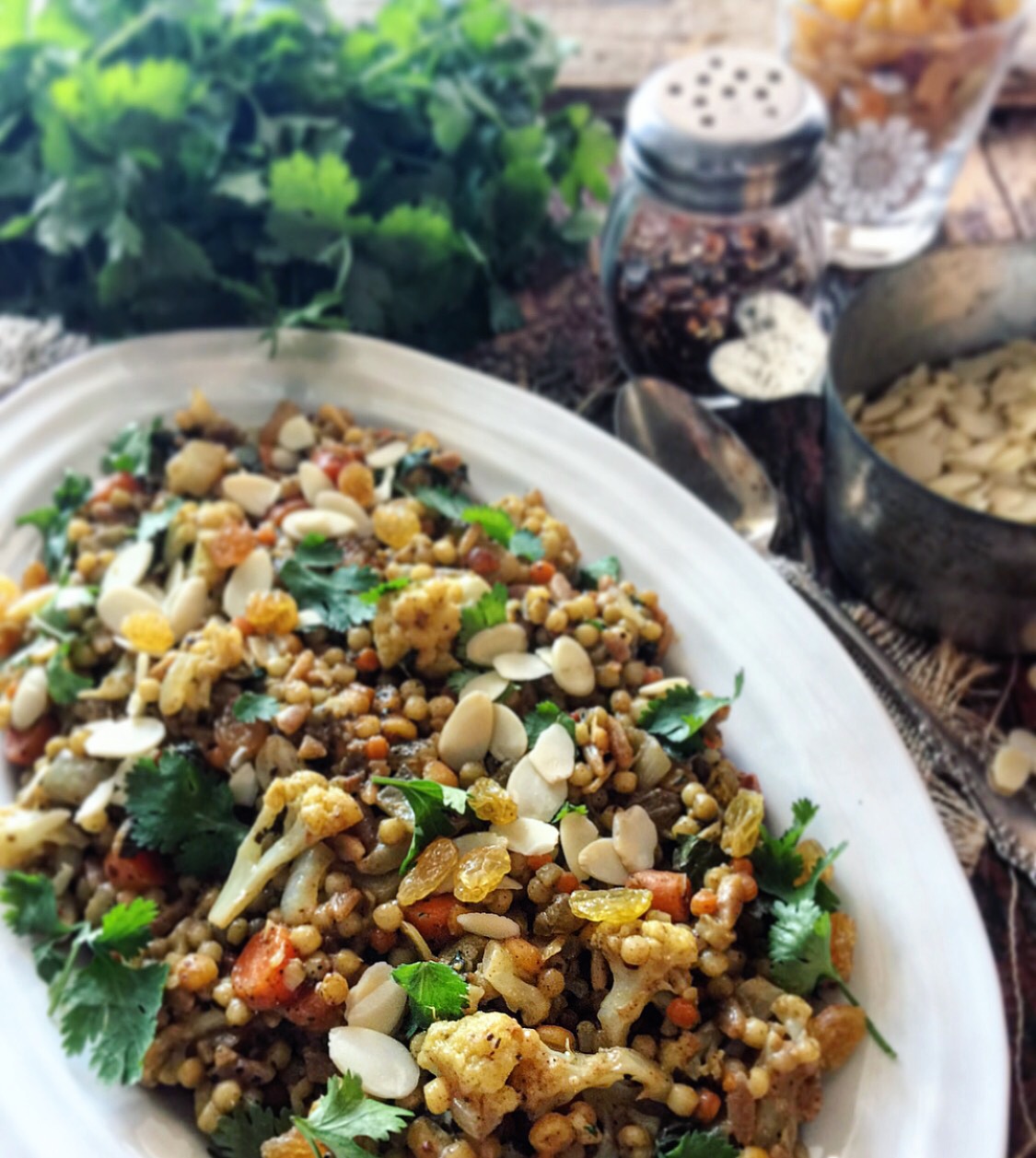 But even though we are still experiencing full on Summer temperatures, the calendar reminds us that October is just a few days away. So getting a jump on cozy, comfort food meals is the only practical thing to do. We all crave those homey, comforting dishes that are a joy to whip up, and make the most of all the Autumn produce hitting the stands now. The gourds, squashes, cauliflower, root veggies. It takes a bit more cooking to bring these veggies to their best, and the cooler temperatures just encourage heating up the oven and getting all cozy.
This dish is the perfect vehicle for all those veggies. Don't you find that roasting off veggies before turning them into soups etc brings out even more flavours?! That wonderful thing that happens when the right temperature causes the outsides to get all caramelized and crisp, while the insides become almost creamy and velvety. It doesn't get any better than that. And for some reason, I really don't crave these textures in the warmer months. They seem to suit the leaves of gold, scarlet and russet, the cool, brisk mornings, the cry of the geese as they fly overhead on their journey south… you know what I mean.
This has all the flavours of Morocco in it, and will totally perfume your kitchen. When I first made this dish, I made it with regular Moroccan couscous. The kind that comes together is five minutes with boiling stock added to it. But then I started using Israeli or Pearl couscous. Yes, this is actually a form of pasta, so it does add a different texture to the dish. It does make it more carby, more substantial. But it's cold out, we need something to stick to our ribs and insulate us, right?! Just justifying a little carb love there, hehe.
But, because it is a pasta, it cooks up like one as well. So it comes together easily as well. And while the pasta is cooking, the veggies are in the oven, all cubed and getting that gorgeous crust on them. Then it is really just a matter of combining the veggies with the couscous, along with all the aromatics: the onions, garlic, parsley, mint etc. And then finally, the garnishes of almonds or pistachios (or both!!) sultanas etc. These are what give the recipe it's name: those golden sultanas or chopped dried apricots of amber, the slivers of green pistachios of peridot, the gleaming white of the almonds are the opals, and the bright green leaves of the parsley and mint (the emeralds) make for a final dish full of bright colours. Go a step further, and add pomegranate seeds and you've just added rubies!
You can totally serve this as a side dish to a wonderful braised lamb shank, or even a chicken tagine. I first showed how to serve it with my Harissa Cornish Game Hens. But if you add enough veggies, and perhaps up the proteins (the nuts, or even some chick peas) this could easily be a full meal. Add a side salad of simple bitter greens in a lemon vinaigrette, and you're all set. You won't even miss the meat.
If you want to keep this dish entirely vegetarian, you can switch out the chicken broth for vegetable broth. Or you can dip into your stash of Faux Chicken Bouillon Powder that you whipped up the other week. You haven't made it yet? Oh dear, fix that! You'll love how versatile it is. It's in the Pantry section of the blog. Or just click on the link in the name in the sentence above!
So, yes, Autumn is around the corner, and now you have one more easy peasy meal to whip up for this wonderful time of year.
Love Jen.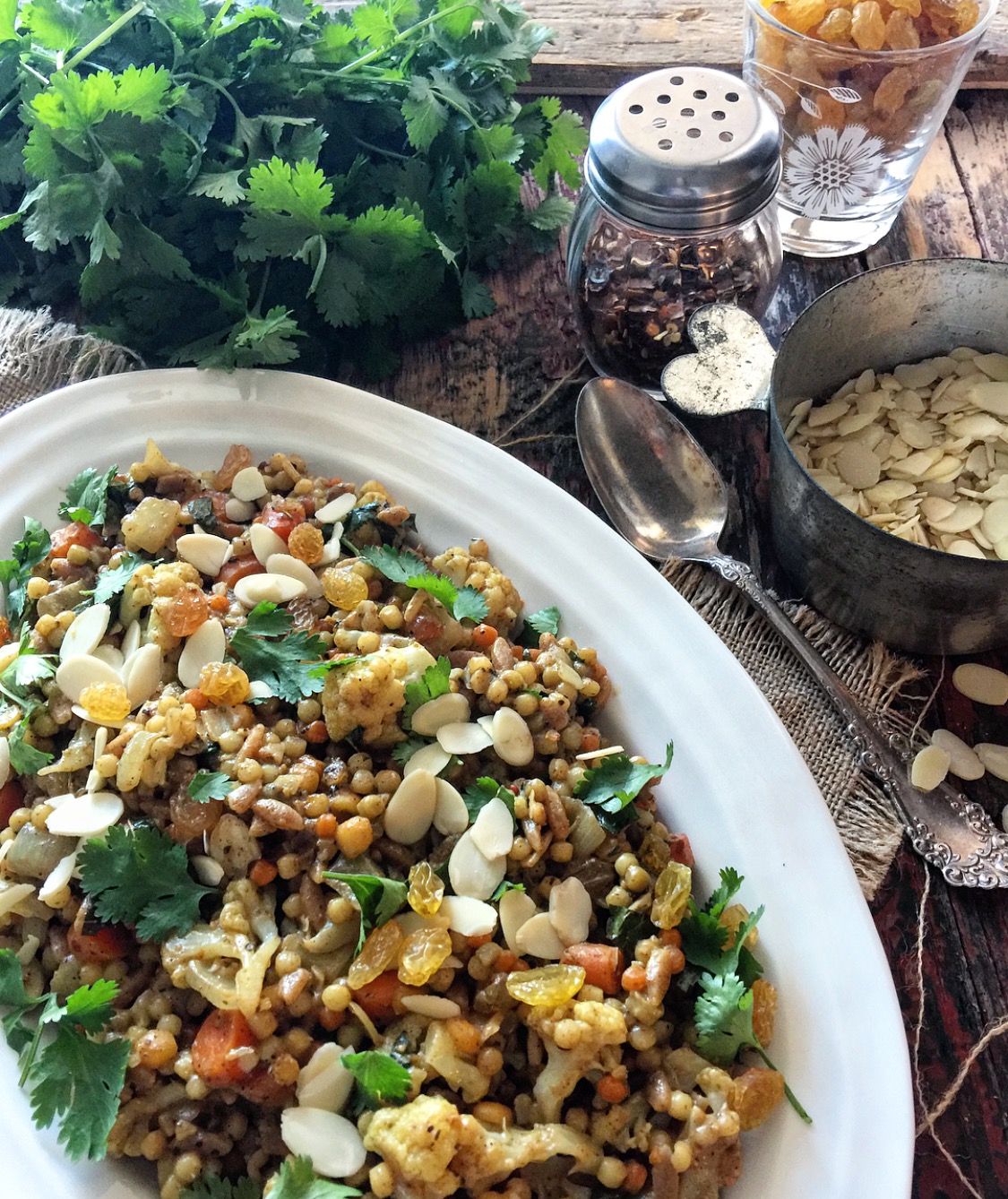 Jewelled Israeli Couscous
A wonderful, aromatic and exotic dish that can be a main meal or a side dish. Perfect with braised lamb shanks, or chicken tagine.
Ingredients
3/4

cup

patty pan squash

, quartered (or butternut squash, cut into 3/4 inch cubes)

3/4

cup

carrots

, cut into 1 inch rounds

1

cup

cauliflower florets

1-1 1/2

tbsp

olive oil

1

tsp

each salt and pepper

1/2-1

tsp

harissa powder

, depending on how much heat you like

2

tbsp

olive oil

1

small yellow onion

, coarsely chopped

2

cloves

garlic

, minced

1 1/2

tsp

ras el hangout

1

tsp

cracked black pepper

1/2

tsp

kosher salt

1/2

tsp

ground cinnamon

1

tsp

hot chili flakes

(optional)

1

cup

pearl or Israeli couscous

1 1/2

cups

chicken or vegetable broth

, plus more if needed

1/2

cup

sliced dried apricots

, or golden sultanas, or both!

1/4-1/3

cup

sliced almonds

, or pistachios, or both!

3

tbsp

chopped mint

3

tbsp

chopped parsley
Instructions
Preheat the oven to 400F.

Lay out the squash, carrots and cauliflower on a baking sheet. Drizzle with olive oil, and the salt and pepper. Toss to coat evenly. Sprinkle with 1/2 tsp harissa powder.

Bake until just tender and crisping up. About 15 minutes. If the cauliflower is ready before the root veggies, remove it to a bowl and let the rest continue roasting.

Heat the olive oil in 2 quart saucepan over medium heat. Add the onion and saute for 3 minutes or so, until turning translucent. Add the garlic and stir for another minute. Add the ras el hanout, cinnamon, the salt and pepper, and hot chili flakes if using, and stir to coat.

Add couscous and sauté, stirring constantly, until well coated and aromatic, about 30-45 seconds.

Add the broth and bring to a boil. Cover and reduce heat to medium-low and simmer until just tender, about 10-12 minutes. Let sit covered for 2-3 minutes. Then fluff with a fork.

Re-season with salt and pepper if desired.

Add the roasted veggies. Reserving a bit from each, add the apricots, sliced almonds mint and parsley. Toss it all gently. Place onto a serving plate or bowl.

Sprinkle the remaining apricots or sultanas, almonds or pistachios, mint and parsley on top for a garnish. Serve.
Recipe Notes
Feel free to swap out the veggies in the couscous. If you only have carrots and cauliflower, go for it. If you want to add zucchini, add cubes of it to the onions and garlic and crisp it up before adding the couscous. Roasted pumpkin would also work great.
SaveSave
SaveSave
SaveSave
SaveSave