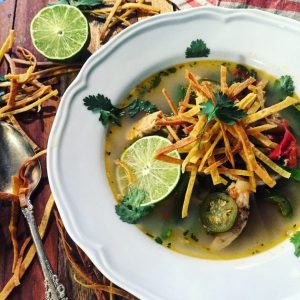 We went to Cancun for our honeymoon. On October 12th it will have been 20 years of joyous, humorous wedded bliss. When I say that Jim was a tad more conservative with his culinary choices when we were dating, I am being kind. He knew what he liked, and didn't venture beyond that fence. Marrying into our family was going to be a challenge for the poor guy. Sautéed chicken livers, head cheese (if I wrote out the German word for it you would just stare and wonder what it was. Head cheese involves neither the head nor cheese so I have no idea why its called this in English?!) mushrooms on toast, oily fish, steak tartare, etc. I had already gotten a sampling of his pickiness as I cooked for him while we were dating.
So on our honeymoon, we went out for dinner in a fancy restaurant one evening. I can still see it clearly in my mind's eye. Traditional decor, the thick chunky blue rimmed glassware, the colourful fabrics, the music being tastefully played in the background by a great guitarist. And we both ordered this soup. A very light, refreshing soup. With a kick. Jim loves a kick (just not in the pants!) And the crunchiest tortilla strips floating on top. He looked at me and said, "Okay, this is my new favourite soup. Can you make it?" I figured, how hard can it be? So I ate the rest of the soup WAY more slowly to see if I could determine what each component was.
Back home, I made the soup one evening. I watched expectantly as Jim lifted the spoon to his mouth. After the first mouthful he said, Yep, this is my new favourite soup.
So, do I make it as often as I should? According to Jim, No. But then every time I do make it, I remember how easy it is, how fresh and light it is, and how wonderful it is for the warmer months. It's made from ingredients you most likely already have in the kitchen. When good quality organic chicken, like Blue Goose Pure Foods, goes on sale, I stock up, divide the breasts into one per freezer bag, and then I can just grab one as I need it. Add a side salad, and you have a healthy, flavour packed meal, with no guilt. Fine, the fried tortilla chips. But come on, I'm not asking you to fry up like 10 or something!!
This soup is made in two stages. Okay, three if you count frying up the tortilla strips. But each step is pretty quick. It's all about the plating in the end. It is such a joy to pull together, and would be awesome for company, since you can make the broth and strips ahead of time. Enjoy the summer as it approaches, and this soup as it totally evokes summer time!
And I'm happy to report, Jim's palate has become much more adventurous. I basically broke his spirit! Sweet dear. But he is much more willing to try new dishes, embrace foreign and exotic flavours, and to seek out how the locals eat when we travel.
Lime Soup with Chicken and Tortilla Strips, aka Honeymoon Soup
A light, fresh Mexican soup with a crispy garnish. Perfect for the warmer months.
Ingredients
1

cup

plus 2 tbsp olive oil

3

small

corn tortillas

sliced into thin strips

6

cups

chicken stock

Use organic if possible. Or hopefully you have made your own, or you can check out my New You Bone Broth!

1/2

tsp

ground coriander

1/2

tsp

ground cumin

2

tbsp

fresh cilantro

chopped

1

tbsp

fresh oregano

chopped

1

tsp

apple cider vinegar

2

tbsp

fresh lime juice

1

large

(or two small) skinless, boneless chicken breast

sliced thinly for quick sautéing, preferably organic

1

medium

onion

top and tail removed and then sliced thinly from end to end

2

garlic cloves

minced

1

large

(or two medium) heirloom or beefsteak tomato

seeded and sliced thinly

1

large

(or two medium) green pepper

seeded and sliced thinly

chilli powder (or cayenne)

to taste

kosher salt and cracked black pepper

lime wedges and fresh chopped cilantro

for garnishing

pickled or fresh, sliced jalapeno pepper

for garnishing
Instructions
TORTILLA STRIPS (CAN BE MADE IN ADVANCE)

Heat the 1 cup of olive oil in a skillet with tall sides (or wok) over medium heat.

Working in batches, fry up the tortilla strips until golden (around 2 minutes) Transfer with a slotted spoon to paper towel lined plate.

When completed, cool and drain out the oil into a container for disposal. Save the skillet even if there is a residue of oil (as long as there are no burnt bits)

LIME BROTH

Add the stock, the coriander and cumin to a medium stock pot. Bring to a boil. Then reduce and simmer for 10 minutes.

Add the fresh cilantro and oregano. Simmer for another 5 minutes.

Add the apple cider vinegar and lime juice. Season with salt and pepper.

FOR THE FILLING

Heat the remaining two tbsp of olive oil in the reserved skillet over medium high heat.

Take your chicken pieces and sprinkle salt and pepper over all of the slices. Add to the oil and sauté for 3 minutes, stirring after the first minutes to brown all sides. Sprinkle with a dash or two of chili powder (to taste)

Add the onions and garlic and sauté for 1 minute.

Add the bell pepper and sauté for 2 minutes.

Add the tomato and sauté for 1 minute.

TO SERVE

Divide the chicken and veggie mix between 6 serving bowls. Ladle the broth over this. Garnish with a handful of the tortilla chips, fresh cilantro, and jalapeño if using.

Add a lime wedge for additional squeeze of juice.
Recipe Notes
I say that this recipe serves 6. It does. If you only want one bowl each! This could easily serve 4 hungry people as well. Gauge accordingly.
Add more heat if you would like. But you don't want heat to be the predominant feature. It really is about the lime.