We love eating salad. We just don't like making salad.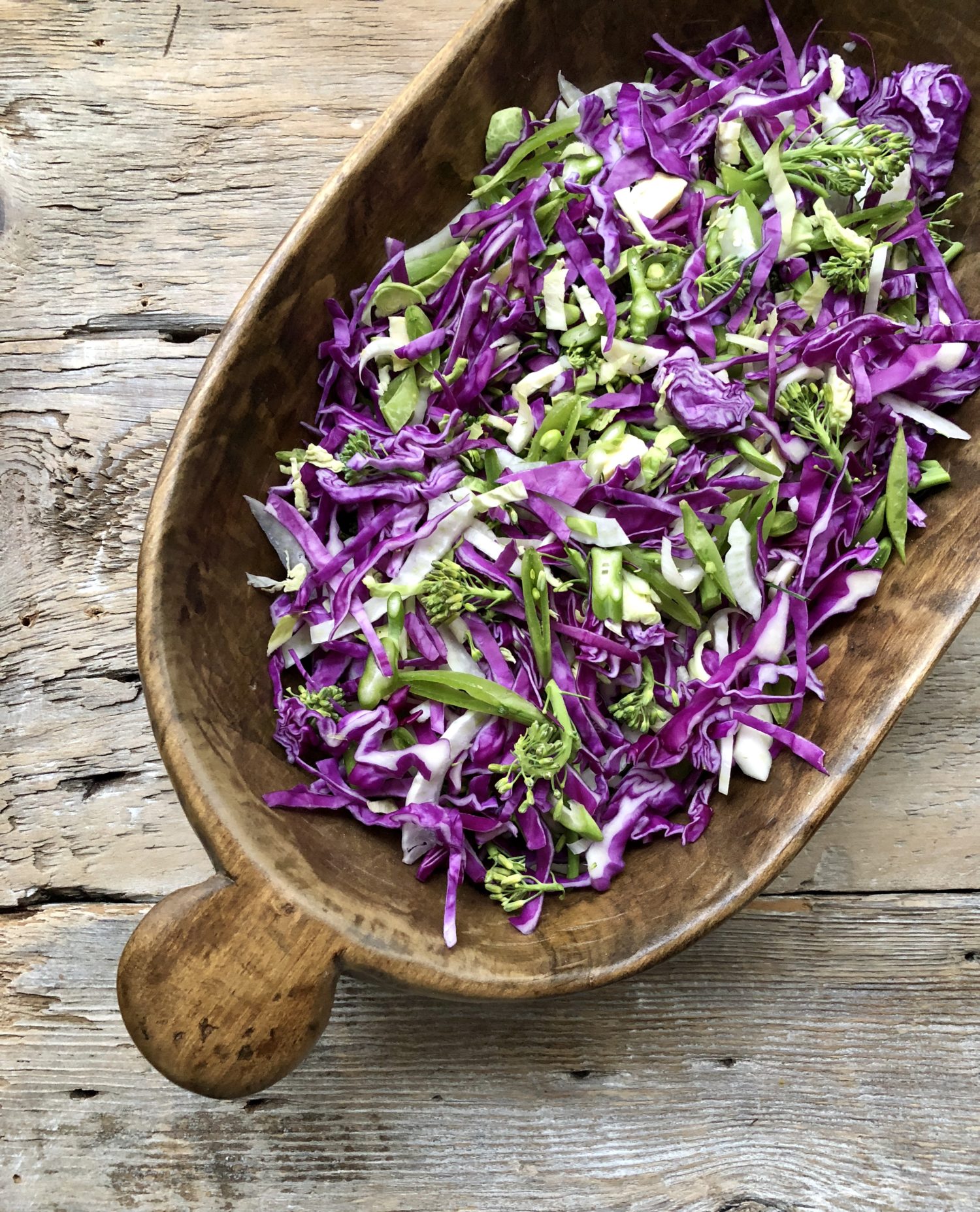 I know, that sounds weird. I mean, what's the big deal about making a salad? There's no cooking involved. I can't burn it, or undercook it or anything. They are so bright, colourful, and obviously healthy. For me, it is all the fussiness of the prepping of said salads. Cleaning and chopping all the ingredients.
Yes, I said cleaning. Would you believe, I don't own a salad spinner. I clean my greens the old fashioned way- in the sink with cold water, and then dried in tea towels. Maybe that's why I have an aversion to making salads!!
But for some reason, making cole slaw is different. Once you've removed the outer leaves of a red or green cabbage, the insides are perfectly clean. So no worrying about going through the water and tea towel process. And I just love shredding! I don't know why I find such pleasure in finely slicing up the cabbage, watching that pile of thin slices accumulate. But I do.
What's great about a slaw, any kind: Asian, European etc, is that the components are pretty hearty. They can be all sliced up or shredded, and they won't go limp in a couple of hours. Heck, they won't go limp in a couple of days!! That's why I love to do the following:
I will prep a slaw at the beginning of the week, and put it into a container to store in the fridge. Then, we dress and eat as we go. I get all my slicing etc out of the way from the start, and the rest of the week is a breeze. Of course, there may be veggies that are a bit more delicate that couldn't last the week cut up and sitting in a pile with other veggies. These few veggies I add as I go.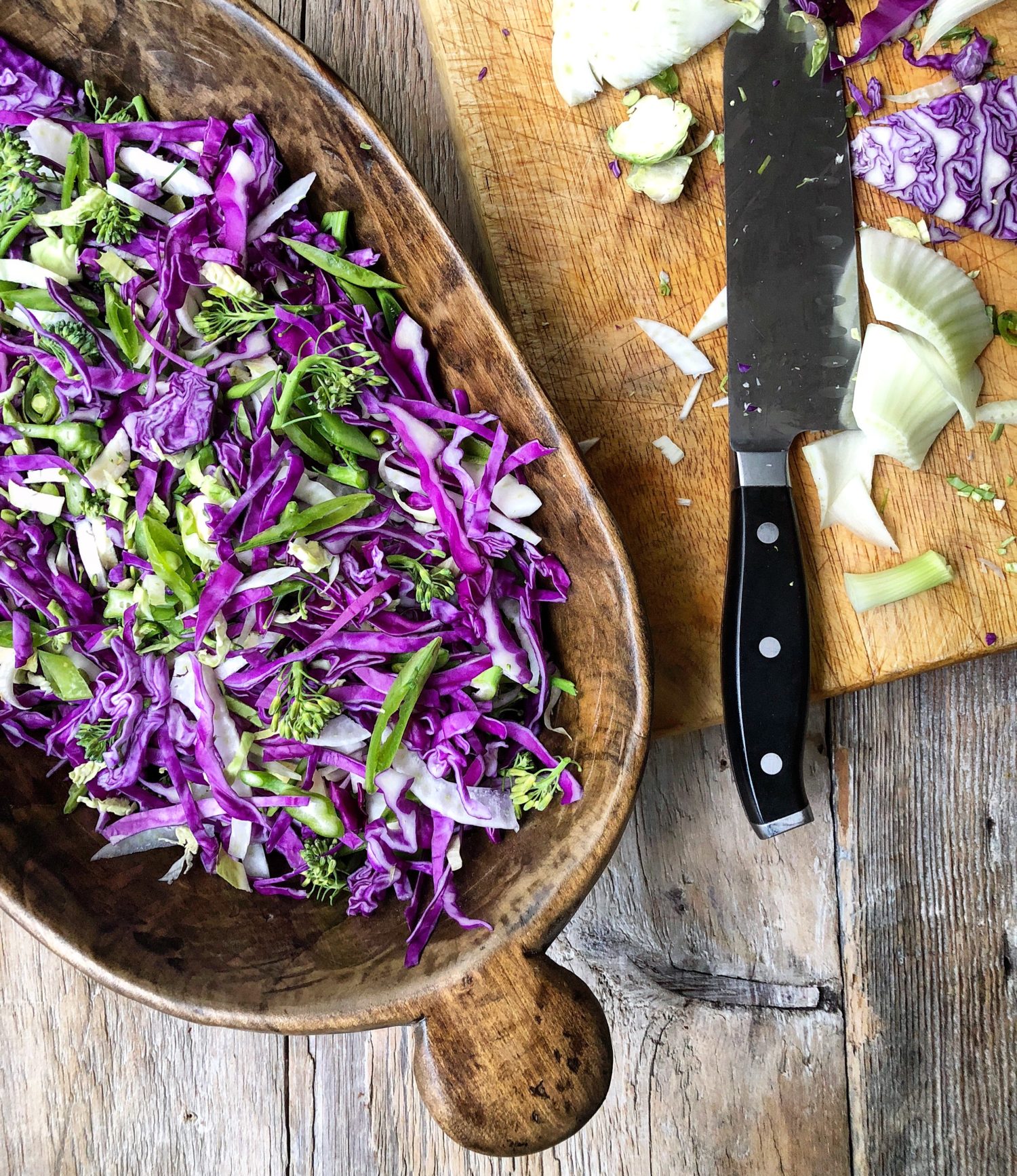 So, for the initial prep I will cut up, shred up any of the following: cabbage (red or green), carrots, celery, fennel, snap peas, broccolini or broccoli, brussels sprouts, kale. These can all handle hanging out for the week in a air tight container. I will eyeball enough of each to make several salad portions throughout the week. This will vary from household to household, so I will leave it up to you to decide how much to make. What goes in depends on what is in the fridge at the moment with us. But of course, you can deliberately get exactly what you are craving for this slaw!
When we are going to eat some of the slaw, I take out a couple of handfuls and put them into a bowl. Then I may add chopped cucumber, tomatoes, even sliced berries, citrus segments or persimmon cubes. How about melon cubes? Or avocado? At this point you can add anything that you want.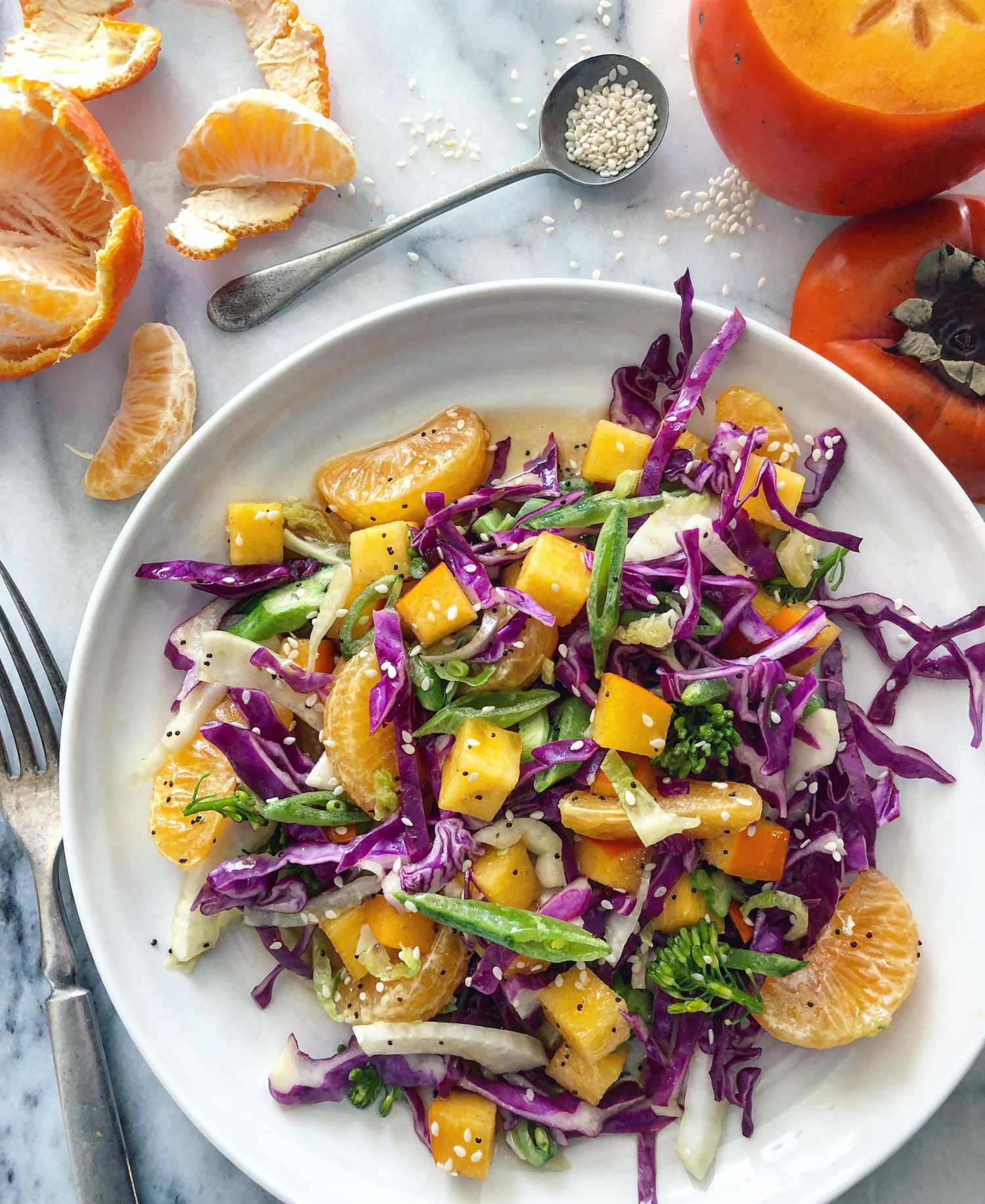 And the key to bringing it all together is my Master Vinaigrette. It is so basic and versatile, that it needs to be shared with you all. You can use this on just about any salad combo. It works well with a delicate greens salad, to a heartier slaw or kale and brussels sprouts version.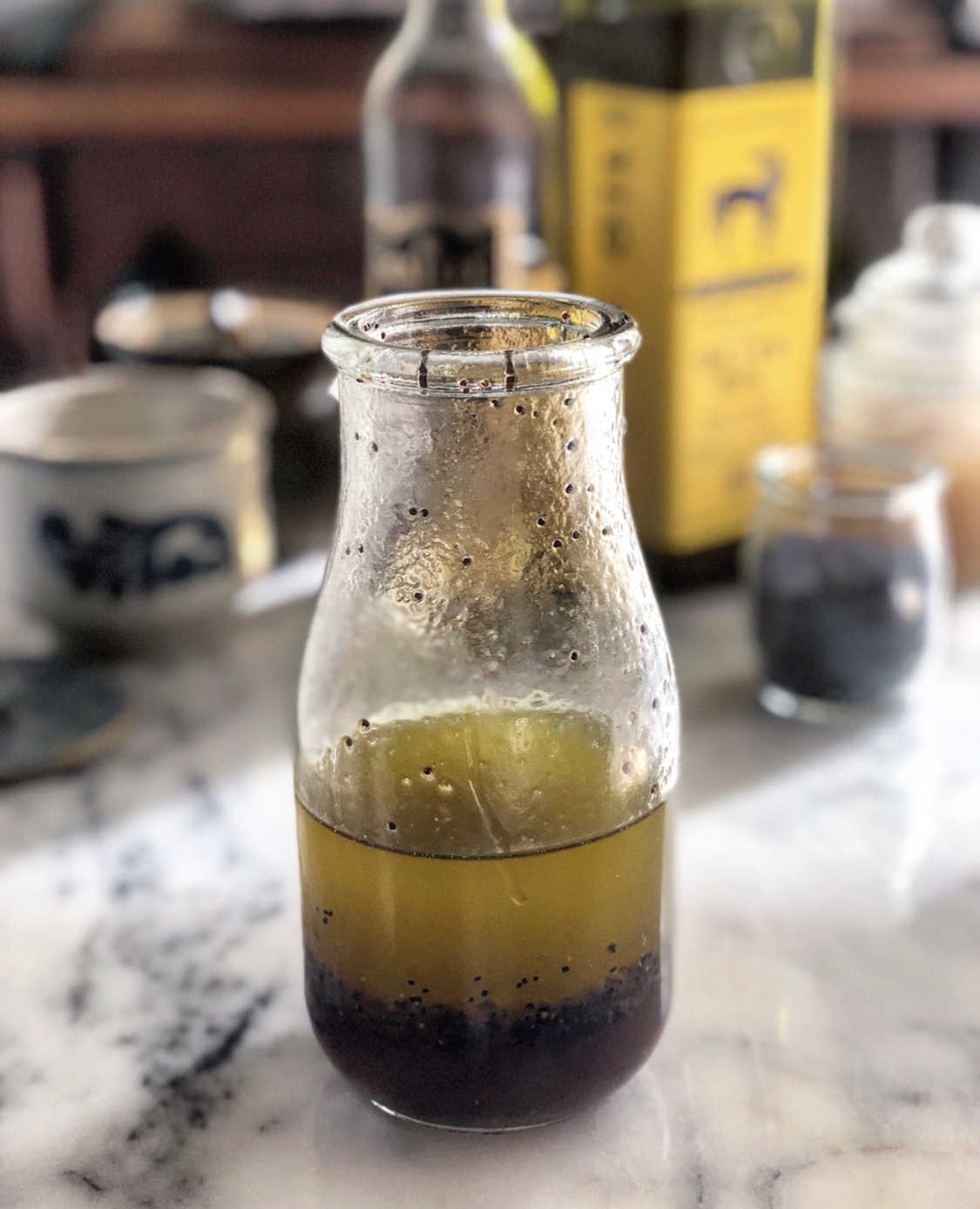 I make up a batch and this stays in the fridge all week as well. Then, when it's time to make up some slaw, I already have the dressing made up. Drizzle as much as you want, but don't go overboard. There is nothing worse that overdressing a salad of any sort. You still want to taste the vegetables, right!? Having said that, the heartier veggies can actually do well by being dressed a good half hour before you want to serve the slaw- this will help them soften slightly and take on the flavours of the dressing. Then add the more delicate ingredients towards the end and toss once more before serving.
What I love about this dressing, is how versatile you can be with the actual ingredients. You'll start off with a good EVOO. That's a given. But then, the type of vinegar you use is up to you. Red wine vinegar in the cupboard? Go for it. Only white wine or sherry vinegar sitting on the shelf? Those will work perfectly. A champagne vinegar works wonderfully in this dressing. The only one you shouldn't use is a balsamic or of course a basic white vinegar. These have just too intense of flavours to make the dressing as versatile as you'd like.
Then you'll add some sweetness. Honey, maple syrup or even jam. Yep, I said jam! You know how there's often a spoonful of jam or preserves sitting at the bottom of a jar, that you haven't had the heart to throw out yet. Well, this is the perfect way to use it up. It can be strawberry, raspberry, plum, orange marmalade, even blueberry. Whatever you have hiding out in the fridge.
The rest is easy: poppyseeds for texture (this is optional, but I do prefer using them if at all possible) and salt and pepper. That's it.
Add all the ingredients into a jar that will hold about 1 1/2 cups or so. Put on the lid and shake. Shake shake shake, your bottle! Of course, if you are a family of four who will eat this every day, just go ahead and double the recipe right away. It will get used up, I promise.
There you have it. Salad and dressing are done. Whenever you feel like salad, say for a quick lunch, it's all ready to go. Now on to more important things to take care of in the kitchen. Like baking brownies. Or eating that last piece of pizza that someone put in the fridge.
One simple reminder: if you know you will be using the vinaigrette, and you are storing it in the fridge, take it out well in advance so that the olive oil can settle back to room temperature. I've learned this one the hard way!
Love Jen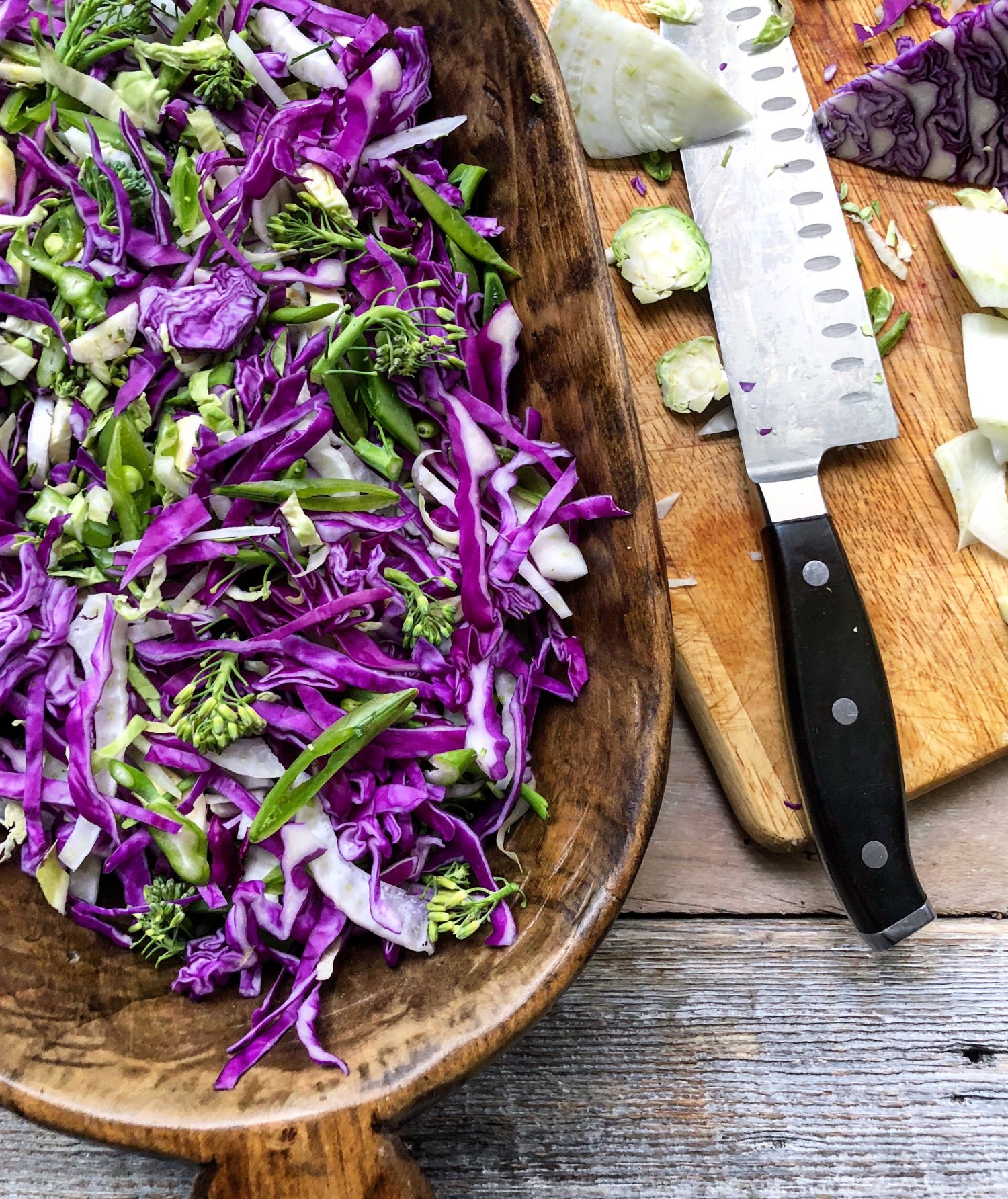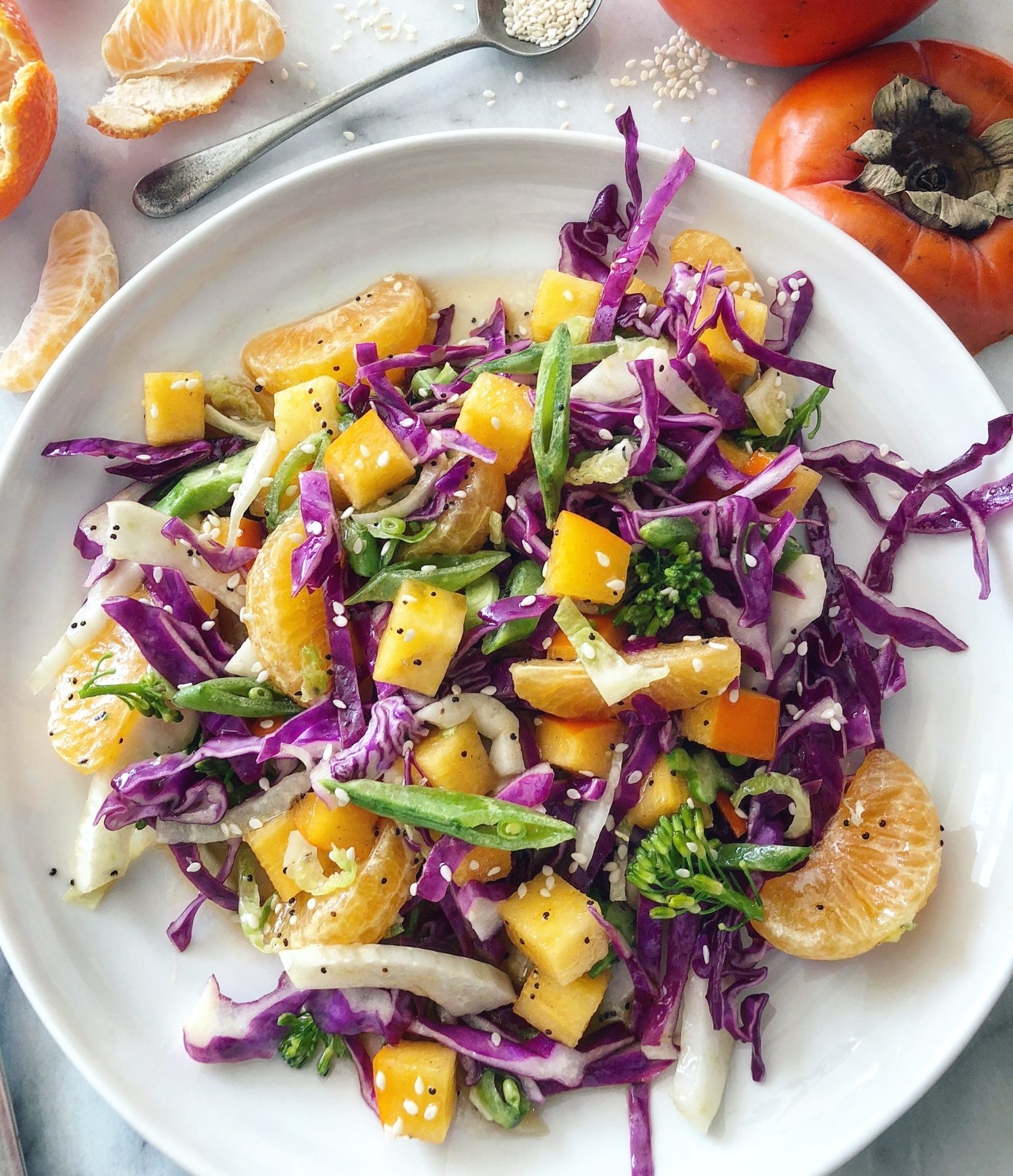 Master Vinaigrette and Slaw Prep
Work once, and the week is set with this recipe for a versatile vinaigrette and a sturdy, flavour packed cole slaw.
Ingredients
Master Vinaigrette
2/3

cup

EVOO

(extra virgin olive oil)

1/3

cup

vinegar

red wine, white wine, champagne, sherry (just avoid balsamic, white or malt vinegar)

3

tbsp

honey

or maple syrup, jam, preserves etc

2

tsp

poppy seeds

1/2

tsp

kosher salt

1/2

tsp

fresh cracked pepper
Slaw Prep
red or green cabbage

shredded

carrots

shredded or sliced thinly

celery

sliced thinly on an angle

broccoli or broccolini

sliced thinly

sugar snap peas

sliced thinly

fennel

sliced thinly
Slaw Ingredients After Options
citrus segments

persimmon

cubed

strawberries

sliced

blueberries

blackberries

sliced in half

endive

sliced thinly

avocado

cubed or sliced

green onion

sliced

red onion

sliced thinly

anything else you like!

sesame seeds, or sun flower seeds, or chopped nuts etc

for garnish
Instructions
Vinaigrette
Combine all the ingredients in a bottle with a lid. Shake to combine. Taste and re-season as desired. I always start with less salt for you all, just in case!

Store in the fridge and use as needed. If you have a larger family, or eat often, you may want to double all of the ingredients to achieve 2 cups worth.
Slaw Prep
Combine all or any of the slaw prep veggies. These are all vegetables that can handle being sliced or shredded and returning to the refrigerator till needed.

Use as many and as much as you want to achieve the amount you want to eat throughout the week. My ingredients change from week to week depending on what is available in the fridge.

Store all in a airtight container in the refrigerator

When ready to eat, bring the vinaigrette to room temperature and shake up.

A good half hour before you want to serve this slaw, take out the amount of slaw ingredients that you would like to eat and place it in a large mixing bowl.

Pour desired amount of dressing over it and toss. Let them soften in the dressing and take on the flavours.

Just before serving, add any of the 'After' veggie or fruit additions that you want and toss gently.

Garnish with seeds or nuts etc.

Serve.
SaveSave
SaveSave