I know, there are a million chicken wing recipes out there. There's a reason. They're awesome!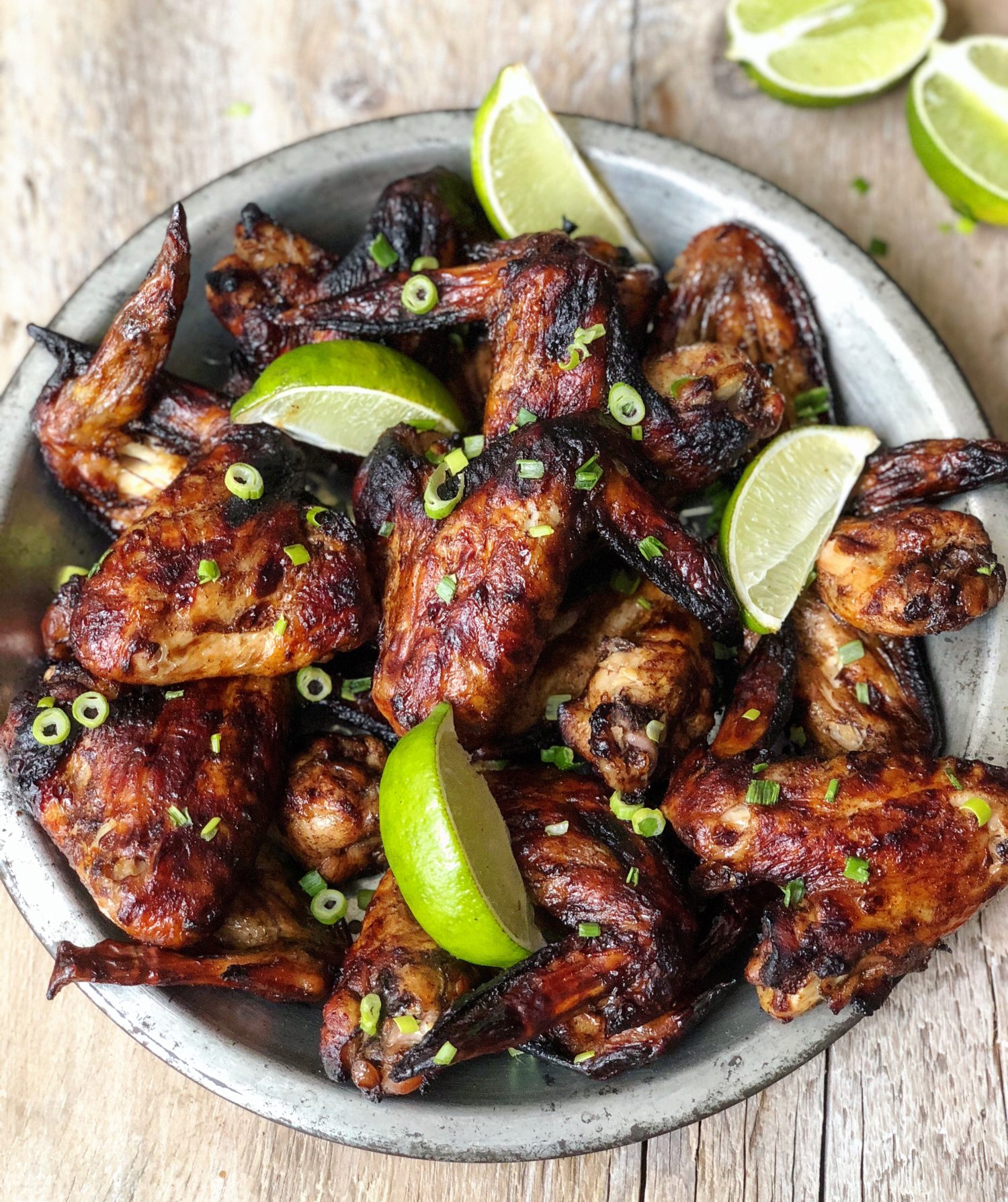 Well, I'm adding one more. Because, for as many chicken wings as there are, there are ways to eat them. As far as snacking goes, they really do cover all the criteria: finger food, crispy skin of some sort, spices and heat (hopefully) and well, chicken!!
I have found through the years of trying to convince Jim to come over to the Chicken Wing Team (he's much more a Team Nacho kinda guy) that the trick is to use whole chicken wings. In other words, when the drumette and wing are still attached. They somehow seem more substantial to him. Don't try and be logical at this point. It won't work. The main thing is, he'll eat them this way, with much less complaining over the ROI (return on investment of effort to actual meat consumption)
It's February 1st. The Superbowl is days away. So naturally, every foodie on the North American content is distracted with Game Day food. In fact, for many of us, the half time snacking is more important than the actual game itself. This year, Justin Timberlake will be providing the entertainment for the halftime show, so as far as I'm concerned, it's actually the JT Show, with a bit of dudes chasing a ball before and after.
We all acknowledge that it will be a day filled with cheesy nachos, greasy sliders, gooey dips, and of course, chicken wings. I have a few chicken wing recipes on the blog already, could I not just make one of those up to snack on? I love my stove top Sticky Garlicky Chicken Wings,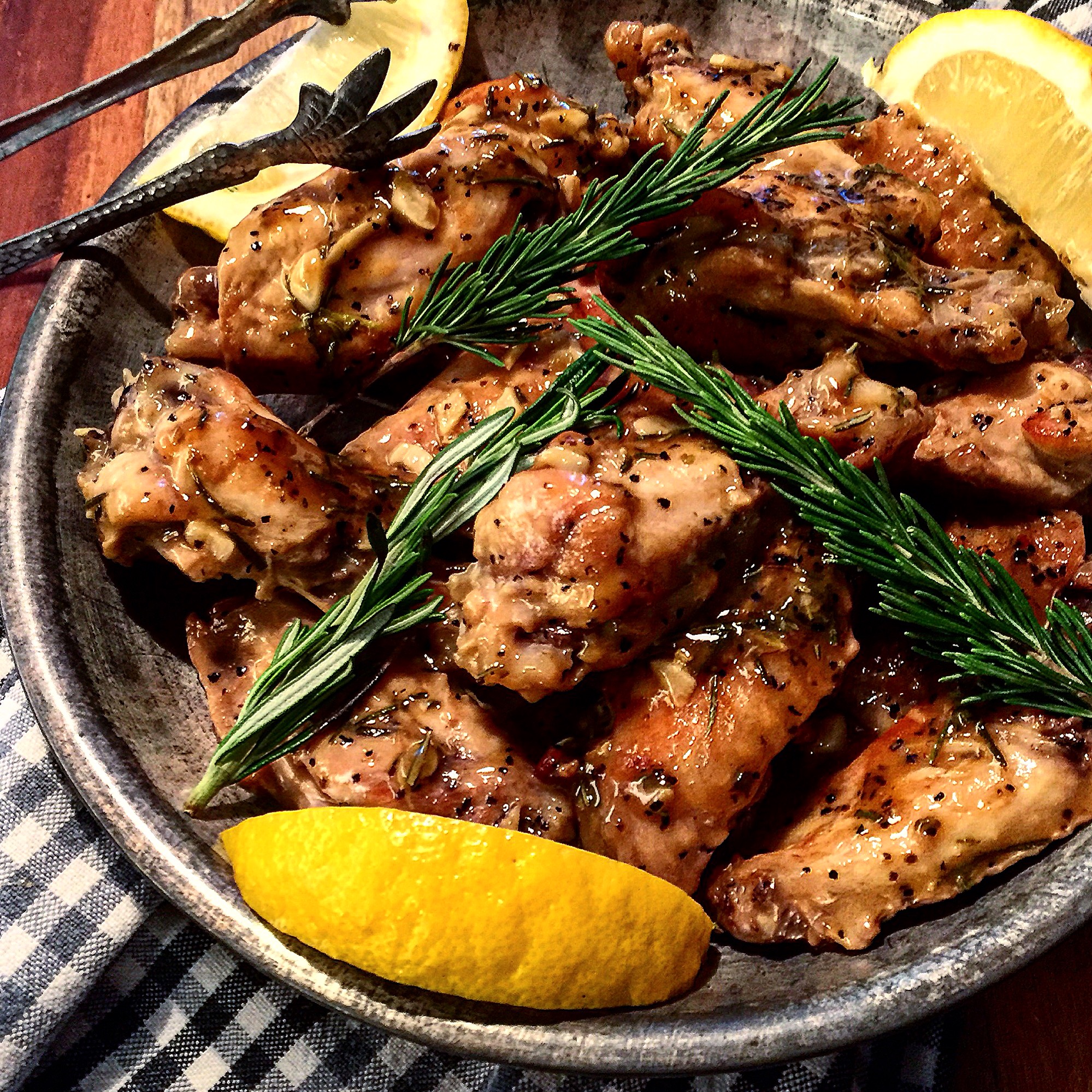 and for a totally different take on wings, my Baked Curry Chicken Wings with Kashmiri Curry Dip.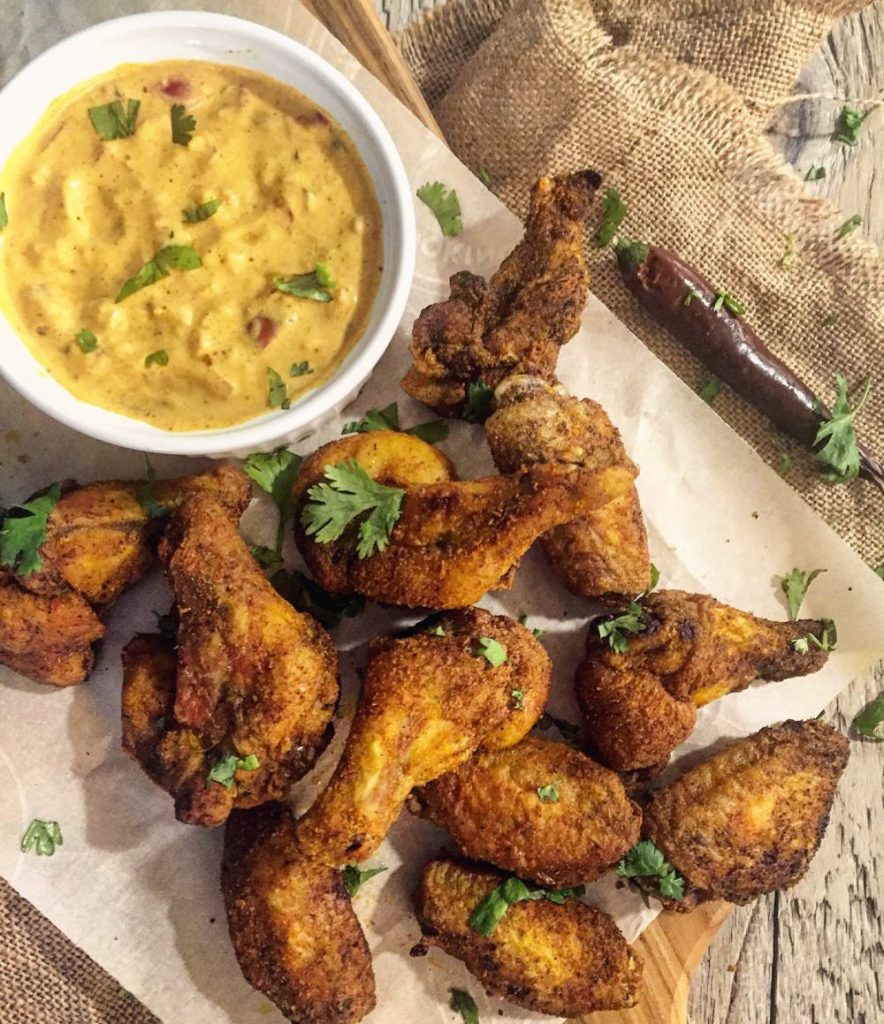 But this time I decided I wanted a more 'south of the border' flavour to them. Some heat and sweetness at the same time. So these wings happened. And then if nachos get served alongside, they will be a perfect fit!!
I pulled out my new Molé Paste by Entube, and decided that it would be a great base for a chicken wing marinade. I combined the paste with honey, vinegar, olive oil and hot sauce, and marinated my wings (drumettes and wing attached) for a good hour.
Then I got ready to roast them in the oven. Depending on how many pounds of wings you are preparing, you will need several baking sheets as well as some cooling racks. The cooling racks are totally optional. But if you do have some that will fit in or over the baking sheets, you will get an optimum result for the skin. This is how I do it: First of all, cover the entire sheet in aluminum foil. Spray a cooling rack with non-stick spray, and place this over the foil. If you don't have a cooling rack that will work, just use the foil as the base for your wings. Thankfully I have commercial 13×20″ size sheets (the kind that completely cover an oven rack, so I only need to use one. If you are doing 4 pounds of wings you will definitely need several sheets. Or do them in batches, of course.
After marinating, the wings get laid out on the cooling rack (or foil) in a single layer. I always do skin side down first. This way, the final 20 minutes will be skin side up, and the skin will be in perfect condition for looking at before eating (since we do eat with our eyes first!) And as I lay them out I try and anchor the wing tips under the meat of the next wing. See the photo below. This will help in not charring the wing tip. If you are not using whole wings, this will not be an issue for you, so disregard!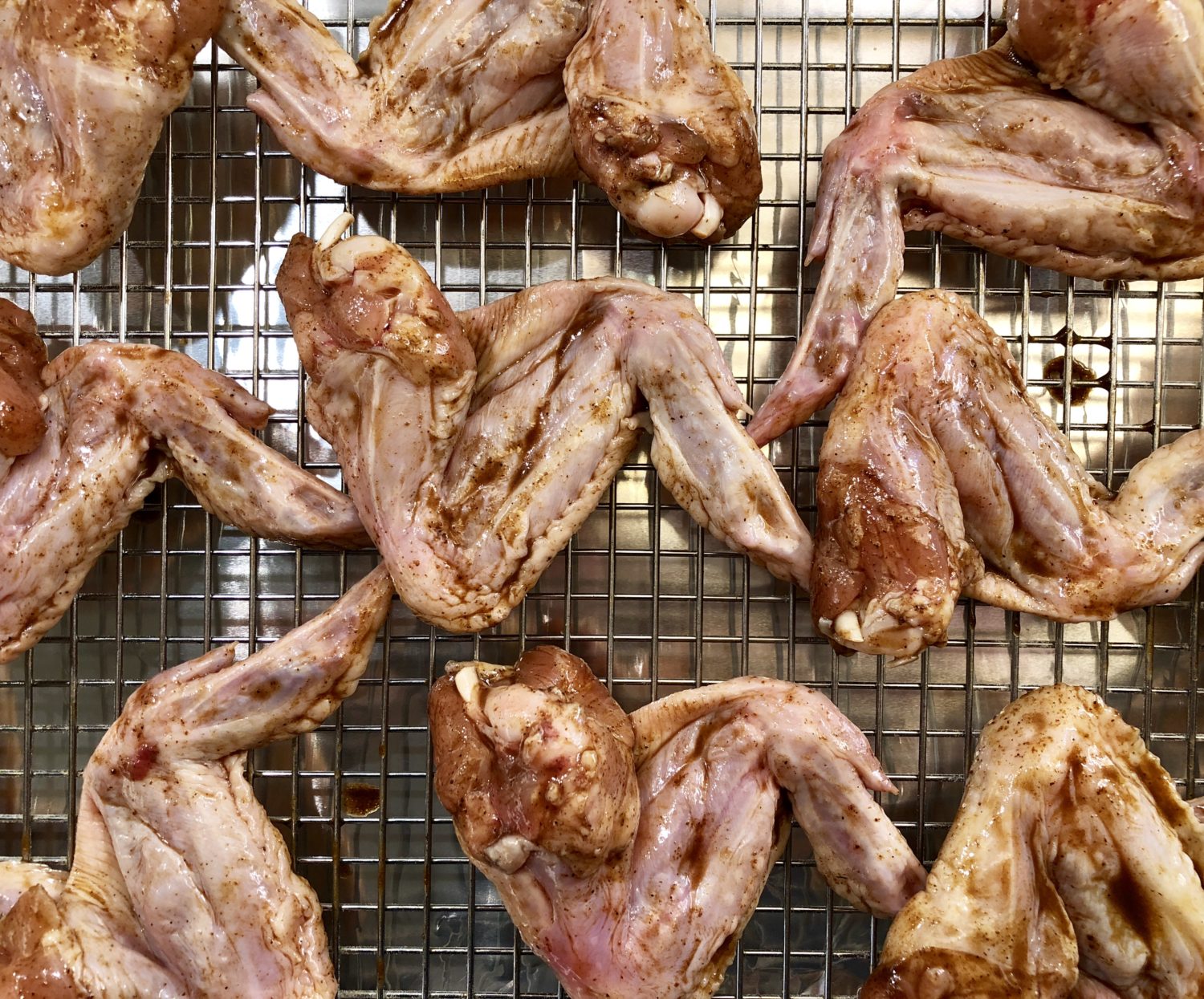 After 20 minutes in a 475F oven (and one basting of the marinade liquid) I turn the wings over to skin side up. Now I reduce the oven to 400F and cook for another 20 minutes or so, basting one more time. I will also watch them in the last 5 minutes or so to try and keep them from scorching at all. It will happen, but hey, a bit of char adds to the charm!!
Remove them from the oven and let cool momentarily on the rack. (you don't want to burn the roof of your mouth!) Then when you are ready to serve them up, move them to a platter, sprinkle them with scallions, chives or even jalapeño confetti. And give them all a drizzle of freshly squeezed lime. I'm telling you, the lime is what makes these babies!! And to guild the lily, add a sprinkling of Maldon Salt: Lime and Salt, Margarita! Olé!
You could totally take this same recipe and grill them on the BBQ.
So, a platter of hot and spicy wings, a few bowls of popcorn, trail mix, tortilla chips and salsa, plates of sliders and cartons of pizza. A typical weekend at a frat house. Or Superbowl Sunday in pretty well most households across North America. I'm only here for the food…
btw, when I look at the photos I used for the above Chicken Wing recipes, compared to the ones for this recipe, I'm almost mortified that I haven't updated those! oh my word!
Love Jen.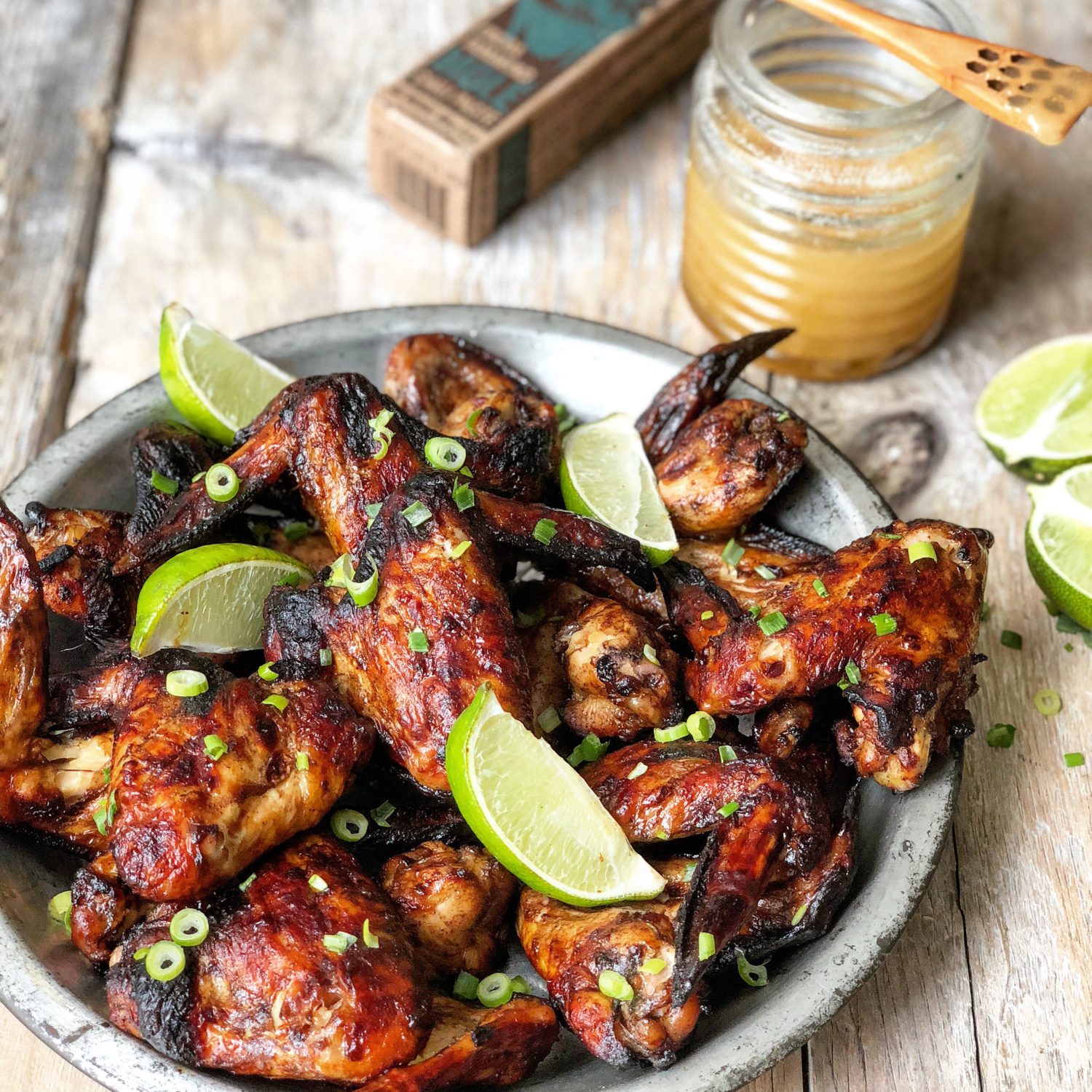 Molé, Honey and Lime Chicken Wings
Sweet and Spicy, tender and juicy. A fabulous and easy chicken wing!
Total Time
1
hour
40
minutes
Ingredients
4

lb

chicken wings

can be divided, or intact

2

tbsp

olive oil

2

tbsp

Apple Cider Vinegar

4

tbsp

runny honey

5

tbsp

Molé paste or sauce

1

tbsp

Mexican hot sauce

or to taste

1-2

whole fresh limes

cut into wedges for drizzling

2

tbsp

chopped jalapeño, chive or scallion

for garnish

1

tsp

Maldon salt for garnish

optional
Instructions
Pat dry the chicken wings and place in a container with a lid (or in a large freezer bag.

Combine the olive oil through the hot sauce in a small bowl and whisk to make smooth.

Add to the chicken and turn to evenly coat. If using a bag, seal well and shake.

Cover with a lid and store in the fridge for at least one hour. You can leave them in longer of course. But do not exceed 24 hours.

When ready to bake, preheat the oven to 475F

Cover one or more large baking sheets with aluminum foil.

Spray a cooling rack that will fit into or over the sheet with non-stick spray.

Take out the chicken and bring back up to room temperature.

Lay them out in one layer, not crowded, skin side down, on the cooling rack. If you are using whole wings, try and tuck the wing tips under the meat of the wing next to it.

Reserve the liquid for marinating the wings as they roast.

Bake on centre rack for 20 minutes.

During the initial bake, brush with the marinade once.

After the first 20 minutes, turn the pieces over, to skin side up. Reduce the heat to 425F.

Bake another 20-25 minutes, basting once more with the marinade.

Check during the last 5-10 minutes to ensure that the wings aren't burning.

Once cooked through remove the baking sheets and allow to cool for a few minutes.

Move to a platter and sprinkle with scallion or jalapeño confetti.

To serve, squeeze fresh lime juice over the wings and dig in! If you feel so inclined, also add a sprinkling of Maldon or other finishing salt. Lime and Salt: Tequila!
Recipe Notes
I used Entube Molé paste for this recipe. But any Molé sauce or paste will work if you can't find Entube products in your neighbourhood grocery. Give the Molé you are using a quick taste, and then adjust the amount of hot sauce you will use based on this. Don't be shy with the heat though!
SaveSave
SaveSave
SaveSave
SaveSave
SaveSave