I've always wanted to visit Morocco. I think it was watching all those delicious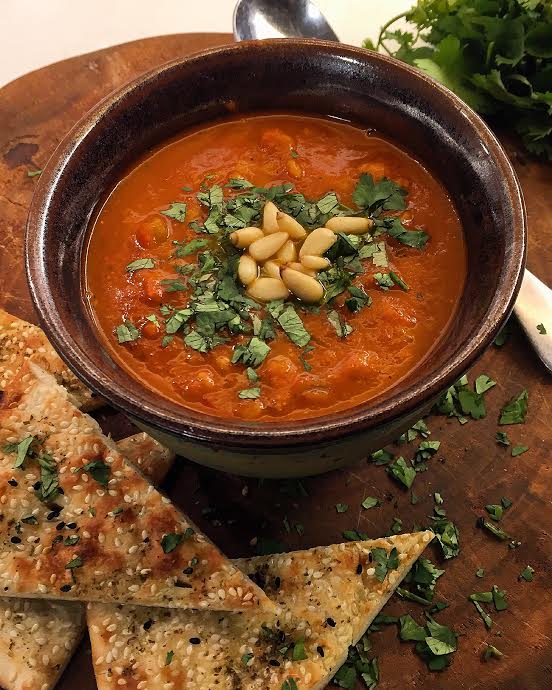 Film Noir movies from the 40's set in mysterious and exotic lands that made me swoon. As a kid, I probably romanticized those movies, being swept away by the fabrics, grand curving and filigree'd architecture, and of course the strong but silent type heroes who overcame the odds to win the brave heroines' hearts in the end. But that doesn't lessen my fascination with these lands…Morocco, Algiers, Egypt, Turkey.
Just saying Fez, Casablanca, Marrakesh, Tangiers, Cairo, Istanbul (not Constantinople heehee) makes me giddy. The intricate turreted arches, the tiled everything, the fountains; the spice markets with their riotous colours and competing aromas; the camels with riders draped in flowing white (are they still there? They are in my mind)… And the food.
What a joyous blend of spices, warm and hot, sweet and sour; with names like Ras-el-hanout, Harissa, Berbere, Baharat, Za'atar. How much more exotic could it get? And the most delicious contrasting textures and ingredients. There was a time (so glad it is long past) when here in North America, the idea of pairing prunes, apricots, olives and cinnamon, with chicken and lamb, sounded just so…foreign. But aren't we glad they go so magically together? And that we have been introduced to them? Look around, you will find more and more North African restaurants and cafes popping up. For those evenings when a warm tagine of chicken and couscous deserves to be accompanied by the music and belly dancing.
Until we can personally trek through that mysterious (to me) part of the world, along with all the tagines, stews, couscous pilafs etc, I can have this soup. It's got all the traditional Moroccan flavours, brought together in an easy and breezy way.
We have tried and succeeded in embracing Meatless Mondays. This isn't a heavy, stick to your ribs kind of soup. It can be made year round, either with a can of San Marzano tomatoes in the winter, or with summer's bounty of luscious tomatoes in the summer. There is just the right amount of heat, but this is something you can totally control. And it totally hits the spot, specially when you add some flatbread drizzled in olive oil and a smattering of those alien spices. It is a soup that can be rustic and casual, or gussied up for company as a first course. And best of all, it comes together quite easily and quickly. I use red lentils with this soup, but I could also see adding cooked chickpeas, or even shredded chicken for the times you want to add some meat. Or couscous added at the end would also be perfect. Tonight I traveled in my heart, a spoon in my hand.
Love Jen
ps: This photo is almost three years old. The one below was taken in 2018. I'd like to think I've improved! hehe.
Moroccan Tomato and Red Lentil Soup
A warm and yet fresh soup that hints of the exotic, and is ready in less than an hour.
Ingredients
1 @ 28

oz

(796 g) can of San Marzano tomatoes

, can also use freshly roasted summer tomatoes.

3

tbsp

olive oil

2

medium

onions

finely diced

2

tbsp

ras el hanout

see Notes below

1/4

tsp

harissa paste or powder

this adds heat, add according to your liking

2

cups

vegetable stock or chicken stock

1

cup

red lentils

kosher salt and fresh cracked black pepper

1/4

cup

fresh cilantro, parsley or mint

chopped

1/4

cup

toasted pine nuts or almonds

chopped
Instructions
Open the can of tomatoes and empty them into a bowl, crushing the tomatoes between your fingers until only small chunks are left. Make sure to get every last drop of liquid from the can as well. Set aside.

Heat oil in a saucepan at medium heat. Add onions and cook for 3-4 minutes until softened but not yet translucent.

Add the spice blend and harissa and blend with onions. Stir for 1 minute to release the spice flavours.

Add the tomatoes and juices from the can to the pot.

Add stock and the red lentils. Bring everything to a boil, then reduce to a simmer. Simmer for 15 minutes, stirring occasionally.

Check the texture of your soup. If you would like to thin it out, use a bit more stock or water.

Season with salt and pepper.

Ladle into bowls, and garnish with chopped cilantro and a sprinkling of toasted pine nuts.

To have something lovely to dunk, add a flatbread, pita, naan etc, brushed with a little olive oil, sesame seeds and some of the ras el hanout or perhaps za'atar. Place under broiler until the bread just starts to brown.
Recipe Notes
Ras el hanout and harissa can now be found at most grocery stores. The ethnic shop in your neighbourhood will have them for sure, if they carry North African and Middle Eastern ingredients.
TO MAKE YOUR OWN RAS EL HANOUT
1 tsp each of fennel seed, cumin and coriander, toasted and ground
1 tsp each of ground turmeric and cinnamon
2 tsp each of sweet paprika and ginger
1/2 tsp each of cayenne, ground nutmeg, ground cloves, allspice and cardamom
1/2 tsp each of sea salt and freshly cracked pepper
Combine and store in airtight container. Makes 1/4 cup
Za'atar is an Egyptian spice blend of dried thyme, white sesame seeds, sumac and a touch of salt. Variations can include oregano, basil or marjoram. Again, you can find it if you look!
SaveSave