This is one of those soups, that until you've had it, you didn't realize you were missing it. And it's perfect for these last few weeks of Winter 2018.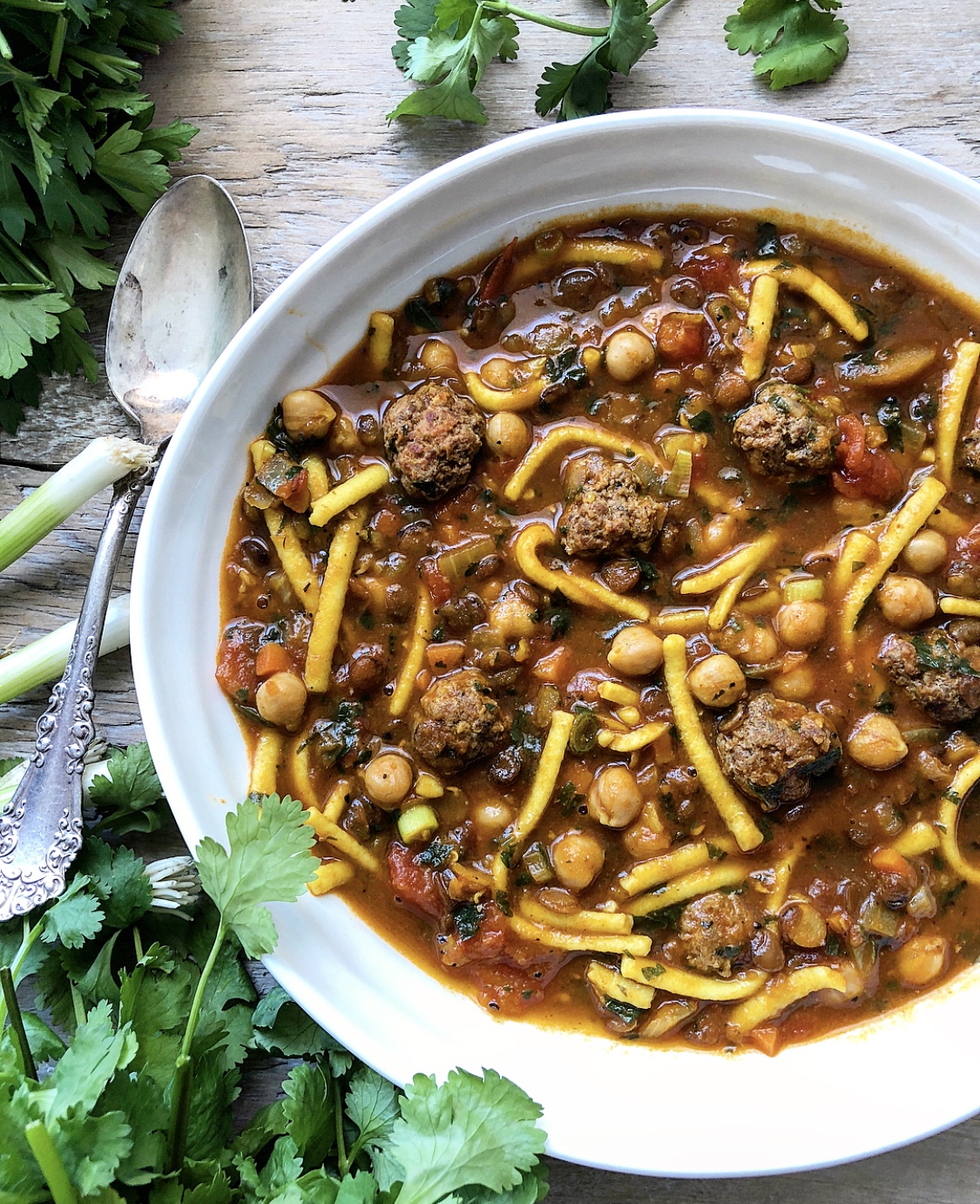 Anything Moroccan just makes me swoon. It so exotic in the best way. I always think of movies set in Casablanca or Fez or Marrakesh, with their cacophony of colours and textures, the spice markets and suks, the tapestries, the delicate and intricate filigree of their architecture, and even the beautiful crockery and ceramics. Can you tell I need to visit there one day?!
Until that happens, I need to be content with Moroccan and really all North African cuisines. They share a similar spice profile- with blends like ras-el-hanout, harissa, and baharat. And I love how they combine flavours in ways we never would have thought of a few years ago: chicken with lemon and olives; prunes and raisins in meat dishes, etc
A lot of veggies and legumes are involved in their dishes. So it's a really healthy way to eat. Meat is definitely a luxury, not the main attraction. While chicken tagines, lamb shanks, and beef kefte meatballs are well known, they are just as likely to make a tagine from just chickpeas and eggplant, prunes and tomatoes.
Even this soup, Harira. While it is often made with lamb shoulder, it is also just as common to make this celebration soup with no meat at all. The chickpeas and lentils do stand fine on their own. It is such a fabulous and filling soup. Think of it as a Moroccan Minestrone, with a kick! The legumes are accompanied by vermicelli noodles (I have often used thin egg noodles with great results as well.) tomatoes, a mirepoix of onions, celery and carrot, and a wondrous spice blend. Hot paprika, harissa, ginger, cinnamon, coriander, saffron and get blended together and added to the softened mirepoix to build up a flavour base. In the recipe below, I've adopted a new veggie for a classic mirepoix: fennel. Daniel Boulud's recipe (my inspiration for this soup) uses fennel instead of celery, for that anise flavour addition. I love it- works so well with the spice blend used in this soup.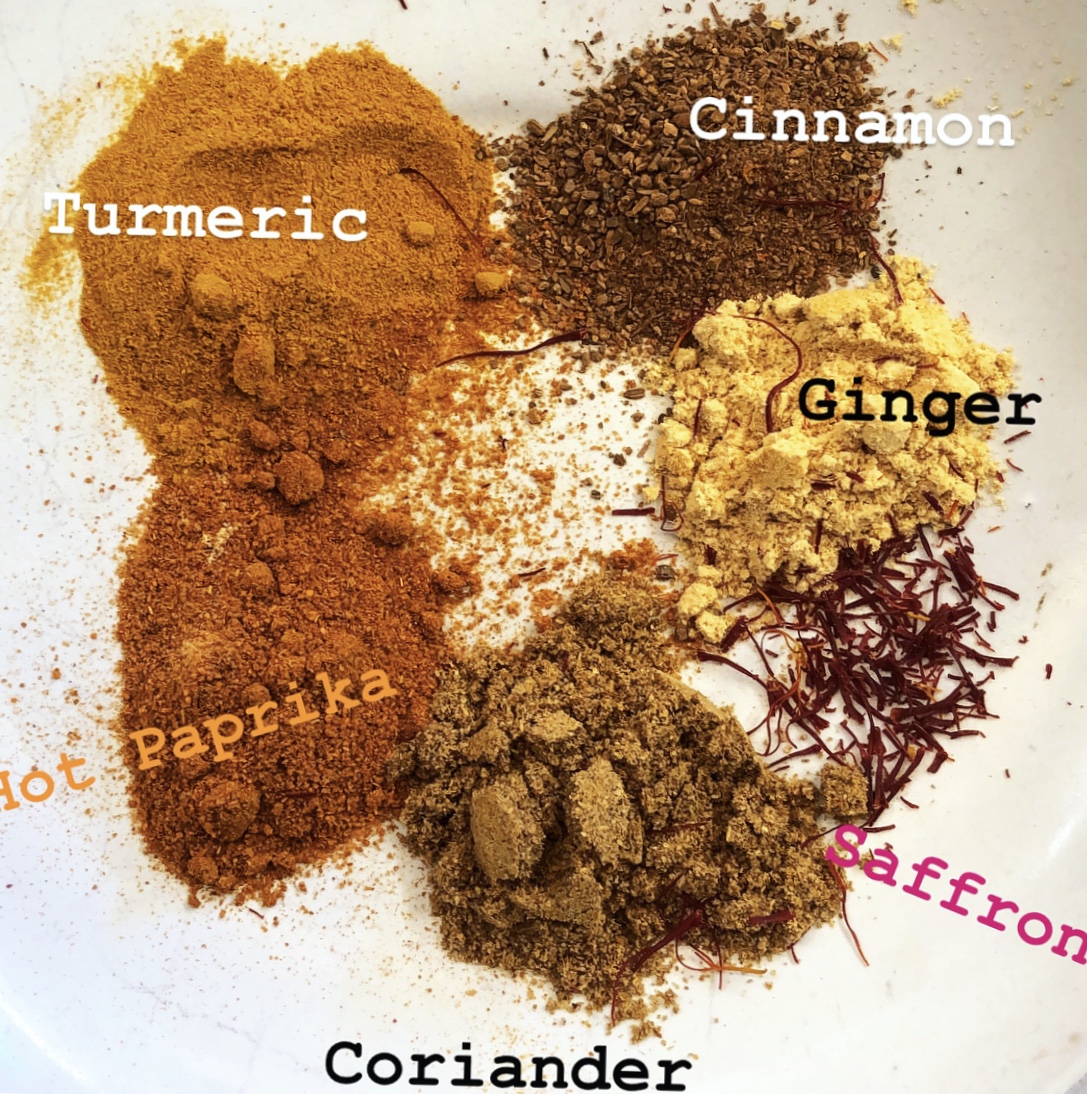 You can make this with dried chickpeas that you've soaked in water overnight. You will just have to adjust your cooking time to have them halfway cooked through before you add the green lentils, which would take around 45 minutes. But for me, sometimes that can of cooked chickpeas really is such an easy way to go. There is always a couple of cans in the cupboard, since there is nothing worse than finding out the recipe called for soaked chickpeas, but you didn't catch that part of the recipe.
While I would usually make this recipe using lamb shoulder that I cubed and seared before adding it to the simmering stock to cook along with the dried chickpeas etc, I have since found a better way to address the lamb portion of the recipe. Daniel Boulud has a Harira recipe that sure makes mine seem so much more time consuming. He suggests using Lamb Merguez Sausages. You take the uncooked sausage meat out of the casings, and roll it all into bite sized meatballs. Then these get fried up in the stock pot. Once all sides are browned, they get removed and the remaining fats are what the mirepoix gets sautéed up in. Brilliant!! And what's even more brilliant is the colour of the fat drippings from the sausage meat. There is harissa in the sausage, and that bright red spice blend adds its hue to the drippings. Which just makes sautéing up the veggies that much more fun!
The rest is easy. While the soup is simmering away, just chop up some parsley and cilantro, as well as some scallions. Towards the end of the cooking time, you will add in the canned chickpeas and the browned meatballs to warm them through. And then add the noodles. Stir in half of the chopped greens, and then serve!
So from beginning to end, it really only takes about 1 hour. And you could even reduce that by making the meatballs the day before. But then you wouldn't have those amazing drippings to work with. Unless of course you saved the drippings in a small container till the day of the soup. And why not already chop up the veggies? Place them in a container into the fridge the day before. So it really doesn't have to be a long drawn out affair at all. But the flavours and fragrance will make everyone else think something major was happening all day!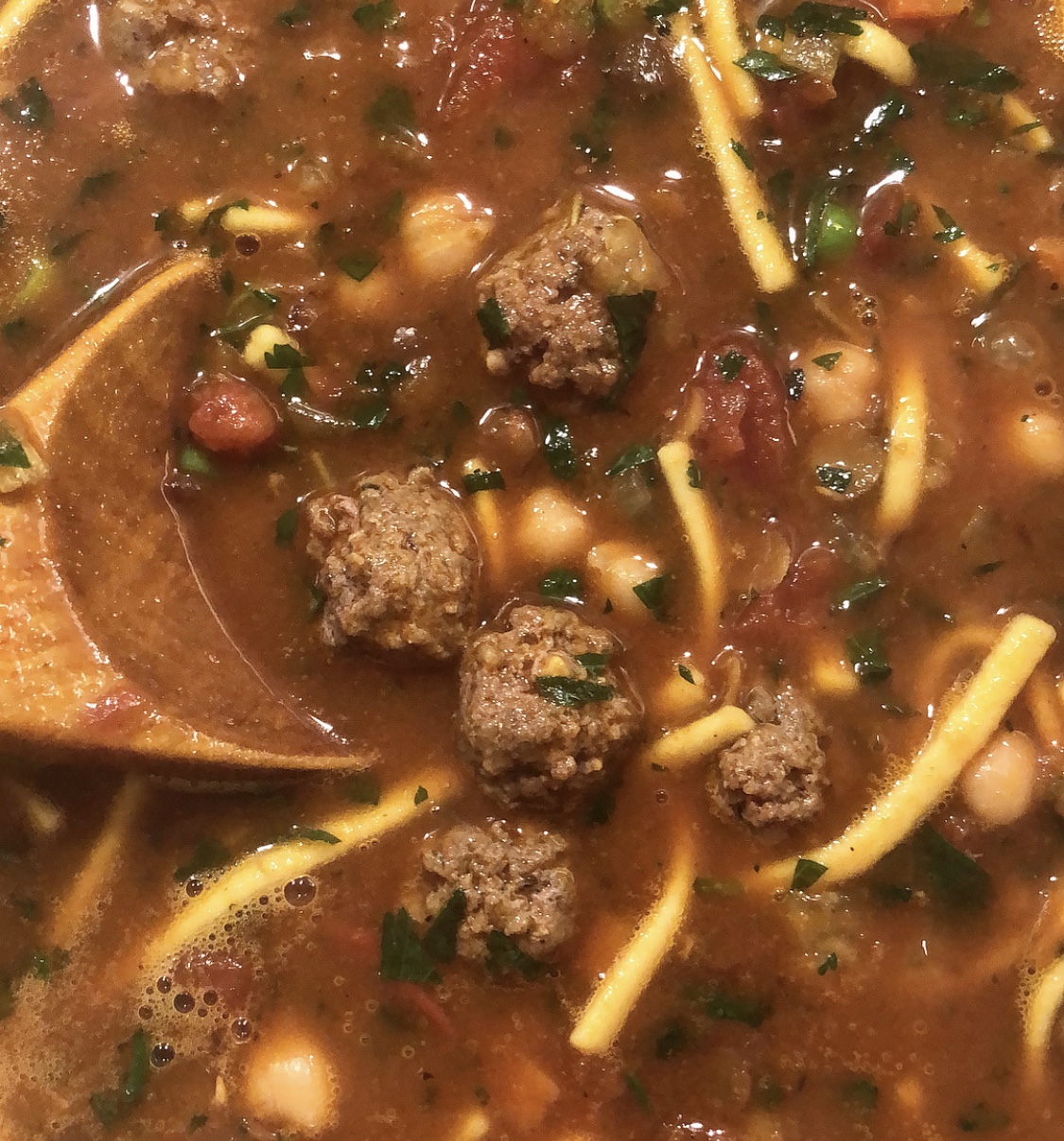 Daniel suggests serving each bowl with a slice of lemon. I have done it with, and without. If for some reason you don't have a lemon in the house (oh my!!!) it's not the end of the world. But the lemon juice really brightens this soup and brings out the deeper flavours. So do try and have some lemons in the house at all times. Come on, they're awesome!
Now, this can easily become a vegetarian soup. Just don't use the sausage or lamb meat of any kind. Sauté the veggies in olive oil. Use vegetable stock instead of chicken stock. And I guess, if your noodles are made without eggs, this becomes a vegan dish, right?!
The recipe below makes enough to feed eight. Which sounds like a lot. But if you are feeding four, and want leftovers, you'll want this all. Now, here is my caveat. This soup thickens in the fridge, as the lentils, chickpeas and noodles soak up the stock. You can solve part of this by doing the following: Don't cook your noodles in the soup. Cook them in a separate pot of water. Then add only what you need to the portion of the soup you know you'll be eating right away. Then store the soup and the noodles separately in the fridge. The next day, when reheating the soup, if it is too thick for your liking just thin it out with a bit of stock or water. As it is almost ready to eat, add the noodles back in to reheat as well. And Bob's your Uncle!!
Enjoy this hug in a bowl kind of soup. It has everything you want and need out of a bowl of soup, and a little bit more. 🙂
Love Jen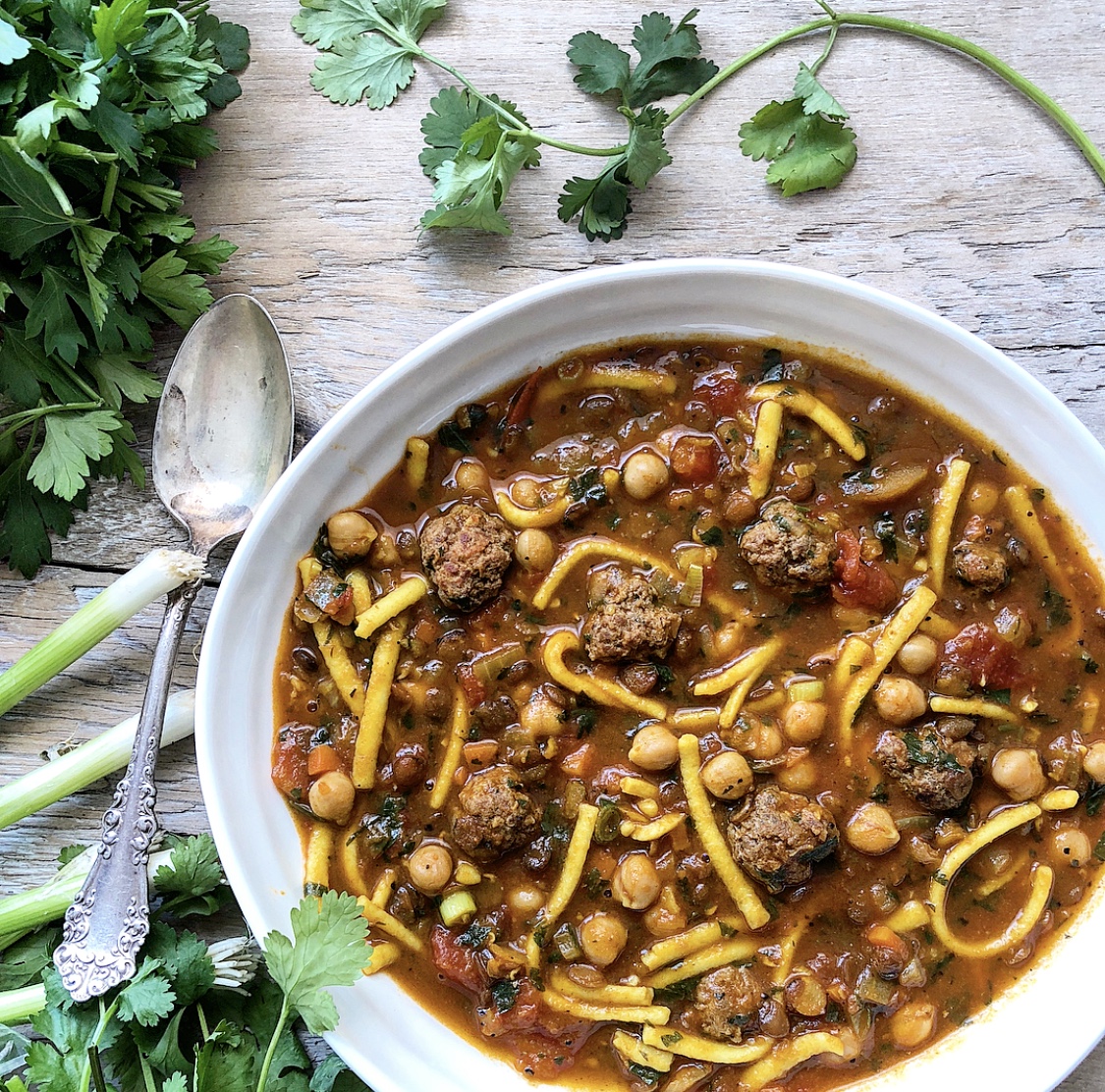 North African Harira Soup
Lamb meatballs nestle cozily into this fragrant and spicy soup of lentils, chickpeas, and veggies. And vermicelli or egg noodles add the final touch. A true hug in a bowl. Moroccan Minestrone with a kick!
Total Time
1
hour
15
minutes
Ingredients
1 1/2

lb

uncooked lamb merguez sausage

, 4 average sized sausages

1

T

olive oil

½

cup

finely diced carrot

1/2

cup

finely diced fennel

½

cup

finely chopped onion

6

cloves

garlic

, minced

1

can

(28 oz.; 795 mL) diced tomatoes (or 2 at 14 oz; 398 mL) Or use a large can of whole tomatoes, and break them up into small pieces with your fingers, use juice as well.

1

tsp

. hot paprika

1

tsp

harissa powder

1

tsp

. ground turmeric

1

tsp

. ground cinnamon

1

tsp

. ground ginger

1

tsp

. ground coriander

1

tsp

saffron threads

, ground down with the back of a spoon in a small dish

2

qts.

(2 litres) unsalted chicken stock

¾

cup

dry French green lentils

1

large can of chickpeas

, drained and rinsed

3½

oz

.

(100 gr) vermicelli noodles, broken into bite-size pieces, you can also use egg noodles if you want

2

cups

cilantro leaves

2

cups

parsley leaves

1

bunch scallions

, thinly sliced

2

lemons

, each cut in 8 wedges, seeded

kosher salt and finely ground white pepper
Instructions
Remove sausages from their casings and roll them into approximately ½" dia. meatballs.

Heat olive oil in a large Dutch oven or heavy-bottomed pot over medium heat. Add meatballs and sear on all sides until brown. Remove the meatballs to a plate lined with paper towels and set aside.

Reduce heat to medium-low and add the carrot, onion, fennel, and garlic to the sausage-meatball fat. Season with salt and pepper, and cook, stirring, for 8 minutes, or until onions are translucent.

Add tomato and cook, stirring, for another 3 minutes. Add the spices and cook, stirring, for 3 minutes.

Add stock and lentils, season with salt and pepper, and bring to a boil. Cover, reduce heat to low, and simmer for 30 to 45 minutes or until lentils are tender.

Add the chickpeas and reserved meatballs, and warm through.

Add the noodles and continue to cook on low until the noodles are softened, about 5 minutes.

Rinse and dry cilantro and parsley leaves, and chop half of each.

Dice the scallions.

Stir the chopped cilantro, chopped parsley, and half the scallions into the soup. Adjust seasoning with salt and pepper if needed.

Divide soup among 8 bowls, and top with cilantro and parsley leaves and remaining scallions. Serve with lemon wedges.
Recipe Notes
Adapted from Daniel Boulud's Harira Soup recipe, here
SaveSave
SaveSave