Can I just say, as much fun as I have developing new recipes, getting ideas out of my crazy brain and onto a plate,
putting unexpected ingredients together and seeing what happens, there are some amazing reliable recipes that I turn to to keep us well fed. And make our bellies very happy. These recipes can't really be improved upon (that much! hehe), and come together easily, that I can't imagine not having them in my repertoire.
This is one of those recipes. Yotam Ottolenghi is the brilliant chef with a middle eastern background who has changed the way England and the rest of us cook and look at vegetables. His ethnic background plays an important role in the flavours found in 'Jerusalem', one of the most luscious cookbooks ever. It was from this book that I learned how to make the BEST hummus ever. I can't even imagine making a traditional chick pea hummus any other way. My desert island dish (the one I would be willing to eat for the rest of my life if need be) is Chicken with Caramelized Onions and Cardamom Rice, and also comes from 'Jerusalem'.
In one of his vegetarian cookbooks, 'Plenty More' (a fabulous follow up to 'Plenty') you will find this Cauliflower Cake. Sheer brilliance. And no, it's not a sweet cake (the way you can turn zucchini or squash into a sweet cake) Quickly cooked cauliflower florets are folded into a savoury egg and flour batter (think a really high frittata, but with more presence and less wobbliness) and poured into a springform pan to bake up. There are onions, cheese, rosemary, basil, turmeric, nigella seeds and sesame seeds. It has an iconic look, with the onion slices gracing the top of the 'cake', so any time someone posts a photo on any social media platform, it is immediately recognized. And yes, you can find this recipe all over the place on the internet. So why am I adding it as well? Well, this blog is all about what we eat and enjoy in our family, so to leave it out, would just be shame. Since I also use this blog to gather all my favourite recipes together in one place, it saves me having to search multiple sites and cookbooks. I have my lazy side as well, eh?!
This is a meal that is filling and satisfying, without the presence of any meat. I thought that the first time I made it for Jim I would get the 'Where's the Beef?' complaint. But I didn't. He ate the whole slice I put in front of him, as well as the side salad that accompanied it, without saying a word. And the plate was clean. He was full. The eggs, the cheese, and all the cauliflower were enough for him. This is saying a lot. He will be the first to point out when a meal is lacking. The protein is there, of course, just not the kind that is obvious. And this makes me happy.
And if I have to admit, I do 'tweak' this recipe ever so minutely. Cauliflower is definitely the star of this dish. But that doesn't mean that I can't sneak in other goodies. My usual addition: sea asparagus. Samphire, salicornia. That fabulous little wunderkind of the succulent world that is both tasty and sustainable and jam-packed with nutrients. See my Ramp and Sea Asparagus Frittata recipe for the first time I showcased this little bamboo like veggie and pointed out its finer points. I also use Sea Asparagus in my Green Risotto of Bambo Rice and Sea Asparagus and in a fantastic salad of Cress, Sea Asparagus and Cucumber with Pear and Shallot Champagne Vinaigrette. I also add hot chilli flakes. I like that extra zing of heat. And to enhance the heat, I also serve it with chilli oil. Also, along with the parmesan, I have been known to replace some of it with cheddar cheese. A good, old cheddar.
Because Sea Aspargus has a briny, almost seaweed flavour, it goes wonderfully with eggs. And is a lovely contrast to the 'creamy', nutty taste of cauliflower. But if you can't find it, don't worry, Yotam didn't include it in his either. But I think he'd like this riff! It adds a green element as well. The more colours, the better, correct?! If I don't have sea asparagus in the house, I will quickly sauté up some sliced kale and add it in as well.
Also, feel free to experiment with the flour in this batter. I have used Emmer or Einkorn flours with perfect success. I have a feeling mesquite would work great as well. If you are comfortable using alternative flours or you have a gluten free flour that works great in pancakes etc, this would be the time to pull it out and use it here.
When I am making this for just Jim and myself, I cut the recipe down a bit and use an 8 inch springform pan. Just roughly guesstimate the proportions of the ingredients- it will work out. It's a pretty forgiving recipe. So for us I may use 1/2-2/3 of one cauliflower (depending on the size), 5-6 eggs, 2/3 cup of flour and so on. If you want to make this for a brunch gathering, the original size would make a perfect addition to your brunch spread. It can be cut up smaller to serve 12 people easily.
As I am writing this all down, I am suffering through a stupid head cold. The coughing is just nasty this time around. Not sleeping through the night at all. And every time I cough now, I make a spelling mistake! I am so looking forward to feeling healthy and energetic again. In the meantime, I actually made this recipe again last night, as it will feed us for a few days. The fact that I could bring this dish together despite a clogged up head, should tell you how easy this recipe is!
Love Jen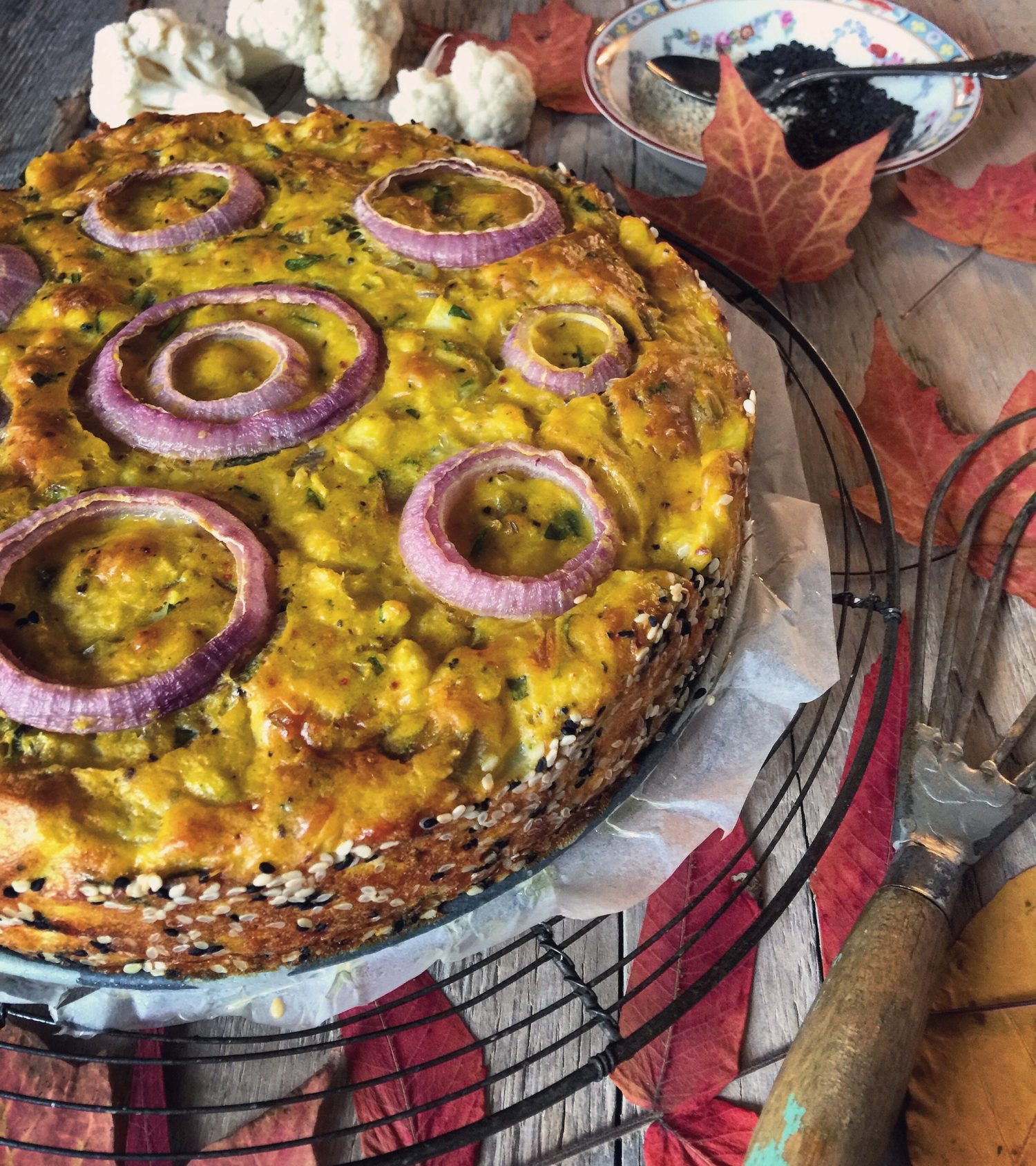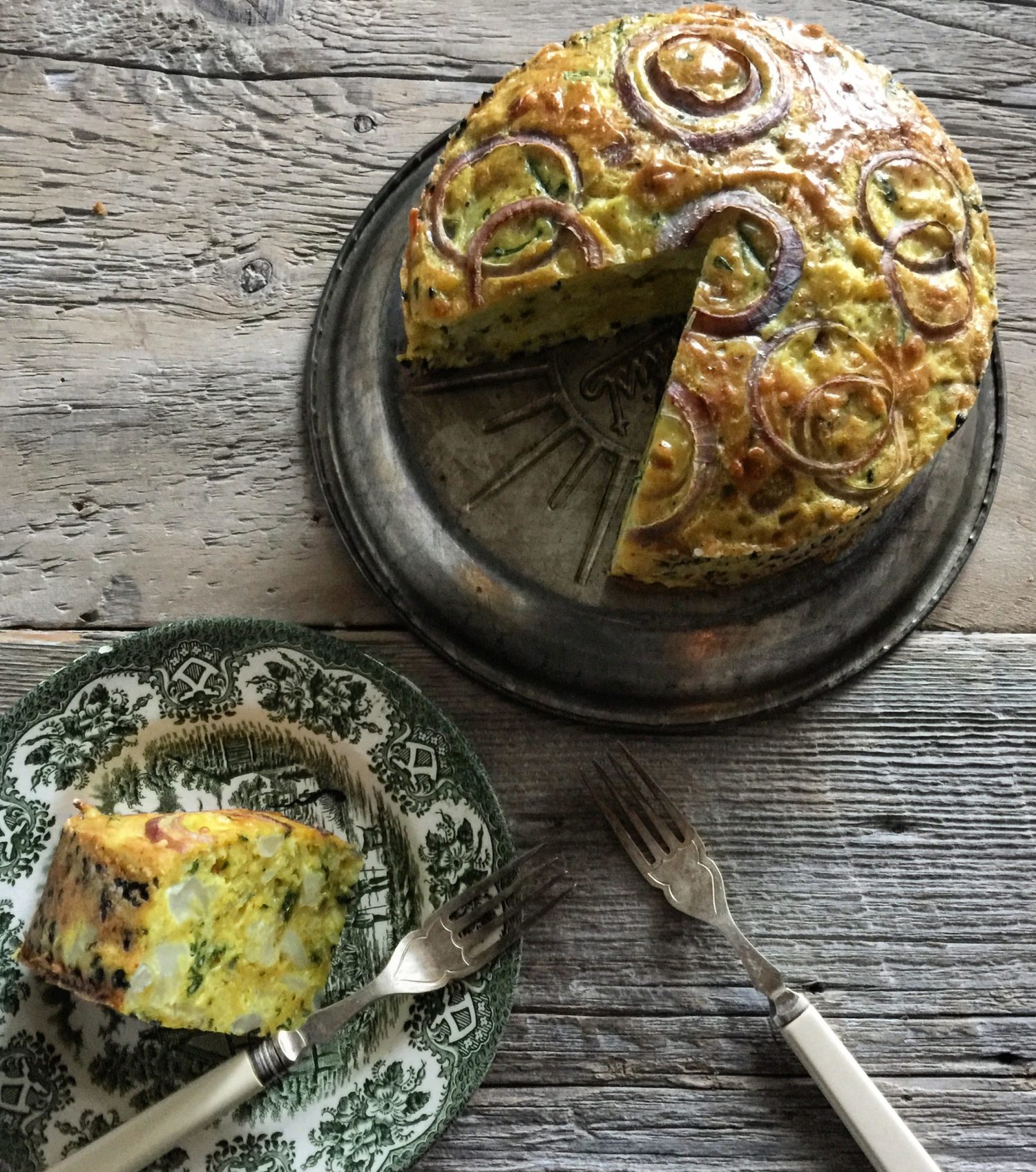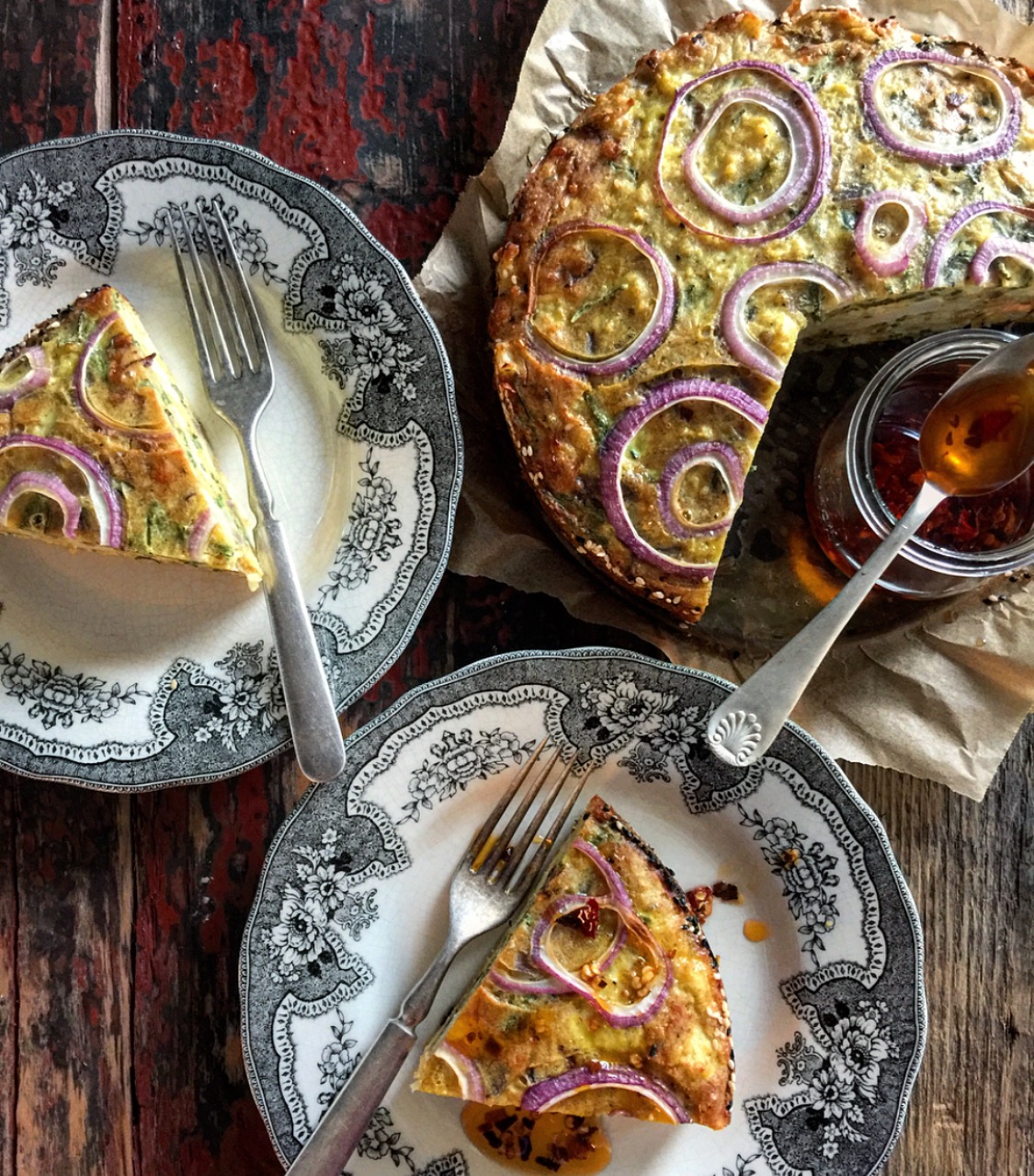 Cauliflower Cake
This iconic savoury 'cake' is a vegetarian winner of a meal. Cauliflower, onions, cheese and herbs all come together in a dense, high almost frittata like cake. Perfect for brunch or dinner!
Ingredients
1

small cauliflower

, outer leaves removed, broken into 1 1/4-inch/3-cm florets (1 lb/450 g)

1

medium red onion

, peeled

5

tbsp

(75 ml) olive oil

1/2

tsp

finely chopped rosemary

1/2-1

tsp

hot chilli flakes

optional

7

eggs

½

cup

(15 g) basil leaves, chopped

1

cup

(120 g) all-purpose flour, sifted

1 1/2

tsp

baking powder

1/3

tsp

ground turmeric

5

oz

(150 g) coarsely grated Parmesan or another mature cheese

1/2

cup

sea asparagus

, rinsed and roughly chopped (optional)

Melted unsalted butter

, for brushing (can also use olive oil spray)

1

tbsp

white sesame seeds

1

tsp

nigella seeds

Salt and black pepper
Instructions
Preheat the oven to 400ºF/200ºC.

Place the cauliflower florets in a saucepan and add 1 teaspoon salt. Cover with water and simmer for 15 minutes, until the florets are soft. They should be easily pierced. Drain and set aside in a colander to dry.

Cut several round slices, each 1/4 inch (5 mm) thick, off one end of the onion and set aside.

Coarsely chop the rest of the onion and place in a small pan with the oil and rosemary and chilli flakes (if using). Cook for 10 minutes over medium heat, stirring from time to time, until soft. Remove from the heat and set aside to cool.

Transfer the onion to a large bowl, add the eggs and basil, whisk well, and then add the flour, baking powder, turmeric, Parmesan, 1/2 teaspoon salt, and plenty of pepper.

Whisk until smooth before adding the cauliflower and stirring gently, trying not to break up the florets. If you are including sea asparagus, add it now as well.

Line the base of a 9 1/2-inch/24-cm springform cake pan with parchment paper.

Brush the sides with melted butter or veggie spray, then mix together the sesame and nigella seeds and toss them around the inside of the pan so that they stick to the sides.

Pour the cauliflower mixture into the pan, spreading it evenly, and arrange the reserved onion rings on top.

Place in the center of the oven and bake for 45 minutes, until golden brown and set; a knife inserted into the center of the cake should come out clean.

Remove from the oven and leave for at least 20 minutes before serving. It needs to be served just warm, rather than hot, or at room temperature.
Recipe Notes
I often add 1/2 cup of sea asparagus to the 'batter' with the cauliflower. If you want to also add the sea asparagus (I urge you to find and use it- it's SOOOO good for you), first set it in a bowl of water to rinse off any strong briny-ness. On the other hand, if you don't mind that 'sea' flavour, like I do, then just give them a quick rinse under cold water in a colander. Then chop roughly and add to the batter. If you are using the sea asparagus, you can hold back on the salt, since it adds it's own natural saltiness to the dish.
As an alternative to sea asparagus, try adding 1/2 cup of quickly sautéed kale.
This recipe feeds 8 easily. If I know it is only Jim and I eating this, I will use an 8 inch springform pan, and roughly guess at using 3/4 of all the ingredients. It's a pretty forgiving recipe, so don't try to be exact in reducing the recipe.
Recipe from Plenty More by Yotam Ottolenghi
SaveSave
SaveSave
SaveSave
SaveSave
SaveSave
SaveSave
SaveSave
SaveSave
SaveSave