This soup reminds me of my mom.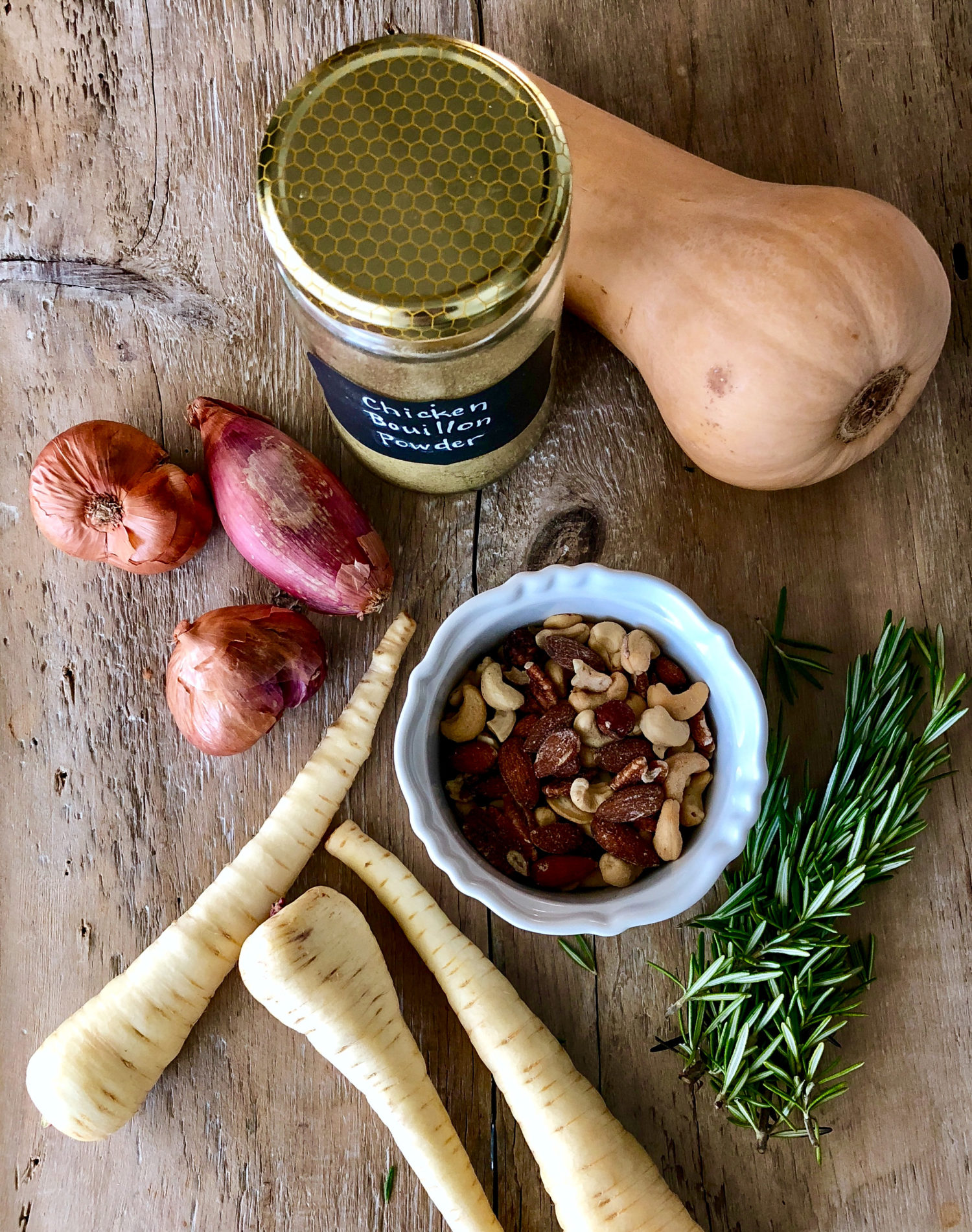 Not because she ever made this. She wouldn't have ever put parsnips and roasted mixed nuts together in a soup. At least I don't think so!!
But what she was amazing at is taking the most mundane of ingredients and combining them to make a healthy and tasty family dinner. She. Never. Wasted. Anything. I mean it, if it hadn't gone bad or off yet, it went into a soup, stew or fricassee of some sort. Even when us kids were tired of something, there was no way that she would discard it. I know her frugality stemmed from a childhood of not having, making due, and rationing, back in Germany during and after the war. And we can look back and say that we always ate well, even if we didn't care for every dish that we were presented! I think this is one of my mom's traits that I admire so much. She was never frivolous, or throw away in any aspects of her life. Long before the idea of 'shopping your home', 'making everything count', and 'no-waste' living became popular as a raised consciousness way of life, my mom was already doing it.
Back to this soup. I had a bag of parsnips left over from a catering event. I had a butternut squash sitting at the back of the fridge. Both were in effect mocking me. "When are you going to use us?" "You better use us before it's too late and we go off." "Don't ignore us and then throw us out- that's so wasteful!" They were acting just like my mom!! So I knew that today was the day I had to take advantage of the fact that they were still in good shape, in season, and healthy!
I've often roasted off veggies and added them to stock and cashews to make a cream soup of sorts. Nuts are a fantastic way to create a creamy version of almost any soup. We already know how great nut milks are. So soaking or simmering nuts in a stock base will help that stock turn creamy when puréed up. But the problem was, I didn't have any cashews in the cupboard. But wait… there was a bag of roasted mixed nuts sitting there. And there were cashews among the other nuts. I guess I could pick through and pull out the cashews. But wait, why do that? Why not use all the nuts? Oh this was going to be fun!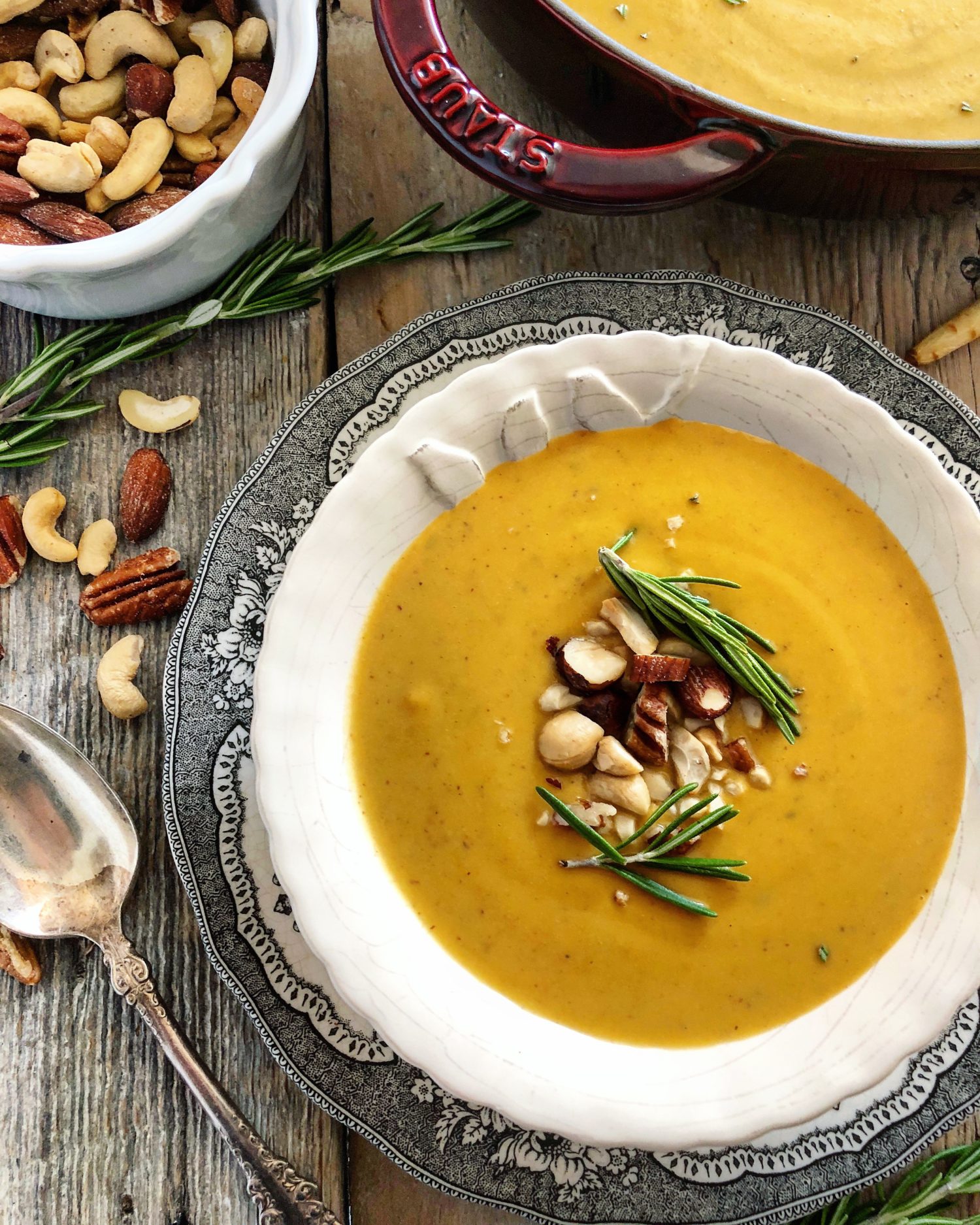 So I roasted off the squash with some cumin and salt and pepper. In the meantime I caramelized some shallots in olive oil. Then I deglazed the pot with vegetable stock, and added the parsnips chopped up, and some of the mixed nuts. They all simmered together till softened. Then I combined both the squash and the parsnip mixture in my trusty Vitamix. Puréed till smooth and then re-seasoned. So so easy. The nuts help the stock turn into a creamy goodness, so no dairy is needed.
Now, when seasoning this pot of soup, I decided to add some white pepper, even though there was already black pepper in the soup. White pepper is brighter, a little bit more of bite (but not hot) and really adds a layer of depth. When adding the salt at the end, I first tasted the soup. Don't forget, I had salted the squash at the beginning, and the roasted nuts were already salted. So there was no need to go crazy with salt. Taste and then add till you are happy.
Top with some more chopped nuts and extra rosemary, et voila, dinner is served. And the whole time I was thinking, this is what mama would have done. Even if she would't have used parsnips and nuts!
Love Jen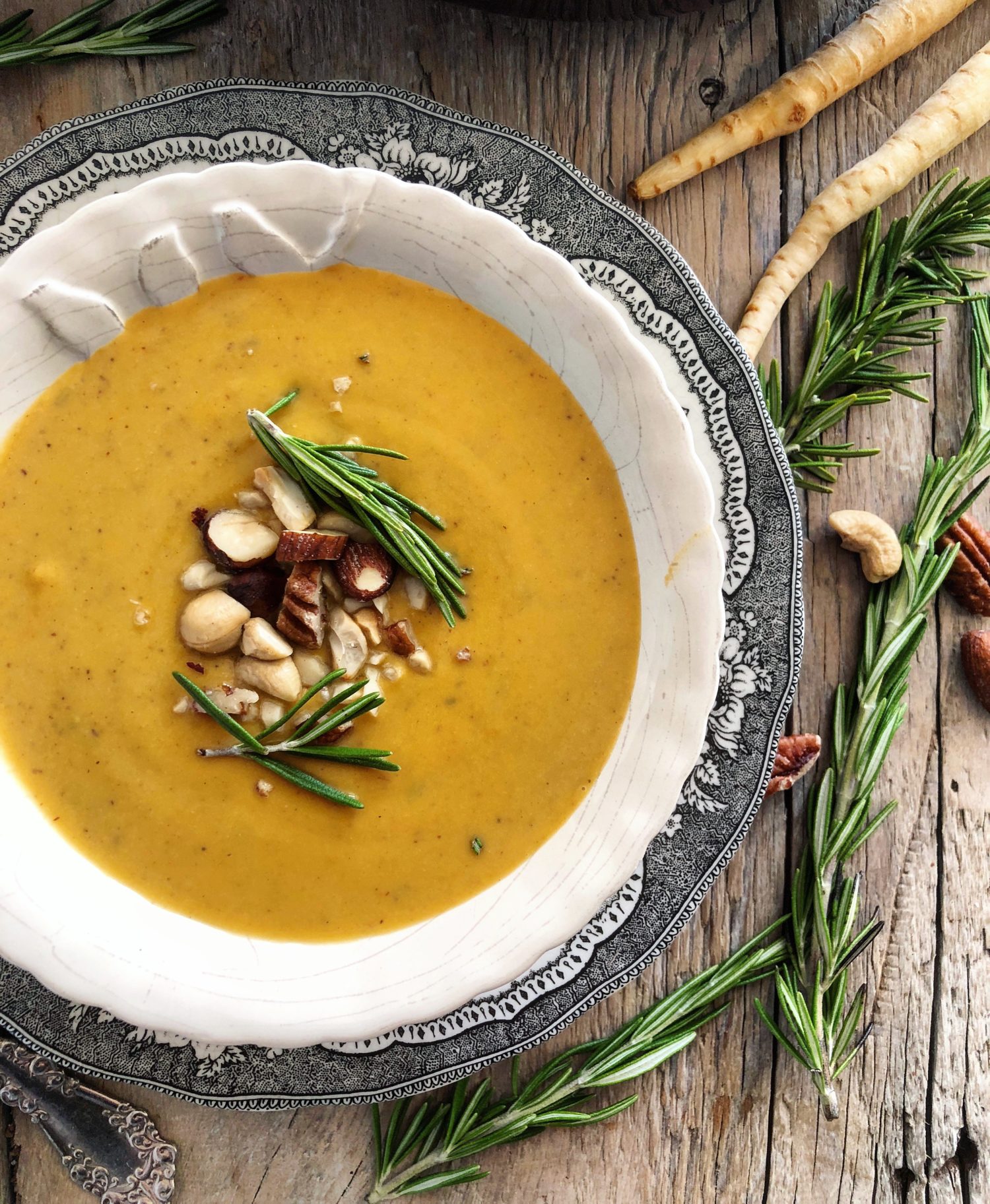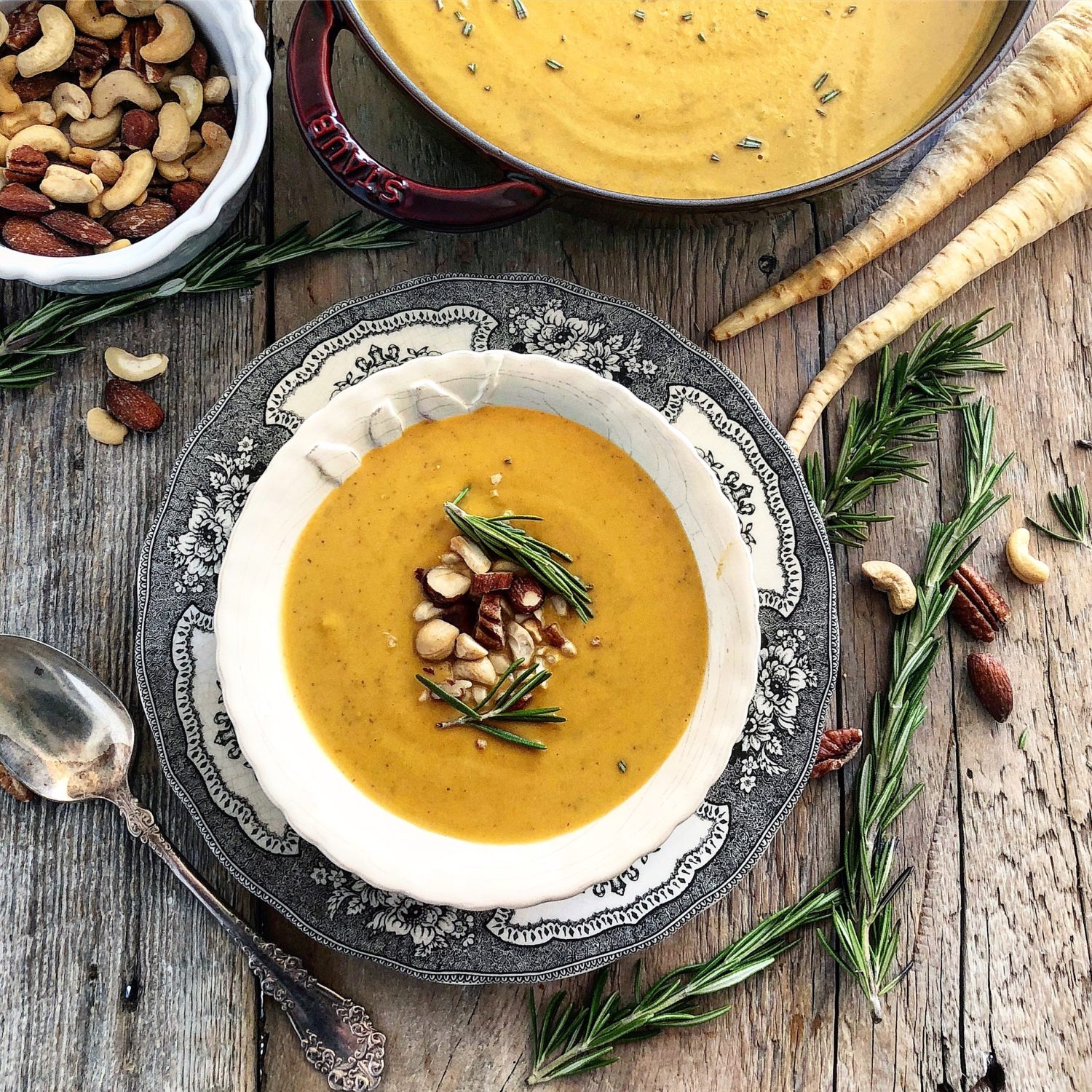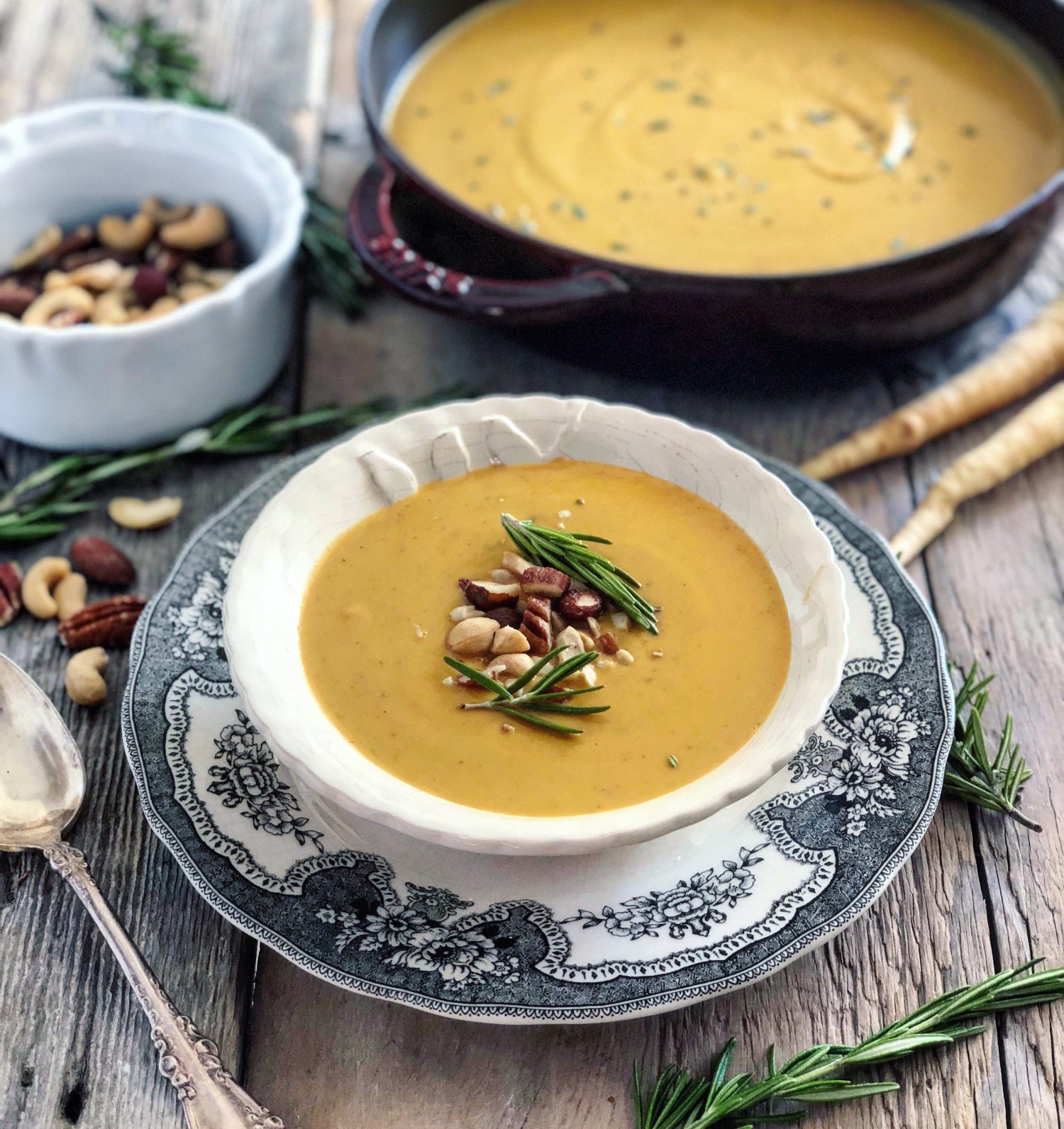 Parsnip, Rosemary and Mixed Nuts Soup
In season veggies meet up with roasted mixed nuts to make a creamy soup without the dairy! Rosemary, white pepper and cumin add flavour. Cozy and easy!
Total Time
1
hour
20
minutes
Ingredients
1

small

butternut squash (1 1/2-2 lb)

peeled and cubed

3

tbsp

olive oil

divided

1/2

tsp

ground cumin

kosher salt and cracked pepper

4-5

medium

shallots

coarsely chopped

1

tsp

dried thyme

5

cups

vegetable stock

can also use chicken stock if so desired

3

medium

parsnips

peeled and coarsely chopped

5

oz

(2/3 cup) salted roasted mixed nuts

divided

2

tbsp

chopped fresh rosemary

1/4

tsp

white pepper
Instructions
Preheat oven to 400F

Lay out cubed butternut squash on a parchment lined baking sheet.

Drizzle with 1 tbsp of olive oil. Sprinkle with cumin, salt and pepper. Mix around with your hands to evenly coat the squash.

Bake for about 45 minutes on centre rack till softened and slightly caramelized. Remove to cool somewhat.

Meanwhile, in a stock pot over medium heat, heat up the remaining olive oil. Add the shallots and cook till golden. About 10-12 minutes.

Add the thyme and stir around.

Add the parsnips and 1/2 of a cup of the mixed nuts. Stir around.

Add the stock to loosen up the bits at the bottom. Bring to a boil and then reduce to a simmer. Cook till softened, about 15-20 minutes.


Take the baked off squash and the 'soup' and purée in batches till completely smooth.

Return to the pot. If you would like to thin it out more (this will be affected by the size of your squash, take some filtered water and swish it around in your blender container to loosen up any bits and add this water to the pot. Or you could also add more stock.

Warm the soup through and add the white pepper, and fresh rosemary.

Taste to see if it needs more salt. This will depend on how salty your nuts were. You will want more salt, but just taste first to see where you are starting from.

To serve,

Chop the remaining nuts coarsely. Sprinkle some of the nuts over each serving of soup, and garnish with extra fresh rosemary.
Recipe Notes
Feel free to swap out an acorn squash for the butternut if you have it instead.
This was all about what was in the kitchen. The nuts became the dairy.
SaveSave
SaveSave