This just sounded kinda weird to me when I was flipping through one of the (possibly too) MANY cookbooks in my kitchen.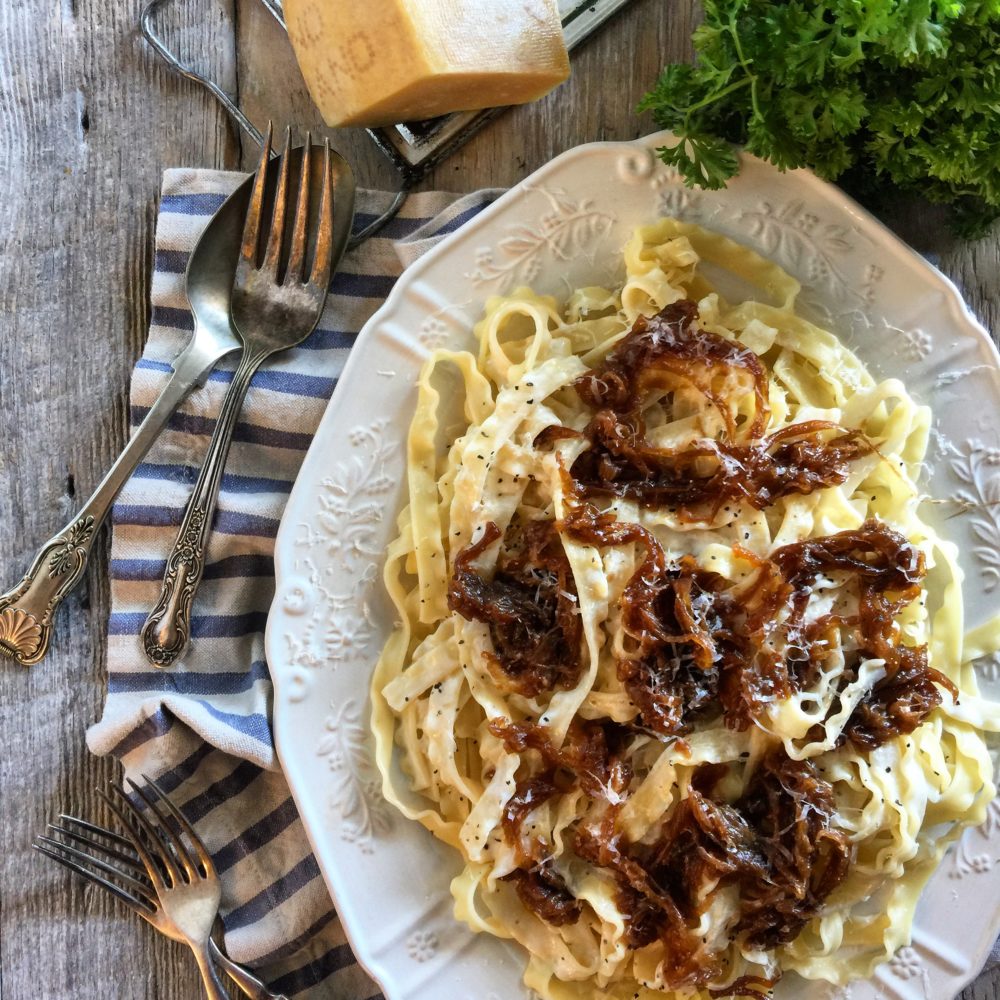 We were using Genius Recipes from the gang at Food52 back in 2015. This book is a compilation of genius tips, crazy recipe ideas and other foolproof, scary brilliant ideas to enhance the cooking and eating experience. And every recipe I tried backed up the claims. It even contains recipes that I was already using and loving for years because of their achievement in ease and taste.
But still, using yogurt to fake an Alfredo sauce? I had never even thought of the two in the same style of cooking, let alone sentence! Yogurt just seems so…Greek, Middle Eastern, you know what I mean. And Alfredo Sauce, well, that's just so Italian American! But when I read through it, it couldn't have been easier to produce, so why not see what the hoopla was about? What could it hurt, except maybe some strange flavours which would illicit weird looks from Jim. I could take it.
The first part of the recipe is the process of caramelizing the onions. That amazing process which takes slightly acrid, biting onion slices and turns them into a smokey sweet velvet compote. It is a slow and rather therapeutic activity. Watching them slowly turn from white, then translucent, then golden, to brown sugar caramel, till finally they transform into that lovely whiskey colour.
Once they are done, they can sit on the back burner. Now it's just a matter of cooking up your pasta, and then saving some of the final pasta water to mix with a good amount of yogurt. That's it. The heat of that water turns the Greek yogurt into a creamy delight. And somehow the flavour does change. The tang is still there, but now it is in the background. It is softened by the slightly salty pasta water. Toss the fresh pasta in it along with some freshly grated pecorino or parmesan, and serve with the onions on top, and that's it. Yep, that's all she wrote.
And it's good!!! I was sceptical at first. But it totally won me over after the first bite. Now, I will admit, I do take it a tiny step further. I like a bit of heat and spice. I like freshly ground pepper on it. Try and find the freshest black pepper you can find for this. Treat it like a finishing salt. It will make all the difference in a dish like this.
Along with a grind of pepper, I do add a touch of chili flakes to the yogurt sauce. Just 'cuz I can. But you really don't have to. But what you could do is add spinach or chard, or even peas or freshly torn mint leaves. Really, this dish can be eaten in it's simple state with the utmost satisfaction, or you can totally make it a vehicle for your own favourite veggies. This is a perfect vegetarian meal. But if you wanted to add sautéed pancetta to it, I wouldn't mind! Have fun!
Love Jen.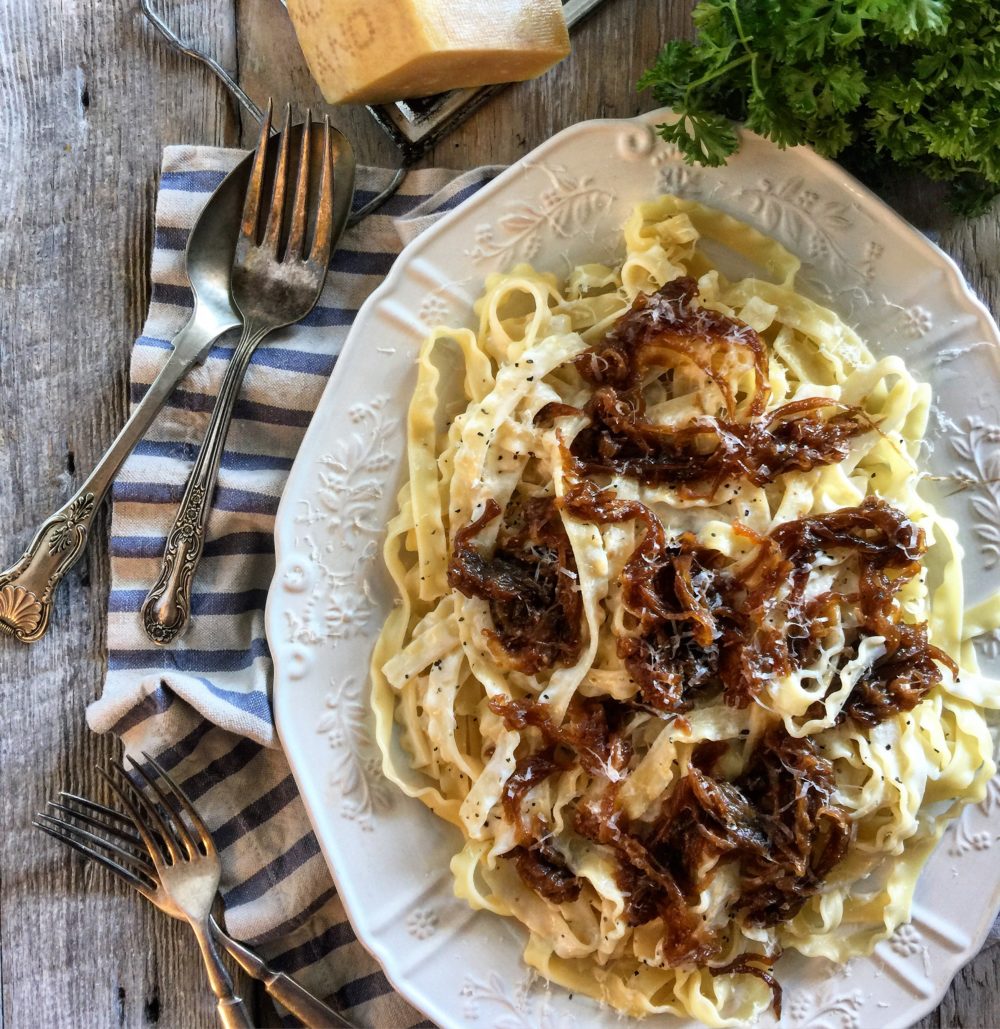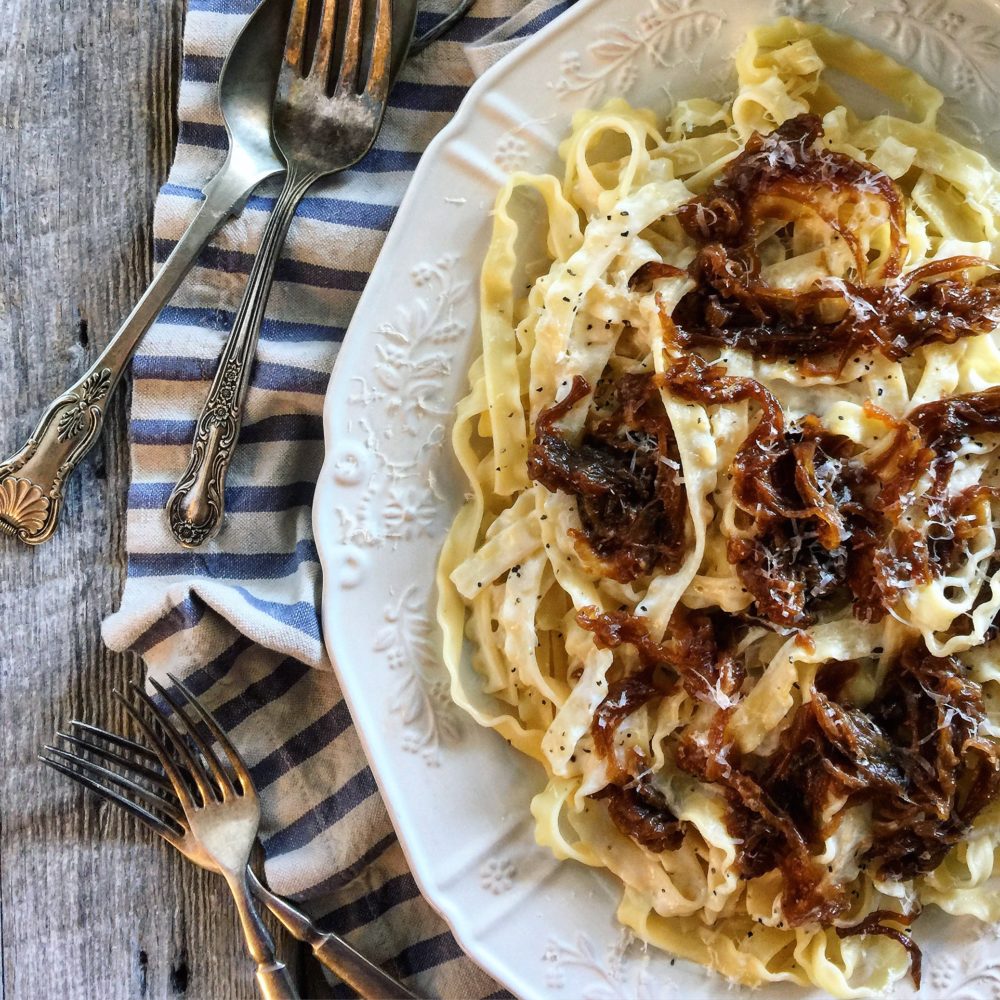 PASTA WITH CARAMELIZED ONIONS AND YOGURT SAUCE
A simple pasta dish with a creamy 'Alfredo' sauce made out of yogurt and pecorino cheese. And topped with smokey, sweet caramelized onions
Ingredients
5

tbsp

extra virgin olive oil

6

cups

(1.4 litre) sliced onions (I slice them from top to tail, to keep more structure to the onions

sea salt

1

lb

(450 g) of tagliatelle or linguini etc

2

cups

(450 g) thick Greek yogurt (or else strain a looser yogurt- see the Notes below)

1

cup

(100 g) coarsely grated pecorino or kefalotyri cheese

freshly cracked pepper

1

tsp

hot chili flakes

(optional)
Instructions
Heat the olive oil in a large skillet over medium high heat.

Add the onions and drop the heat to medium.

Cook, stirring frequently and seasoning with salt to taste as you go, until the onions are soft and golden brown (about 35-40 minutes)

Meanwhile, fill a large pot with water and bring to a boil. Season with a good amount of salt.

Add the pasta and cook until ready (al dente)

Reserve 1/2 cup (120 ml) of the pasta water and then drain the pasta.

Combine the yogurt and 1/4 cup of the water in a large bowl Add more water as needed to get the consistency you desire. At this point I would add some heat with the chili flakes.

Toss the pasta with the yogurt sauce.

Serve the pasta immediately, sprinkling the cheese all over the pasta, and topped with the onions and any of their reserved juices.

Add freshly cracked pepper over everything.
Recipe Notes
f you are not using thick Greek yogurt, line a colander with cheesecloth and set it over a bowl. Add the yogurt and let it drain for at least 2 hours before proceeding with the recipe.
Feel free to add chopped spinach or chard to the pasta just before it is finished cooking, and then drain all at the same time. Or blend the sauce with peas and freshly chopped mint.
Despite the simple ingredients, it is a rather rich dish, and this is why I state that it feeds 6. But it may only feed 4 very hungry people!!
Adapted from Genius Recipes
SaveSave