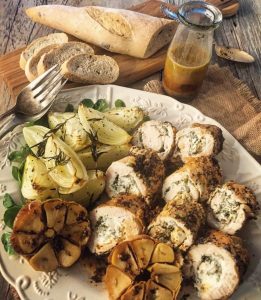 There are no two ways about it, this is Jim's favourite dinner that I make for him. I usually save it for special occasions: anniversaries, a special date night, a reward for putting up with me as we cleaned his office… you know what I mean!
The first time I made it (almost 20 years ago) I just thought it would be another Wednesday evening dinner. Or was it Thursday? The recipe seemed basic enough: pound out some chicken breasts, stuff them with goat cheese and herbs, wrap and secure with toothpicks, and then sprinkle with pepper. Sear, and then let them simmer in wine and stock. But the end result was way more than I was expecting. Some of the goat cheese oozed out into the simmering liquid, and combined with the pepper bits that were already stuck to the bottom of the pan, by the time I had reduced the liquid into a dark amber gravy or jus, the flavour took on a whole new life. I was hooked. I had roasted some garlic heads, onions and potatoes, and that intense sauce flavoured them all perfectly. When Jim was finished his plate, he basically told me, "Make it often, and don't change a thing!" He needs to add the 'don't change a thing' when he is clear that he likes it just the way it is. If not, he knows that I can't leave well enough alone, and will play with the seasonings, ingredients etc.
So for years now, I pull out this dish when I really want Jim to be happy. Oh of course I always want him to be happy. But this meal means that he will not have to be my guinea pig- he can just sit back and enjoy a meal where I don't change a thing!! I know there are times when he looks at the plate and wonders, 'what have I gotten myself into?'
Sure, the gravy is so stunning, that sometimes I will switch up the golden roasted potatoes for mashed potatoes. Gravy deserves to be sitting on mashed potatoes. But even if it is rice, or egg noodles, this gravy needs to be savoured. I have been known to sneak back into the kitchen, grab a piece of baguette and sop up any leftovers in the sauté pan!!
It really is an easy recipe. Butterfly your chicken, and spread open on wax paper. Cover with another sheet of wax paper. Pound out till uniformly thin (about 1/4 inch or so) Spread some goat cheese across the lower half or so, and sprinkle with a goodly amount of freshly chopped herbs. Tuck in the sides, and roll up, making sure that the ends stay closed inside. Secure with toothpicks. Roll in coarsely ground pepper. Then you'll sear them on all sides in a sauté pan. Once all sides are a lovely brown, add wine and chicken stock, cover and simmer for another 20 minutes. Then you'll remove the breast rolls to rest, while you reduce the cooking liquid into a sumptuous gravy. And there you have it!!
It seems appropriate that I share this recipe now with you all. We are getting ready to leave on a trip to Europe and a Mediterranean cruise, for our 20th Anniversary. True, the actual date of our anniversary is in October. But September is such a glorious time to travel. Not too hot, not too cold, really the weather in September is just stellar, just about anywhere, wouldn't you say?! And when we return, for our anniversary, maybe I'll make this recipe again. Or maybe I'll get taken out for dinner! I'll keep you posted 🙂
Love Jen.
Pepper Crusted Chicken Breasts, Stuffed with Chèvre and Fresh Herbs
Tender, juicy chicken breasts rolled around chèvre and fresh herbs, with a pepper crust, all of which enhance the most amazing gravy. Perfect for family dinners, and yet totally company worthy.
Ingredients
2

chicken breasts

1

small

package of soft fresh goat cheese

3

tbsp

freshly chopped herbs

parsley, thyme, tarragon, rosemary, chervil, whatever is available that works well with chicken

3

tbsp

coarsely ground black pepper

or a bit more, for coating the breasts

1-2

tbsp

olive oil

3/4

cup

white wine

3/4

cup

chicken stock
Instructions
PREPARE THE CHICKEN

Place the chicken breasts leaving a good 2 inches between them on a sheet of wax paper on the counter. (alternatively, you can work on one breast at a time).

Open them up like a book. It may be that only the 'tender' is the part that will fold over.

So you're going to butterfly them to help them open up more.

Taking a sharp knife, cut vertically down the thick part of the meat down the middle close to where the tender is attached. Don't cut all the way through, only about half way. By doing this, you will allow more meat to fold over the tender.

Thus the meat will be more evenly distributed in front of you.

Once both have been done, cover with another piece of wax paper. Pound the meat until it has spread out to a uniform thickness of about 1/4", no thinner.

Ensure that the wider part of the breast is at the bottom, and the 'pointier' end is at the top.

Divide the goat cheese between the two breasts, on the lower part of the breasts. Spread out with a knife, but don't go to the very edges.

Divide the freshly chopped herbs over the cheese.

Working one at a time, fold the sides over the cheese filling. Then take the bottom part of the meat and fold up over the cheese, enclosing the side meat.

Roll up firmly towards the pointy end, not pulling so tightly that the meat tears, (there may be natural tears, don't worry about those)

Once rolled up completely, use toothpicks to secure the end flaps.

Place 1 tbsp of the pepper in a small plate that will hold the rolled breasts. Place the breasts firmly into the pepper.

Cover the rest of the breasts with the remaining pepper, using any that falls into the plate to cover the sides etc. You want as much pepper as possible covering all the sides. Depending on the size of the rolls, you may want to use more pepper.

COOK

Heat a medium saute pan over medium high heat. Add 1 tbsp of olive oil to the pan. Place the rolls into the oil and sear until a good crust develops (about 4 minutes)

Gently loosen and turn to sear the next side. Keep up, adding more oil if necessary, until all sides are browned nicely.

Add the wine and stock. Cover and then reduce the heat to a gently rolling simmer.

Cook for 20 minutes, until the meat is cooked through. Remove the breast rolls to a plate to rest.

Increase the heat back up to medium high and cook, reducing the liquid filled with bits of cheese that oozed out, and peppery goodness, until a scrumptious gravy is developed.

Stir, and watch, because it will hit a point where suddenly that beautiful sauce disappears and leaves a glaze at the bottom of the pan. You want to ensure that you have enough gravy for the both of breasts.

TO SERVE

Slice the rested rolls on the diagonal into 4 equal pieces. Serve with gravy poured over them, or conversely, place some gravy on the bottom of the plates and serve the pieces on top of it.
Recipe Notes
Jim loves this meal with roasted garlic, shallots and onions, and mashed or roasted potatoes. A rather monochromatic colour scheme, but this is how he likes it!!
Feel free to switch up the veggies- asparagus or broccoli would work great. And wouldn't rice or egg noodles also be yummy as your starch!