I can't look at these cookies without being bombarded with a rush of the most wonderful childhood memories.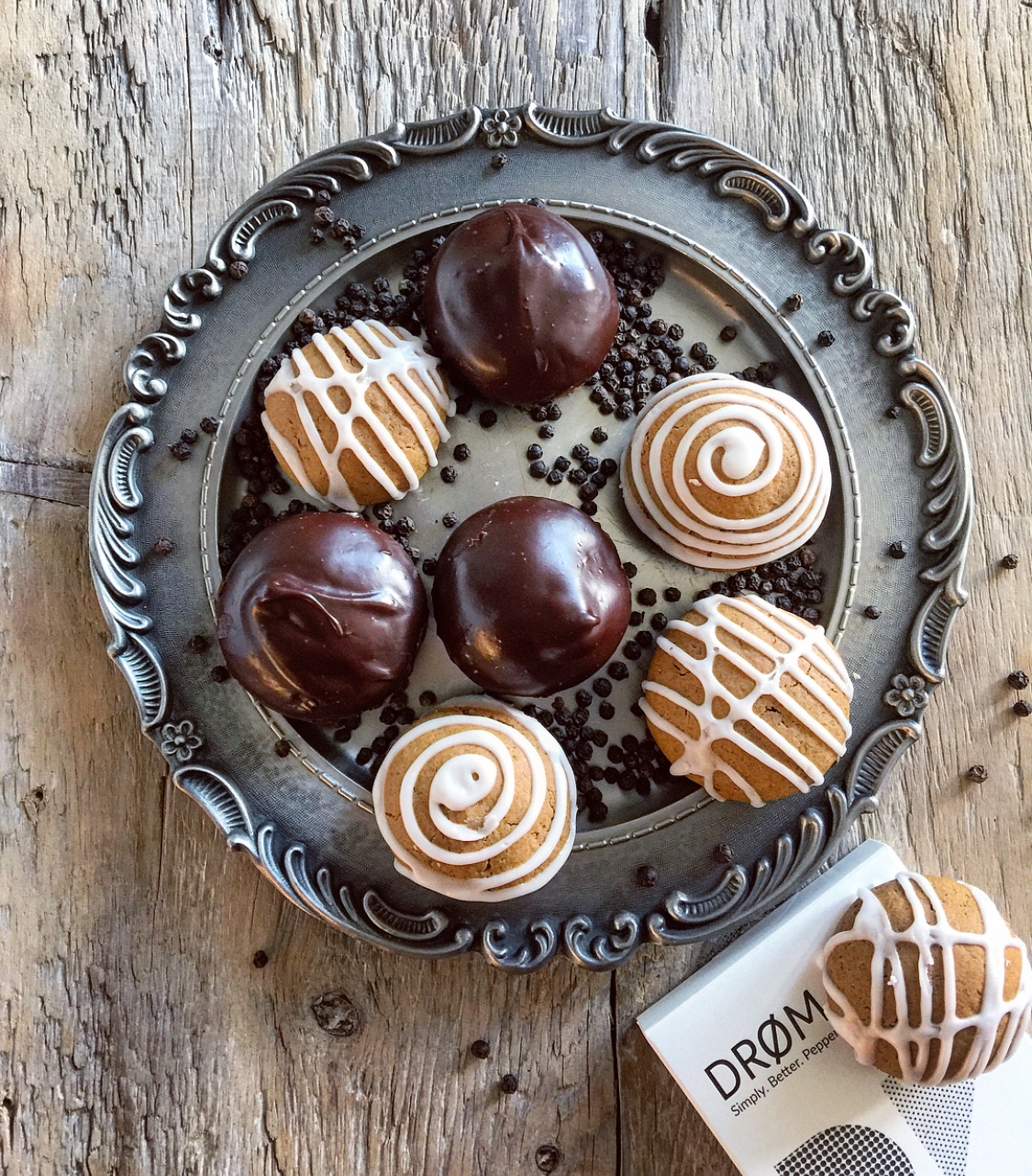 There are so many distinct flavours that accompany growing up with German parents. Cabbage rolls, sauerbraten, mustard, garlic salami, liverwurst, ham hocks with sauerkraut, and my most precious aroma and flavour: Gingerbread.
As soon as the weather turned wintery, I knew that the bags of chocolate covered lebkuchen hearts (and often filled with plum jam) and the glazed spicy pfeffernüsse cookies weren't far behind. As a kid, I would scope out our local Euro deli every time we entered it, to see if the displays of imported cookies were up yet. And as soon as they were, my mom knew she would have to buy a few bags to settle me down. Since I could never choose just one, she always let me have a bag of each.
Traditional Lebkuchen is a gingerbread that is made with ground nuts to replace most of the flour. They are usually more flat, and covered in either a glaze or a layer of chocolate ganache. Pfeffernüsse are a more rounded, puffed gingerbread cookie (without the nuts), most often covered in a dusting of icing sugar or else an icing sugar glaze. In both cases, the flavours are highly spiced and intense, in the best way possible. European gingerbread differs from our North American version in that anise seed and black pepper are expected in the spice blend. But once you've had it, you can't look back. In fact, you may find that typical gingerbread is lacking a little 'oomph'!
Last year I shared the recipe for a glazed Alsatian Gingerbread Loaf. It bakes up beautifully. It doesn't have a lot of rise, but rather, sliced up, it will remind you of a beautiful biscotti. But not as dry. Perfect dipped into a coffee. Hmmm, now I'm needing to bake this up again!
Back to these pfeffernüsse. The recipe is a breeze. I actually scoured quite a few recipes before I created the ultimate version of this recipe. I found some recipes lacking in the full spectrum of spices, and others had them, but not nearly enough. I finally came up with the best way to bring my expectations to life, so now I can share it- you will get that European gingerbread rush, I promise! You will love at how easy these come together. Molasses, ginger, cinnamon, black pepper, anise seed, cardamom, nutmeg, allspice and cloves all meet up with butter, sugar and flour. The hardest part is letting the dough sit in the fridge for a few hours to let the flavours meld together.
I used good quality black peppercorns for this recipe. This isn't a case where black pepper is just in the background of a savoury dish. It is one of the key components in this spice blend. So it just seems right to use the best pepper available. The same can be said about all the other spices as well of course. Source the best that you can in your locale, and you won't be disappointed.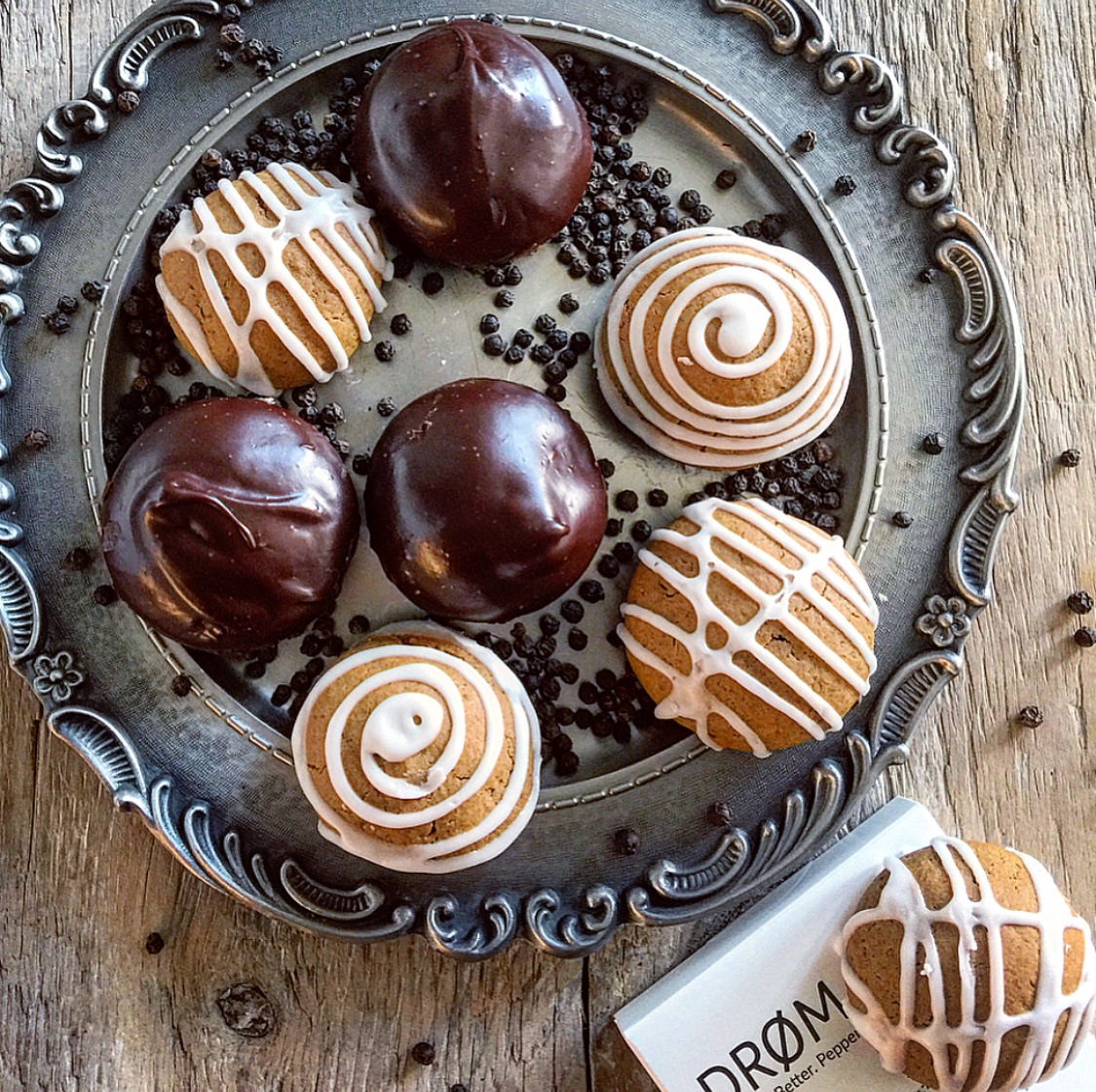 Once you are ready to bake these off, just roll into balls and lay on parchment lined baking sheets. In 12 minutes or so, you will see that they have puffed up ever so beautifully and just started to crack. Time to cool them. And once cooled, decide how you want to dress them up. Naturally you can make an easy glaze of icing sugar and milk or water, perhaps flavoured slightly with some more ground spices. Or why not replace the milk with eggnog!? Or you could dip the tops into a quick chocolate ganache. This time around I decided to do half and half. And instead of simply dipping the cookies in the icing sugar glaze, I poured the glaze into a squeeze bottle and released my inner Jackson Pollack!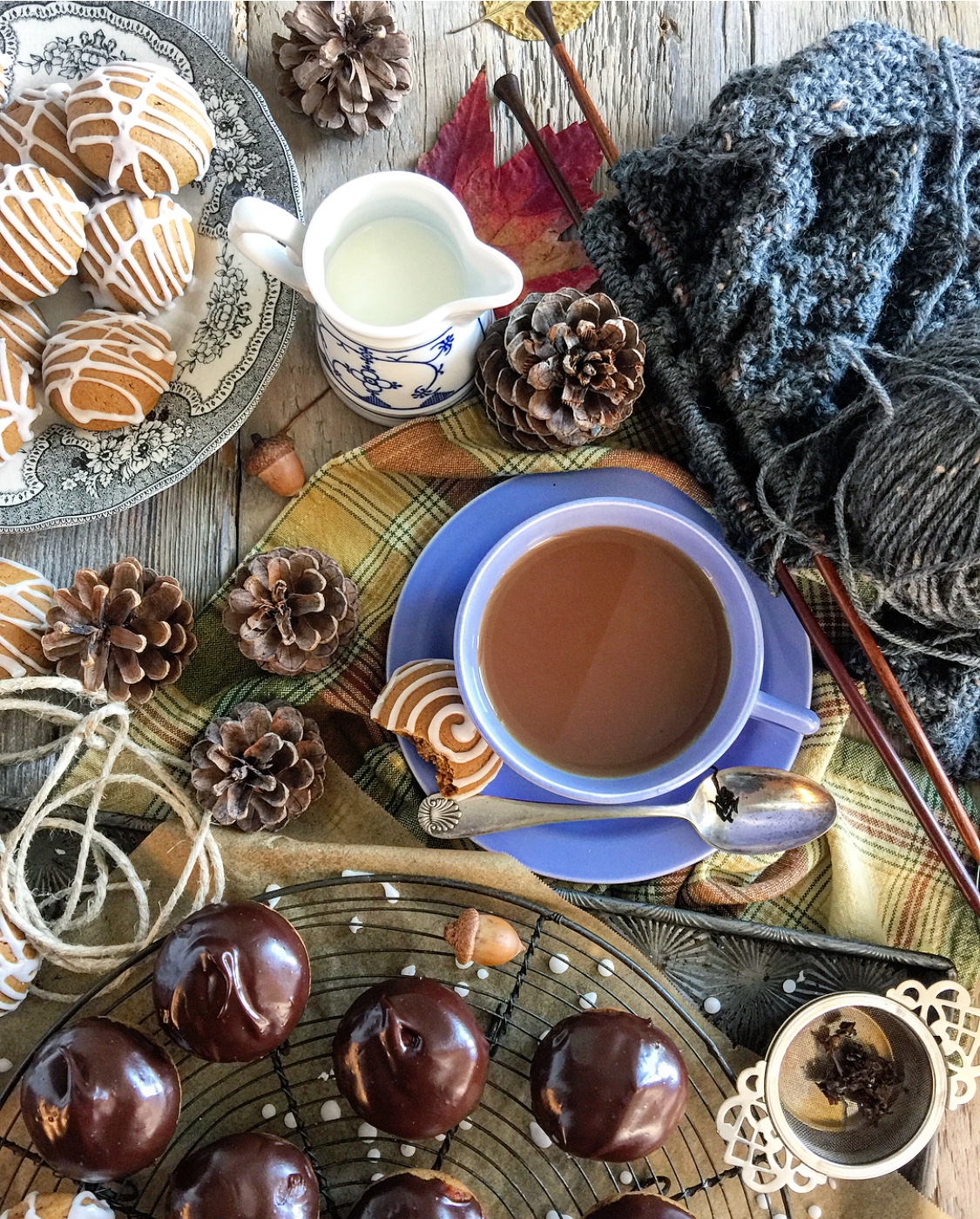 So now, instead of popping into my local Euro deli/grocery store to see if the bags of imported cookies have arrived (even though I may still do it for the memory rush alone), I can easily bake up a batch of these. They keep very well in an airtight container. In fact the flavours get even better, and the cookies a touch softer. And if I get a craving for these in April, I can have them! No more waiting for a specific season to indulge a cozy, heartfelt, and yummy childhood memory.
Love Jen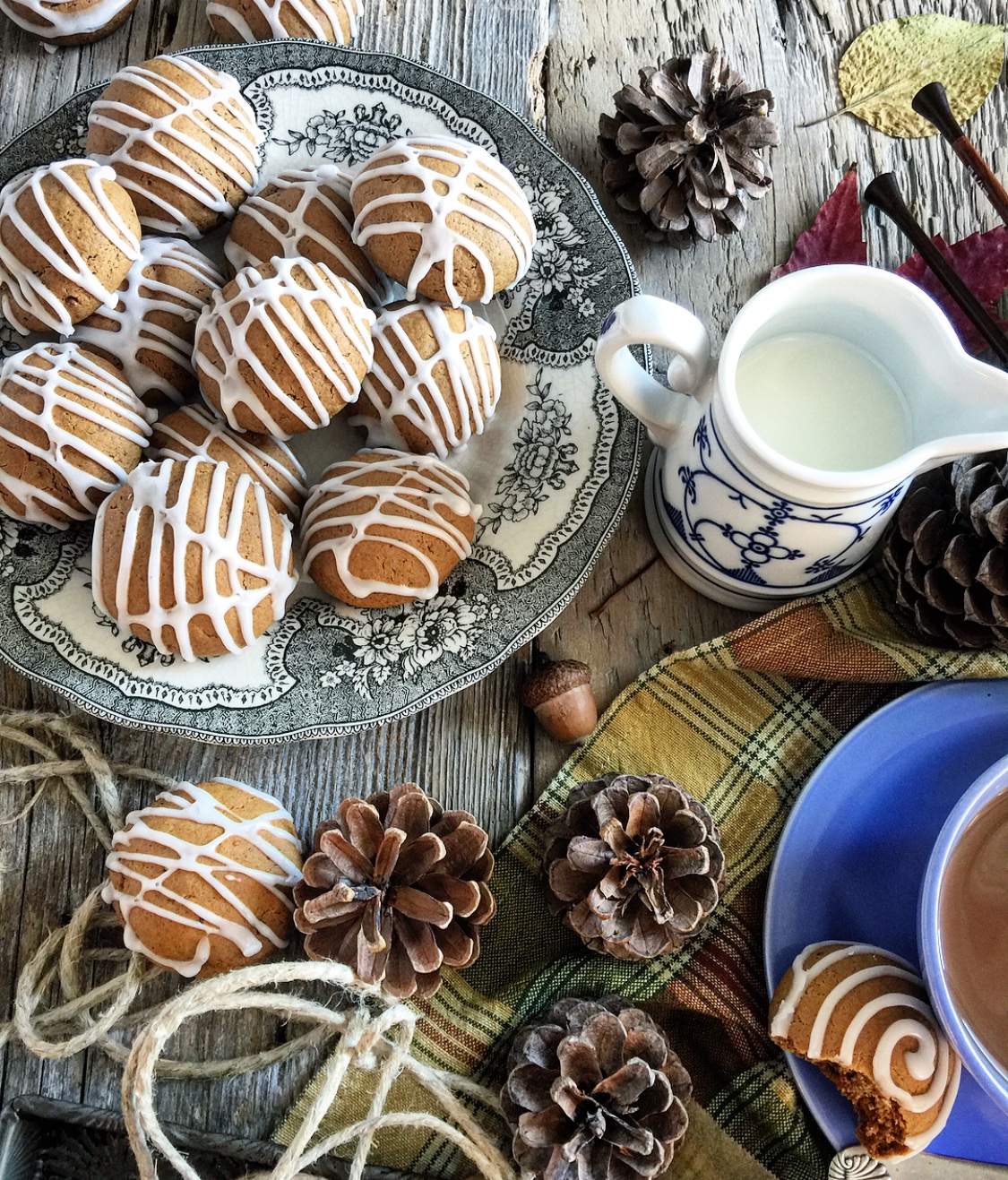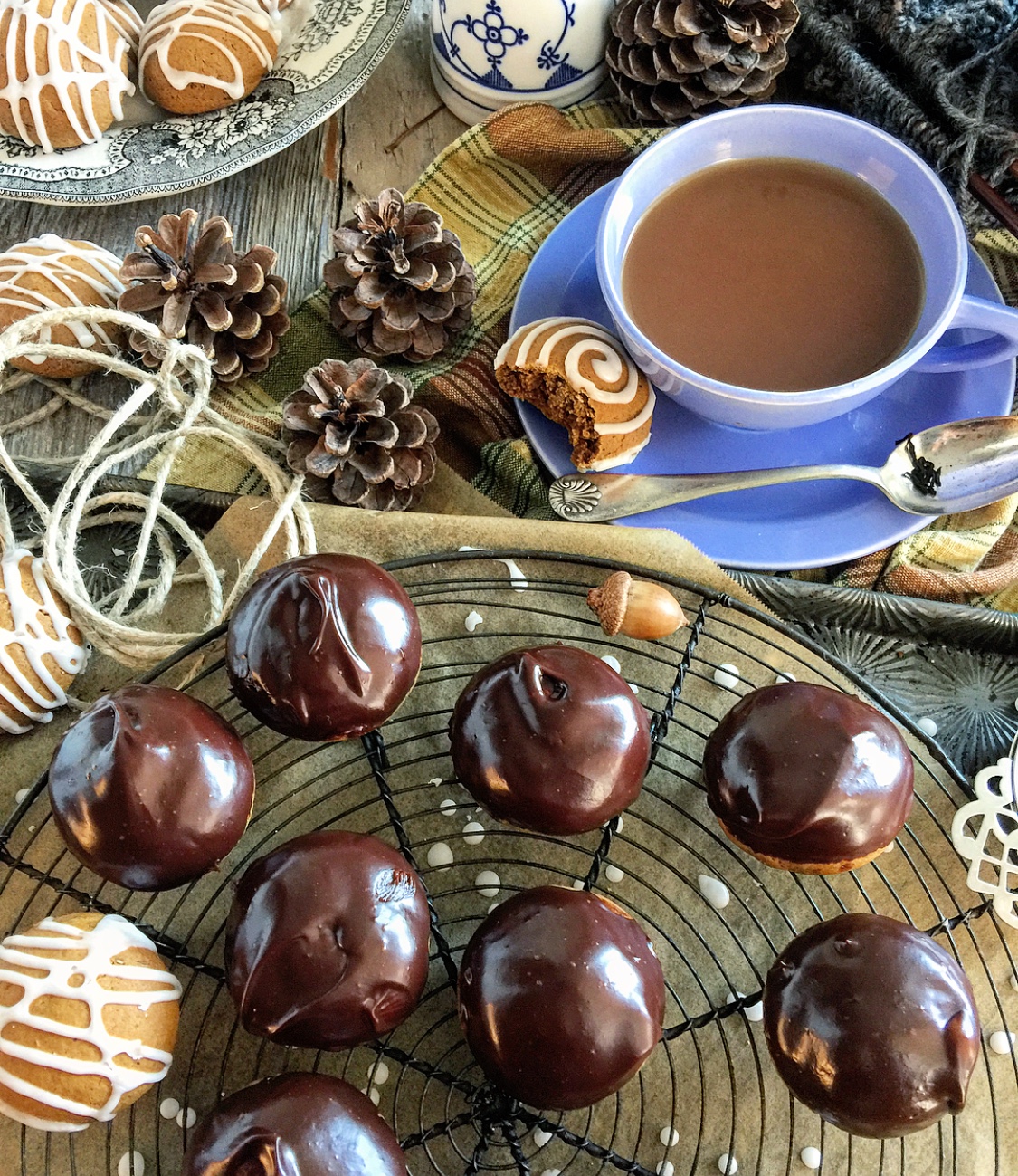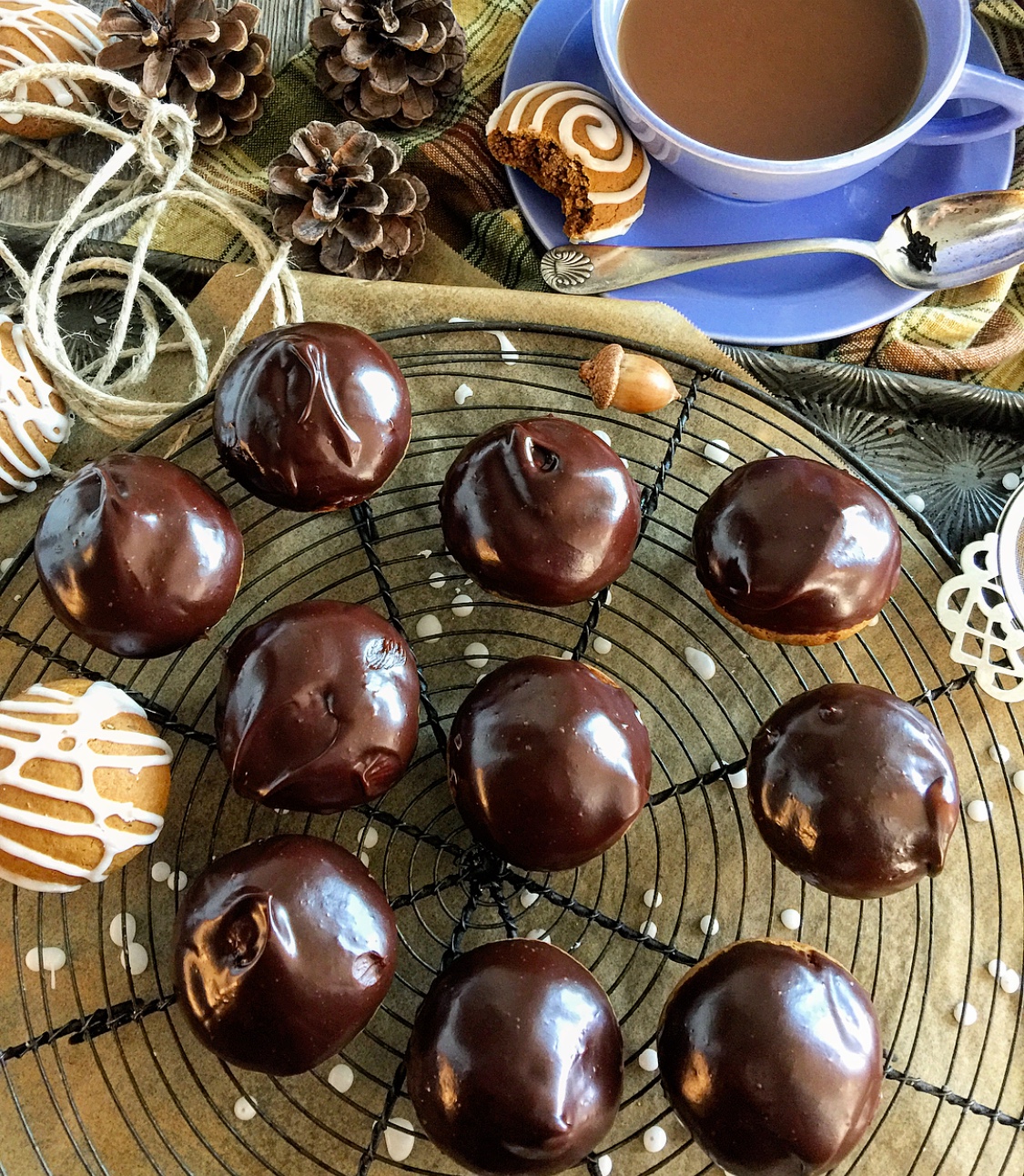 German Pfeffernüsse Cookies
These lovely little puffed balls of spices and molasses are so yummy that you'll want to make them all year round!
Prep Time
4
hours
20
minutes
Total Time
4
hours
32
minutes
Ingredients
1 1/2

tsp

cinnamon

3/4

tsp

freshly ground black pepper

1

tsp

anise seed

1/2

tsp

ground ginger

1/4

tsp

ground cardamom

1/4

tsp

freshly grated nutmeg

1/4

tsp

ground allspice

1/4

tsp

ground cloves

3

cups

all purpose flour

(17 oz/480 grams)

4

ounces

butter

, softened (9 tbsp/ 115 grams)

¾

cup

packed dark brown sugar

(5 oz/150 grams)

1

egg

½

cup

molasses

(150 ml)

¾

teaspoon

baking soda

2

teaspoons

hot water
Spiced icing
3/4

cup

pure icing sugar

, sieved (115)

Pinch each of ground nutmeg and ground cloves
Chocolate Ganache
8

oz

(1/2 lb or about 1 1/3 cup of ) semi-sweet chocolate

1

cup

heavy whipping cream
Instructions
Take all the spices (cinnamon through cloves and place them in a mortar and pestle (or spice grinder) Blend until the anise seed has broken down and mixed well into the other spices.

Combine the spice blend with the flour using a whisk, in a medium bowl, and set aside.

In a large mixing bowl, beat the butter and brown sugar on medium high speed until smooth and creamy. Beat in the egg and molasses until well blended.

Dissolve the baking soda in the hot water in a small bowl or cup, and then add it to the sugar mixture and blend it in.

Add the flour mixture to the batter and mix on low until the dry ingredients are incorporated. Now mix on medium speed for 1 to 2 minutes.

Place the dough into a small bowl and cover with plastic wrap. Refrigerate for at least 4 hours (you can even let it rest overnight, if you have the patience)

Preheat the oven to 350°.

Divide the dough into 3 even sections.

From each section make 12 cookies by scooping large rounded tablespoons of the dough and roll them into balls.

Place them on two parchment lined baking sheets, leaving 1-2 inches between each ball. (you will need to bake in batches, don't crowd all 36 cookies on the two sheets)

Bake for 12 to 14 minutes in the centre of the oven until puffed and cracked.

Allow cookies to cool completely for 1 to 2 hours on a rack.
Spiced Icing
Combine sugar, spices and 1 tbsp water in a large bowl (it should be a thick consistency If you need another 1/4 tsp add it). Dip pfeffernüsse into the icing and set onto a rack to dry.
Chocolate Ganache
Bring heavy cream to a simmer on the stove top, stirring occasionally till it has reached a gentle simmer.

Remove the cream from heat and poor over chocolate chips in a medium bowl. Gently swirl the bowl to make sure the cream is covering all the chocolate.

Cover the bowl with a lid or plate to trap the heat. Let this sit undisturbed (no mixing) for 5 minutes.

Swirl the chocolate chips in the cream with a whisk starting in the center and working outward until smooth. It will slowly turn into velvety ganache. Cool just a minute or so.

Dip the cooled cookie tops into the ganache and gently swirl as you are pulling them out. Turn over and let cool completely on a rack.
Recipe Notes
This recipe makes 36 cookies
Feel free to use either Icing method. Or cut the recipes in half, and top with both versions!
These will keep in an airtight container for 5 days.
SaveSave
SaveSave
SaveSave
SaveSave
SaveSave
SaveSave