It's a glorious time of the year! The tomatoes are still hanging on. But they are making room for apples, plums, and even squash and pumpkins.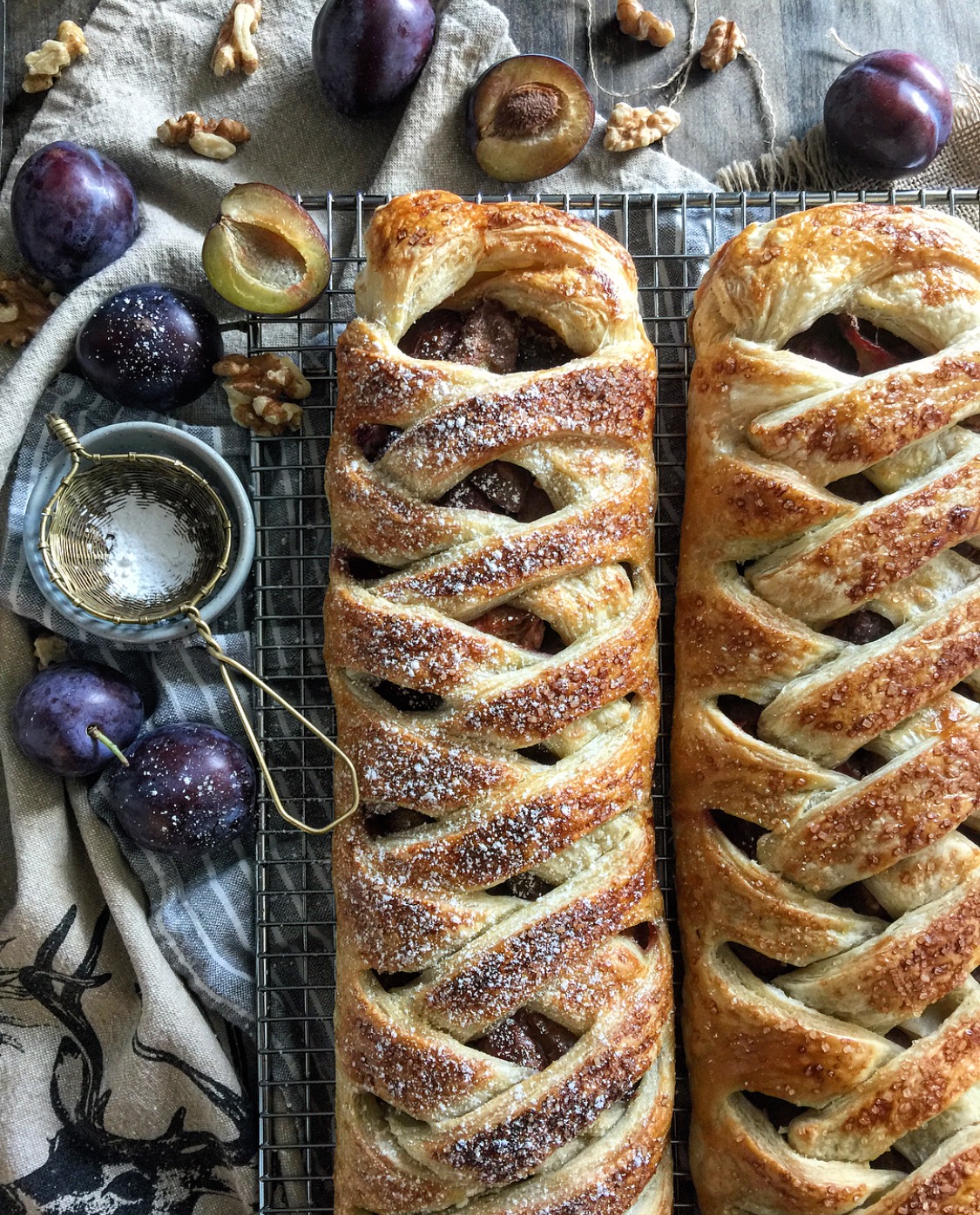 I'll deal with pumpkins in the next few weeks- they are truly a world unto themselves. Both sweet and savoury dishes can be made with them, the imagination just runs wild!
In the meantime, I'm revelling in the plums 🙂 If you actually indulge me and read my musings, then you know that for me, plum butter or as it's called in German, pflaumenmus, is something I go ga-ga for! It so reminds me of my mom and childhood breakfasts. I shared my recipe for it here. It is so brilliantly easy to make, and results in a rich, thick, sweet and tart spread that works perfect on toast or in crepes etc.
Last week we were going to a gathering where I would be providing dessert for about 20 people. What to make, what to make? It actually didn't take me long to decide on a strudel. I hadn't made one in ages. And apples are everywhere now. But then I thought a bit longer, and decided that I wanted to showcase the plums before they disappear for another season. So I thought, why not plum strudel?
For my strudel, I don't use the traditional pastry that get rolled so thin that you can read the newspaper through it. Just so much more time consuming, and fussy. I like using puff pastry. Especially the really good all butter pastry that you can find in upscale grocery or baking shops. It's so worth holding out for the good stuff! But even if you can't find this type of puff pastry, you can still find quite acceptable puff pastry at your local grocery store. If you've been hanging out with me for a while, you knew I had a mini explosion a while back about making your own puff pastry. I get it: you want to say you make everything from scratch. You are skilled beyond measure. But the thing is, it's time consuming, and not cheap. Especially if butter isn't on sale. For less than the cost of a brick of butter, I am able to purchase a whole pound puff pastry. And I didn't have to go through the frustration of layering the butter and rolling the dough until it became the required consistency of puff pastry. Really, if you say you make your own, I will smile. But I won't be impressed! When respected professional chefs who own restaurants and are well known (celebrity status) are quite happy using purchased puff pastry, then who am I to argue? Move on to better ways to fill your day.
So, along with the plums that I had sliced up and sitting in a bowl with sugar, flour, cardamom and cinnamon, I made up a batch of the filling that goes underneath the fruit (this is a traditional base in all strudels). This is a combo of walnuts, breadcrumbs and a bit more sugar. For this type of recipe I use homemade breadcrumbs that I store in the freezer. They are usually made up of old bread that I whiz up in the food processor. I keep a stash in a bag that I can just dip into whenever I need. This isn't to be used for breading chicken etc for sautéing like chicken parmesan. Because it's more of a rougher, rustic size, it's best used for fillings (i.e.: meatballs etc)
Once both of those are ready, just roll out the pastry. I find that if you roll it out to a 11×17 inch rectangle (using a 1 lb pkg of puff pastry) you will get a final strudel that will feed 8 comfortably. If you can't find the 1 lb pkgs, then use the puff pastry sheets and roll out to 9×13 inches. Rolling out two should make you enough strudel to feed 10-12 people.
In the recipe below, I'm going to include the proportions of filling Per Cup. In other words, if you are using the larger (1 lb) version of puff pastry you will need 3 cups of filling. If you are using 1 sheet of regular puff pastry, you will need 2 cups. But if you are using two sheets of regular puff pastry, you will need 4 cups. I hope this makes sense. Just write me if you get stuck! heehee!
You will roll it so that the rectangle is portrait shaped- the short ends at the top and bottom. (I roll it out on parchment paper that will just overhang the baking sheet you are using. This makes transporting the finished strudel over to the sheet so much easier) The filling goes down the middle, and then the fruit on top. Then you will cut the same amount of slits on either side of the filling (you should have at least 3 inches on either side to work with. This will end up looking like slanted fringe on either side of the filling. Now you will alternately take the top 'fringe' on one side and cross it over the filling and down slightly. Then take the corresponding piece on the other side and wrap it down and over the first. You will do this all the way down till you run out of pastry. Press the ends together and fold under. I make my Strawberry Rhubarb Jalousie the same way. Click here for a visual of what I'm trying to describe! Egg wash, a sprinkling of raw sugar and almond slices (optional) and pop it into the oven. And then watch. It doesn't take long for the pastry to puff up, revealing those myriads of thin buttery layers. Once golden brown, it's done!
This is such a European treat. The plums, the cardamom, the walnuts all make for an earthy, rustic combination of flavours. Adding a side of ice cream or whipping cream makes it a lovely dessert.
Enjoy these crisp mornings, sunny afternoons, and quiet evenings.
Love Jen.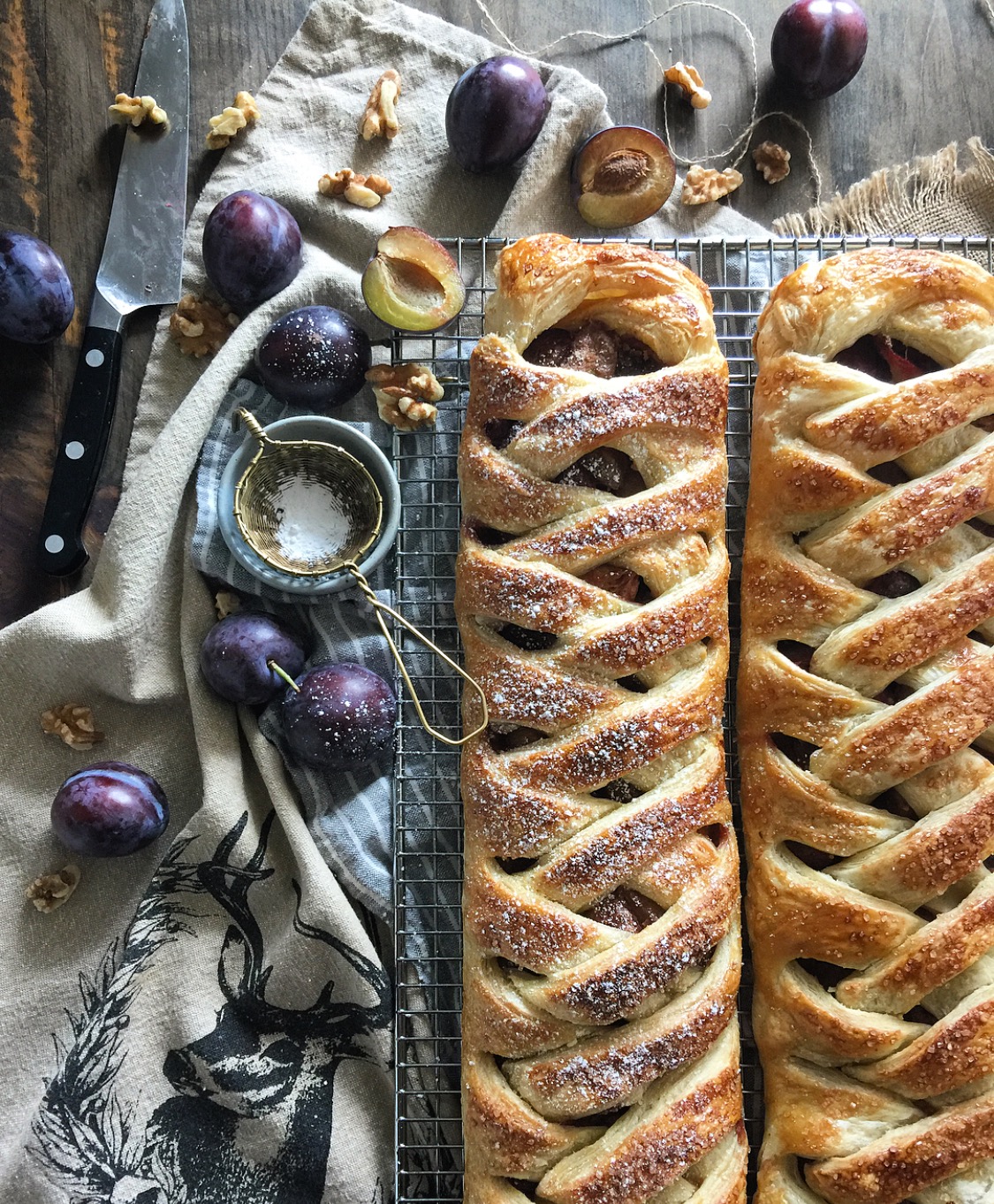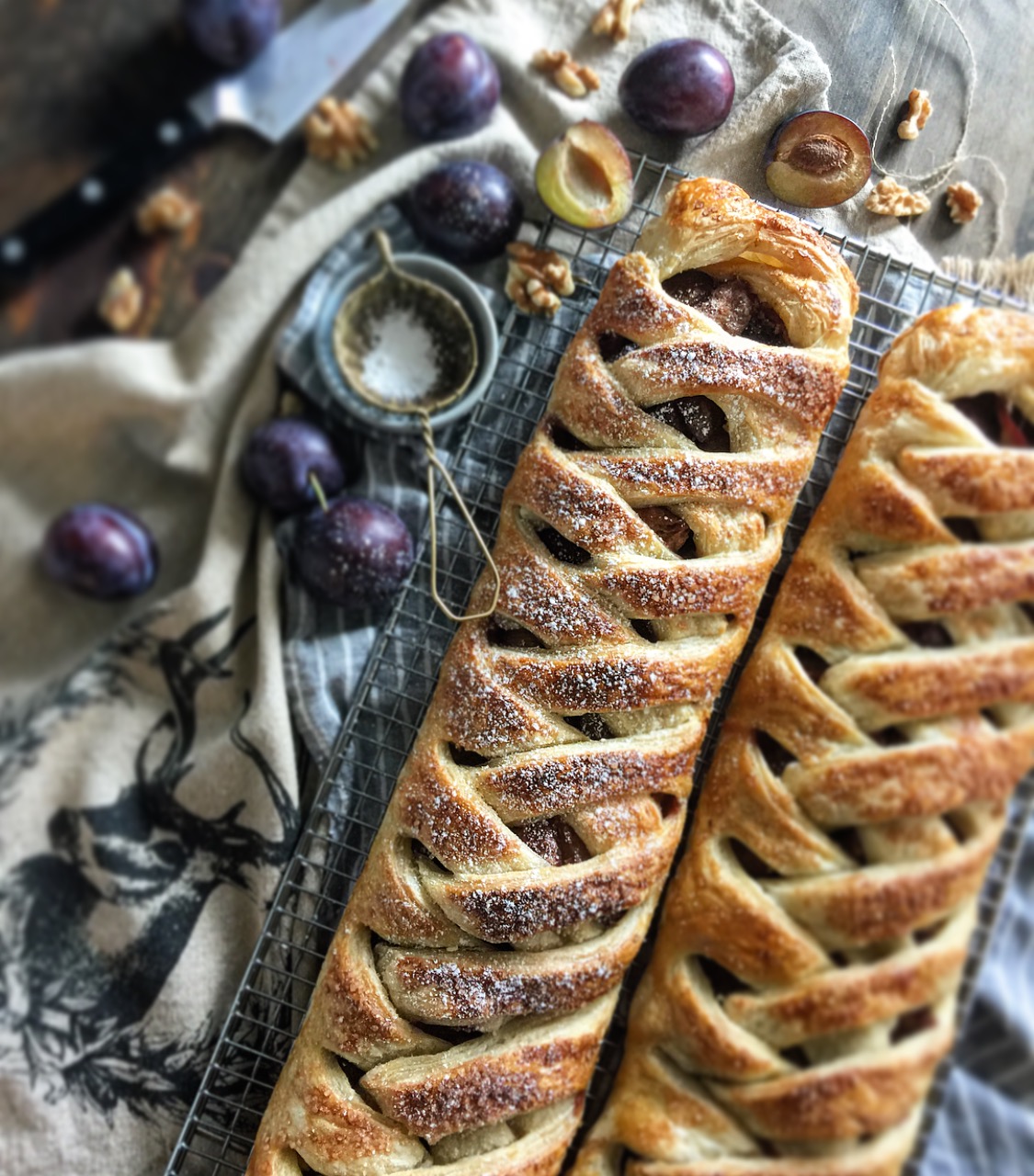 Plum Strudel
This classic German dessert gets a makeover with blue plums, cardamom, walnuts and puff pastry. Just add whipping cream! Or ice cream if you have a hubby like mine!
Total Time
1
hour
5
minutes
Ingredients
1

lb

package of puff pastry

, or 1 package of puff pastry (2 sheets)

12

purple plums (if using the smaller blue prune plums, you will need more)

, or 3 cups pitted and sliced (about 4 plums per cup)

2

tsp

cardamom

1

tbsp

cinnamon

3

tbsp

cane sugar

3

tbsp

flour

3/4

cup

chopped walnuts

(if the pieces seem large, chop them down further)

3

tbsp

light brown sugar

3

tbsp

cane sugar

3

tbsp

bread crumbs

1

egg with 1tsp water beaten for brushing

1

tbsp

raw or turbinado sugar for garnishing

2

tbsp

almond slices for garnishing

(optional)
Instructions
Slice and pit the plums. If they are larger, feel free to cut into quarters. You will need total 3 cups of sliced plums.

Place them in a bowl and add cardamom, cinnamon, cane sugar, and flour. Set aside for 20 minutes so they can release the juices.

In another bowl combine nuts, sugars, and bread crumbs. Set aside.

Lay out a piece of parchment paper just larger than your largest baking sheet onto the counter. Place the pastry on the puff pastry Roll out the pastry into a 11X17 rectangle. Have it facing you with the short ends at the top and bottom

Sprinkle the nut mixture on the pastry leaving about 1/2 inch at top and bottom. Top with the fruit. There should be about 3-4 inches on either side of the filling.

Take a knife and cut slits on a downward angle from just before the filling to the outside edge, at about 1 inch intervals. Repeat on the other side.

Taking one piece of the 'fringe' and draw it across and over the filling. Take the corresponding piece on the other side and draw it over and across the first piece. Keep repeating with each piece of the fringe on either side, till you have reached the bottom.

Pinch the ends and tuck under.

Transfer the entire piece of parchment over to the baking sheet. Depending on the size of your sheet, you may need to lay it on an angle to fit.

Brush the top with egg wash. Sprinkle with raw sugar and almond slices (optional)

Bake at 375F for 40-45 minutes until the crust gets nicely golden brown.

Let cool slightly. Serve with whipped cream or ice cream. Or both!
Recipe Notes
If you can't find 1 lb puff pastry, then you can use two sheets of puff pastry. For each sheet of puff pastry rolled out to 9x13 inches, you will need 2 cups of filling. If this is the case, add another cup of sliced plums, and therefore another tbsp of sugar and flour, and another 1/2 tsp of cardamom and cinnamon. For the filling you will need to have another 1/4 cup of nuts, 1 tbsp of each sugar and 1 tbsp of the breadcrumbs
SaveSave
SaveSave
SaveSave
SaveSave
SaveSave
SaveSave