This is a treat that totally reminds me of my mom. Growing up, one of my favourite things to put on toast was 'pflaumenmus' or plum butter.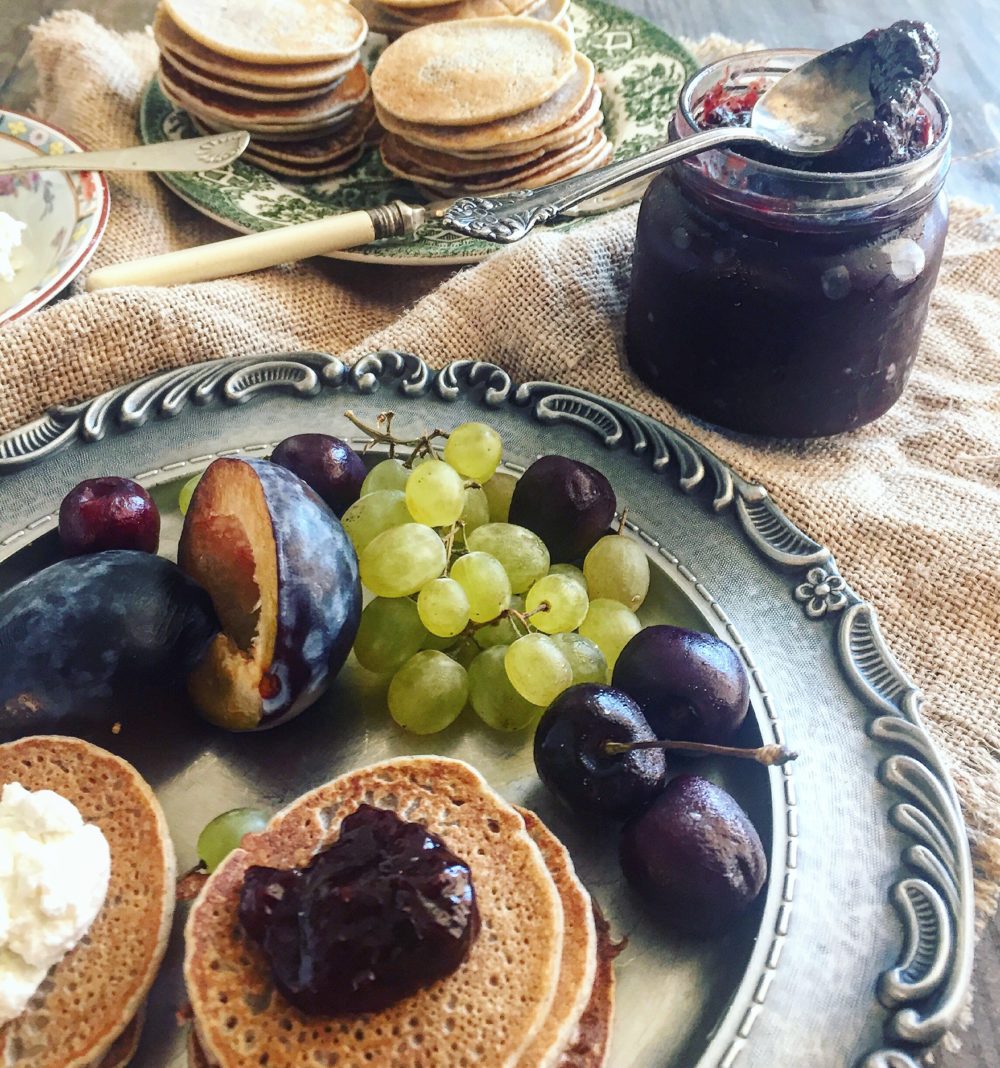 So thick and spreadable, a slight tartness mingled with the sweetness of the plums, with that rich, deep colour. I was hooked! Whenever we would go grocery shopping, six year old me would ask my mom if the store we were in is where we get the pflaumenmus (all my words in english, except for the key word!) "No", she would reply, "we need to go to a special store for that." By special, she meant the German deli!
That carnival of a store: a European import grocery store, deli and butcher shop. Chocolate covered marzipan, jams and spreads, canned fish, pickled herring, jar upon jar of sauerkraut, pickles, bread rolls, dark pumpernickel loaves, … and the deli counter. Whoa baby!! Meats and cheeses hanging from the rafters, the intoxicating aromas of cured and fresh meats, as well as smoked fish…I am in my glory in a European Deli.
So, yes, today, we live in a city filled with amazing European delis and import stores. Here in our corner of Toronto, we are either at The Cheese Boutique, or at Starsky's to get my fix!! I can get all the treats and delicacies that my parents taught us to appreciate and crave for. Each item that I pick up brings back a flood of memories. And I will never tire of revelling in those memories.
But in the last few years, I have been making my own plum butter. It's just so easy! Fresh, juicy plums are the best, I can't pass them up, so they're in the house already. And right now this is the case. Plums are in their glory at the farmers markets right now!! Why not make a couple of jars? I think the process makes me think of my mom. Sure, it isn't the canning event, with her big pot of boiling water, rows of jars and lids sitting on towels, freshly sterilized. But it's the essence that I'm happy to tap into. The chopping, the stirring, the cooling of the fruit. I imagine that my mom would be doing the same thing, if she were standing at the stove next to me. Just trying to momentarily step back in time, in this harried and frenetic modern world.
And I take the easy way out, I make one jar for the fridge, and fill a couple of freezer containers with the rest. Add it to the rhubarb preserves, the cherry compote, the orange marmalade, I have enough with small batches for just the two of us. We don't go through tons of jam, but it's nice to know that when I have a craving, I can find it in the deep freeze!.
This recipe is really, really simple. I mean it. Halved plums, some honey or coconut palm sugar, and some spices. That's it. Oh, and a pot. Yep. Put them all together, bring to a boil and drop to a simmer. Cook until you like the texture. The skins dissolve into the unctuous goodness cooking away. Pure plums. The kitchen will smell of European warmth and spices. When you experience that aroma, think of me.
Obviously you can use it on toast. Or blini. Or how about for thumbprint cookies? Or as a base layer in a pie. Or topped on goat cheese and crostini. For me, every time I spread it on warm toast with a layer of melting butter, I'm six or seven again, and in my happy place.
Oooh, these buckwheat and emmer flour blini are a joy to whip up as well. Perfect with sweet or savoury toppings. Will share that recipe soon!
Love Jen.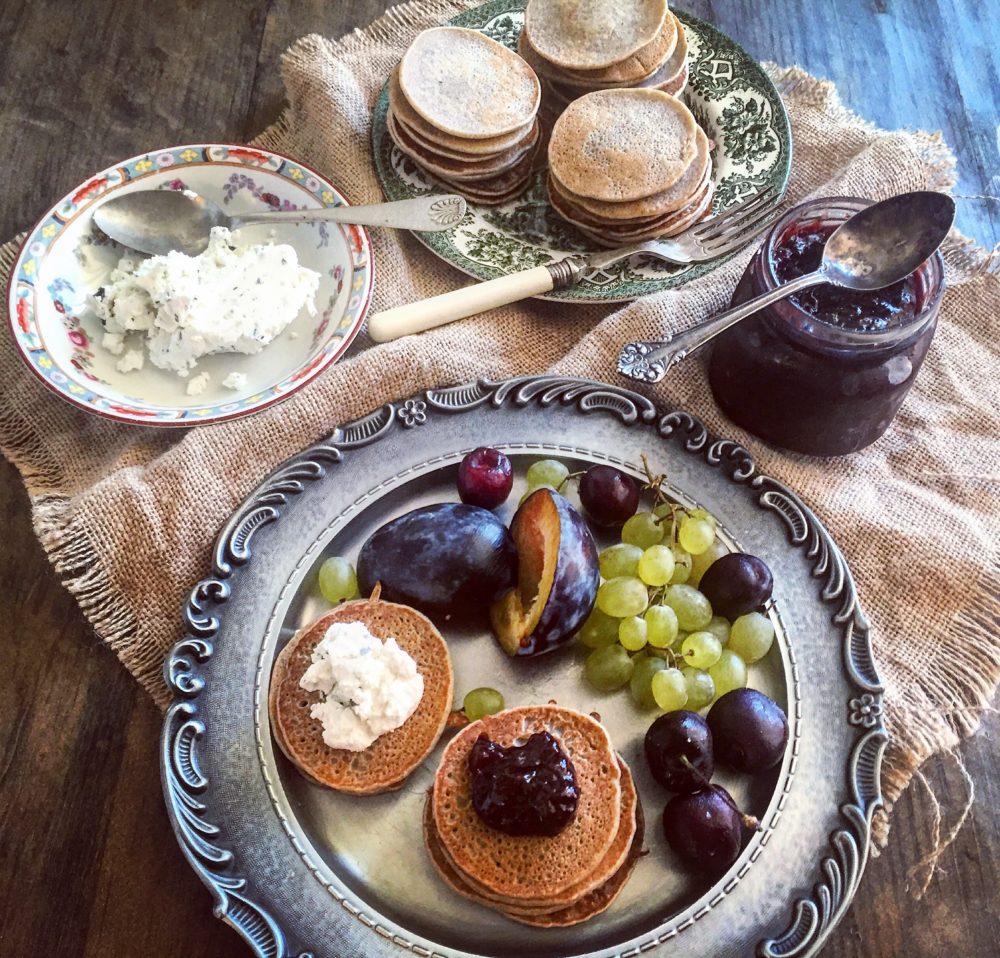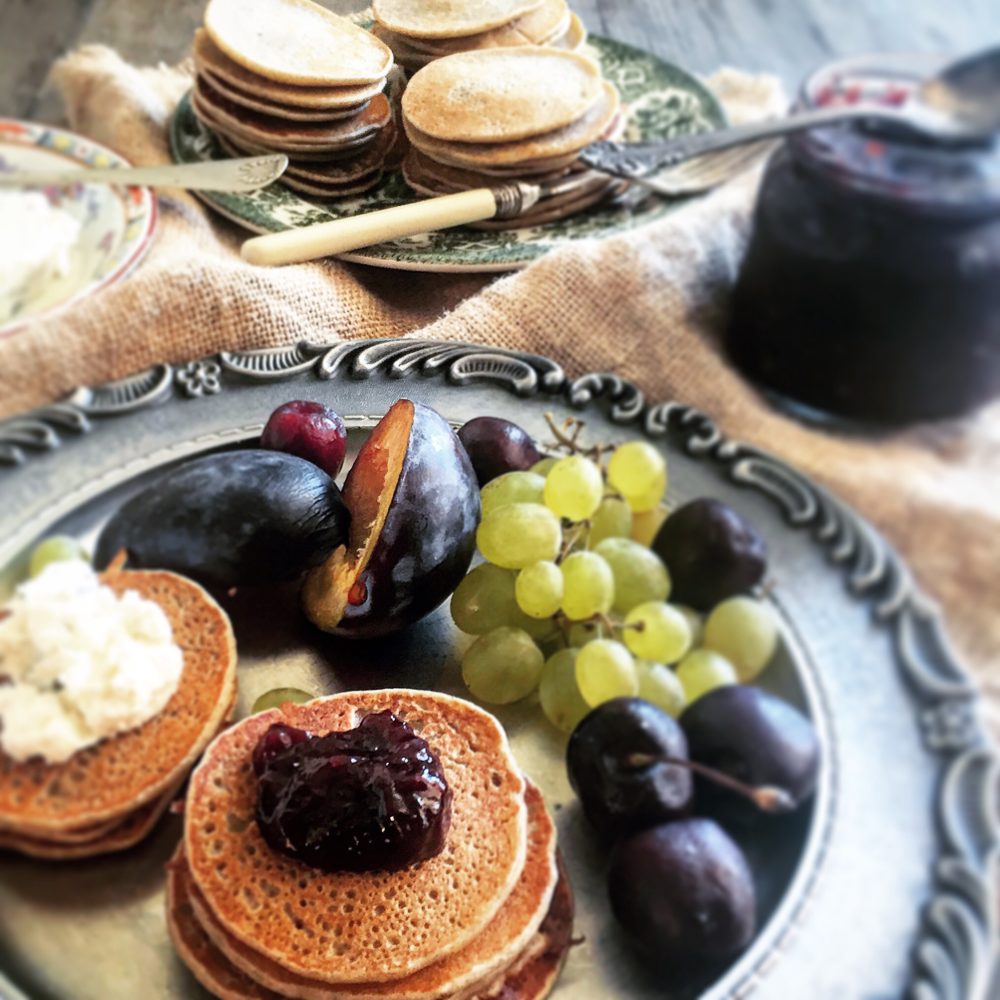 PLUMMY PLUM BUTTER
A thick, rich, smooth spread made with the goodness of late summer plums, honey and cardamom.
Cook Time
1
hour
30
minutes
Total Time
1
hour
40
minutes
Ingredients
1 1/5

lbs

of prune

(Italian or German) plums (if you have a bit more than the required amount, no worries, the amount is just a guideline)

1/2

cup

honey

2

tsp

cardamom

2

tsp

cinnamon
Instructions
Halve and pit the plums. Leave the skins on- they will totally melt into the simmering mass of flesh and honey!

Place in a pot. Add the honey, and spices.

Bring to a boil and then drop to a simmer

Simmer, uncovered for at least 1hour, 30 minutes. Stir regularly to ensure that a crust isn't forming on the bottom of the pot.

Check as you get close to the 1hour 30 minute mark. Depending on your stove, and the juiciness of the plums, you will either be happy with the consistency, or you may want to continue cooking it down a bit longer.

Let cool and then jar as desired.

I put enough into a small glass jar that I can keep in the fridge. This will keep me going for a while. The rest goes into freezer safe container(s) for later in the winter!