I'm a little late to the Cook Book Party this month, but I'm finally getting into Gail Simmon's new book,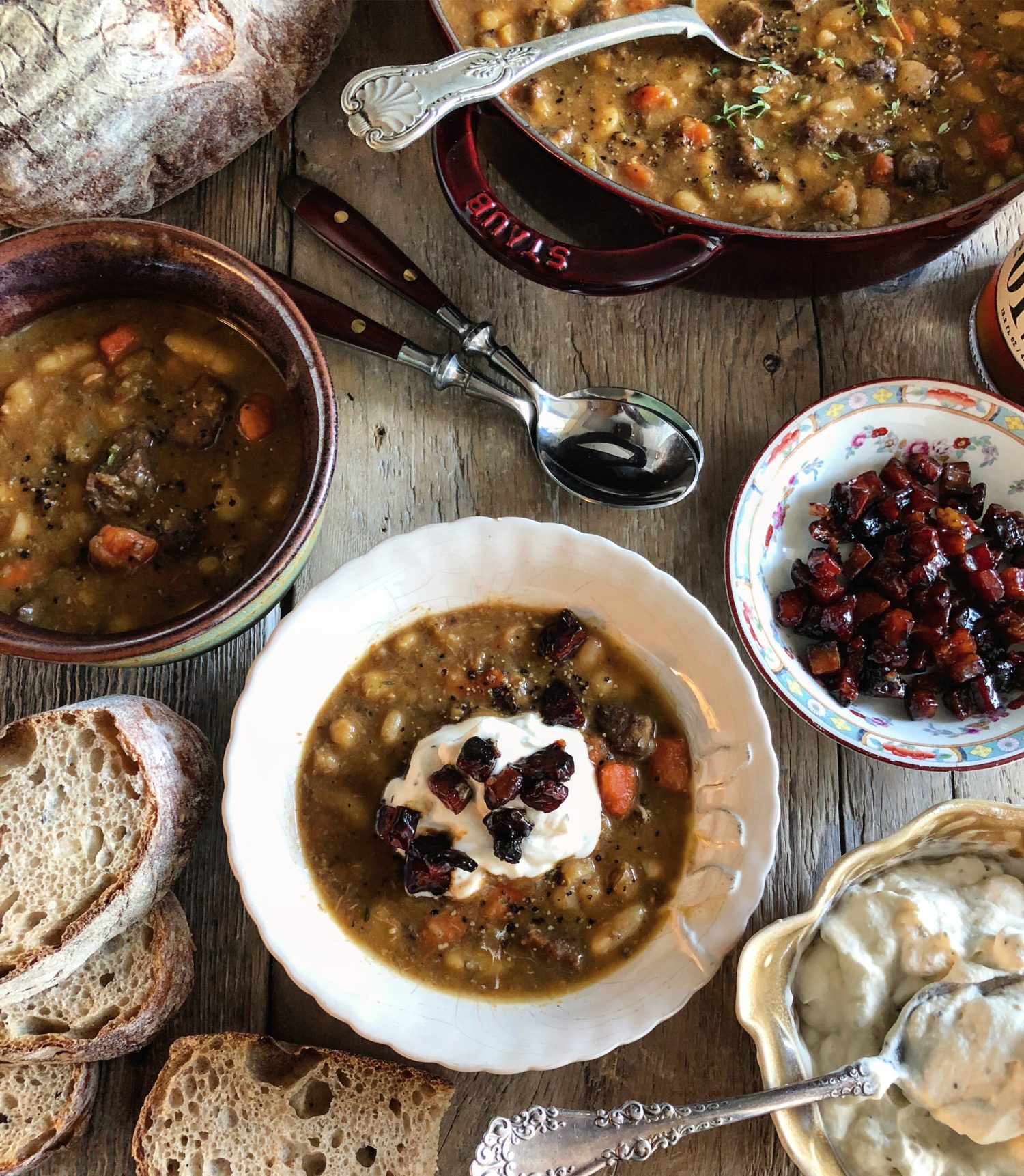 Bringing it Home. She has the chops to bring a book to life: a popular judge on Top Chef, and learning from masters like lMarcus Samuelson and Daniel Boulud. She's collected so many recipes in her travels which she wanted to translate for easy creation in her own kitchen. And thus this book was born. There is something for everyone here, from a great collection of breakfast and brunch options (Vietnamese Omelette) to great desserts (a fabulous take on Banoffee Pie with chocolate and salted peanuts, and Campfire Sundaes) and everything in between.
It's one of the in between recipes that I'm sharing today. We've endured some frigid, blustery January days here in Toronto (where Gail actually hails from!) so the idea of a take on pork and beans was just so appealing. Gail has shared a Quebécois Pork and Bean Stew in the book, which is perfect for this time of year. Beyond the meltingly tender pork shoulder cubes that cook up with soaked cannellini beans, veggies and broth, it is served in the most unique way. To highlight the expected maple syrup that Quebec is known for (and what makes pork and beans so wondrous) bacon lardons are sautéed in maple syrup to create a crouton of sorts. And before they get sprinkled over the stew, a wondrous whipped cream concoction is made up. Maple syrup and pepper get folded into the cream, which gets dolloped over your bowl of stew. Then that sprinkling of maple bacon croutons. Everything gets swirled together into a circus of of flavours. Dang this is good!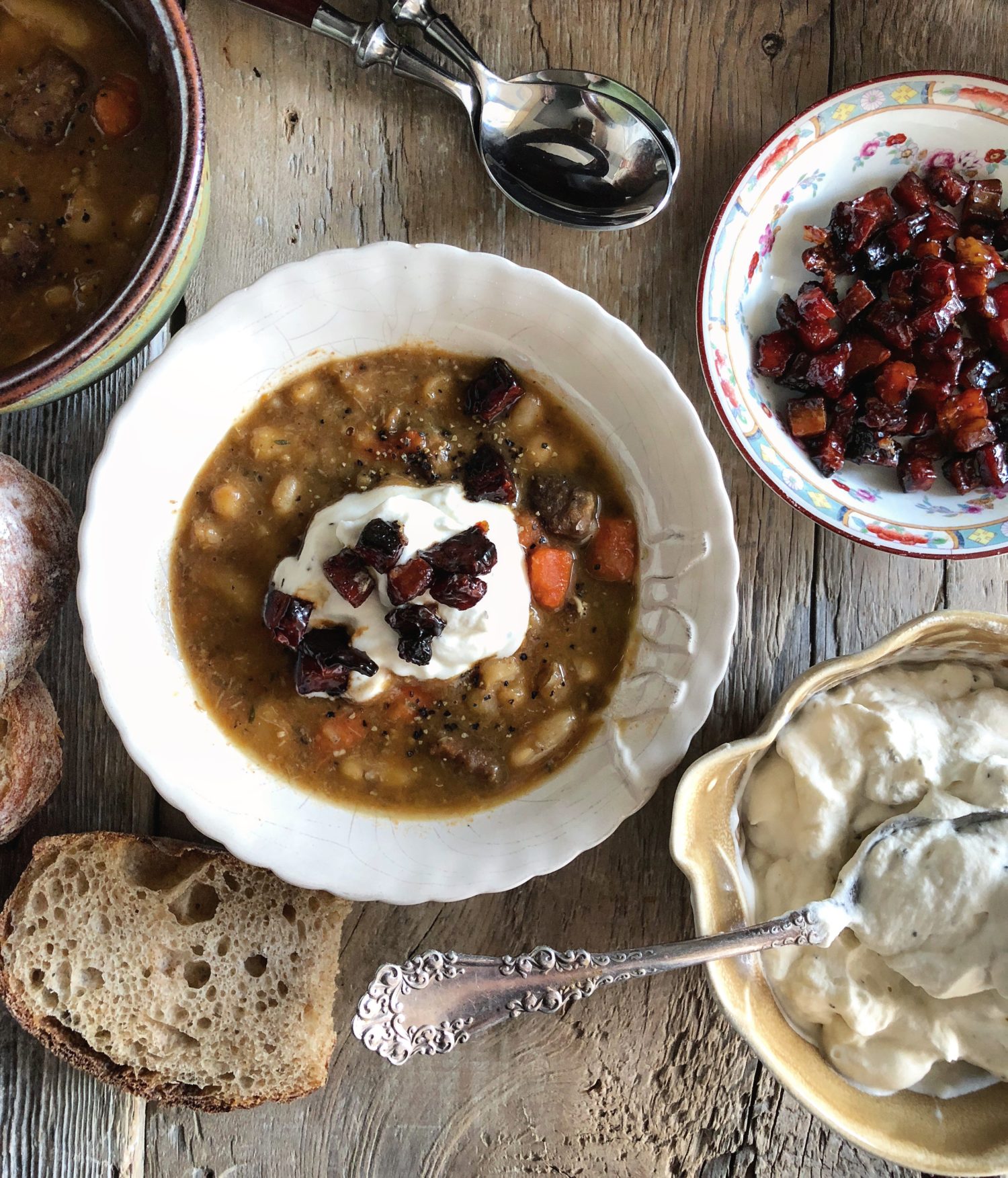 As Gail says, "This creamy, luxe touch- a gorgeous play on something you might only think to do for dessert- infuses the dish with serious Quebécois goodness and takes it from simple to extraordinary."
As I was preparing the stew, I came across a few things. One: make extra of the bacon croutons- I wish I had more on hand to nibble on!! Two: The stew itself is so very easy, and doesn't take all day on the stove, so this could easily be started at say 4pm and you'd be eating it by 6 or 6:30 at the latest. Or make it in on a Sunday afternoon (as I did) and then reheat for the evening. The flavours become even more rich and deep. Three: Knowing Jim and myself, as well as most that I feed, I realized that I could get away with adding a bit of heat to the flavour profile. Gail doesn't call for any (it's not really a Quebécois thing) but I find that the combo of heat (cayenne or chilli pepper) and maple syrup go so well together. I also added a touch more maple syrup to the meat and beans as they were simmering. Even though it is a savoury stew, I wanted that flavour of traditional baked beans to come through. So yes, a bit more sweetness, and some heat are my diversion from the original recipe. I will include the adjustments as options in the recipe below.
The bacon lardons are fried up in your pot first, and maple syrup is added to coat them. They are then removed, and the cubed pork shoulder gets added to the pot. After an initial browning, onions, garlic, carrots and celery are added. They get softened, and then the soaked beans and stock as well as fresh thyme and dried bay leaves are added. After simmering for about an hour (you'll check to see when the meat is tender) a portion of the liquid and the solids are removed and puréed in a blender. This gets returned to the pot, along with apple cider vinegar, and seasonings. This is where I added my chilli pepper and extra maple syrup. Now you can serve it by preparing the whipped cream. But you could also make the stew earlier and serve it later in the evening.
We shared this stew with friends last night. I thought I might get some raised eyebrows when I set the bowl of maple whipped cream on the table. But everyone played along and dolloped some over their stew. Wow!! It worked so well. And of course, the maple bacon was a hit. Like I said earlier, I should have make double, because the bowl was emptied in moments. Because traditional baked beans are served on toast, I decided to grill up some of my rye sourdough as a side. The most unusual thing happened. As we were taking bites of the stew and then the bread, some of us noted an almost 'blue cheese' flavour happening. The contrast of the sweetness of the stew and whipped cream amplified the sour rye of the bread, making it taste almost tangy, like blue cheese. We absolutely loved what happened!
And the whipped cream was so yummy, that I used the remainder on the side of Bumbleberry Pie for dessert!
So, while we are still enjoying the briskness of winter, I hope you will try this recipe. It surprised me at how easy it was to pull together. It surprised everyone else with the combination of flavours and textures.
Love Jen.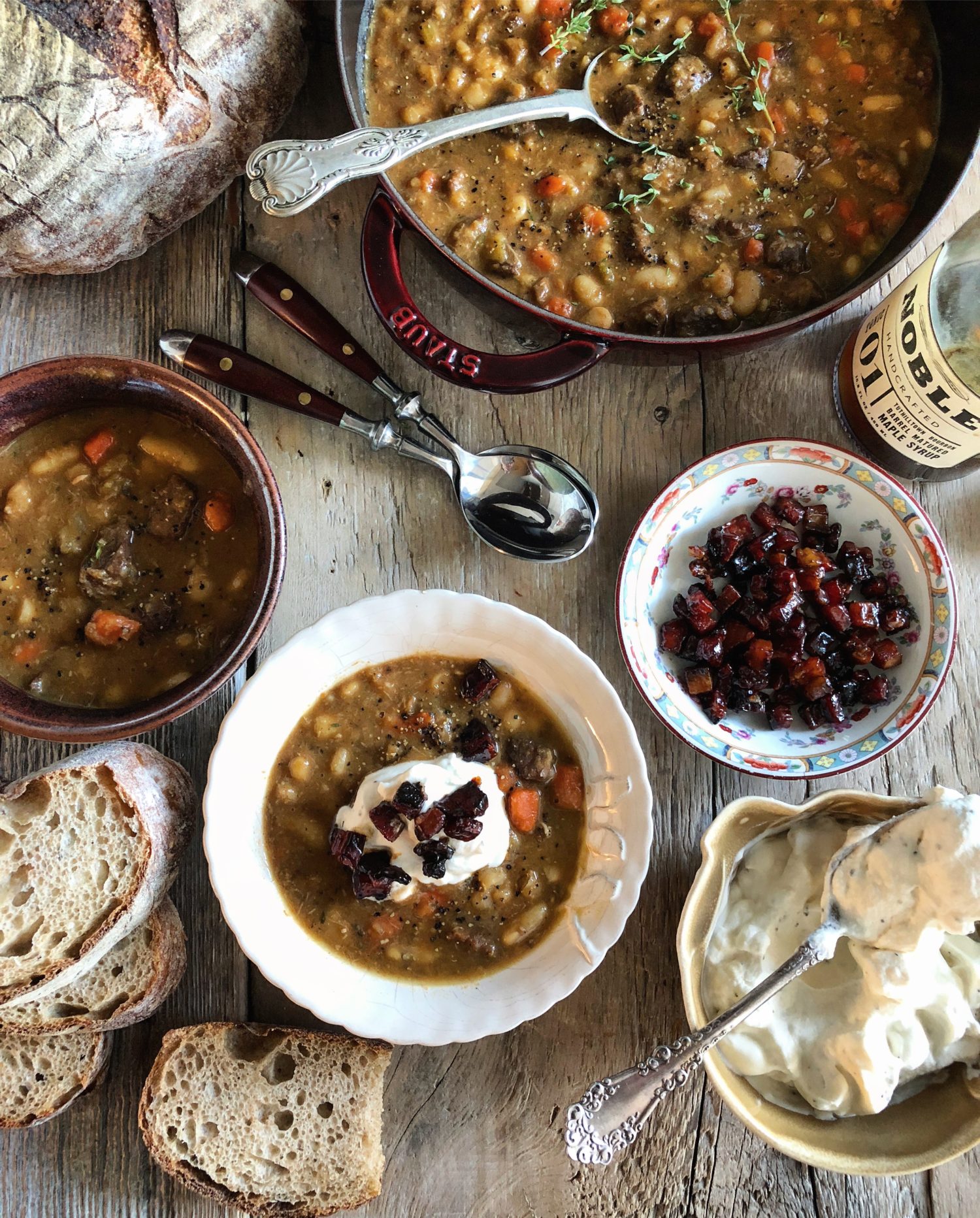 Quebécois Pork and Bean Stew
A rich and tender pork shoulder and bean stew, that is sent through the roof with the finishing touches of maple and pepper whipped cream, and maple bacon lardons sprinkled over everything. Make winter more endurable with this easy stew!
Ingredients
1

lb

slab bacon cut into 1/3 inch cubes

3

tbsp

pure maple syrup

, divided

2 1/2

lb

boneless pork shoulder

(Boston butt) well trimmed and cut into 1/2 inch cubes

kosher salt

freshly ground black pepper

4

medium carrots

, peeled and cut into 1/2 inch cubes

2

celery ribs

, cut into 1/4 inch cubes

1

large yellow onion

, coarsely chopped

3

garlic cloves

, minced

1

lb

dried cannelini beans

, soaked overnight and drained

6

sprigs of fresh thyme

2

dried bay leaves

2

quarts

(8 cups) low sodium chicken broth or stock (see Notes)

1

tbsp

apple cider vinegar

2

tsp

maple syrup

(optional)

1 1/2

tsp

cayenne pepper

(optional)

1

cup

heavy cream
Instructions
In a 6-8 quart (5.5-7.5 litre) Dutch oven or wide, heavy pot with a lid, cook the bacon over medium high heat, stirring occasionally, until beginning to crisp up, about 4 minutes.

Add 1 tbsp of the maple syrup and stir to coat. Cook, stirring occasionally until the bacon is golden on all sides, about 6 minutes more. Meanwhile season all sides of ht port with salt and pepper.

Remove the pot from the heat. Using a slotted spoon, transfer the bacon to a page, separating any stuck together pieces. Set aside.

Pour off all but 3 tbsp of the fat from the pot. Return the pot to medium high heat.

Add the pork and cook until browned on all sides, about 6 minutes in total.

Add the carrots, celery, onion and garlic, and cook until the vegetables are softened, about 6 minutes more.

Stir in the beans, thyme and bay leaves. Then add the broth. Bring to a simmer on high heat. Then reduce to a gentle simmer and cook, stirring occasionally until the beans are cooked through and the meat is tender, 60-75 minutes. Discard the thyme and bay leaves.

Transfer 1 1/2 cups of the stew solids, and 3/4 cup of the liquid to the container of a blender. Purée till smooth, then return to the stew. Stir in the vinegar, 3/4 tsp of salt and 1/2 tsp of pepper. (this is where I also add 2 tsp of maple syrup and 1 1/2 tsp of cayenne pepper just because I wanted to increase the sweetness and add some heat)

In a medium bowl beat the cream to medium peaks. Fold in the remaining maple syrup (2 tbsp) and 1/2 tsp black pepper. Then continue beating till stiff peaks form.

Warm the stew and then ladle into serving bowls. Top with a dollop of the maple whipped cream and sprinkle with some of the reserved candied bacon. Pass the remaining cream at the table.
SaveSave
SaveSave