Have you ever had sea asparagus? Have you ever heard of sea asparagus!? I hadn't tasted it till recently myself.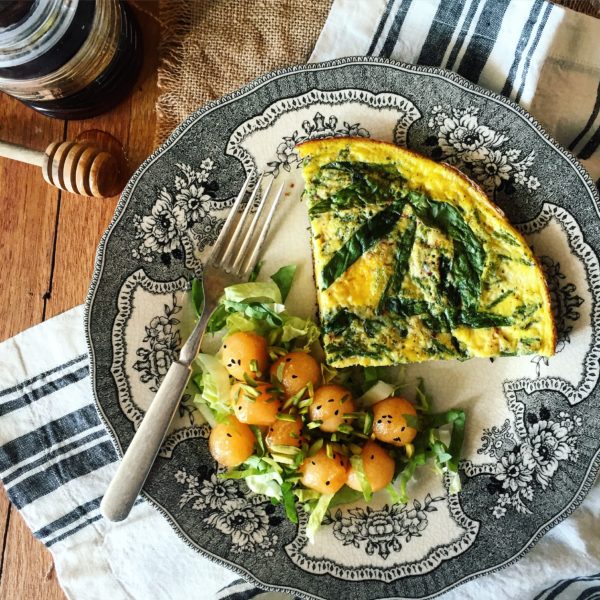 I was at St Lawrence Market here in Toronto, at Urban Fresh Produce, a fantastic vendor of organic produce. They had it sitting in a basket on the counter. It looks like little green branches! Kind of soft, with a crunch, if you try to eat it raw. Which I was encouraged to do by the girl behind the counter. It has a distinct salty/briny taste. I liked it. Worth investigating further, so I took a small bag home and figured out what I would do with it.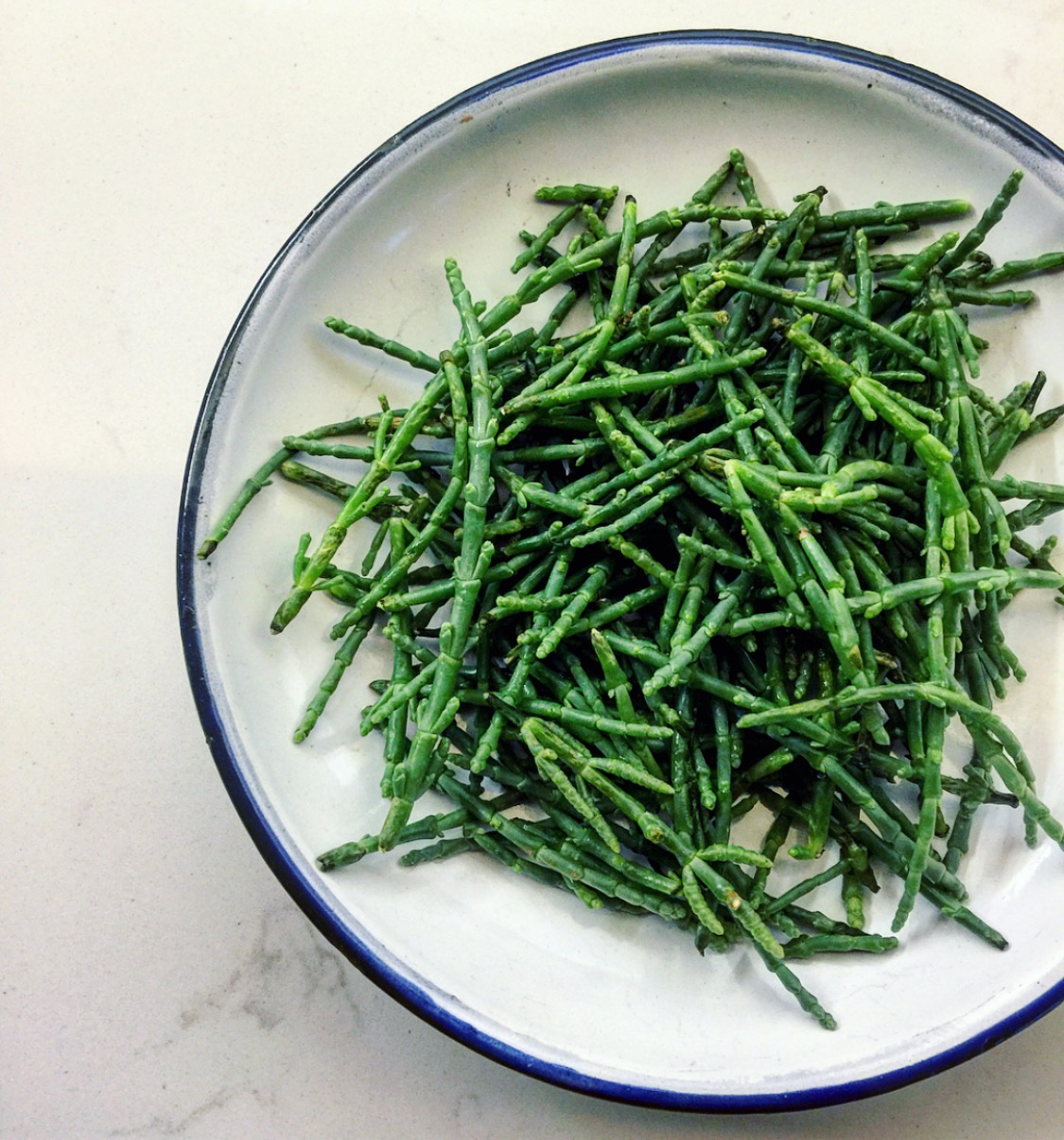 And of course, I had to find out what exactly I was embarking on, veggie wise. So Mr. Google came to the rescue. According to an enlightening Toronto Star article in part:
"Can a salty green twig save the planet? While scientists figure out how to grow this "newly emerging vegetable" commercially, we can do our part by picking up a package of sea asparagus.
With its light crunch, bright sea-salt taste and vivid green colour that becomes even more intense after a quick sauté, salicornia (its official name) adds a burst of colour and salt to seafood dishes and makes a pretty side dish, garnish or salty snack.
It's not seaweed and it's not a cactus, though it resembles both. Sea asparagus grows wild in summer on the east and west coasts. Importers are bringing it in from salt water farms in Israel and Mexico and from Morocco, Italy and France, where it grows in salt marshes and in crevices along cliffs. I once spent a month cleaning pousse pierre (push stone) at a Michelin-starred restaurant in the Loire with a gaggle of 12-year-old apprentices.
Agricultural scientists are excited about sea asparagus because it's rich in Vitamin C and grows near the sea in areas where nothing else survives. It can be irrigated with sea water, which saves on scarce fresh water, and it doesn't require pesticides or fertilizers."
Read the entire article here.
Totally intriguing, eh?!
First I did a quick stir fry some smoked salmon and shiitaki mushrooms. Obviously Jim wasn't home, or the 'shrooms would have been a no-go. I loved the firm texture (kinda like a pickle) against the softness of the mushrooms and the creaminess of the smoked salmon. The brine was a perfect balance to the slightly sweet sauce I used.
So then I started thinking, how else could I use this lovely succulent? And that's when this frittata happened. I also had ramps in the fridge. Ramps, that glorious wild leek that you need to put on rubber boots to forage for, in woods and bush. I make a pesto with the cache I come home with. And it works great in sautés, on pizza, in soups, and with eggs. So, these would go in the frittata as well.
And I'm sharing the link to the best frittata tutorial ever! Once you have the basics down pat, the sky is the limit. It gives all the parameters for creating the perfect frittata every time. And I can vouch for the directions. They work, every time! If you're just venturing into the world of frittata creating, Bon Appetit's lessons are brilliant. Bon Appetit "How to Make the Perfect Frittata"
I hope you can find a purveyor for Sea Asparagus, Samphire or Salicornia where you live. It's such a treat, and worth trying. You'll be hooked.
And as with most of my recipes, you can totally switch this one up with what is fresh, in season and local. Perfect for dinner or brekkie, or brunch, or lunch. Oh, any time of day, you get it.
Love Jen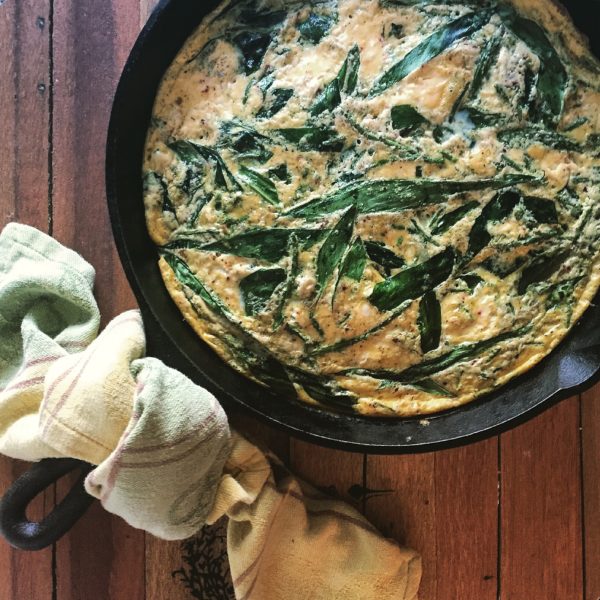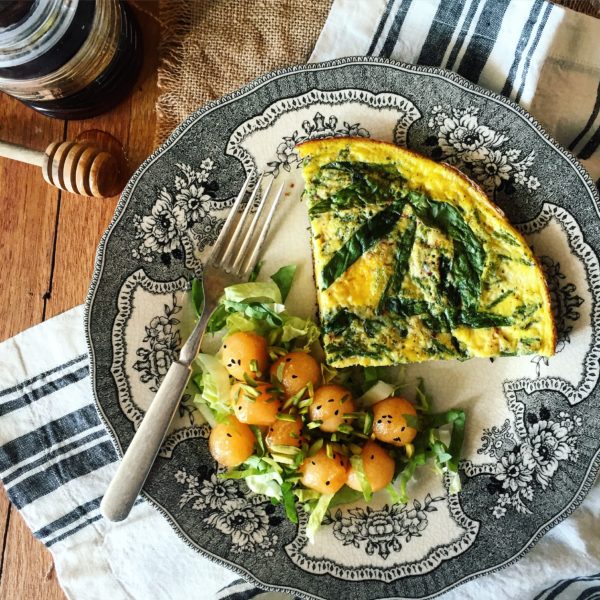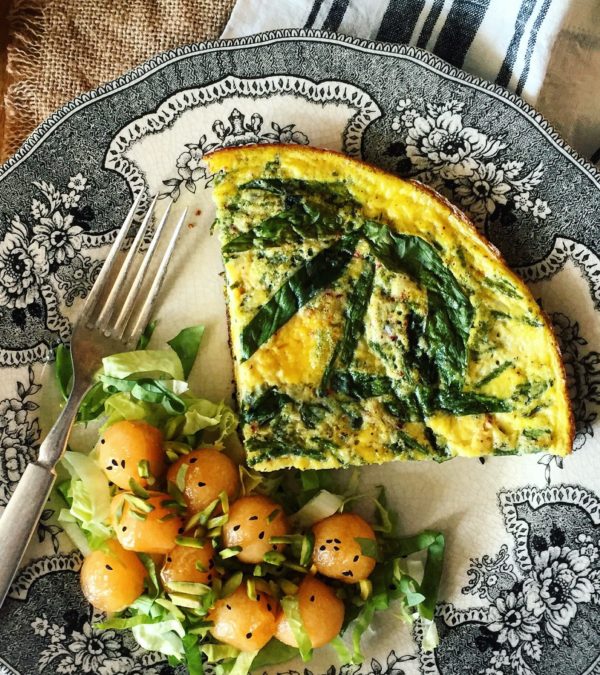 Ramp and Sea Asparagus (Samphire) Frittata
A fresh, springtime frittata that easily comes together for a perfect quick dinner or elegant brunch.
Ingredients
9

large

eggs

1/3

cup

creme fraiche or sour cream

or whipping cream

2

tbsp

coarsely chopped flat leaf parsley

1/2

tsp

za'atar

kosher salt and fresh cracked pepper

2

tbsp

olive oil

divided

1

bunch

ramps

whites chopped finely and the greens sliced thinly, separated

1

cup

sea asparagus

soaked in cold water for 5-10 minutes then rinsed in a sieve

1/2

cup

ricotta cheese

pinch of sumac

optional
Instructions
Place a rack in upper third of oven; preheat to 350°.

Whisk eggs, crème fraîche, and parsley and za'atar in a large bowl. Season with salt and pepper. Set aside.

Heat 1 tablespoon oil in a 10-inch nonstick ovenproof skillet over medium heat. Add ramp whites; cook, stirring often, until softened, about 5 minutes.

Add sea asparagus and cook, stirring often, until softened and all liquid has evaporated, 2 minutes.

Increase the heat to medium-high and add remaining 1 tablespoon oil to the skillet. Pour the egg mixture over the sea asparagus, shaking the pan to evenly distribute mixture.

Dollop the ricotta by tbsp spoonfuls around the egg mixture. Add the ramp greens and stir gently to distribute evenly around the top of the frittata.

Cook, without stirring, until its edges begin to set, about 5 minutes. Sprinkle on the sumac, if using.

Transfer skillet to oven. Bake frittata until golden brown and center is set, 25-30 minutes.

Let set for 5-10 minutes before serving.
Recipe Notes
As per the article link, this recipe will work if you keep the ratio of eggs to dairy at the optimum. 12 eggs= 1/2 cup dairy; 6 eggs= 1/4 dairy. I went in between these two ratios for the recipe above, since it was for just Jim and myself. And I wanted two meals (hence the fact that it feeds 4)
Feel free to play with the seasonings and veggies. As the article states, you will want to sauté any veggies so that they aren't raw going into the oven.
SaveSave
SaveSave