When we came home from school the first words out of our mouths (after 'Hi Mama') were always, "What's for dinner?" Usually the surprise or anticipation of what Mama had planned for dinner was what kept me company on the walk home. Yes, I was food driven at an early age.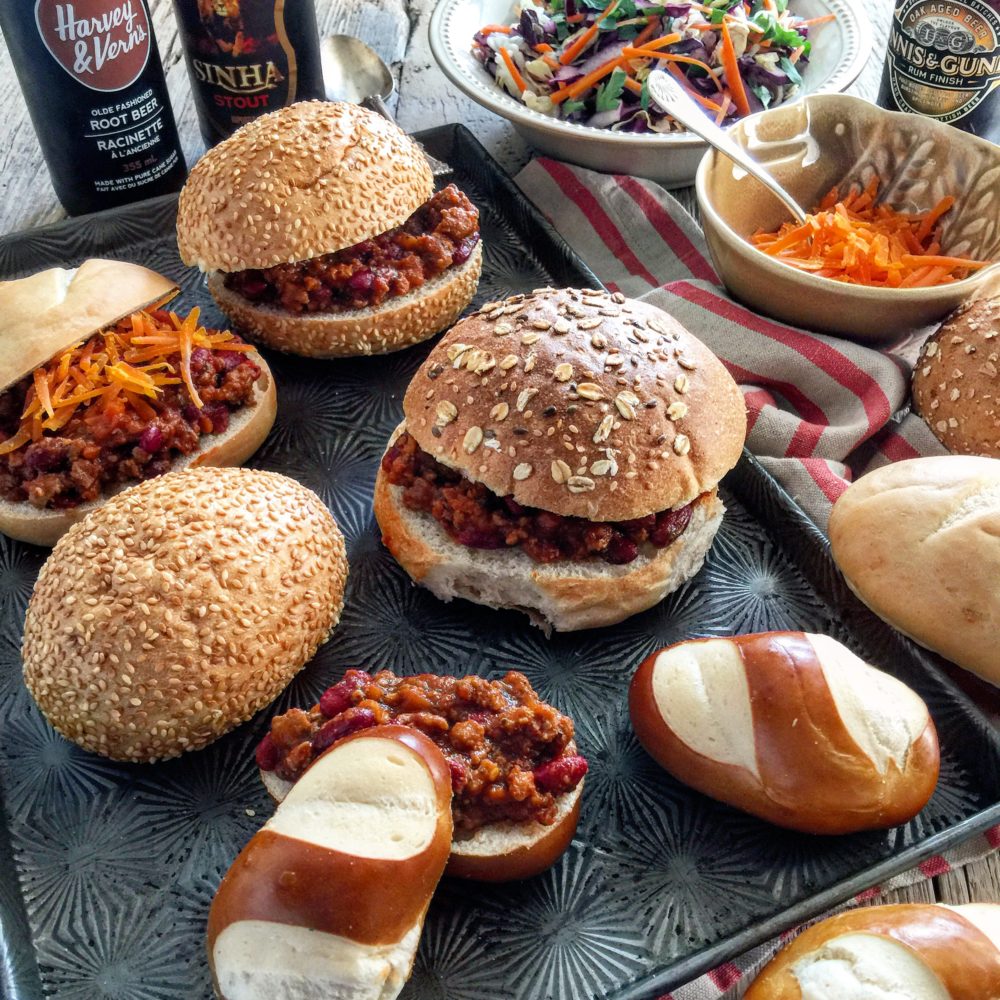 Mama always knew that, even though we loved all her German dishes (both us girl had our favourites) the way to get us really excited was when she made what all our friends were eating. Or at least her interpretation of them. She knew that we loved spaghetti and meatballs, lasagna, grilled cheese sandwiches, tomato soup, burgers, chilli etc. And she was a real trooper at learning to cook all of these dishes. They weren't dishes that she gravitated to, but she loved to feed us and see us enjoy those meals. She really did rise to the occasion. I often think of what a challenge it must have been, to be an immigrant, with barely any english under her belt, and yet she and my dad worked hard to embrace the new customs and culture of Canada. Without sacrificing our heritage.
So she made meals that were foreign to her. And became REALLY good at making them. One of our all time favourites was Sloppy Joes. It was the best of all worlds: chilli, bolognese sauce, and burger buns. And one of those few meals where we were allowed to get messy. The title alone encourages such freedom and gusto when chowing down. Did you know that Sloppy Joes have been around since the 1950's? So she made it for us, and we all were excited when it was on the menu, including our dad!
Some recipes don't call for beans. I do. I like the play of the ground meat against the creaminess of the beans. Plus they add fibre and calcium. And having them there just makes me think I'm eating a bowl of spicy chilli, without the bowl. Or a spoon. So yes, I guess my version is like my mom's, very much a version of a chilli.
Can you top Sloppy Joes? Sure, why not? We top chilli, right? So why not have shredded cheese, sour cream, avocado slices, sliced scallions etc on the side, for a real Sloppy Joe experience! In fact, I say it should be an event. Set up a bar with all the fixins', including the prepared filling, toasted buns, an a cabbage slaw on the side. These days everyone is trying to eat less, so sliders have been a real fixture at most restaurants lately. Although, you end up eating three or four, so really, what's the difference? Either way, this is a perfect time to include some slider buns. For the more delicate appetites! 🙂
A Sloppy Joe Bar- such a great way to feed a crowd! A bunch of kids are over after an afternoon of building snow forts: make them Sloppy Joes. A group of guys (and gals) over for the big game: make them Sloppy Joes. And have plenty of napkins handy! Casual, fun, filling, a true 'everyman' type of meal. I guess this is why Jim loves it so much- he is my 'everyman' and keeps me honest when my cooking drifts to the more precious or esoteric.
I'm including my recipe for a honey mustard vinaigrette cole slaw. For two reasons. One, a good light cole slaw is the perfect contrast to a hearty meal like Sloppy Joes. And two: some may even want to top their Sloppy Joe filling with a touch of cole slaw, for the crunch. So it's a side, and it's a condiment. Two for the price (free) of one!
Love Jen.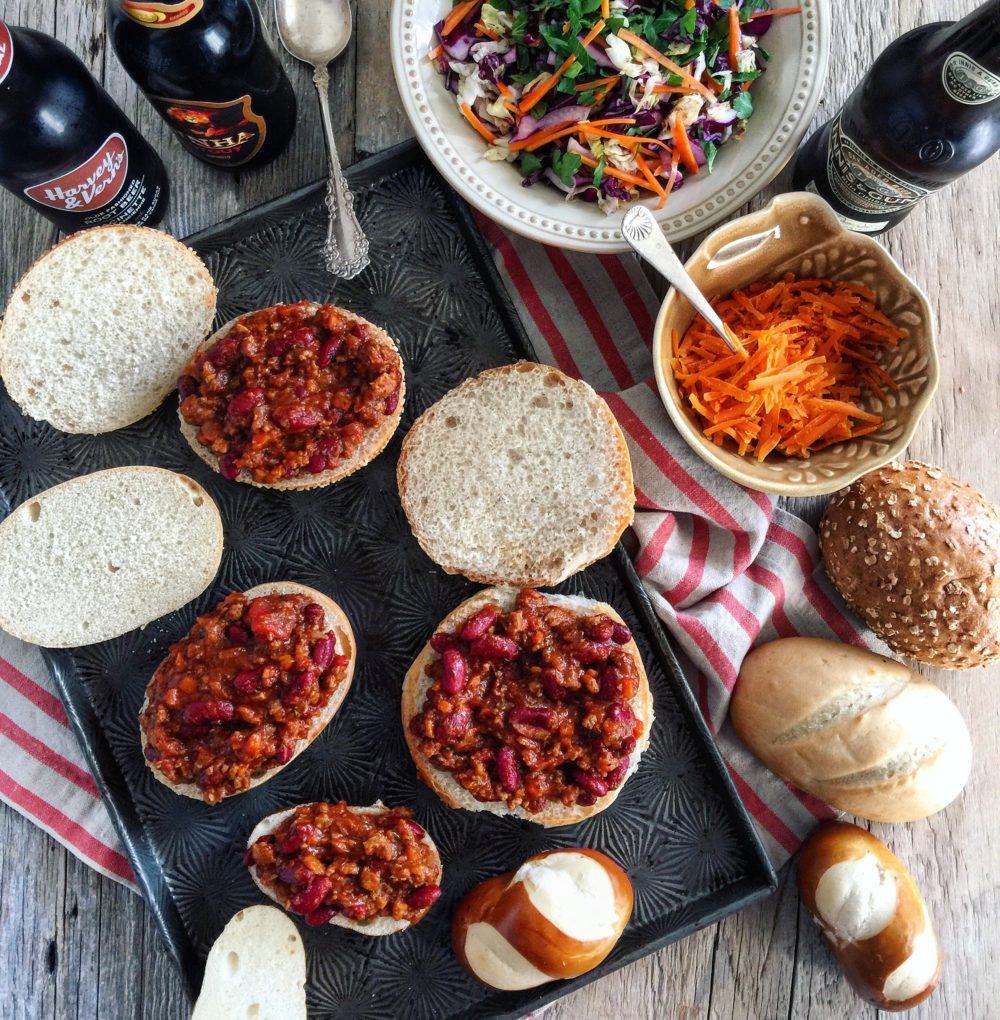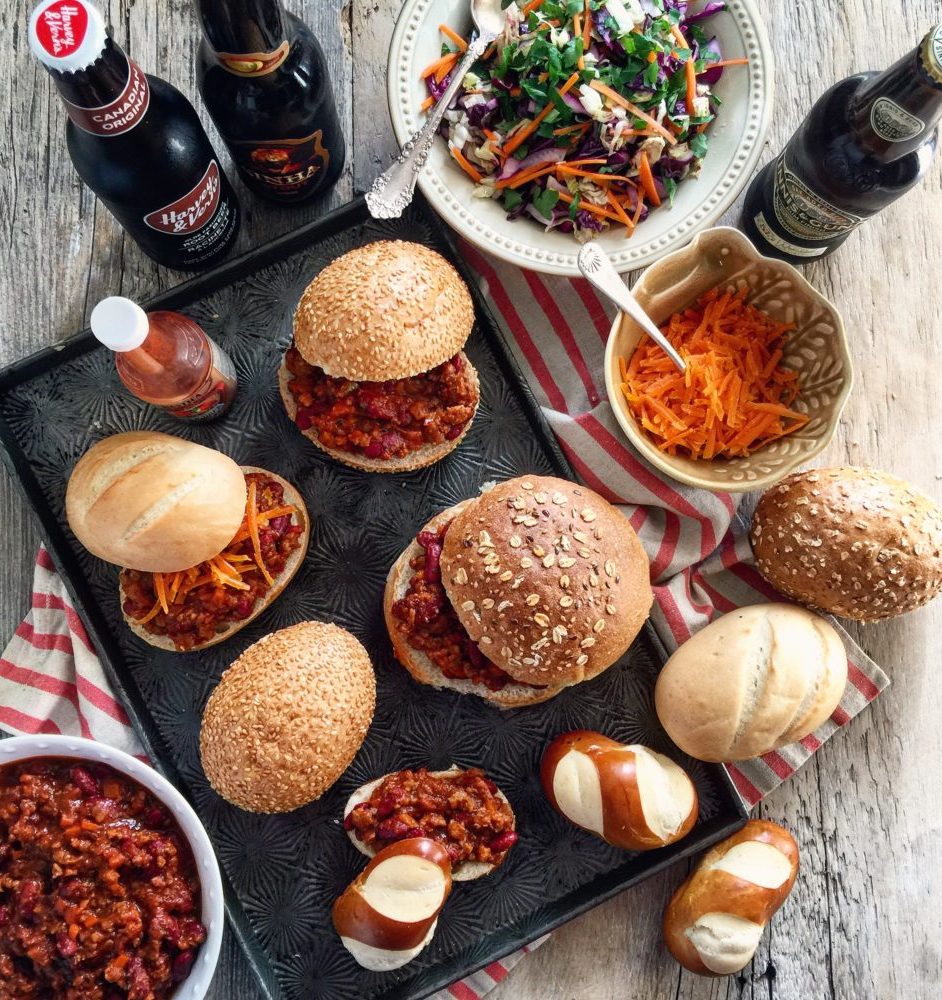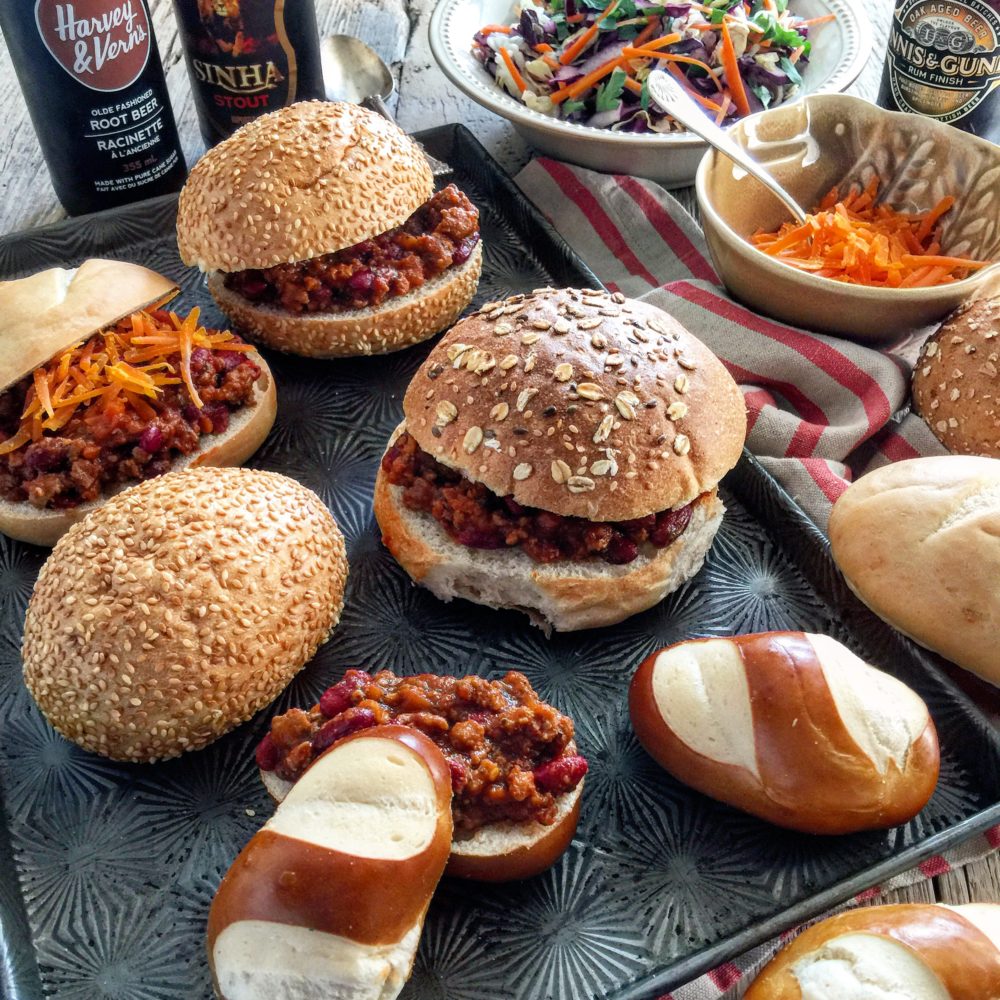 RETRO SLOPPY JOES WITH HONEY MUSTARD COLE SLAW
The perfect sandwich: chilli on a bun!! Add a bunch of toppings, and it becomes a party!
Ingredients
1

tbsp

olive oil

1

medium onion

, finely diced

4

cloves

of garlic

, minced

1 1/2

lbs

of ground beef

, or spicy italian sausages, casings removed

1

red pepper

, finely diced

1

large celery stalk

, finely diced

1

tsp

fresh thyme

, chopped

1

tsp

smoked paprika

1/2

tsp

ground cumin

1/2

tsp

hot pepper flakes

kosher salt and cracked pepper

3/4

cup

chilli sauce

1/2

cup

beer

(or beef stock, plus more if necessary)

4

tbsp

Worcestershire sauce

1 19

oz

(540 ml) can of red kidney beans, drained and rinsed

6-8

sesame seed buns

, onion buns, or even 12 slider buns (pick the kind of buns that make you happy!)

Hot sauce

(optional)
TOPPINGS
shredded cheddar cheese

(or cheese of choice, even crumbled queso fresco would be great!)

sour cream

sliced avocados
COLE SLAW WITH A HONEY MUSTARD VINAIGRETTE
3

tbsp

fresh lemon juice

2

tbsp

white wine vinegar

1

tbsp

and 2 tsp honey

1

tbsp

and 2 tsp whole grain mustard

(or to taste)

kosher salt and cracked pepper

8-10

tbsp

(1/2 cup) extra virgin olive oil

1

small head of green or red cabbage

, outer leaves removed, and finely shredded or chopped

1/2

red onion

, thinly sliced

1-2

carrots

, finely shredded or shaved

1/4

cup

chopped fresh parsley

2

tbsp

chopped fresh chives
Instructions
Heat olive oil in a large skillet or pot, over medium heat.

Add the onions and cook for 2 minutes. Add the garlic and continue stirring, till onion is slightly softened. Raise heat to medium high.

Add the meat and crumble it with a wooden spoon. Cook, stirring till browned, about 5-8 minutes.

Add the pepper, celery and spices. Season with salt and pepper. Cook for 5 minutes, stirring regularly.

Add the chilli sauce, beer, Worcestershire sauce and beans and stir, till bubbling. Reduce to a simmer and cook, partially covered, till slightly thickened, about 15-20 minutes. If it gets too thick for your taste, you can supplement with additional beef stock. But don't let it get too thin, you do want it to 'stay' somewhat on your bun! A little spillage is good though!

Re-season as desired, with additional salt, pepper or hot sauce. (I often serve hot sauce on the side, so that each person can kick it up as they see fit.)

Slice buns in half and place on a baking sheet, cut side up. Put into the oven set to broil, and lightly toast. Watch them to avoid burning.
COLE SLAW
Whisk all of the ingredients except for the olive oil in a bowl or jar with a lid.

Slowly add the olive oil, whisking constantly. Alternatively, add all to the jar with a lid, close lid and shake! Taste and re-season as desired.

Combine the cabbage, onion and carrot in a large bowl. Dress with enough of the dressing to moisten the cabbage.

Taste for salt and pepper.

Cover with plastic wrap and refrigerate until needed

When ready to serve, stir up and add some of the parsley and chives.

Garnish with remaining parsley and chives,
Recipe Notes
I state that this will feed 6. Yeah, it will probably feed 8, depending on the appetites. But if there are any leftovers, either of the sloppy joe filling or the cole slaw, they both keep in the fridge overnight very well, making a great midnight snack. You can eat the filling like chilli the next day.
SaveSave
SaveSave